In the logistics industry? Worried about high turnover and low employee retention? Follow these easy, expert tips on how to curb turnover and increase retention to benefit the company and your team.
Table of contents
It's no secret that high turnover rates are plaguing the logistics industry and there is plenty of research that shows that this will not be sustainable in the years to come. In fact, EMR notes, "the market is projected to grow at a CAGR of 5% between 2021 and 2026", which means there will be a huge need for a dependable and stable workforce to ensure this growth can be supported.
High turnover rates also result in high onboarding costs and a major headache for HR. Managers who are constantly having to replace employees are also facing pressure to ensure new employees are trained and onboarded properly. 
Logistics Management remarks, "to work through these issues, companies are not only stepping up their recruitment efforts, but they're also positioning themselves as "employers of choice" to a broader swath of potential candidates". Efficiently onboarding and training employees will be a critical aspect in reducing high turnover rates in the near future.
Additionally, low employee engagement, satisfaction, and motivation are drastically affecting high turnover rates and can severely impact a logistics company's bottom line. Now logistics companies are having to also turn their attention and focus on retaining the talent they've worked so hard to onboard and train. 
Lastly, poor internal communication strategies and a lack of proper technology to help reduce day-to-day friction are putting many logistics companies at a disadvantage. With most logistic company employees on the go and rarely behind a desk, efficient internal communication can be challenging.
Employee management software is now at its peak of technological advancement and can streamline nearly every aspect of internal communication and day-to-day operations, making it much easier for upper management to focus on the bigger picture.
But stop stressing! We've done our research, spoken to some of the leading companies in the logistics industry, and have come up with some expert tips on how to improve staff retention and reduce high employee turnover rates. We've also included one of the best examples of an all-in-one employee management software, Connecteam, so you can see how technology can be used to help simplify and manage all of these issues.
Cost of Employee Turnover
Total cost to onboard new employee
Total cost of lost productivity
Improve Your Company's Internal Communication
Logistic industry employees work in isolated environments, different work locations, and shift patterns; making it exceptionally difficult to keep everyone informed and on the same page.
A lack of effective internal communication influences high employee turnover rates. Because of this, it's paramount that your internal communication is as efficient as possible.
Some of the ways efficient internal communication can positively affect employees include:
Fewer misunderstandings or confusion on daily tasks and checklists
Improved employee morale
Increased employee engagement
Increased employee retention
Increase employee satisfaction
The list could go on, but it's clear to see that creating open channels of communication can only benefit your company.
In addition, it's important that management foster an "open door" policy of communication. By creating an open-door policy, you increase transparency and create a safe and stable environment for your employees to share their ideas, thoughts, or concerns.
"Companies adopt an open door policy to develop employee trust and to make sure important information and feedback reach managers who can use it to make changes and improvements."

Susan Heathfield
There is a direct correlation between employees who feel that their voice is heard and their opinions matter and high employee retention, especially if management is making positive changes based on their feedback or suggestions.
With that in mind, there are several ways in which employee management software can assist in streamlining your internal communication.
Download your FREE guide on "6 Pillars for Improving Frontline Employee Retention" ⤵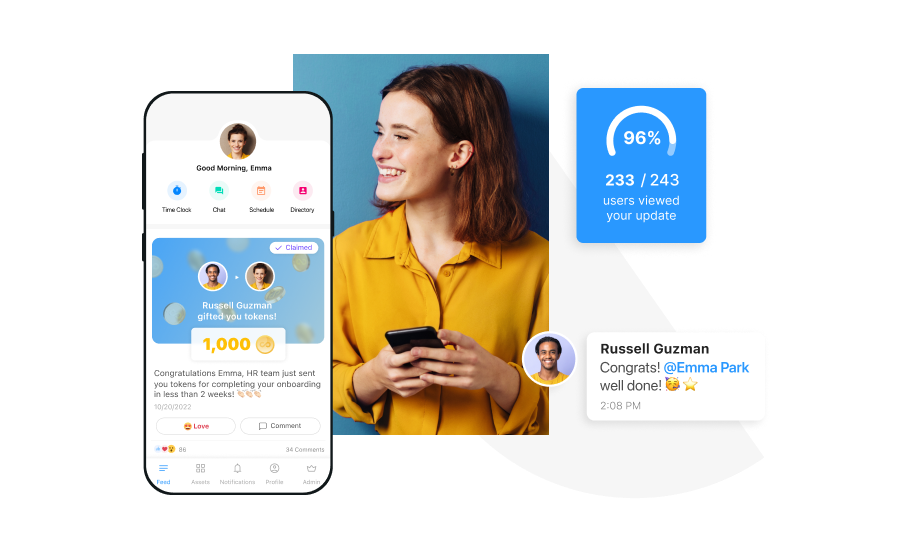 With a robust all-in-one employee management software with communication features, like Connecteam, you will be able to streamline and perfect your internal communication in the following ways:
An employee directory makes it quick and easy for employees to search for colleagues they need to get in touch with. Instantly reach a specific department or team or send a message to your entire workforce— wherever they are.
An in-app chat allows managers to send targeted 1:1 or group messages to specific teams or departments to make sure all employees are on the same page and informed of anything important.
Make communication fun and engaging by including videos, images, GIFS, links, and more.
Easily monitor in real-time who has read or not read messages, thereby ensuring complete communication oversight; nothing falls between the cracks.
Everything is securely stored within the software so employees no longer need to save numbers on their personal mobile devices. If an employee is terminated, they will be removed from the software and no longer have access to any of the chat history or employee directory.
With a powerful employee management software, you can greatly improve your internal communication processes and increase employee retention. In addition to improving your internal communication, you should consider ways in which you can boost employee engagement, motivation, and satisfaction to reduce high employee turnover rates.
Improve Your Internal Communication With Connecteam Today!
It's important to any industry and company to push and encourage employee engagement and satisfaction to keep employee turnover rates low. SHRM reports, "high levels of engagement promote retention of talent, foster customer loyalty and improve organizational performance and stakeholder value".
Employee engagement is at its highest when employees are involved, highly connected, and committed to the work they do.
Some of the ways you can boost employee engagement include:
Most importantly, if you don't have an employee engagement manager already, then definitely employ one. They have the experience and qualifications to put an employee engagement strategy into practice.
Make sure your internal communication is as engaging and transparent as possible.
Conduct employee engagement surveys and short pulse surveys regularly.
Employee polls.
Use an employee suggestion box to gain valuable feedback.
One-on-one meetings.
Exit interviews and stay interviews; before employees even think about quitting.
Start an employee of the month or recognition program to recognize employees that perform above and beyond.
Provide employees a clear opportunity for promotions and upward mobility within the company.
Plan a company-wide or department-based fun day at the company's expense. You can even plan team-building exercises that promote trust and connection between colleagues.
Implement the right technology to further boost and promote employee engagement.
As demonstrated, this is not an easy job. That's why hiring an employee engagement manager who can focus their time and energy on this specifically can greatly improve your employee retention rates. Here's the thing though, employee engagement and employee satisfaction are two completely different topics. There are entirely different ways you can increase employee satisfaction in the logistics industry.
For example, to increase employee satisfaction it's important to make employee schedules as accessible and as stable as possible. This promotes a healthy work-life balance and therefore increases employee satisfaction.
You can also provide employees the option of choosing a compressed 4/10 work schedule, which Workforce Institute's research shows increases employee satisfaction and has a direct positive influence on employee retention. Another way you can increase employee satisfaction is by ensuring a healthy workplace environment and taking an interest in your employees' well-being.
Set up an Employee Assistance Program, which is "a work-based intervention program designed to assist employees in resolving personal problems that may be adversely affecting the employee's performance". By doing so, your employees will feel that the company they work for is actually invested in their well-being and their overall mental and physical health. When an employee is feeling and doing their best, their job satisfaction level is increased and so does their productivity!
While this may seem like an overwhelming task, there are new technologies and software that simplify all these manual tasks. In the end, increasing employee engagement and satisfaction can only improve your retention rates and by using employee management software you can do all of this directly from the palm of your hand and while on the go. 
With an employee management software, such as Connecteam, you can increase engagement, satisfaction and completely get rid of manual pen and paper processes in the following ways:
Use the social feed to recognize top employees, post company updates or events, and more and let colleagues like and comment on posts.
Distribute digital polls, surveys, and suggestion boxes to gain insightful feedback.
Export data reports to make actionable responses to feedback.
Clear and open communication channels through an in-app chat.
Instead of spending tons of time doing all of this with pen and paper, or by e-mail which is informal and impersonal, employee management software digitizes nearly every aspect and makes it fun and engaging.
Digitize Day-to-Day Operations
You may be wondering how digitizing daily operations will increase staff retention in the logistics industry. Well, that's easy. With so many moving parts, daily operations, like checklists and tasks, can get overwhelming and confusing if clear procedures and guidelines have not been defined. If an employee doesn't know what to do when arriving at work or is frustrated and confused by their role, they're more likely to leave the company to find a more stable position.
Some of the most common ways logistic companies can use employee management software to digitize daily operations include:
Digital checklists and tasks; provides managers with real-time oversight on employee task progress. Know exactly what your employees are working on and get an automated notification when they've completed their work.
Digital forms make it super easy and simple for employees to fill while on the go. They don't need to carry around heavy binders or loads of paperwork anymore. Everything can be accessed directly on their mobile device.
You can even include read & sign forms that require an employee's electronic signature before submitting. Additionally, all forms can be exported for reporting purposes.
Add images to any task or digital form for complete record keeping.
Automated notifications and reminders ensure that employees are focused on what needs to be done and managers no longer need to micromanage to ensure tasks are being completed.
By clearly defining daily tasks and streamlining daily operations you can increase employee retention and satisfaction simultaneously. You can even digitize the onboarding and training process, and greatly reduce the costs associated with high turnover rates.
Provide Ongoing Training and Upskilling
By providing continuous training and upskilling employees you provide them with the opportunity to grow and learn new skills. This will increase employee satisfaction and employee retention as your workforce will feel they have room for upward growth.
With an increase of the younger generation entering the workforce, Robert Walter's research shows that "…53% of Millenials have been disappointed by a lack of personal development training when starting a new job. Despite this, just 15% of employers felt that personalized training programs were a priority for keeping employees engaged". If you're not already making continued, personalized training and upskilling a priority, then you should turn your focus to it immediately.
In addition, offering frequent safety training can reduce workplace injuries and reduce employee absences due to injuries. By doing so, you provide a safer and less hazardous working environment for all your employees and increase employee attendance.
The greatest part of all this is that it can all be easily done through an employee management software. Instead of filling multiple heavy binders with tons of training documents, forms, and paperwork that employees have to lug around— an employee management software gives employees digital access to all training materials at any time, in any place, directly on their mobile device.
With Connecteam, you can make training material fun and engaging by incorporating images, videos, GIFS, and external links. You can also provide them extra reading materials if an employee wants to sharpen different skills.
You can track your employees progress through the training material in real-time and with digital, customizable quizzes you can track how well your employees are retaining the training material. If you notice they're not retaining or learning the information as expected, you may need to make some adjustments to your onboarding and training processes.
Create Clear Safety and Compliance Standards
The ever-changing COVID-19 regulations can make any manager crazy when it comes to making sure your employees are protected and in compliance with all rules and regulations when working. Even safety and hazard reporting can become a nightmare when done manually with pen and paper. Paperwork tends to get lost, misread, or even worse, becomes a huge pile in someone's office.
With employee management software you can digitize safety and compliance forms in the following ways:
Create a daily COVID-19 health declaration form for employees to submit before arrival at work. Ensure they don't have a fever, have been in contact with someone who has tested positive for COVID, or has a cough. Have employees electronically sign the form, receive a push notification when the employee has submitted the form, and digitally store the form for reporting purposes.
All safety and hazards reports can be made on the go and can even include images.
All safety protocols can be accessed with a touch of a button.
Any new policies or regulations can be posted on the social feed where managers can monitor in real-time who has seen or not seen the update.
By providing your employees easy and 24/7 access to these materials you provide them a safe and secure workplace environment and show your employees that you are actually concerned about their safety. As previously mentioned, a safe and stable work environment directly and positively impacts employee retention.
The Final Word on Improving Staff Retention
Improving staff retention and reducing employee turnover in the logistics industry will definitely not be easy and is no laughing matter. Companies will have to work hard to change some of the routines they have had in place and be more open-minded to new and emerging technologies.
By improving your company's internal communication, boosting employee engagement and satisfaction, digitizing and streamlining daily operations, continuous training and upskilling, and creating clear safety and compliance standards you can increase your employee retention rates and keep the staff you worked so hard to attain and recruit in the first place.
But this is all much easier said than done. It's not the 1980's anymore and instead of listening to Walkmans, employees use their cell phones to listen to music or even surf the web. Why not take employee management to a new level as well, making it easily accessible and available anywhere and anytime.
With employee management software, employees can have access to everything they need to know about their job directly on their phones. You can digitize nearly every aspect of your logistics company's daily operations and reduce the day-to-day friction that slows simple processes down or leaves employees upset or disgruntled, and once again you've done something to improve employee retention!
Improve Your Logistic Company's Staff Retention and Reduce High Employee Turnover Rates With Connecteam!
Want more great articles straight to your inbox? Subscribe Here ⤵