Run Operations Better & Faster
Get all the tools you need to maximize operational productivity with your non-desk team. Simplify workflows and streamline processes - for both you and them - with an all-in-one solution.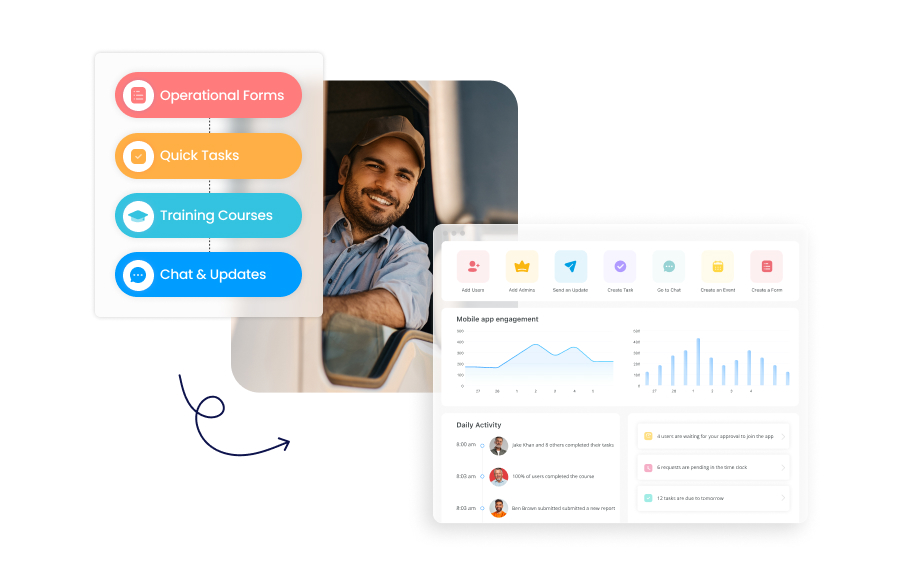 Join the 36,000+ Companies Running on Connecteam


The Ultimate Toolkit For Managing Employee Operations
Operational efficiency is crucial to the success of a business, as it reduces costs, boosts productivity, saves time and money, and increases profits. But challenges come in managing business operations for employees that are on-the-go, in the field, or scattered all over. That's why we developed a product that enables you to manage, monitor, and oversee the operations of your entire workforce, wherever you are, at any given time – taking your business to new heights!
OPERATIONAL FORMS
Digitize Your Workflows to Boost Productivity
Receive digital reports, checklists, and requests from the field, in real time. Get all the information you need from your employees to easily stay on top of business operations and feel confident that everything is running smoothly.
QUICK TASKS
Make Things Happen, Easily & Quickly
Provide your teams with all the details they need to accomplish tasks successfully – including detailed descriptions, due dates, attachments, and subtasks. With automatic reminders and real-time status updates, you can rest assured that everything will get done.
Benefits of Effective Operations Management
0

%
Time saved on manual processes
Connecteam saves us a lot of time on admin tasks and keeps our team connected and engaged. Plus, it's so easy to use and very affordable!
Read the full story
TRAINING COURSES
Give Your Workers the Skills They Need
Get your workforce trained on any knowledge or skill set required for their job right from their smartphones. Easily create a digital course that both teaches them and tests their understanding, boosting their operational productivity and ensuring they are running up to speed.
OPERATIONAL UPDATES
Update Your Employees with Ease
Post operational updates with links, files, and in-app shortcuts in just a few clicks. Choose if you want to update the whole company or a segmented group, and schedule posts and set auto-reminders in advance to minimize your daily workload.
Get Your Business Operations Optimized Now
Want More Info? Check Out These Helpful Articles