Intuitive employee scheduling app for deskless employees
Try a scheduling app that makes the entire process from planning to distribution to overseeing execution simple, quick, and intuitive for both you and your employees. Simplify your scheduling with advanced features like templates, in-shift tasks, status updates, messaging boards, and more. Start for free now!
Start for free
What is Connecteam?
Save time and effort on planning and oversee execution with Connecteam's employee scheduling app and its advanced features: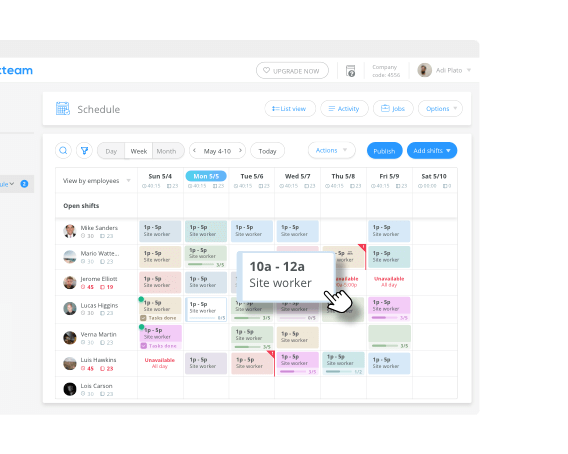 Quick schedule-planning and distribution
Save time and effort on planning and dispatching schedules
Schedule and dispatch faster than ever before. Assign shifts in a click, duplicate, drag & drop, use templates, bulk actions and so much more. You can set single or team shifts, repeating shifts or open shifts that are up for grabs. Get the full picture in one place: your planning table shows when employees are unavailable or sick and if your planning exceeds predefined daily /weekly limitations.
All the information in one place
Keep your employees informed and notified
Send push notifications and keep your employees up-to-date and informed with detailed shift information, including time and place, tasks that should be performed, additional notes, attachments, and more. Your employees will be notified when a shift is published or canceled, and will always have access to their full itinerary.
Get started
"I tried about 10 shift management solutions and Connecteam's shift scheduling functionality was the only solution alongside their mobile app that would work for my department"
Full visibility with real-time status updates and notifications
Track progress, and get updated on execution
Track progress and feedback with GPS stamps, status changes, and message updates. Be notified when team members acknowledge or reject a shift, check-in late, or when they complete their tasks. Control your overall operations with color-coded status badges and message-notes of all your ongoing service calls in a single place.
Manage your schedule from anywhere
Mobile interface for managers on-the-go
Manage your employee scheduling from anywhere using your app's dedicated admin capabilities. Add or edit shifts, swap users, assign tasks, view activity, status changes, and much more. Reduce unnecessary communication and speed up the process even on-the-go!
Get started
Add shift tasks and get notified upon completion
Oversee your team's execution with dedicated in-shift tasks
Set shift related tasks and oversee their execution. You'll have full clarity on the progress of your team's tasks, and you will be notified when tasks are completed, so you can boost your operational efficiency and uplift your team's execution standards.
Concentrated and organized communication
Reduce the noise and communicate effectively with dedicated communication channels
Stop wasting time on endless calls and unnecessary back-and-forth communication. Reduce the noise with effective and structured communication - shift specific messaging boards, embedded in-app chat, employee directory, and more. Free your time and focus on what matters.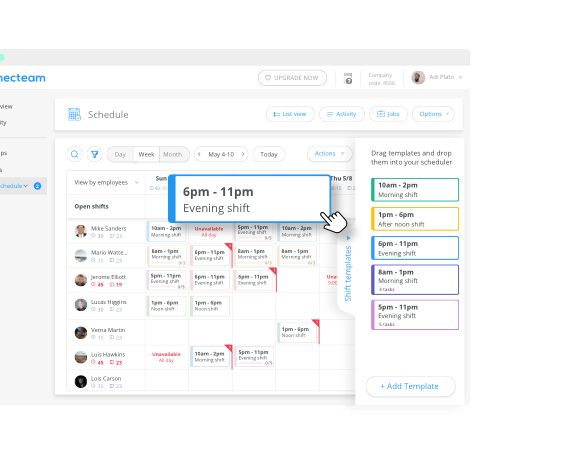 Templates and quick actions for time-saving
Save time and effort by leveraging shift templates, weekly templates and more
Leverage advanced time-saving features to push planning time to a minimum: Customizable full-weekly templates; detailed single-shift drag and drop templates; flexible repeating shifts, all will help you tailor the schedule planning process to your needs and to do more in less time.
Connecteam is trusted by over 8,000 companies worldwide
Testimonials
"Connecteam enables us to reach 100% compliance on the job. We save time and cost, while improve communication, job performance and service quality."
"As a big retail company, Connecteam 's solution is ideal for us. The App and its management system help us to be in constant contact with all the employees of the company, which are located throughout the country."
"Connecteam improved our work processes in a significant way. The mobile app helped us improve our workflows and made our projects run more effectively. As an organization, our overall communication and flow of information has become fast and accurate""
"Connecteam is an intelligent collaboration solution. In Sodastream, we found this solution friendly and useful, with high adoption rates among our users. The Connecteam staff are creative and dynamic, and great partners to work with."
Never miss a beat with Connecteam's employee scheduling app
A simple, powerful and affordable solution to manage non-desk employees. Try it yourself!
Start for free
Connecteam's employee scheduling app is an easy way to schedule shifts and dispatch jobs for remote and non-desk employees. With Connecteam, online employee scheduling is made easy and powerful. Ranked as one of the best employee scheduling apps, Connecteam offers some unique tools that make its online employee scheduling capabilities very unique, such as integrated in-app chat and true shift collaboration that includes status updates and notes for every shift. With this unique approach to online employee scheduling, you will not only save valuable time and keep everyone on the same page, but also add more value to your employees with Connecteam's employee scheduling app by adding important information like job location, detailed notes and file attachments. If you're looking for an online employee scheduling for your deskless teams, Connecteam's employee scheduling app is the easiest and most affordable solution you can find for online employee scheduling.