Staff Managers' Favorite Geofencing Time Tracking App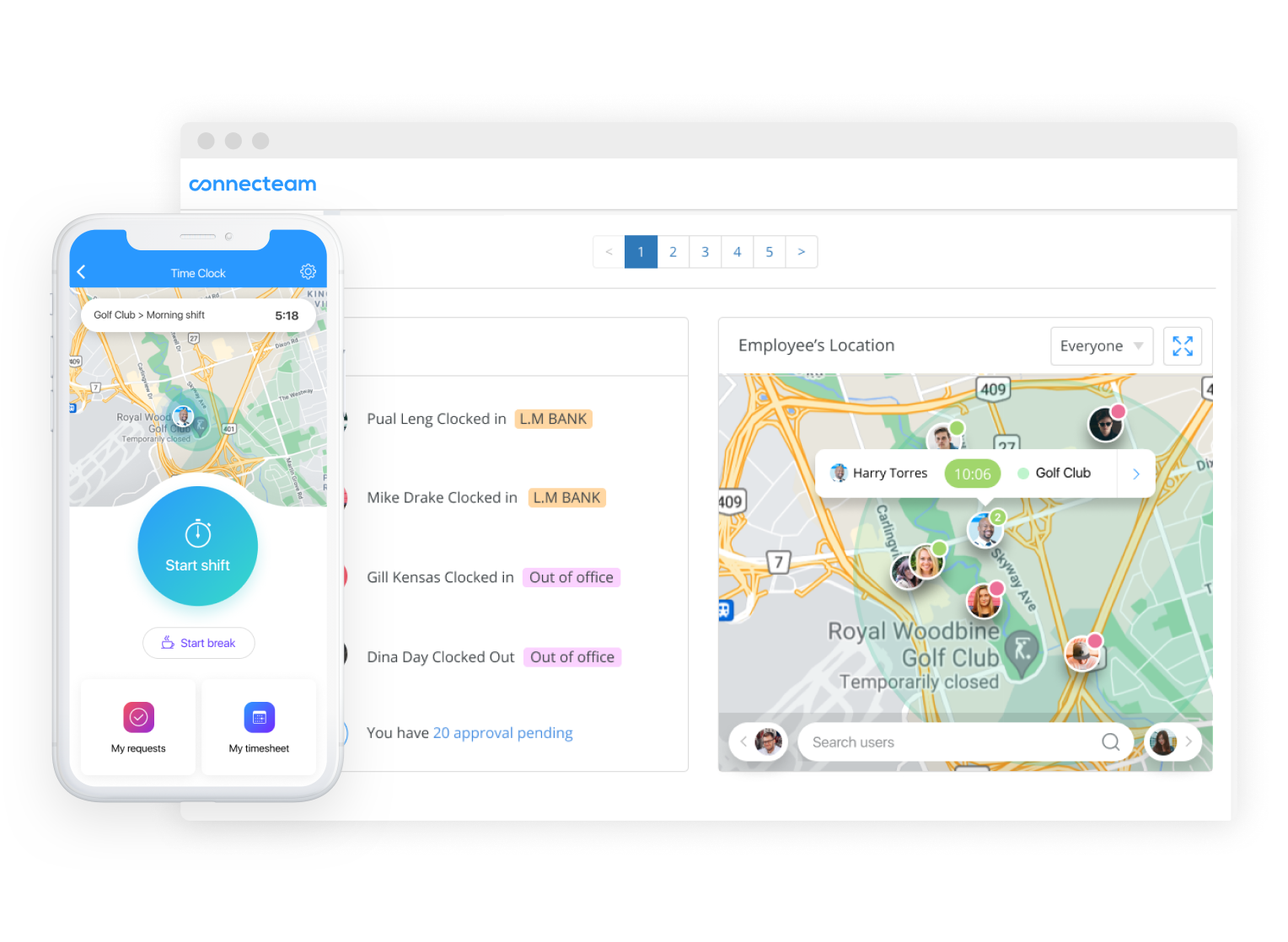 Connecteam's robust geo time clock makes tracking employees' real working time and location a breeze! See exactly when and where employees are clocking in and out, or limit it to the preset hours and work zones.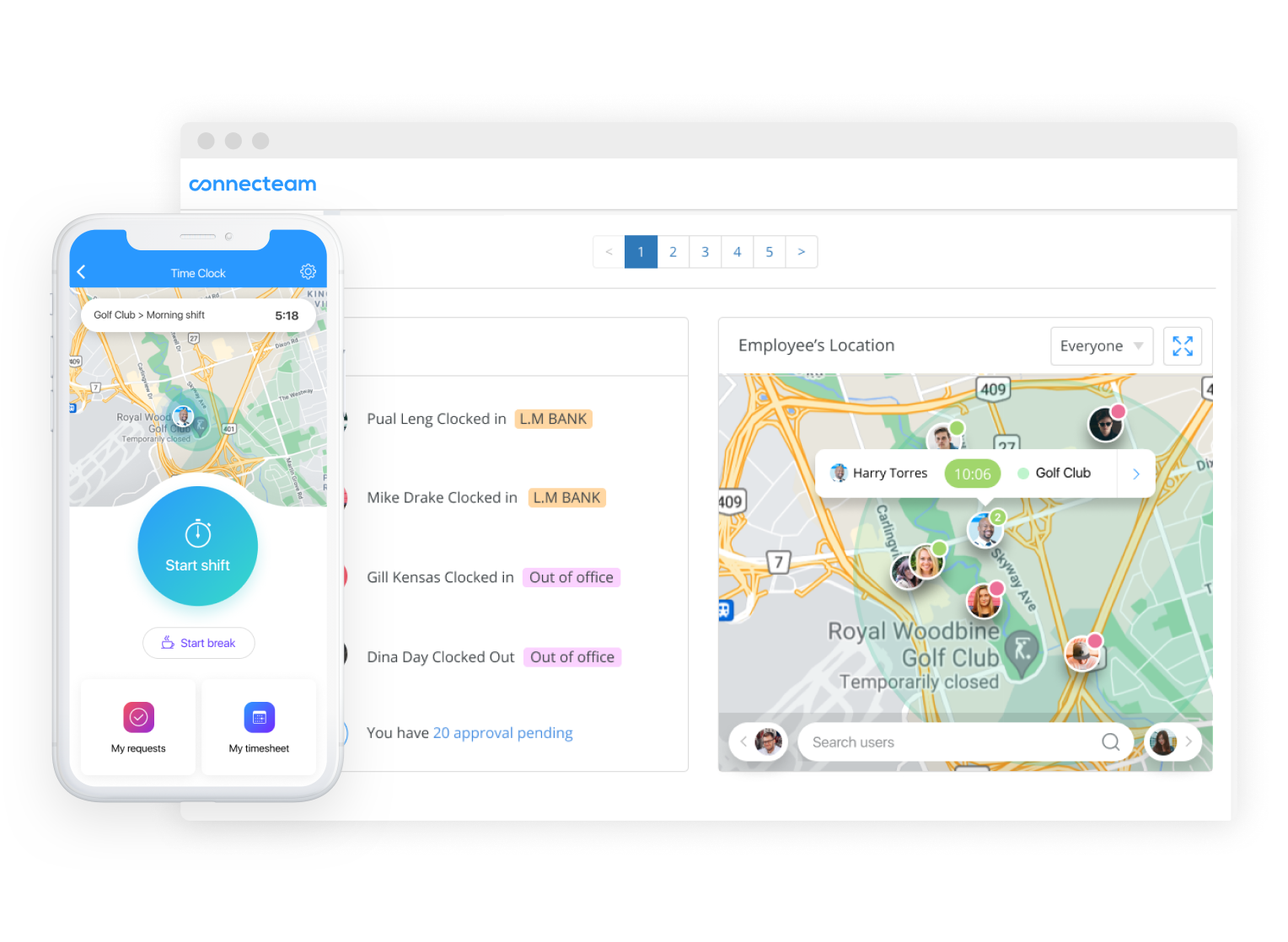 Automate supervision with an accurate and reliable geofencing time tracking app
Help Employees Stay in The (Work) Zone
Preset clocking in and out perimeters or approve requests in real-time
Create unlimited custom fenced areas for different jobs and locations, and make sure all your teams are exactly where and when they are supposed to be. No more calls and guessing games — Connecteam enables geofencing employee tracking from an app on your smartphone, anytime, anywhere.
Start for Free
100% Accurate Payroll
Eliminate buddy punching, time theft, & timesheet errors
Absence Management
Breaks & Overtime
Notifications
Auto Reminders
Scheduling Conflicts
Customize time tracking settings to fit your team like a glove & save you time when the payday comes.
Start for free now
Manage Everything on the Go
A geo time clock that works behind the scenes so you don't have to
Easily view all fenced sites
Customize job sites
View employees' location on the map
Approve/decline clock out from non-fenced areas
Connecteam leaves no place for confusion and lets you automate the time tracking and payroll process like never before.
Start for free now
Not Just Geofencing Time Tracking
A complete field employee management solution
Check & approve absences
View current and past timesheets
Schedule & swap shifts
Communicate in the in-app chat
Send & receive company updates
And so much more
Connecteam isn't just a geofencing employee tracking solution, but an all-in-one platform that allows you to communicate, train and operate your entire business from one place.
Start for free now
Watch the video below to see Connecteam time clock in action!
What Our Customers Say
The flexibility to assign a geofence to restrict where employees clock in and out was critical for one of our clients, who relies primarily on mobile workers who aren't in a traditional office setting.
I love that this software has the geofence so we can rely on more than just the honor system. I like that it will also auto clock out after a certain time frame.
A geofencing time tracking feature lets you know if your employees are at work when they clock in or out. This makes it simple to do no matter where you are located in our various warehouses!
Connecteam is the best geofencing time tracking app with a GPS time clock that can be accessed from any smartphone. Our geofencing employee tracking can track time spent on work hours, jobs or projects. Designed especially for deskless employees, our geofencing employee tracking is easy to use and requires no training, so you can start using your very own geofencing time tracking app for multiple team members within minutes. Connecteam's geo time clock helps to monitor regular hours, double hours and overtime, which may be customized to fit your business' needs. Connecteam's geo time clock can even help with mileage read, equipment usage or additional information needed to deal with payroll. Greatly benefit from the integrated in-app chat, employee directory, job scheduling and easy to use timesheets to make the payroll process faster than ever. If you're looking for the best geofencing time tracking app for deskless employees then Connecteam's geofencing employee tracking is the most powerful and affordable solution for your team.