The #1 Way to Seamlessly Manage Your Company's Events
Add some fun to your team with internal company events that boost employee engagement and morale
Create any kind of work event
Easily access all event information directly from your mobile device
Promote a strong sense of belonging by instantly notifying users about the latest events
Make communication more vibrant with event comments and reactions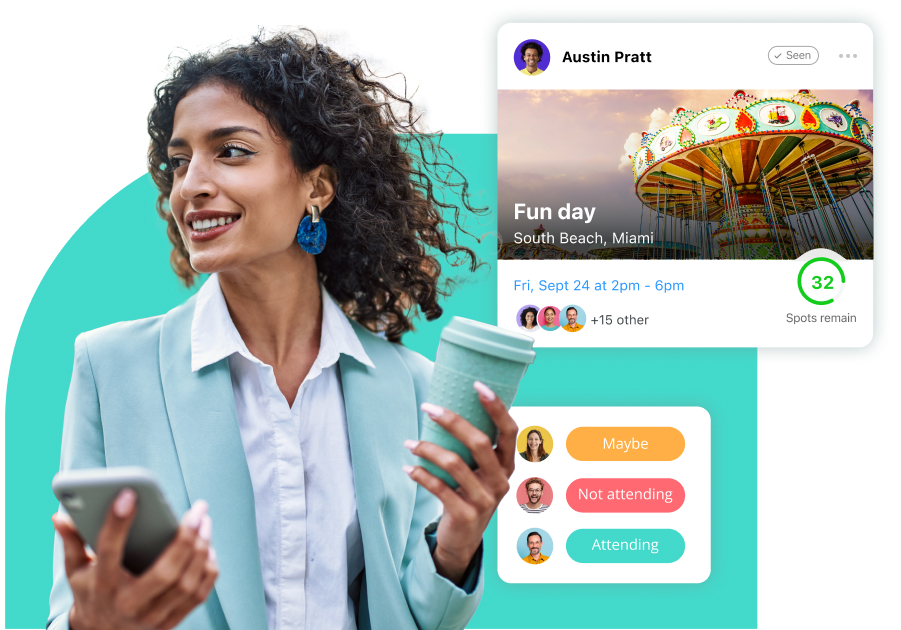 Trusted by Over 36,000 Companies Worldwide
Have Complete Control Over What Your Events Look Like
Make your events as engaging or as informative as they need to be
Plan every kind of event, from team meetings to birthday parties
Add all essential information, including dates, times, locations, event descriptions, images, and more
Customize all aspects of the event, including RSVP options
Easily choose who to invite - individuals, a department or the entire company
Make events even more dynamic with shortcuts to event forms and polls
Start for Free
Create Any Kind of Event That Your Business Needs
Bridge the gap between you and your employees by creating a wide variety of events
Team meetings
Health and safety meetings
Equipment inspections
Birthday parties
Employee appreciation days
Team building events
Fun days and trips
Conferences
Start for Free
Casually Create Your Next Company Event
Invite, publish, and promote any event in a few clicks
Easy Access to All Events Directly from Mobile Devices
Employees can keep up to date with whatever's going on, even while on the go
Users are instantly notified when they are invited to an event
Employees can add comments and reactions, influencing other invitees' decisions
Make it easy for users to ask questions about the event with a quick shortcut to the chat feature
Employees can confirm attendance wherever they are
Start for Free
Get a Full Overview on Employee Attendance
Eliminate needless back and forth and get quick, clear answers on who is attending
Get an organized idea of who is attending and how many will attend
Employees get a quick view of who else is attending
Ensure that all users reply with follow-up reminders
Add more urgency to attendance confirmation by setting a last registration time
Start for Free
"Connecteam's Events makes it so easy to keep employees' in the loop on everything happening within their company. Great user interface and by far the best work event management solution out there!"
Watch the video below to discover more about Connecteam:
About the Connecteam Events feature
What is an event feature within an app?
A digital event feature brings scheduling, planning, and communicating to the digital world. Using an app, you can streamline RSVPs and communicate with attendees. 
Are Connecteam's event features free?
What are the benefits of using Connecteam's event features?
Connecteam's events app is an easy and great way to have all your company's events and RSVP's under one roof. Add some fun to your team with internal company events that boost employee engagement and morale. Make your events as engaging or as informative as they need to be. Bridge the gap between you and your employees by creating a wide variety of events. Employees can keep up to date with whatever's going on, even while on the go. Eliminate needless back and forth and get quick, clear answers on who is attending. Managers can create and customize events, invite whoever they choose from their company, track attendance and send follow-up reminders from their desktop dashboard. From a tablet, phone, or desktop, employees can receive event invitations, see who else is attending, make comments and reactions, and RSVP.