Table of contents
Whether you're a small or large business, you must have really good internal communication to succeed, even if your employees are all in the same building or are scattered across the globe – effective communication has a massive and direct impact on your company's success. We know this sounds a bit hectic, but here's the thing, effective internal communication really does lead to success.
And no, communication isn't just a company announcement or an email or a social post. And it's so much more than just managing and distributing information. Instead, it's an ongoing dialogue between all employees and the company, no matter their position or time in the company – it creates a sense of community.
What can you expect when you don't have effective internal communication?
Low productivity levels
Gossip and false rumors
Confused and frustrated employees lead to high turnover
Communication is the backbone of your company, it's what keeps you profitable.
Why Is An Internal Communication Strategy Necessary?
Without an efficient internal communications strategy, you lack a transparent record of what you're trying to accomplish in the first plan. Moreover, an internal communication strategy highlights areas of strength or weakness within the organization.
The statistics back up the importance of utilizing an internal communication strategy:
Gallup found that companies with highly engaged workers experience a 20% improvement in productivity
Culture IQ learned that organizations with engaged employees perform 200% better
A Willis Tower Watson report discovered a 47% higher total return to shareholders for companies with an internal communication strategy than those without
The Gallup State of the American Workplace report found that nearly 70% of workers are disengaged at work which costs organizations $450-550 billion every single year
So how can you get it done? Below we list just a few steps but if you're looking for specifics then scroll down a little bit more to get the full rundown of creating an effective internal communication strategy.
It's not just sending a message whenever you want, this is about delivering up-to-date and open communication in order to energize employees.
Don't neglect anyone, all employees should be aware of the message. This way, you maintain a connection with your employees and build trust.
Gain valuable feedback from your employees so that managers can adjust to their needs and increase motivation as a result.
When you foster open communication, your employees feel more personal value and that creates a positive effect on their performance.
The company goals and communication strategy should be aligned. When this is the case, you'll see productivity levels increase as your employees feel more committed to delivering the company's goals.
We can see how you'd think that implementing a really good internal communication strategy sounds like a daunting task, but it's actually easy to implement a plan that delivers results. Are you asking yourself what's in an internal communication strategy? Don't worry, we've outlined exactly what you need to include in your plan in order to see results – more on that later! Below is a general outline of the steps you need to take to implement an internal communication strategy – if you're interested in a more detailed summary with step-by-step instructions, read on.
A current situation of your business – which kind of content are you sending out and how often? And vice-versa, which content aren't you communicating?
What do you want to accomplish, as in your business and communication goals? Such as engaging your employees, making them proud of the company, and so on.
Know your audience! Who is your message meant for?
What is the best method to communicate the message? Email, bulletin board, social media, internal communication app, etc. This depends on who your audience is.
When is the best time to send the message out?
How can employees engage with the content and send you feedback?
How will you measure your progress?
Just remember that an internal communication strategy isn't a mere list of tactics. Instead, the tactics are an integral part of the overall plan and need to reflect what you plan to do in order to achieve your business goals.
Download your FREE guide on "10 Tips for Engaging Your Frontline Teams" ⤵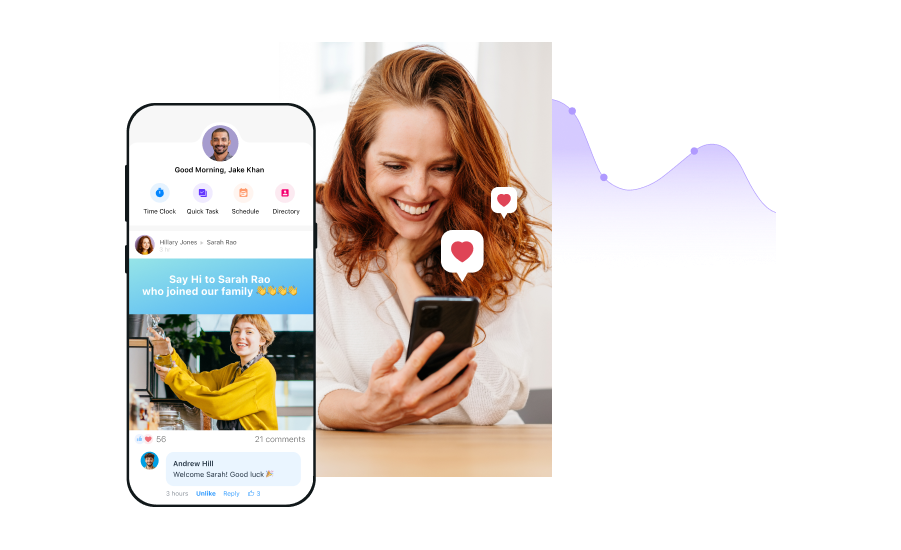 Your internal communication strategy can help in so many ways, such as helping employees with new procedures, addressing important company issues, sensitive employee topics, a campaign to reduce accidents, boosting productivity, and more. Whatever it is you need to achieve, use the following metrics to develop your strategy.
What To Include In Your Internal Communication Strategy:
Measure Performance And Ask Yourself,
What are high and low value activities?
What was your performance with your goals, KPIs, and expectations?
Get feedback from managers, lower-tier employees, and customers.
Look at failed campaigns and strategies, what went wrong?
When you define your business goals – it can help to set a baseline so you can understand what you're measuring to determine its effectiveness – and establish objectives, it becomes an easier task to manage in regards to defining your internal communication strategy.
If you're still not sure how to exactly measure internal communication then our free guide can help you out there! We take you through each process, step by step, so you can begin to effectively measure your internal communication strategy.
What Is The Most Effective Tool To Drive Engagement?
Which channel always delivers? And which tool optimizes that channel?
How does your audience like to receive information? Do they prefer video or a quick message?
What tool or channel drives the most traffic?
For example, there are a few methods at your disposal that can you define which tool is the best when driving engagement and sharing your message:
Face-to-face communication: when you want to make a personal connection and should be done once a month, at minimum, in order to create that relationship, improve engagement, and gain feedback.
Team Meetings: so you can get feedback from your team while improving office morale and establishing a better working relationship among your team with team building games and exercises.
Video: so you can tell a story and share visual presentations to drive the message further.
Internal social media: allows you to build culture and rapport.
Employee app: nothing falls between the cracks, you're always engaged with all your employees and them with you.

Create channels to easily communicate with your team, channels can be created via location, job title, department, etc.
All work communication is stored in one place and is separate from a worker's personal storage space
All communication is done in real-time so you can push engagement and productivity to the next level
All of the data is actionable so that you're in the loop so who read your message, send reminders to those who didn't, understand survey and live poll results as they come in, and so on.
In fact, an employee communication app is used by most companies to reinvent communication and engagement.
All-in-one Communication App
Reach every single member in your team, with fun, dedicated, and measurable communication. Engage your team like never before, reflect your company's culture, and solidify your employer branding with Connecteam's employee communication and engagement app.
Identify And Understand Your Audience
What are their likes/dislikes and interests?
Which messages get the most attention?
This is especially important when you are managing a team of employees ranging from young to old. Most of the younger generation is rather tech-savvy so you need to reach them where they're most efficient but remember that even the older folks on your team require the right tools to work smarter.
In addition, you must understand when the right time is to send your message so that it receives the right amount of attention. Morning? After lunch? During the 3 o'clock crash?
Review SWOT (Strengths, Weaknesses, Opportunities, and Threats)
Strengths: these are the company's internal, positive attributes and are within your control.
Weaknesses: negative factors which can take away from your strengths and you'll need to improve on in order to be successful.
Opportunities: external factors in your business environment which can also contribute to your success.
Threats: external factors that you cannot control. Think of installing contingency plans for taking care of threats if they pop up.
The SWOT method allows you to clearly examine what strengths and weaknesses you have in your internal communication strategy so that you can take advantage of the opportunities that are available and to tackle any threats in the future.
Develop Your Message
Don't miss any crucial details when you outline exactly what you need to say to the relevant audience.
What: What's the decision? What does it mean? What lead to it?
Why: Why is it the right decision?
Where: Where/what locations are affected? Where can you get more information?
When: When is this happening?
How: How will the message be implemented? How will communication flow internally and externally?
Who: Who made the decision? Who's in charge? Who does it impact?
Be specific in your messaging because if you don't even understand it, or its purpose, then your employees definitely won't "get the message".
Set SMART Goals
SMART goals are Specific, Measurable, Attainable, Relevant, and Time-based. For example,
Specific: Define what you want to accomplish in simple terms so everyone gets it.
Measurable: Create milestones and targets so you can track progress.
Attainable: Be ambitious but keep goals manageable and realistic.
Relevant: Create goals that will develop your team and connect to your business model.
Time-based: Create a specific timeline so you remain on track.
By crafting SMART goals, you are more likely to stay on message and the chances of your employees interacting with your messaging are much greater as well.
The Bottom Line On An Internal Communication Strategy
An internal communications strategy may be the last thing on your mind but it is the backbone of your business as it keeps your entire team on the same page so they can deliver the best service to your customers and take your company to the next level.
By implementing the internal communication strategies we highlight above, you can develop the best internal communication strategy for your organization and employees. We also recommend fine-tuning your strategy on an ongoing basis as things are fluid, as should your internal communication strategy be.
One final tip is to stay up to date on the latest communication trends so you can ensure you're always a step ahead.
All-In-One Communication App
In real-time, streamline communication with all your employees, limit unnecessary phone calls, boost morale and engagement, keep everyone on the same page, and improve employee productivity with Connecteam's communication features, for FREE.
Start for free
Want to Receive More Great Articles Straight to Your Mailbox? Subscribe Here ⤵