Table of contents
Are you measuring internal communications in the workplace to best determine how effective it is? To understand if it's making a difference, a dent, in your business? Unfortunately, studies show that 60% of companies don't even have a long-term internal communications strategy, and the businesses that do have one, 12% aren't measuring internal communications metrics at all.
And maybe you're thinking, "What's the big deal? So what?" But, hang on, there's a reason we're honing in on this particular HR-related matter.
Why Measuring Internal Communications In The Workplace Matters
Should you even be measuring internal communications in the workplace? Is it really that important? YES! A million times, yes. Internal communication is the cornerstone of your company.
What do we mean though? Think of it like this, as the cornerstone of your company, internal communication has a direct and great impact on employee productivity and engagement, collaboration efforts, office morale, and alignment across the organization.
Unleash the Full Potential of Your Business with Connecteam's All-in-One Management Software
If you're finding that employee engagement is low, morale is suffering, collaboration is virtually non-existent, the company's vision isn't being executed effectively, customers aren't totally satisfied, turnover is growing, and productivity is faltering then it's time to look closer at your internal communication strategy. But before you can even enhance your internal communication strategy, you need to measure it. After all, how can you ever improve your internal communication or even make an effective decision regarding it when you don't have the data to back up or to understand what's working and what needs to be improved quickly.
"The importance of internal communication cannot be underestimated; it is one of the few roles that touch all areas of the organization." – Jenni Field, Chair at CIPR Inside
But the lack of data and internal communications metrics is a result of the following problems:
Internal communications metrics are scattered across departments, platforms, and channels
KPIs for internal communications aren't aligned with company goals
Proving the value of effective internal communication is hard
Business owners and partners don't consider internal communications as an effective strategy to invest in
Not sharing communication via the right channels for each employee occurs far too often, the "one glove fits all" perspective is limiting
Internal communicators don't know how to take communication to the next level
Trickle-down communication shared with employees only leads to misunderstandings
Too many misconceptions about internal communication make it hard to understand what it really means
Now that the problems of internal communication are better understood, we can move on to answering how to measure communication in the workplace.
Download your FREE guide on "10 Tips for Engaging Your Frontline Teams" ⤵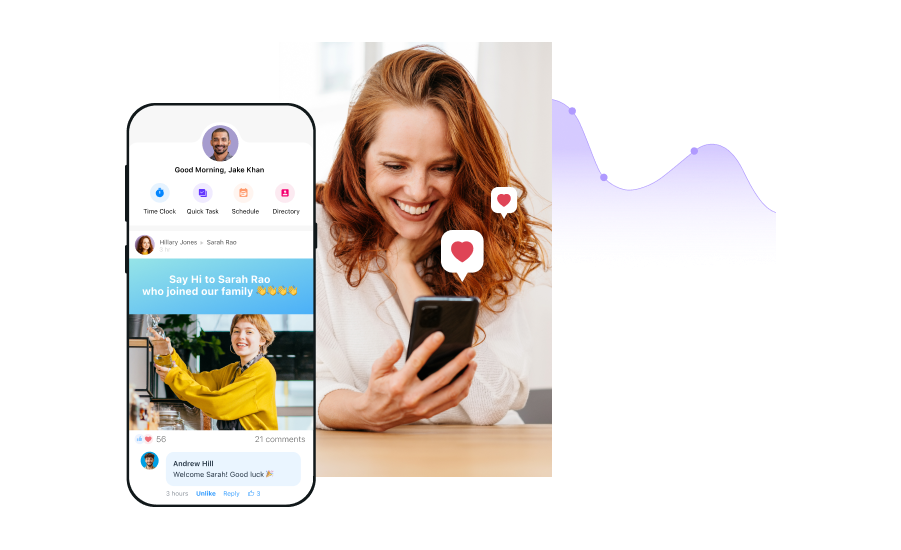 How to Measure Communication in The Workplace
Define Your Business Goals
Here's the thing, knowing how to measure communication in the workplace isn't so straightforward because there is no single list of KPIs for internal communications that works across the board.
The KPIs for internal communications will differ for each company as no business has the same goals they want to track. Plus, what you intend to do with the data also differs.
What are some KPIs for internal communications? Pageviews on your intranet pages, track open rates in email communications, tracking click rate in emails, tracking video views in emails and intranet pages, tracking staff surveys with predefined answers, etc.
Set a baseline to better understand when you know what you're measuring, then you can effectively determine the effectiveness of your current efforts.
Once you know what goals you want to achieve, it becomes easier and clearer to set your KPIs for internal communications.
Take a look at your current communication campaigns or the messages you have sent out, like emails or WhatsApp group channels. Which of the channels seem to be performing the best? Which employees are you looking to reach more? What is your definition of success?
Define what metrics your company follows, how the metrics are followed, and what the current data indicates.
There are various channels, or mediums, for communicating with your employees and it all greatly depends on business type, where your employees work (in the field or in the office), the team size, and so on.
Once you nail down all the above then you can choose the best channel (medium) to deliver employee communications:
Face to face meeting is a MUST at least once a month in order to make a personal connection, to improve engagement, and to gain feedback.
Team meetings can be held in-house or in a special location like an outdoor picnic. This helps build comradery among your team members and allows for better collaboration.
Video calling allows you to have a desktop-based conversation so that you share a presentation and tell a story. Businesses often use Zoom.
Employee communication apps are the best solution for businesses with deskless and field employees as it offers the perfect solution for communicating on the go. For example,

Everyone has a mobile phone so you can keep everyone on the same page
You can create channels to communicate based on location, job title, department, etc
All work-related communication is collected under one roof
Communicating in real-time helps boost engagement and productivity
All data is visual and actionable so you always know who opened and viewed your message, how many employees filled out the survey you sent, who answered the live poll, and so on. For any employee who didn't read your message, send them a push notification reminder to do so.
It's inexpensive – Connecteam offers a free plan on top of its affordable paid plans, just click here to start for free!
Designed For Deskless Teams
A modern communication experience for you and your team.
Running a SWOT analysis of your internal communication strategy can be an effective tool for businesses that want to strengthen their communication. When you understand what challenges you're up against and what resources you have at your disposal to tackle them then you can create an effective strategy to communicate better.
Use the SWOT method to hammer down what your communication strengths and weaknesses are, what opportunities are available to make communication better, and what threats are you facing to communicate better?
Strengths: your company's internal, positive attributes that are within your control to adapt
Weaknesses: negative factors that take away from your strengths and you must improve on to be successful
Opportunities: external factors in the work environment that can contribute to your success
Threats: external factors that you cannot control so you need contingency plans in place
Craft The Message Before It's Sent
When you outline exactly what you want to say and what you want to gain as a reaction from your audience, you won't miss any details and can best align the message as time passes.
Focus on the what, why, where, when, how, and who. If you can't answer this simply then you need to rethink the goal.
For example, a goal to "increase employee engagement in the workplace" is NOT specific whatsoever.
Instead, set the goal to be far more specific so it's easier to measure. For example, change it to "increase employee engagement within the Atlanta branch by 18% by the end of Q2 to effectively launch the new X product in Q3."
Be sure to create a message that is SMART. What's that you ask? SMART stands for specific, measurable, attainable, relevant, and time-based.
Specific: determine what you are looking to accomplish and ensure everyone will understand the message
Measurable: set milestones and targets to effectively track progress
Attainable: keep goals manageable and realistic
Relevant: create goals that develop your team and connect to your company goals
Time-based: follow a specific timeline to best remain on track
Sue Dewhurst and Liam Fitzpatrick highlight tips for communicators in their book on how to best outline your message:
Inputs: what resources will you develop and implement for your internal communication?
Outputs: is the content informative and engaging? Did you achieve the results you planned? If not, why?
Satisfaction: are your employees happy with your internal communication? Was the message understood? Was the information received in a timely fashion? Did you allow your employees to share their feedback?
Out-takes: what takeaways did your employees gain?
Outcomes: did your internal communication impact an employee's behavior? Is everyone working toward a common goal?

Look At Turnover Rates
When you have employees who are happy and satisfied in their job role, they'll stay with the company for a longer period of time. However, unhappy and disgruntled employees will quickly start looking for new work.
Track your turnover rate to best understand how effective your internal communication is. When your team is more connected and aligned with what's going on at the company then they feel trusted and appreciated. However, when that trust doesn't exist at all, productivity tanks and turnover rises.
As far as KPIs for internal communications go, this is an easy one to track but it can be hard to directly tie to internal communication.
Sending surveys out to your team and senior leadership is crucial at two key stages – when you're setting the KPIs and while you're measuring results. (Yeah, we told you it was during two pivotal moments).
Why should you bother with surveys? Because it allows you to gain real-time, essential insights regarding your goals from all the different departments and employee levels. This helps ensure that you can set the KPIs with the full picture at hand. Not to mention that it allows you to adapt and enhance your goals and strategies when necessary.
But, it's vital that you send surveys that drive action and aren't a waste of time. So, be sure that your surveys are short, to the point, and anonymous. Anything that's too long only further annoys your team and basically ensures a collection of inaccurate, inefficient responses.
Bottom Line On Measuring Internal Communications In The Workplace
It's no secret that it's hard to effectively measure where your strengths and weaknesses are when it comes to your internal communication. However, with clear KPIs for internal communications set then it becomes easier to collect the necessary data to move your company forward. It's this data that enables you to track progress and if wider goals are being met.
Like we said in the beginning, internal communication is the cornerstone of your company. When it's done right, employee productivity and engagement, collaboration efforts, office morale, and alignment across the organization are all positively impacted.
Reach out to our team to learn more about our communication solution.
Boost & Measure Communication With Connecteam
In real-time, easily streamline communication, limit unnecessary phone calls, boost morale and engagement, keep everyone on the same page, and improve employee productivity with Connecteam's communication features.
Want to Receive More Great Articles Straight to Your Mailbox? Subscribe Here ⤵