Why Non-desk Companies Must Have A Chat App
President Obama called small businesses the backbone of America. And, he's not wrong. But we want to take it a step further and say that the deskless employee is actually the backbone of America. They work out on the floor and construction sites, in restaurants and hotels, and drive trucks. They makeup 75% of the workforce and are instrumental to a company's success and a customer's satisfaction. They are irreplaceable.
If you were waiting for the other shoe to drop, then here we go. A large majority of these deskless employees feel under-appreciated, forgotten, and receive only a sliver of communication from management and higher-ups. And that's exactly what you don't want. If you have deskless employees who feel like they aren't being recognized, your company is faced with failing profitability and productivity.
Why is it so hard for companies to communicate and involve every employee? When it comes to the deskless employee, they're just not as connected as the rest of the staff. In fact, 85% of deskless employees say that the communication they receive on the job isn't enough. Why is that?
They're away from the office and are usually on the road.

They rarely visit the company office, if at all.

Have limited or no access to a computer.

No corporate email.

Very difficult to connect or communicate with peers.

It's difficult to track their performance.

Company News and updates aren't easily accessible.

Cannot access vital documents or information on-the-go.
Here's the thing, if you're sending out emails, making phone calls, and adding information to bulletin boards – you're using outdated methods to reach your deskless employees.
Managing Staff Remotely: The Complete Guide (eBook)
In this free eBook, we highlight everything you need to effectively manage your remote employees. From communication tips to engagement ideas and more, this guide is filled with all the information needed to make remote work a success.
Download eBook for free
So what's the answer? It's simple, really. Everyone has a mobile phone so use it! Get a team chat app and you can easily reach your non-desk employees in a snap. Today, more and more companies have already made the switch and are seeing incredible results. The market is already there and it's time you caught up!
How a team chat app can help your business:
1. Fewer phone calls
The amount of phone calls goes down which keeps everyone productive and on track to get the job done.
2. History
No need to write anything down, all data is stored and you can access it any time.
3. Real-time updates
Employees don't need to wait until the next email or meeting to get vital company news, instead, they'll get updates straight to their phone. (You can also enable comment and like capabilities to save valuable time if you don't want everyone to be floored with a million notifications).
4. Share files, pictures, and videos
Sometimes a picture is worth a thousand words. Or maybe your staff is more visual? Send information the way that best engages your employees. This also makes it easier for your team to find and collaborate on projects in a single space on any device.
5. Robust reporting
The best chat app for the deskless workforce will allow you to gather data and create dynamic reports that are easy to read. Whenever you need a report, it's that easy to get direct access so you can effectively prepare for the next meeting.
6. Organized groups
Most chat app for the deskless workforce allows you to organize conversations into groups or channels. And you can create as many as you need, divide them up by departments, office locations, seniority levels, and more. You can even have a general group so your entire deskless workforce can chat about anything and everything.
Additionally, there are private messages that you can send directly to a single colleague.
7. Connect with millennial employees
You will find more infographics at Statista
If your staff is younger or you're looking to bring in more young adults, using a team chat app is perfect – after all, they do check their phone 150 times a day!
But what should you look for in a team chat app?
Make sure it's easy to use! If it's too complicated, your deskless employees won't even bother. As your team will be using it on a daily basis and they usually aren't in the same location, the communication solutions for deskless workers should be easy to use without much explanation. 
Do you need to train employees or is it just that simple? You don't want to waste days, weeks or even months teaching your staff how to use the chat app, you want to hit the ground running.
This is a biggie, is it affordable? Or is it just going to eat through your pocket? Of course, price is a huge factor when choosing a communication solution for deskless workers, that's obvious! But it shouldn't be your only factor. 
Do you need an email to register? Or can you just download and go? Again, this plays off the first point. If the chat app for the deskless workforce is easy to use and easy to implement then you just saved yourself, and your workforce, considerable time. 
With all the options out there, how do you really know which team chat app is the right one for you? Which one can help you do all of the above and more? Our answer is simple – Connecteam is a true all-in-one solution that was specially built for the deskless workforce. So when it comes to reaching your most valued employees, look no further.
Why is Connecteam the best solution for connecting with your deskless employees?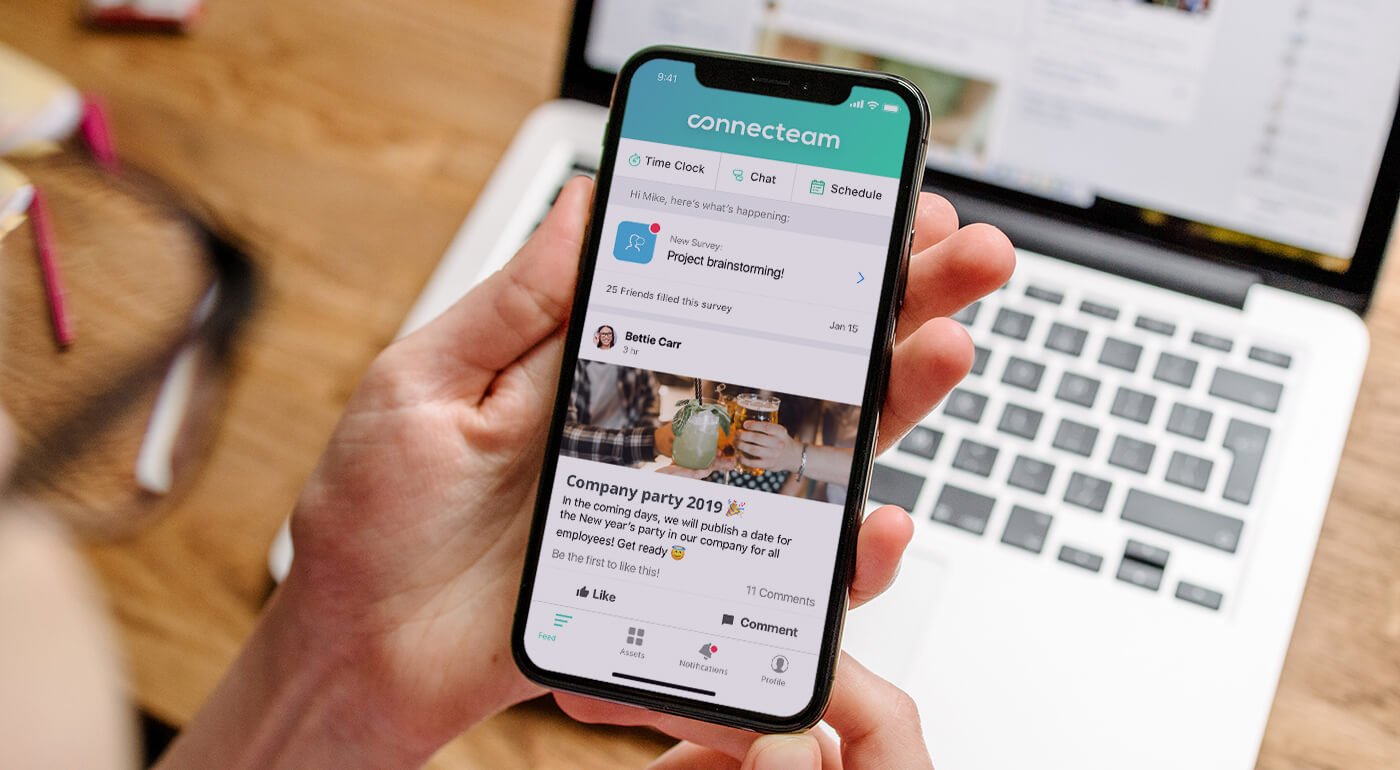 Connecteam is so simple to use that even your less tech-savvy employees can get started in seconds. You don't even need to train anyone on how to use the team chat app, simply download and share the company number, that's it.
Communication is simplified.
Send private or group chats on all company news and updates. Plus, setting up a group chat doesn't mean you need to manually add, edit, and delete all contacts. Instead, a user's profile has certain rules so they're automatically added or removed from groups. Keep track of who reads messages too!
In just a click, share images, videos, files, and even, GPS location. All of this can be done in real-time!
Work contacts aren't stored on personal devices.
Finally, you don't have to manually add and remove work contacts, instead, everything is available on the app. Quickly search for the relevant employee by name, department, location, and job role.
Send surveys after a meeting or event – you don't need to wait until an annual review, surveys can be issued daily, weekly or monthly to increase engagement. And you can enable a suggestion box that's always accessible so your employees can always share their ideas with you.
Connecteam makes it so media is never saved on an employee's device and also conversations cannot be shared outside the app. As an admin, you are empowered with highly advanced conversation setting options.
Lastly, we gotta talk about cost. It's so good, we've made this its own paragraph! Connecteam is the only team chat app that offers fixed monthly plans so you can focus on the big picture. For up to 200 users, pricing starts at just $29 a month. And if you need more than 200 users, there's a fixed Enterprise plan as well. Start your free plan today!
Reach out to our team to learn more about our communication solution. 
Boost communication with your deskless team
Connecteam has numerous communication tools to help your company boost communication across the board such as, group or private chat, in-app employee directory, suggestion box, surveys, social messages and more. Use Connecteam on a daily basis, it's that easy.
Start for free
Want to get more tips?
Join 20,000+ others who get our weekly newsletter with Business owner tips!