Mobile Workforce Management App: Managing On-The-Go Employees Just Got Easy
Managers: Your employees are geographically dispersed and that presents a few basic challenges. The first and most obvious one is communication. Managing a mobile and remote workforce can make task delegation and team building very difficult but there are solutions.
When your team is close at hand and in-person, relationships naturally build, communication is easier and task assignment is as simple as pointing a finger. When managing a mobile workforce, your finger pointing abilities become, well, pointless.
That's where having a mobile workforce management app empowers your team to stay close in spirit despite the geographical distances. How exactly can a workforce management app do all that without making your job even more difficult?! That's what we're here to explain.
How Workforce Management Apps Build Relationships
Job satisfaction is highly correlated with positive work relationships. How do we know? Science. So let's explore how an employee app can help create a cohesive and engaged workforce.
First of all, setting a positive tone at work starts at the top. So, managers, you need to actively develop your skills — high-performing organizations spend 1.5 to 3 times more on "management development" than lower-performing organizations.
This means that successful organizations actively train managers to be better managers. And better managers, in turn, do twofold: build positive relationships at work while meeting the overall organizational goals.
Mobile workforce management apps can send secured private or group messages to communicate with employees. You can also create a group chat strictly for workers themselves so that they can build relationships with their counterparts at other locations or branches.
If you are are a restaurant with a few locations, you can create a group chat for managers, a group chat for servers, and a group for cooks. This way, you foster professional relationships with your employees and between employees.
How Internal Company Communication Is Improved
If you're like me, you dread the intrusive and exhausting WhatsApp workgroup. Using a work-only secured messaging or chat option within an employee app allows managers to set the tone for the work environment — positive, negative, tense, or encouraging.
But most of all, the employee app allows you to be professional and efficient. Leave the (not) funny pictures of employees with dog ears on to Snapchat and create an employee chat group that focuses on your business.  
You'll be surprised, but a professional conversation sets a positive tone between you and your employees and encourages them to come to you for help and guidance using the employee app chat function. 
However, don't miss the opportunity to shine the light on your employees as well. Share birthday messages, work anniversaries, a positive review from a customer, personal milestones like marriage or a new baby, the employee of the month, and so on. While you should be professional, don't forget that your employees are human too. Use the employee app to empower your employees and show them that the company culture is more than just employees clocking in and clocking out.
Since great management is a two-way street, apps like Connecteam also have a feedback mechanism. Managers are now using management apps to create surveys that gauge employee work satisfaction and work conditions at various locations. However, make sure you're sending surveys on a regular basis because if you're just waiting for the annual review, you're missing the point. When you frequently ask for feedback from your employees, you are making them feel valued and heard. Plus, if they point out a problem, you can fix the issue straight away instead of letting it blow out of control. Send surveys after a meeting, a company outing, a conference, after each quarter, during the onboarding process, and so on. Make sure you act on the feedback as well, otherwise you're wasting both of your time. 
You can also use it for insights about relationships between employees and direct supervisors. There is research that supports the notion that workers who are encouraged to give their managers feedback have higher rates of engagement.
How Employee Task Assignment Is Streamlined
If managers were an app, assigning employees with tasks would be their feature, right?! When a manager isn't in close proximity to his employees, however, task delegation can be challenging.
That's where a checklist can come in handy, whereby managers create job-specific checklists with step-by-step instructions, with the option of including documents, photos, or video, ensuring on-the-job compliance.
The best managers understand their employees' strengths. We're not suggesting you become a holacracy like Zappos and scrap job descriptions for tasks and projects only, but leveraging employees' strengths for specific task delegation will only do you good. One way to do this is to send out a survey to employees about their particular interests and strengths, and see how you can use this when delegating tasks.
For example, if you are the manager of a retail store, and you know one of your employees sees themselves as a people-person and a nurturer, you can put them in charge of "welcoming new employees" — setting them up with new employees to mentor and show them the ropes.
If you're worried about employees getting distracted by tasks that are outside their core job descriptions then you can even schedule specific time slots for additional tasks and keep things running smoothly. This easy delegation frees up your time, while building up your employee's strengths and skills, truly a win-win.
As you can see in the table below, there are many factors to good management and employee engagement. One of the most important factors is a "culture of recognition" — when employees complete their tasks well, recognize them, and spread the word.
  Credit: Deloitte
And The Award Goes To…
Managing a mobile workforce is probably one of the most challenging things in this day and age. You are responsible for a team of people, personalities, and projects. Managers with remote employees should be given a medal for being able to juggle a million things from afar. An employee management app softens this edge by creating an easy way to communicate, delegate tasks, and build relationships — key ingredients in managing a successful team, whether next door or across the pond.
#1 Employee Management App
Choose Connecteam as your tool to manage employee engagement, development, and relationship. You can streamline communication, give employees a platform to be heard, boost engagement, strengthen the company culture, align employees with company policies, streamline daily operations, build professional skills and so much more.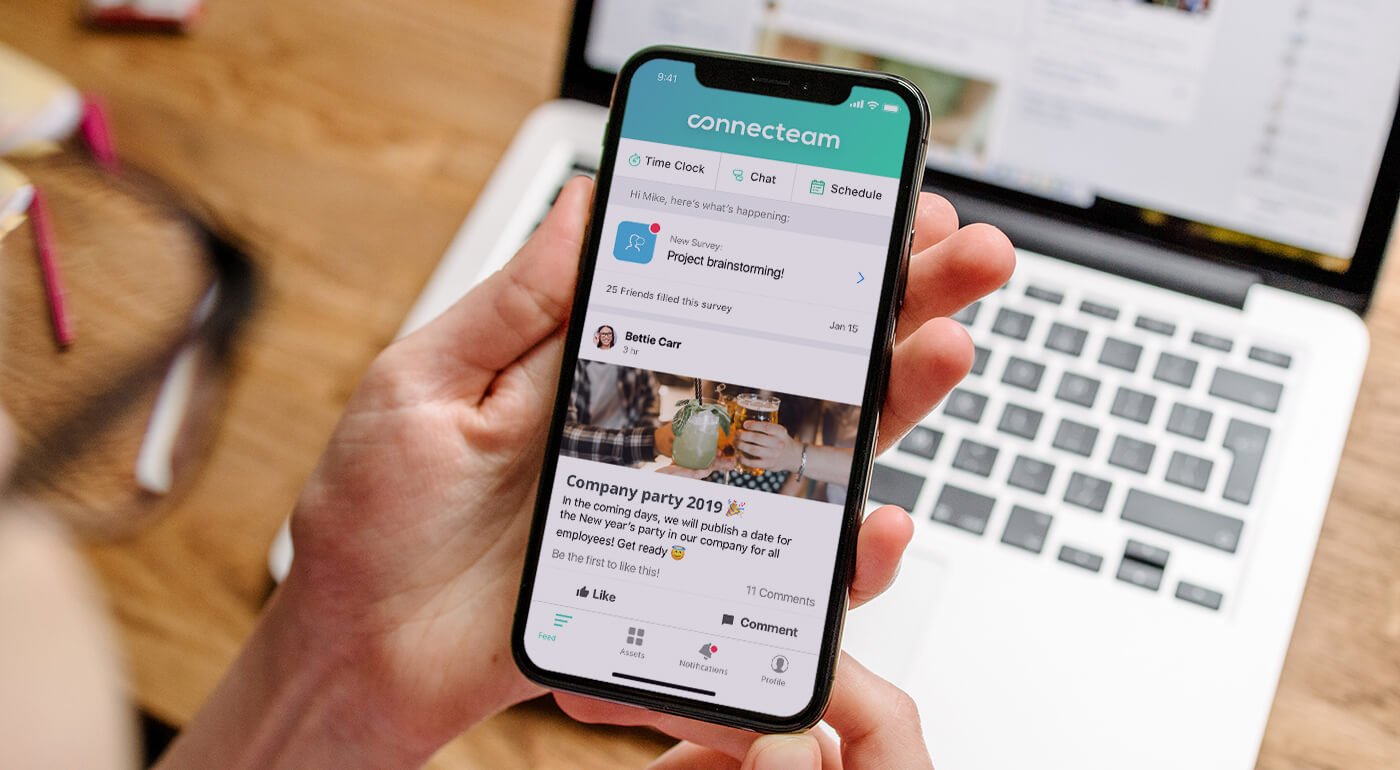 Find out more
Want to get more tips?
Join 20,000+ others who get our weekly newsletter with Business owner tips!