15 Top Nonprofit Apps You Should be Using in 2020
While nonprofits are designed to cater to a greater cause, at the end of the day, they're still a business. While the motivation behind each nonprofit differs, you still need to run your organization like a "profit churning machine". 
As such, there are two aspects you need to focus your efforts on – getting donations and managing your volunteers and employees: 
Gaining donations –

donations are the fuel of your organization, without them, you're going a mile a minute but aren't getting anywhere. To reach your fundraising goals, you must work creatively and effectively, and that's exactly where

apps for nonprofit organizations

come in. The right app makes it easier for people to donate as it offers convenience so make sure you're ahead of the curve with the right online tools to get you over the line. 

Managing volunteers and employees –

like every business, you need to operate, communicate with, train and manage all your employees and volunteers. As a nonprofit, it can be harder to keep everyone on the same page with updates and announcements, however there are apps that can ease this burden. 
How can a nonprofit app help your organization?
Help volunteers find you. 
If you aren't online where users can easily find you with a simple search, your nonprofit just won't succeed. By having a website or app, your organization is more accessible, you can reach a larger audience, and you build trust with donors. 
Usually people know what they want, they just need to search for it, whether they want to be a volunteer or to donate. The new generation of digital users expect a digital experience so you need to get on their level if you want to succeed. 
Think about yourself, how often do you buy something online and from your mobile phone? Probably quite frequently. Why? Because it's so easy to click a button and you're done – plus, most sites and apps securely save your credit card details so you don't have to manually enter much information. 
Help run your employees and volunteers like a pro.
With the right nonprofit apps, you can streamline communication and daily tasks with your volunteers and employees. Donations are the fuel that run your organization and in order to get there (and keep you there), you have to efficiently manage your employees and volunteers. Most of the time you're understaffed and overpressure, you don't have enough manpower to run your organization – however a management app makes it easier to juggle all the tasks to keep everything running smoothly and efficiently. A management app also helps reduce employee turnover, easily train employees, teach quality customer service techniques, stay up to date with all the latest changes, and most of your volunteers might be young so an app suits them best. 
We separated the nonprofits apps into categories that are most relevant to building up your organization – from management to marketing to raising money and so on. The apps on this list will help you run your employees and volunteers like a pro and highlight tools to help you raise donations and spread the word. Here are the top 15 apps for nonprofit organizations that you need to download today. 
15 Top Nonprofit Apps You Should be Using in 2020
Nonprofit Management Apps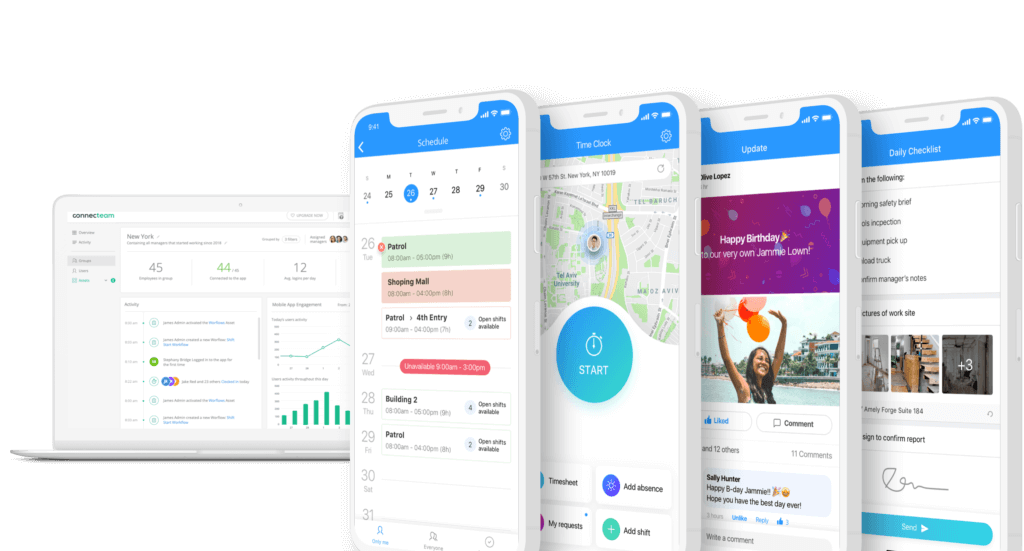 Connecteam has the total package to easily manage your employees and volunteers from one place – it's the best tool to run your employees and volunteers. All of Connecteam's features help boost productivity, keep everyone in the loop, and you have full visibility on what's going on.
Operational features increase your day-to-day functions with an employee time clock to track work hours, employee scheduling, and checklists and forms to keep workflows and procedures digital so volunteers can fill in whatever is need straight from the field (like safety reports, sick forms, job report, equipment checkout, expenses, reimbursement, field report and more) – as a manager, you remain up to date with it all. 
Communication and engagement features make it easy to keep everyone aligned with group chat that includes likes and comments to boost engagement, private chat, in-app directory to contact who's needed easily, feedback surveys, a suggestion box and more. This level of communication helps volunteers feel connected to the organization and its cause. 
Training features start from the first day of on-boarding so you can reduce the turnover rate of volunteers, the employee handbook, read and sign options; but also include building up professional skills with quizzes and a knowledge hub to host all procedures and training material to put training on auto-pilot with Connecteam.
Cost: Pricing starts at $29/month for up to 200 users. There is a free plan available! 
One app to manage volunteers and employees
Connecteam is your tool to manage employee engagement, development, and relationship. You can streamline communication, give your employees a platform to be heard, boost engagement, strengthen the company culture, align employees with company policies, streamline daily operations, build professional skills and so much more.
Try for free
Board Director is built especially for board members and directors, it makes it easy to communicate with your board, schedule meetings, and collaborate. This is a great nonprofit app when you need to review quarterly donations and plan future fundraiser events.
Cost: A small board starts at $299/month for up to nine users. There is also a free 21 day trial. 
With Bitrix24, everything is at your fingertips such as donor management, volunteer management, tasks, projects, communication and collaboration, document management, HR, email and telemarketing.
Cost: There is a free plan that's best for those just starting out, otherwise the cheapest plan is $69/month but only allows for up to six users. For unlimited users, it costs $199/month. Additionally, registered nonprofit entities can get 15% off on six and 12 month plans.
Nonprofit Marketing Apps
Buffer is the perfect tool to use when you want to schedule social media posts in advance. Seeing as how 55% of people engage with nonprofits on social media also take some sort of action afterwards shows just how important maintaining a social media presence is – it's a huge asset that you can't afford to lose. However, it can be a difficult task to stay on top of when you have a million other things that require your attention.
With Buffer, you just connect your social media accounts and create a queue of posts that are auto-scheduled, or you can set a specific time, so you save plenty of time from having to be online all the time. 
Cost: Use the free plan for three accounts or less. The smallest paid plan starts at $15/month for up to eight accounts. 
RiteTag helps you track how successful your campaign's hashtags are. Via the dashboard, view how people use your hashtag on Twitter and Instagram, and you can also track trending hashtags so you can get an idea of what hashtags to include in your posts. 
Cost: There are actually four pricing plans: starting from $9/month. There is also a free seven day trial.
With Canva, it is so easy to create stunning, high-impact social media graphics and marketing materials. Just drag and drop, access a library of over 1 million images, and follow the template to create the perfect image for your nonprofit business. 
Cost: Apply here for your free subscription. 
Infographics can bring you a ton of reach on social media channels. Mainly because they are appealing to see, easy to understand and can be shared quickly. Graphic designers can be highly expensive so with Piktochart, you can create your own sophisticated infographic at half the cost. 
Cost: The Individual PRO plan is $39.99/year or the Team PRO plan costs $199.99/year for five users (the price goes up for every user you need to add). 
The whole purpose of Fundly is to raise money for your nonprofit. Fundly makes it easy and painless to create a campaign page and get the word out about your fundraiser through video and photo galleries, fun email templates to help boost donations, and promoting your cause on social media channels. The 2017 Global Trends in Giving Report revealed that a quarter of donors pointed to social media as the inspiration of what caused them to give donations and over a fifth (21%) of peer-to-peer fundraising is from direct click-throughs on social media. Your nonprofit needs to use social media to its advantage. 
Cost: A platform fee of 4.9% plus a credit card processing fee of 2.9% and $.30 per transaction.
Nonprofit Money Raising Apps
Google recently launched One Today and this nonprofit app is available for Android devices. One Today features a different nonprofit every single day and allows its users to donate $1 and match peer donations. It's a very straightforward platform where giving a little can change a lot. Plus, One Today is highly intuitive so it can tailor charities to the preferences of the user so it shows projects to users that are similar to causes they have donated to before. If you want to register for Google for Nonprofits, go here.
Cost: Free.
Coin Up helps you gain more donations every month. Basically, it is programmed to help users round up whatever debit or credit charge they make throughout the month, and then they donate all the spare change they have to the nonprofit they choose via Coin Up's platform. You can register your nonprofit here if you'd like to join. 
Cost: Free.
One Day's Wages is a "grassroots movement that encourages users to donate one day's wages to fight world poverty". If you run a nonprofit whose cause is similar, then contact them to partner up because it's amazing what teamwork can do when you want to change the world. 
Cost: Free.
VolunteerMatch is a great way to find volunteers for your upcoming event or fundraiser. All volunteers need to do is search the site by skill, location, and interests so they can find the best place to volunteer their time. Almost all volunteers are donors too so it's an easy way to receive donations as well – there are about 1.3 million visitors to the site every month. 
Cost: A VolunteerMatch membership is free. However, you can choose the service level that's relevant for you – the Basic service is free of charge and offers standard recruiting tools. The Community Leader service is $9.95/month and offers participating organizations unlimited recruiting privileges.
Other Tools
DialMyCalls makes it super easy to send out automated phone calls or SMS text messages so you can update individuals of an upcoming fundraiser event or whatever else is necessary. Each message you send generates a detailed report so you know exactly how many of your contacts received the message. 
Cost: $7.49/month or you can create a free account with one call with a 30 second message for up to 25 contacts per week. 
Google Analytics makes it much easier for your nonprofit to track online conversions, both hard conversions (contributes directly to operations like online donations, volunteer registrations, form submissions) and soft conversions (activities leading to hard conversions like visiting the website over 10 times or downloading a report).
Plus, one of the best and most relevant features of Analytics is tracking the biggest bounce rate or exit rate, as in which page(s) do visitors leave the most. If it's the donation page, you know that's a key area to focus on. 
Cost: Free.
Salesforce created a Nonprofit Success Pack that begins with open data architecture and builds up pre-built constituent and donor management components. The entire CRM was created especially for nonprofit organizations so that it's easier to cultivate donor relationships. The program grows with you as it enables your nonprofit to observe every single interaction with a funder or volunteer. Having a bulk of information that is systematically organized helps you establish and grow relationships – this kind of interaction engages the donors of today. 
A crucial aspect of the Nonprofit Success Pack is that with very minimal programming, it is completely configured to your needs, goals and daily operations. 
Cost: All eligible organizations get 10 subscriptions for free in the Lightning Enterprise Edition, the regular cost is $150/month. Whereas the Lightning Unlimited Edition includes far more features and costs $300/month. There is a free 30 day trial as well. 
With this list of 15 nonprofit apps that can help you deliver on the big picture, test them out to see how they can benefit your organization. 
Want to get more tips?
Join 20,000+ others who get our weekly newsletter with Business owner tips!