5 Ways to Overcome Communication Problems in The Workplace
Productivity, working relationships, and morale will struggle to work efficiently if you have communication problems in the workplace. And if the communication problems aren't addressed, profit loss, higher turnover, mistakes, and a negative public image are commonplace. Recognize and address communication problems in the workplace before the situation gets out of control.
Avoid misunderstandings or something slipping through the cracks when you tackle workplace communication challenges immediately. How can you effectively do this? Well, ensure you have the right methods in place for all data and messages sent, measure all the data, and know who received the message and who didn't. Streamlining communication and keeping everyone on the same page will help you avoid communication problems in the workplace.
In fact, a Watson Wyatt study reported that companies who communicate effectively are 50% more likely to experience low turnover. Effective communication builds a foundation for success from the company to employee happiness.
With effective and good communication in the workplace, you create a positive atmosphere with more understanding on both sides of the aisle. As you take action against communication problems in the workplace, success follows. However, success doesn't happen overnight so make communication a daily task and you will reap numerous benefits in the long run.
5 ways to overcome communication problems in the workplace:
1. Use the right communication tools.
The first step to overcoming communication problems in the workplace is by making sure you have the appropriate infrastructure in place for healthy communication. Such as the basic communication tools like group chat, employee directory, suggestion box, surveys, social messages, and more.
You have to have the right software to support all channels. For instance, email and Skype are the best solutions if your employees sit behind a desk most of the day. However, if you have deskless and mobile employees, then you need an employee app that engages them instantly, like Connecteam. Connecteam allows for private or group chat, an in-app directory, suggestion box on any matter, surveys and so much more.
Boost communication with Connecteam
Connecteam has numerous communication tools to help your company overcome communication issues such as, group or private chat, in-app employee directory, suggestion box, surveys, social messages and more. Use Connecteam on a daily basis, it's that easy.
Learn more
2. Consistency.
The delivery method for communicating with all employees should be the best for effectively and efficiently conveying the meaning of the message. Create a structure for each process – who reports to who? Who uses which tool? What kind of data is needed in the report?
It's super easy to miss regular check-ins when work becomes busy but these consistent check-ins are the best way to maintain workplace communication. It becomes an easy way for employees to stay on track with projects and tasks and you can share feedback on their work as they go along. Employees will only become frustrated if they finish a project or task but their manager had something else in mind. Preventing this is easier when you're consistent and are available for questions from the get-go.
3. Don't mix work and personal communication.
Some employees tend to mix personal lives into the workplace communications. Personal communications detract from the professionalism in the office, which sometimes leads to gossip in the workplace, leading to decreased morale or even accusations of harassment. Don't use Whatsapp for organizational communication as there is no separation between work and personal!
4. Listen!
Listening skills are crucial to effectively communicating and understanding what is being shared. Employees who cannot listen will miss key information or won't know what is happening. And remember that communication and listening is a two-way street. 
Ensure that all employees can share their voice with management and that you're not just exposed to ideas from your "inner circle". With Connecteam, you can create a suggestion box that's always accessible for employees to share their ideas, opinions, and thoughts.
5. Follow through.
When you share information, be sure to follow through to ensure everyone is aligned. For instance, after a meeting to discuss how to reach sales goals and employees have certain tasks and goals to meet – you need to follow through that they're on track. You need to avoid employee confusion and ensure employees have a clear sense of what they need to do from start to finish.
Use a communication tool to boost internal communication
Over 5,000 customers choose Connecteam for all their communication needs and in just 15 minutes, you can do the same for your business.
It is easy to use, all your employees need is to download the app, add the company number, and GO. You don't need to train a single employee so they can get going in a click. Employees will actually want to use the app so start using the free plan to test the waters! Once you do, we can pretty much guarantee that you'll never look back. 
Streamline communication with Connecteam
Connecteam's communication tools include: group chat, private chat, in-app employee directory, suggestion box, surveys, social messages and more. Use Connecteam on a daily basis and avoid communication problems in the workplace.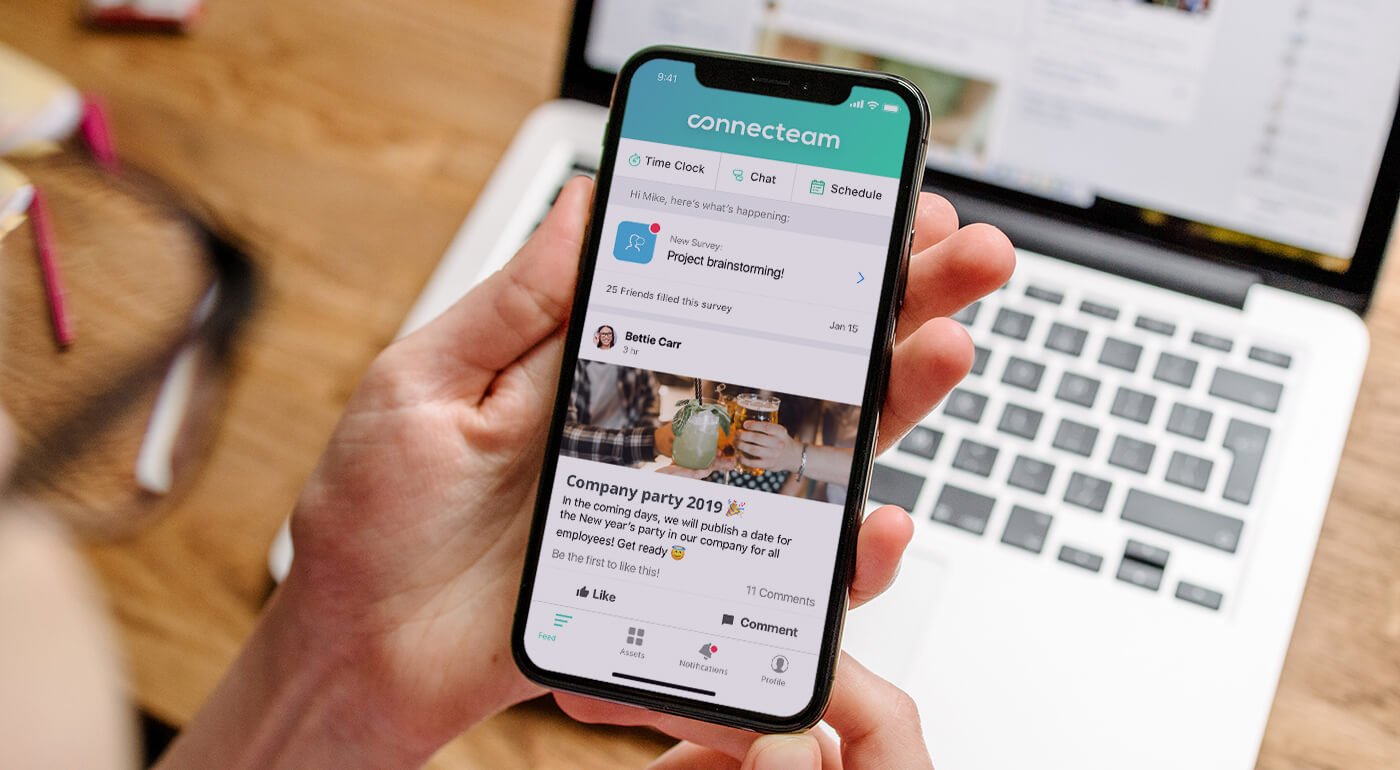 Start for free
Want to get more tips?
Join 20,000+ others who get our weekly newsletter with Business owner tips!