Employee turnover is expensive, draining and is becoming more difficult than ever. In this blog, we look at ways to reduce turnover for good!
Table of contents
Even since before the pandemic hit, employee retention and reducing turnover has been a hot button issue.
And yet, with the tumultuous events of the past two years, HR managers attempting to reduce turnover have had their work really cut out for them.
One thing's for certain: reducing employee turnover is a critical issue for your, and any organization. But how can you do this?
Here's everything you need to know about retaining and reducing employee turnover (regardless, or in spite of, the pandemic!).
Why You Need to Address Employee Turnover
While employee turnover is a natural part of the lifecycle of any company, the pandemic has only sped up the rate at which employees are leaving: the Great Resignation took many industries by surprise – after all, in a time of global uncertainty, why wouldn't employees want to maintain their job security?
This type of assumptive thinking was partly (if not wholly) to blame for fueling the Great Resignation in the first place. Employees wanted to feel heard and seen, and were frustrated by the response to their employers during the pandemic, who didn't respond appropriately to their health, wellbeing or safety concerns at work.
With a distributed, not-so-tech-savvy workforce already suffering from chronically low engagement, this only served to deal the death-blow to already demotivated workers.
And they've left a vacuum in their wakes. Employers are really struggling with high turnovers, and then struggling to find candidates for interviews, let alone hire them. In fact, the previously-unheard phenomenon of candidate ghosting is a steadily creeping trend.
All of this just goes to show: reducing turnover is one of the highest priorities for your businesses, and not just because it's tricky to find replacements; it's incredibly expensive to your organization in several ways:
It's expensive to replace employees: some estimates put the entire hiring, recruiting and training of new entry-level employees between 1/5th to somewhere around 50% of their salary to replace. Not only that, but it's estimated to cost employers around 33% of an employee's annual salary just for their exit.
Employee turnover leads to knowledge drain. When an employee leaves, they take with them all of the knowledge that they've gained during their time working there.
It leads to employee overload, as the now ex-employee's tasks and duties need to be redistributed to other employees, leading to lowered employee morale, and possibly prompting them to quit too.
According to the Work Institute's 2017 Retention Report, replacing an employee can work out to around $16,500 per person (on an average salary of $50,000 a year). While there's no mention of these costs in its 2021 report, you can be certain they're far higher now.
Cost of Employee Turnover
Total cost to onboard new employee
Total cost of lost productivity
If all of this sounds ominous, then luckily, there's an easy fix: focusing on your employee retention and motivation, which, according to a Gallup poll, will automatically result in 24% reduced turnover, and a 17% increase in productivity.
But first, you need to understand why your employees are leaving in the first place.
So, Why Are Employees Leaving?
According to research by Quantum Workplace, employees are leaving in droves due to these 6 reasons:
Bad communication
Employees like to have consistent communication, and feel like they're a part of something bigger than themselves. Leaders need to make sure there are open, cross-organizational channels open and available to employees, not only so leaders can communicate with employees; but that also enable employees to communicate with leaders.
According to Ragan's report, 56% of US-based deskless workers felt disconnected from their organization, while 84% didn't get enough direct communication.
Lack of Recognition
Employee engagement lies almost solely in employee recognition. Without this, employees feel (understandably) underappreciated, unvalued, and therefore, demotivated. Shockingly, around 80% of surveyed remote workers feel out of the loop, compared to in-house staff.
It makes sense: we all like to know we've done a good job, and receive encouragement and feel noticed.
Download your FREE guide on "10 Tips for Engaging Your Frontline Teams" ⤵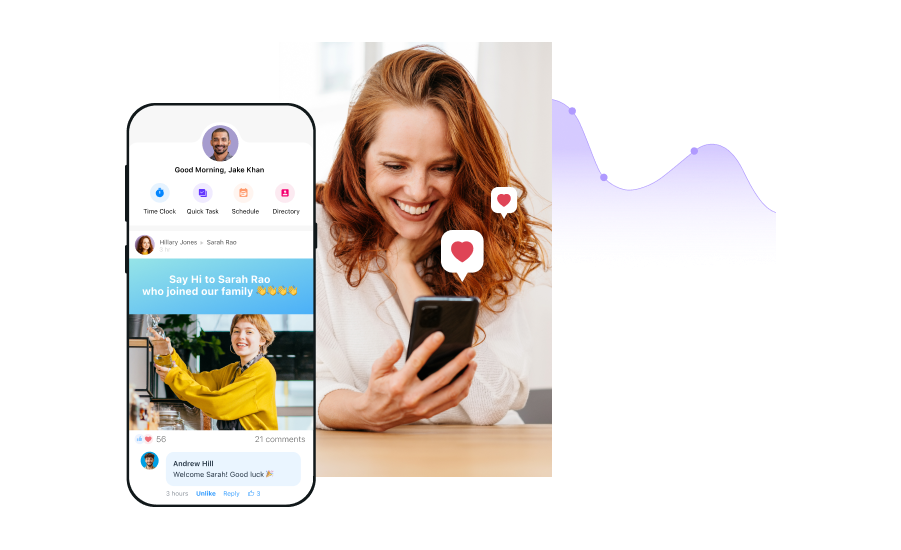 Lack of Career Opportunities
Your employees want to be able to grow and develop in their jobs. But, if you're not providing these opportunities for development, they will want to leave. Shockingly, according to the report, only 38% of surveyed existing employees stated they received career development opportunities in their companies before leaving, while only 45% said their job had aligned with their intended career goals.
One LinkedIn Workplace Survey report even stated that 94% of the employees surveyed said that, had they had better learning opportunities, they wouldn't have left the company when they did.
A way around this is to have a career development plan in place. Once it is, it needs to be communicated and discussed with employees, so they feel like they're on the right track, and in the loop.
Lack of Flexibility
During the pandemic, employees were eager to have a flexible working situation available to them, especially if they were parents juggling with an uncertain daycare or schooling system.
The inability of an organization to see their employees as humans can be disastrous, putting untold stress on employees (in terms of childcare, travel arrangement and even, as with the pandemic, their personal health or exposure to COVID) and as such, can cause them to leave.
To reduce turnover, simply offer your employees more flexibility (if that's feasible), and they will thank you with their loyalty.
Lack of Feedback
This one's a two-fer: a lack of feedback, and a perceived inability to act on any feedback given, can be a death-knell for your employee retention.
Either not having any channels to offer feedback (even better, anonymously), and publicly being seen to not follow up on any feedback offered, the report suggested, damages employees' trust in you and the organization as whole. It leads to employees internalizing their thoughts and needs, which in turn makes it almost impossible for employers to understand those needs, and so act on them.
A simple way to reduce turnover would be to provide those feedback channels, and regularly (and publicly act on) what's offered.
Lack of benefits
Employee benefits are a minefield, but they are worth their weight in gold when done correctly.
They're a backbone of an employees' life in your company, and do more to demonstrate the mission, vision, value and purpose of the organization itself.
Offering the right employee benefits is key to reducing employee turnover, showing them that you care about their lives, which will make them more loyal to you.
Reduce employee turnover for good
See Connecteam's all-in-one solution to reduce employee turnover, in under 1-minute flat.
How to Reduce Turnover: 6 Practical Steps to Take Now
As you would likely see from the main reasons listed above, most, if not all of the reasons have to do with two main themes: communication and training.
Employees thrive on communication, be that from the higher levels down, sideways or from bottom-up.
Once you have your communication channels and employee training sorted, your employee engagement will skyrocket.
Practically, how do you implement these? Here are 6 ways.
Improve your internal communication
Improving your internal communication will go a very long way indeed in reducing turnover.
But how do you put that into practice?
Of course, the easiest way to do all of the above is with a top employee communication app: Connecteam.
With no training required and setup time of under 1 minute, your employees will love using Connecteam, for the internal chat, whole-company updates, and more.
Provide a robust training and onboarding experience
One of the quickest ways to reduce employee turnover is to ensure they're happy right from the start: by providing effective training and onboarding (and making sure you hit all the important features with a well thought-out onboarding checklist).
From effective frontline employee onboarding, to seasonal employee onboarding, to training and onboarding deskless workers (and even to onboarding remotely), making sure your employees start off their journey with your organization happily will give you a lot of loyal employees in the long-run. 
One way to do this is with Connecteam's effective employee training software. With easy and customizable mobile training courses and handy onboarding checklists and templates, you'll have everything needed to set up your self-serve employee training and onboarding, allowing them to onboard themselves, upskill, or consult important documentation as and when needed, on their own terms.  
Boost employee engagement
Once you have the first two steps in place, your employee engagement is the next important thing to turn your attention to.
Employee engagement stems from better communication and training opportunities but it doesn't stop there; having internal communication channels is only half of the battle!
Understanding how to 'do' employee engagement is easier said than done: both in implementing it, and maintaining it. You need to know what makes your employees' tick, what they need and want: the best way to keep your ear to the pulse is by carrying out anonymous employee surveys, and keeping an open suggestion box.
Another way is to actually understand how to measure your internal communications, to check your employees really are engaging as they should be. One way to do this is by choosing employee engagement software to use.
All of the above can be done with Connecteam. Its internal communication features include social engagement tools, pre-scheduled updates and easily shareable video content – gifs, images and more! You'll even be able to track who's read your latest updates (or not), and send automated reminders to those who haven't yet read them.
Recognize and appreciate your employees
As mentioned above, a little appreciation goes a very long way indeed to reduce turnover. Other than having whole-staff appreciation days, having a clear strategy on when to publicly praise your employees will go a long way to improve their work motivation.
And employee recognition is a very easy thing to implement: simply praising in public, or distributing awards like 'employee of the month' in your business; internal communication channels can go a very long way to keeping employees happy and feeling appreciated.
With Connecteam, it's easy to publicly praise employees, share in their celebrations and even reward them financially with coins, and other digital gifts.
Provide growth and development opportunities
Employee development doesn't need to be expensive, you can easily develop your employees wherever, whenever – even remotely!
The key element here is creating and implementing a career path that is shared with your employees at every stage. Having details of this on your staff intranet or digital library is key, allowing employees to keep updated with their potential career development, and feel more like a part of the organization.
Conduct surveys and polls for continuous improvement
Once your communication strategy is implemented, and employee engagement is on the rise, it's not time to sit back and rest on your laurels – you need to maintain that good work!
Keeping your finger on the pulse of how your employees are feeling is key to minimizing any potential turnover: deploying surveys and polls is an easy way to understand the general feeling, needs and wants of your employees…and then provide them to them.
Connecteam: Your All-in-One App to Reduce Employee Turnover
It may sound tough, but actually, the easiest way to reduce turnover is to deploy an employee communication app. And the best way to do this?
Meet Connecteam.
With no training needed, you'll be able to reach every single one of your team across 1:1, group and whole-company chat. Send fun, social-style updates (and see who's read it) to your entire team in seconds.
Your employee engagement will automatically rise, with happy, fulfilled employees that stick around for the long-term.
Connecteam has all the tools you need to help streamline your business: from self-serve GPS-trackable employee time clocks, to effortless employee scheduling and payroll – and more.
Try a 14-day free trial, no credit card required, and see what Connecteam can do to reduce turnover for good in your organization.
Connecteam: Reduce Employee Turnover, Period
Internal communication and engagement your employees will love, ready to go in under 1 minute flat: try a 14-day free trial now!
Want more great articles straight to your inbox? Subscribe Here ⤵