Employee Onboarding Process in 2020: The Complete Guide
Let's focus on what employee on-boarding is and why it's so important. Employee on-boarding is the process taken to integrate a new hiree into a company and its culture. Additionally, they are given the tools and information they need to become a productive team member. So why is employee on-boarding important? Because when you get it right, you create more productive employees who are more likely to stay at your company, and are also more engaged.
Here are the scary details if you don't have effective on-boarding, according to Christine Marino:
On-boarding programs help boost retention by 25% and better employee performance by 11%
Employees involved in a structured on-boarding process are 69% more likely to remain with the company for three years
It takes 8-12 months for a new hire to be as competent and proficient as a more senior co-worker
15% of employees confirm that an ineffective on-boarding program contributed to their leaving the company.
That's why proper on-boarding is so vital – it leads to increased productivity, happier employees and saves you money at the end of the day.
However, you must define the on-boarding process before it even begins, so answer these questions first:
When will

on-boarding

start?

How long will

on-boarding

last?

What are you looking to achieve at the end of the process?

What impression should new hires walk away with when their first day ends?

What should new hires know about the company culture and work environment?

What goals are you setting for new employees?

What are your KPI's for success? What do you need to do in order to achieve them?

What issues or struggles will you be facing?

What is the process to gain feedback and measure

on-boarding

success?

Who is involved? Consider managers, HR and coworkers.

Is is cost effective?
Maybe answering all of these questions seems overwhelming, however companies who don't an on-boarding plan only hold a 1 in 2 chance of retaining a new employee. In order to successfully onboard new employees, you must remember that it's a crucial part in employee retention – after all, most companies lose 25% of new hires within the first year alone. That's why the first few days and months are so vital, you need to make a good first impression, engage all employees and set your new staff up for success.
What are some best practices for an amazing on-boarding process?
Don't rush the onboarding process, it's a marathon, not a sprint! A study found that 31% of new hires leave within the first six months while 68% of those leave within three months. It's during this time that a new hire is learning how to do their job, how the company works, how they fit into the team, and so on. In reality, it is a lot of information to process and it can be hard to stay afloat without enough help. So, in order to keep new hires from drowning in information overload, keep the onboarding process going well beyond the first dew days and into the first few months. When you do this, you are helping the employee learn at their own pace about the company culture, their role, the benefits, policies and so on – this way, it is much easier on them to fully absorb all the information without feeling overwhelmed.
Have clear goals in place and check in frequently to see the progress as it will help the hire focus on what is actually needed and they have a target to work towards. Under no circumstances should a new employee be confused and not know what they need to work on! New hires want to impress, how can they do that if they aren't even doing what you want? When you set clear goals early on, everyone is on the same page and confusion is avoided.
Have veteran/seasoned mentors.
One survey actually found that 56% of employees believe having a work mentor was key when first starting. Explain how managers above the new hire are there to ensure they are on track and confident. Assure them, and their colleagues for that matter, the success and happiness of the team is a top priority. Half of employees stated they didn't feel their manager helped remove obstacles and it affected how successful they were at attaining job goals.
Have the best first week ever.
When you meet your girlfriend or boyfriend's parents for the first time, you want to make a good impression. The same goes for when you show up to a job interview. And yes, the same even applies to the company and manager making a good impression on the new employee! After all, you don't want high numbers of employee turnover and that all depends on how the employee is treated when they first show up. Remember that, "The worst thing for a new employee is being wooed through the recruiting process and then arriving on the job and the receptionist isn't even expecting you or your office isn't set up," says Ben Peterson, CEO of BambooHR. Everything should be set up from the minute they enter the building, for instance: decorate their desk, take them to lunch, introduce them to everyone and have them do 1-on-1's, give them company sway, and include them in meetings.
When you have a new hire, there is no such thing as too much communication! In fact, you want to be chatting with them as often as possible. This way, they feel included and welcome so if they have questions, they won't hesitate to approach you. Far too often do employees just do what they think is right without really knowing the process because they were too nervous to ask. During their first week, check in every half hour. At the end of their first week, sit down with them and recap what happened and what should happen going forward. Do this process every week for the first month. Continue to recap every month or every three months, as long as you are checking in as frequently as possible.
Always ask for feedback about the on-boarding process! Why? Because you want to know if it's any good. Don't just assume that because there is an on-boarding process in play that your job is done. Life and work are frequently changing so make sure you are asking your employees their thoughts on how things are going. From the first day to the first week to every week of the first month to every month after. Create surveys to gain consistent feedback. Your goal is to ensure that your new hires are actually getting value out of the on-boarding so when you continue to bring new employees onboard, they are constantly getting the best.
Now that we have established why the employee on-boarding process is so important and have laid out best practices to bare in mind, what should you include in the actually on-boarding process? What should the first day look like? What about the first few months? We explain it all and more!
We have broken down what the employee on-boarding process should look like from beginning to end:  
The first day:
Your goal is to have the new hire go home and happily say to his family and friends that he had the best first day ever. So how do you do that?
Set expectations.

What is the new employee's job role? What are their responsibilities? Make sure everyone across the board is aware so the "veteran" staff don't resent new hires. Clearly explain all expectations and share the company policies. They should be far more familiar with what their responsibilities are and how the company operates.

Introduce objectives.

Acclimate new hires to the company culture because when employees know what to expect from their company culture and work environment, they are able to make better decisions that align with the company's mission.

Take them out to lunch

so you can easily build rapport. Plus, it helps rid of those first day jitters when the new employee is in a relaxed environment.

Make sure his work station is  ready and shiny.

The new employee should have a computer with login information and all software downloaded, along with a uniform (if there is one) and company swag.

Give him a buddy.

The new hire should have someone they can freely lean on! They eat lunch with their buddy, their buddy introduces them to people and checks in that everything is okay. And best of all, the new hire should feel free to bug their buddy with "stupid questions".

Survey after the first day.

Check in with the new hire after their first day to gage how everything went. From the minute they arrived to the minute they left, let them share it all.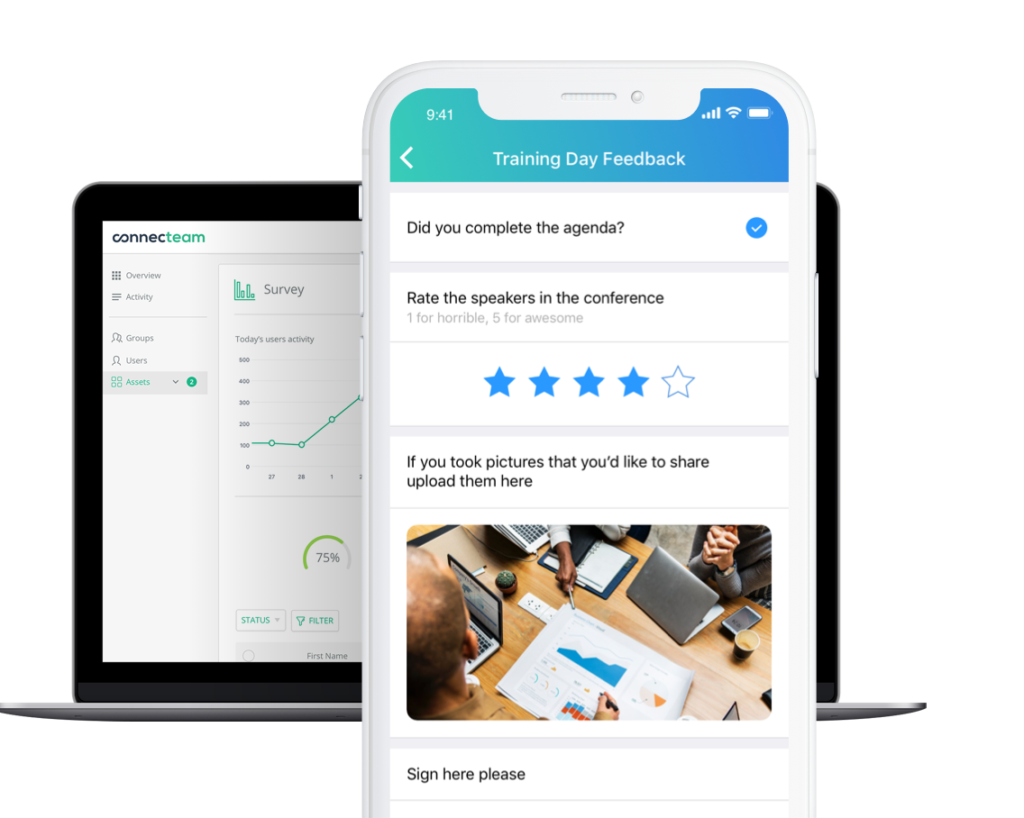 The first week:
Your goal is to make sure the new employee has established knowledge of his job responsibilities, internal processes, and expectations.
Make training real.

Share with them all the training courses that they need to do, such as a deck about the company, getting to know the customers, and prepare for the year ahead. Do this with online course presentations or paper documents.

Compliance.

Make sure that the employee signs all the relevant documents and have all relevant documentation available.

Socialization.

The new hire should have a lunch with senior team members and should have a personal welcome from the group supervisor. They should feel more relaxed and should have met a lot of new people in the company.

Survey after the first week.

Check in to see how the first week has gone, see if the new hire has any questions or concerns, what more is needed, how they feel about their co-workers and manager, etc.
One month check-in:
Your goal is to check that your new hires are engaged, happy and comfortable, and that they don't have any lingering questions.
Get a face to face meeting.

Sit down with the new employee and chat with them to see how they're getting on. Review the first few weeks and answer any questions. Check with their buddy what they think of the new employee. And make sure they are getting frequent check-ins.

Socialize.

The new employee should continue to be involved in meetings and to continually meet people from different departments.

Offer feedback.

Give the new employee ongoing feedback so they feel connected and involved, plus they should know how they are progressing on a daily basis. But also allow for the employee to share their feedback with you, whether it's about the

on-boarding process

or ideas about company growth, there should be a platform for them to speak up.

Keep momentum going.

Continue to assign tasks and create professional goals together.

Make a plan.

Establish an annual training plan for the new hire and make sure they're signed up accordingly. Check with them to see if they're missing anything and what additional training they need.
After 3 months:
Your goal is to ensure the employee is ROI positive and feels at home, like he wants to recommend to friends to join the company. Remember that most new hires figure out in the first three to six months if they want to stay at the company for many years.
1:1 with the manager.

The new hire's manager should be able to share his/her views on how the first three months have been going, what goals were met and what more needs to be done. While the new hire should be free to share his/her point of view.

Informal check-in.

Usually a company has a six month and one year check in to discuss KPI's met and the next quarter. However when you have a new hire, have an informal three month check in so you can discuss performance reviews and goals.

Create own goals.

Allow the new hire to set his/her own goals for the next three months. As they continue to be given assignments, they should always know what goals they need to meet every month and every quarter.

Survey on the first 3 months.

Conduct a survey to see how the new hire's first three months have gone. Gage if they have a firm grasp on their responsibilities and goals. Plus, it is a good indicator if they need additional training.
After six months:
Your goal is to have the new hire delivering goals on time and beyond expectation while having a strong relationship with co-workers. The employee should be confident, engaged and still eager to learn.
Six month check in.

Just like you did with an informal three month check in, do the same at six months but keep it formal instead. Review progress so far and continue to develop new goals.

Socialization.

How involved are they with company events? Are they involved in many meetings? By now, they should be going to all relevant company meetings. He/she should be involved with activities outside their job description.

Meet with buddy.

Sit down with the buddy/mentor and discuss how the first six months have gone and see if it is time to stop the mentoring process. Gage what else would be helpful to the new hire.
The first year:
Your goal is to have a fully engaged, confident and developed employee. He/she should have a firm grasp on the company's culture and goals.
Check productivity.

What has their performance been like? What KPI's have been met? What additional work needs to get done? Celebrate successes and offer recognition for when they have excelled.

Plan ahead.

Choose to continuously develop your employees and lay the cards on the table, they should know what opportunities lie ahead.

Professional development.

What goals and learning opportunities are relevant for the year ahead – discuss this together.

Survey after the first year. The employee should be able to fully express how the entire on-boarding process has gone from their point of view so that you can improve on-boarding for the next new hire.
In order to not miss any crucial steps, gain feedback in real-time, monitor employee progress, have all relevant documents and information readily available and more, you need to look into on-boarding software for your business.
To summarize…
With all the processes that are involved in an employee on-boarding process, it is absolutely essential that you have the right tools and processes in place so that you can ensure nothing is missed and your employees have everything they need to succeed. With Connecteam's employee app, you can take on-boarding, routine trainings, regulatory courses or professional skills to the next level.
With a training app straight on your employee's phone, it's now easier than ever to deliver training materials by using existing documents, PDF files, media, web-services like YouTube, Dropbox, Google Drive or your company website. Create quizzes by sections, employ an adaptable library, and monitor training progress from the admin dashboard. In addition, you can create surveys to evaluate training needs and success or use the Suggestion Box to receive feedback at any time.
All of these capabilities sound expensive but with Connecteam, it's never been more affordable. For fixed monthly price for up to 200 users, you can enjoy all of Connecteam's features, and more, starting at just $29! If you need more than 200 users, opt for Connecteam's Enterprise plan which is also available at a fixed monthly price. Or you can begin with the free plan!

Set a new standard on training with Connecteam
On-boarding new employees, routine trainings, regulatory courses or simply providing professional skills to employees is easy and affordable! Your new employee training software starts at just $29/month for up to 200 users!
Start for free
Want to get more tips?
Join 20,000+ others who get our weekly newsletter with Business owner tips!