5 Underused, Effective Ways to Create Employee Training Programs that Deliver
At first glance, the statistics are pretty scary. Access Perks reports that over a quarter of employees plan to look for a new job in the next year, and 15% have already started. But when you dig deeper, there's hope for companies that are willing to invest in their most important resource – their employees.
According to Access Perks, almost 70% rank professional development and training as "the most important workplace policy," and companies are listening. It reports that 45% of companies already increased their training budget, and 39% are planning to do the same in the near future.
Additionally, 40% of employees who receive poor or very little on-the-job training will leave within their first year of employment. And whenever employees leave, it costs you big time.
Yet, so far, only "14% of employees would grade their company an 'A' for the availability of training resources," adds Access Perks.
It's time to step up the game when it comes to employee training programs.
1. Create Flexible Mobile Training Programs that Work for Your Employees
"There's a phrase that I've heard over and over again… Being listened to feels so much like being loved, you can hardly tell the difference. And when an employee feels listened to or invested in, they are more loyal to the organization, because they feel that somebody cares about them," Rachel Tuller, CEO and business coach at Vistage, told Russell Sarder, CEO of Learning, in this video:
Yet only 38% of employees "believe their organization is concerned with their welfare, according to Oracle Human Capital Management's recent worldwide employee engagement survey," reports Oracle's blog.
How can your training programs show employees that you care about their welfare?
By giving them as much flexibility as you can.
A 2016 study conducted by "the University of Minnesota and the MIT Sloan School of Management" discovered that employees who discovered they would have flexible work options – "flexible work schedules, remote work, reduced meetings, communicating more over instant messaging (IM), and better balancing high-demand periods of work" – had a much better chance of being the kind of employees that help companies succeed, reports Flexjobs.
According to Flexjobs, these employees "felt more supported by their bosses" and "reported greater job satisfaction and less burnout and stress."
This will become more and more important. According to Forbes, "2017 will mark the first full year that gen Z" – those born in 1995 or later – "will be settled into the workplace." According to Adweek, Gen Zers are driven self starters (72% want to start their own business and 80% believe they're more driven than their peers). They're used to doing their own research, yet they have short attention spans. When they do seek traditional employment, they need a workplace that can adjust to their needs, so they can serve that workplace well.
To get Gen Zers and other flexibility-hungry employees excited from day one – and to attract top talent – consider offering comprehensive mobile-first training programs whenever possible. Employees will be able to get training whenever and wherever they're comfortable doing so, at their own pace, with the limitations you'll set.
In addition, you experience the following with employee training programs:
Save time and money as no employees need to be scheduled training at different times and dates every time a new hire is added to the team.
Guarantee informational consistency across the entire organization so you know that everyone received the same information and training.
Train multiple locations at various times without any additional costs.
Digitally track and assess training completion because sign up sheets are outdated training methods.
Employees have direct access to information so you can reduce uncertainty, misinformation and error.
According to Brainscape, "the average American adult looks at their phone 100-200 times per day, and spends only 1-6 minutes at a time inside a particular app." Therefore, Brainscape recommends you stick to 1-6 minute training sessions as well. It also recommends keeping training apps searchable, so employees can always refer back to the material later.
2. Define Goals and Objectives
Don't just create employee training problems where you check off some boxes, you'll only get mediocre results and a lack of participation. That clearly defeats the purpose!
That's why it's so important to set up goals and objectives, ones that genuinely matter and go beyond the standard. "Organizations must ask themselves what business impact they're hoping to achieve through training," said Shelley Osborne, who is Udemy's Head of Learning and Development. "By evaluating what's happening within the business and identifying opportunities for improvement, creating the right training initiatives will not only satisfy employees, but will also impact the bottom line."
And make sure to add time frames and benchmarks.
"While some organizations may use a broad metric like increased productivity as a benchmark, others may take a more tactical approach and recognize a very specific solution in response to a certain need. An example of this would be for a small business that's growing very rapidly to deploy interview training as a way to ensure its entire team is aligned and scaling."
3. Make Your Employee Training Programs Data Centric
Brainscape points out another great benefit of mobile training apps – you can collect a whole lot more data, then use it to improve your training programs and make them more accurate to your business and employee needs.
Knowing exactly who is using your mobile training products, when they are using them, and how much they are using them can help you continually optimize your delivery and communicate clear results to your overlords. Solid user analytics can also be easily aligned to other employee performance indicators to show strong correlations of mobile training participation with team member success", emphasizes Brainscape.
But don't just rely on data you get from your analytics. Be proactive about getting employee feedback, and treating repeating issues in your optimization efforts.
Need an extra nudge in the right direction, here's a four level training evaluation model:
Depending on your situation and the amount of continuous training required for your employees, consider looking for a solution in which your company app allows you to study each employee and personalize training sessions to their preferences and changing needs.
"While organizations may occasionally have to mandate specific training for certain reasons, one of our core principles when it comes to learning and development is that employees are in the driver's seat. We're proponents of the 'pull' learning model and believe that to create a lasting impact, employees must feel driven to seek training and learning as opposed to feeling forced to invest their time. For training to be successful, the real focus should be on whether employees are preforming better at their jobs, and attendance shouldn't be used as a metric to shame employees into learning. At the end of the day, by making learning personalized and relevant, business leaders can foster employees that are better at their jobs and more engaged as a result." – Shelley Osborne
4. Analyze Knowledge Gaps Across Positions to Create More Accurate Employee Training Programs
Chances are, you have people in your company who don't have all the knowledge and skills they need to have in order to drive your company forward. Or maybe they're making hundreds of dollars worth of mistakes, like this new ice cream parlor employee:
As a a manager, the easy thing to do, especially nowadays, is to fire them and find someone who already has the knowledge and skills their position requires, but on average, that means you'll be paying a lot more money. Not to mention that it lacks long term vision. At some point, you'll need to sit down, flip open your laptop, and start typing down a training program that will grow with your business. Otherwise, you're doomed to repeat your hiring mistakes.
According to FosterEDU, "The Society for Human Research Management estimates that the cost of directly replacing an employee can run as high as 50 to 60 percent of their annual salary, and total associated costs of turnover can rise to 90 to 200 percent. For example, according to the Association for Talent Development's 2014 State of the Industry report, the turnover cost of replacing a human resources manager can be $133,000. In comparison, the average annual cost of training and developing a new employee is $1,208."
If you think saving training time will balance the scale and make the expense worth your while, think again. FosterEDU reports that "the time spent training a new employee is a fraction of the time lost during the overall turnover and hiring process."
In other words, the best financial move is to invest in your current employees.
If you want to do it effectively, sit down with your managerial leaders and analyze what skills and knowledge every position in their departments requires in order to optimize performance.
Ask them to review each employee's performance. Guide them to pay attention to repetitive gaps across the department, but also to individual challenges.
Turn to the employees themselves and ask for their feedback. Ask what's missing to help them succeed in their current position, and what they think they'll need in order to advance in the company.
In addition, talk to customers, providers and partners, or anyone else who's in consistent professional touch with your team, and see what they think is missing.
Then, sit down with your managers, or get a professional consultant, and develop training programs that will close the knowledge and skills gap for every department.
Repeat the process to create training programs for your managers. Don't assume that higher level employees already know everything.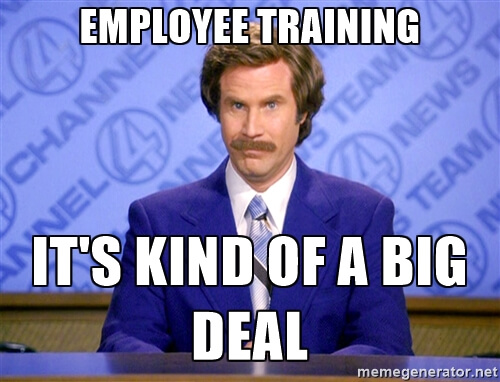 5. Incorporate MOOCs (Massive Open Online Courses) in Your Employee Training Programs
We've established that training employees makes more financial sense than hiring new ones. That doesn't mean it's free – especially if you're outsourcing your entire training program.
A great way to be cost efficient is to turn to MOOCs. A MOOC is a massive open online course, which can be taught to many people at the same time, or at different times, without exorbitant  costs or much work. The course materials can be consumed anytime, anywhere, so they're perfect for employees' desires for more flexibility.
After you analyze employee and business needs based on the guidelines we set above, go online and start searching.
Some of the world's leading universities – like Yale, Harvard and MIT – offer courses completely for free (click the university names to go to their free courses).
For example, if you're in retail and your team needs to expand their knowledge on the basics of store design & visual merchandising they can check out this free video:
By the way, you can create your own fully mobile training program by embedding videos (such as the one above) and uploading all kinds of content to your Connecteam employee app 
But there are other sources – very cost effective sources – that specialize in training professional employees. Lynda.com, for example, is an online training program owned by the professional social network LinkedIn, which offers a wealth of practical training courses by industry experts in an abundance of topics.
The added benefit of providing MOOCs?
It puts some of the training responsibility on the employees, something Atti Riazi, CIO of the United Nations, believes is important. "It is the employees' responsibility to develop themselves, and it is the organization's responsibility to support that development".
Save Millions by Ensuring Your Employee Training Programs are Effective
When training fails the cost for the company can average around $13,500 per employee (for companies with 1,000 employees and above). Don't let that happen to you. Follow the tips above, engage employees, get the results you need from your training programs, and grow your business. Your employees are your most valuable asset and well trained employee is guaranteed to perform better, make your customers happier, and help your business grow.
Create your own fully mobile training program with Connecteam
Onboarding new employees, routine trainings, regulatory courses or simply providing professional skills to all employees is easy to do on Connecteam! Create your own courses, host a mobile knowledge center, provide training feedback, and more is possible on Connecteam's training software.
Find out how
Want to get more tips?
Join 20,000+ others who get our weekly newsletter with Business owner tips!