Table of contents
While running a busy restaurant, it can be challenging to offer the training your staff needs. You and your more experienced employees may just be focused on staying profitable, and a steady stream of diners can leave you with little time for staff learning opportunities.
To help you out, we've put together this guide to restaurant management courses and other training.
Below, you'll find solutions to keep your restaurant compliant with state health codes, ensure your staff knows how to prepare your signature dishes, keep your team members confident in their skills, guarantee the best experience for your diners, and more. We also explore a much better option for restaurant training: using an all-in-one digital training platform.
Key Takeaways
Restaurant management courses include specialized training that covers wait service, food allergies, bartending, customer service, safety, and many additional topics
Creating your own training can save your restaurant money and help you provide your staff with targeted, relevant information. 
With an all-in-one digital platform like Connecteam, you can create and manage bite-sized training videos, custom courses, and other training materials that help your staff develop their skills.
10 Best Restaurant Management Courses
Whether you need to train your restaurant staff on restaurant revenue management, food safety hazards, bartending and waitressing, or another related topic, these top restaurant management courses can help.
Here are the 10 best options we've found on the market.
Overall restaurant management
Valencia College's Restaurant and Food Service Management Associate in Science (A.S.) degree program
Duration: 1 year
Price: $9,576.00
Certification upon completion: Yes
Looking for a comprehensive course to give you the resources to run a successful restaurant? Valencia College offers an associate degree program that covers restaurant revenue management, menu planning, hiring, catering, labor costs, trend analysis, and more.
The program includes access to Valencia College's career center and other resources. It involves hands-on instruction as well as 405 hours of internship time, making it a strong option for first-time restaurant owners and employees.
Food allergy training
FARECheck from the Food Allergy Research & Education (FARE)
Duration: Different durations for different course levels
Price: Contact FARE for pricing
Certification upon completion: Yes
According to the Asthma and Allergy Foundation of America, 6.2% of American adults and 5.8% of American children have food allergies. In your restaurant, food allergies can lead to anything from a diner having an upset stomach and leaving a bad review to someone going into anaphylactic shock and potentially taking legal action.
A course that can help you prevent this is FARECheck from Food Allergy Research & Education (FARE). This online food allergy training class covers safe food handling and good communication with diners, so allergy-prone guests can avoid an allergic reaction.
The Culinary Institute of America's Food Allergy Awareness for the Professional Kitchen course
Duration: Self-paced
Price: Free
Certification upon completion: No
In addition, the Culinary Institute of America has a free online class about food allergy awareness, with checklists and tips that cover proper food handling, cleaning, food allergy awareness for front-of-the-house staff, and more. The tips can easily be downloaded and posted in your kitchen.
Food cost training
Typsy's Better Food Cost Management course
Duration: 54 minutes, 36 seconds
Price: Free with a free Typsy subscription
Certification upon completion: Yes
Food cost training ensures your business stays profitable by helping you manage expenses. With businesses in this industry having very thin profit margins, averaging 3-5%, taking care of every dollar keeps you competitive and may help you keep your doors open.
Typsy offers a free Better Food Cost Management course, developed by professional cook Ryan Gromfin. You'll learn how to calculate prime costs, menu item costs, and more. You'll be taught how to portion control and manage inventory to save money.
This class also covers food waste reduction, vendor negotiations, prevention of kitchen theft, and other topics.
Restaurant customer service training
Udemy's Restaurant Management Customer Service course
Duration: 2.5 hours
Price: $44.99
Certification upon completion: Yes
Proper restaurant customer service training ensures your staff members have the skills and tools to provide diners with the very best experience. With training, your staff will use standard customer service guidelines, not their own ideas, so every customer gets the same experience.
Udemy has an online restaurant management customer service course that covers how to create a memorable experience, the importance of online reviews, and customer service tips. Students learn the basics of customer relationship management and ways to improve service.
EdApp's Dealing with Difficult Customers training course
Duration: Self-paced
Price: Free
Certification upon completion: No
Since some customers can be unpleasant, indecisive, or even offensive, it can be useful to give your front-of-house staff training in how to successfully deal with these situations. EdApp offers a Dealing with Difficult Customers training course that's great for this.
This free training covers how to resolve complaints and how to handle challenging diners. Through specific examples and quizzes, learners find out how to handle intoxicated customers, incorrect food orders, complaints, and other challenges in the dining room.
Bartender training
BarSmarts's Basics and BarSmarts Professional training courses
Duration: Self-paced
Price: $29
Certification upon completion: Yes
Bartenders face a unique set of challenges when compared to other restaurant staff. They need to know how to mix a number of different drinks and may be more likely to deal with unruly or intoxicated customers.
BarSmarts offers online training for bartenders. Developed by bartenders, this training covers mixology, hospitality, health and hygiene, spirits categories, measuring and pouring, garnishes, customer service, and other topics.
There are 2 levels of training: BarSmarts Basics and BarSmarts Professional. BarSmarts Basics is intended for new bartenders, while BarSmarts Professional is designed for experienced staff who want to create new drinks and who need to upskill.
💡Pro Tip:
Different types of specialized bartenders can benefit from specific bartender training. For example, publican bartenders work in a pub, flair bartenders add performance to mixing drinks, and speedtenders handle service in busy bars and restaurants on Friday and Saturday nights. Ensure your training caters to their unique needs.
Restaurant revenue management
eCornell's Restaurant Revenue Management course
Duration: 3 months
Price: $3,600
Certification upon completion: Yes
Even if food is a passion for you, you need to stay profitable to keep your business open. This doesn't happen by chance. Restaurant revenue management training shows you how to reduce waste and improve profits so you can be successful in this industry.
eCornell, Cornell University's professional education unit, offers an online Restaurant Revenue Management course that covers how to create a revenue management strategy to improve profitability. Managers discover how to tackle pricing, occupancy maximization, meal duration, and other factors to boost the bottom line.
In addition, the training offers advice on improving the diner experience and resolving operational challenges.
Food safety hazards
Courses from the National Sanitation Foundation (NSF)
Duration: Varies by class
Price: Varies by class
Certification upon completion: Yes
Food safety goes beyond being aware of allergies. For proper food safety, restaurant staff must be aware of food safety hazards, including product recalls, contamination, food-borne illness, and other topics.
The National Sanitation Foundation (NSF) has a range of food safety hazards training for organizations across the food chain. These classes cover ways to build a food safety culture, food defense management, sanitation, and other subjects.
In addition, the NSF can create custom online or in-person classes for restaurants.
Cleaning and sanitation training
Universal Class's Kitchen Sanitation 101
Duration: Self-paced—4 hours average time
Price: $70-95
Certification upon completion: Both certificate and non-certificate options are available
Your restaurant needs to pass health inspections and meet standards for cleanliness. That means everyone on your staff needs to be trained in how to keep your kitchen and every part of your establishment sparkling.
Universal Class has a cleaning and sanitation training course that covers the basics all restaurant staff members need to know.
This class includes overviews of food borne illnesses, handwashing, sanitation, temperature control, food handling, dishwashing, safe serving, employee hygiene, hazard identification, critical control point planning, and other topics.
Students watch video classes, take part in online discussion, and complete an online exam as part of their studies.
Waiter and waitress training
The Waiter's Academy's Waiter Training Course
Duration: Self-paced
Price: Contact Waiter's Academy for pricing
Certification upon completion: Yes
Wait staff need to be able to serve food with a smile, take orders, communicate with diners, and more. Your customers will interact with wait staff more than with most other employees, and waiter and waitress training courses ensure these team members have the skills to create an outstanding impression.
The Waiter's Academy offers an online Waiter Training Course for all front-of-house staff. It covers types of restaurant service, rules of service, serving and carrying, table setting, fine dining service, wine service, coffee and tea service, order taking, greeting, upselling, dealing with difficult guests, and more.
Restaurant standard operating procedures
Iowa State University's Standard Operating Procedures (SOPs) course
Duration: Self-paced
Price: Free
Certification upon completion: No
Restaurant standard operating procedures (SOPs) standardize what happens at your restaurant. Instead of relying on each employee to decide where to store food or how to schedule a shift, SOPs cover exactly every step each procedure should include.
SOPs take guesswork out of the equation and ensure nothing falls through the cracks. With an SOP and SOP checklists, your restaurant bathrooms are properly cleaned the same way every time. Likewise, meals are served to look the same way for each diner.
Iowa State University has an online course on Standard Operating Procedures (SOPs) for restaurants and other businesses.
The course offers resources for creating SOPs for food handling, employee hygiene, staff training, and other operations. Plus, you don't have to pay or sign up to see the materials.
💡Pro Tip:
Your restaurant may need many types of training. Look at job descriptions for every member of staff, and write down what training they'll need at onboarding and beyond. This helps you create a plan for ongoing upskilling at your restaurant.
The Benefits of Creating Your Own Restaurant Management Training Courses
When restaurant owners realize they need training for staff, many consider outsourcing restaurant management courses. They spend time looking for and comparing online training or spend hours working with a third-party provider to create bespoke courses at a cost.
But there's another option: creating your own training, without relying on pre-packaged courses or expensive custom solutions.
Let's take a look at the benefits of this approach.
You can save money
Paying for out-of-the-box training or custom courses can increase the real cost of each employee at your restaurant. Training ranges from just over $20 per worker, per course to close to $10,000 in some cases.
When you create your own learning opportunities for your employees, you can save a ton of money. You also don't have to pay extra to add or update training.
Your content can reflect what your staff needs to know
By creating your own training, you stay fully in control of what you teach and can customize the experience. Your staff will learn exactly what they need to know for your establishment and won't waste time learning irrelevant information.
You can make training more engaging
You know your employees, and you can use that familiarity to create training they'll enjoy. For instance, you might create videos set in your kitchen, or include graphics or inside jokes from your business to keep your staff entertained while they learn.
When you develop your own restaurant training, you can also create an engaging course structure that reflects restaurant reality.
For example, you might create short, 1-2 minute videos and bite-sized resources that your staff members can check out when they have a spare minute. This type of microlearning is less overwhelming and helps your team learn on the go.
You can capitalize on existing knowledge and experience
If you've been running a restaurant for a while, you may already know more than some trainers or instructors. You may even already have manuals, safety training resources, checklists, SOPs, and other materials you've been using to train and onboard your employees.
When you create your own training, you can use this information as the foundation of your courses. Your knowledge and experience will go to great use!
Similarly, you can draw on your staff members' expertise when you create customized training. For instance, if you have employees who excel at greeting customers or writing out the daily specials, you can invite them to create a short video explaining their technique. This way, you capitalize on what's already working well in your restaurant.
Create Your Own Restaurant Management Training Courses with Connecteam
Connecteam is an all-in-one work management solution with powerful tools for employee training. You can use it to create your own training without the cost of a third-party option.
Let's take a closer look at Connecteam's standout features.
Straightforward, customizable course creation
Even if you've never created a training course before, you can do so in minutes with Connecteam.
Just log into the admin dashboard within the Connecteam app. There, you can view exactly what your staff will see on their mobile phones.
Name the training module you're creating. Then, touch or click your device to create new training materials or import any existing ones. You can use text, videos, PDF files, HTML elements, quizzes, surveys, links to online resources, and links to online workflow or online libraries.
Connecteam also enables you to create custom quizzes to test workers' knowledge on training materials.
Then, indicate the order in which your staff needs to complete the course. For example, you might want to have bartenders watch a short video first and then read drink recipes before taking a quiz to help them review the material.
Your staff can access their training straight from their mobile devices, making learning on the go a snap. Plus, all data is stored securely in a private cloud.
Easily monitor training progress and update courses and materials
Through the admin dashboard, you can see at a glance how employees are progressing through training. This way, you can send push notifications to your team members' devices reminding them to complete their training if they haven't yet.
Additionally, Connecteam lets you update training as often as you need to. So, if you decide to create a pop-up dining event, for example, you can quickly create and upload a new video and new resources individuals can watch before the big opening day.
Create live training events
You can also use Connecteam to create and manage company events—from birthday parties to team meetings to in-person training sessions.
You're able to add dates and details to events, invite team members, request RSVPs, and even monitor attendance so you can plan properly.
Store all relevant resources in one place for reference and training
Connecteam enables you to create a knowledge center for your restaurant. This is a central digital hub where you can store all your important company documents—including your employee handbook, SOPs, checklists, training manuals, instructions, and anything else.
Workers can check the knowledge center whenever they need to, and you're able to set custom access permissions so team members can view only what's relevant to their roles and responsibilities.
Get feedback on your training
Connecteam's surveys and live polls are a great place to ask your team for feedback. Create surveys from scratch using multiple-choice, open-ended, yes/no, and rating scale questions, or use one of Connecteam's handy templates.
You can use surveys and polls to ask employees about what training they need, which training is working for them, and what learning experiences need a refresh.
Keep employees excited about learning with rewards and recognition
With Connecteam's built-in employee recognition and rewards features, you can recognize your team members on their accomplishments. Send digital recognition badges with personalized notes, or send workers digital tokens that can be exchanged for gift cards.
You can use these features whenever you want to reward a job well done, but they're also useful for motivating employees about training. Consider sending out tokens or thank-you badges when employees complete training.
Connect training to the work your team does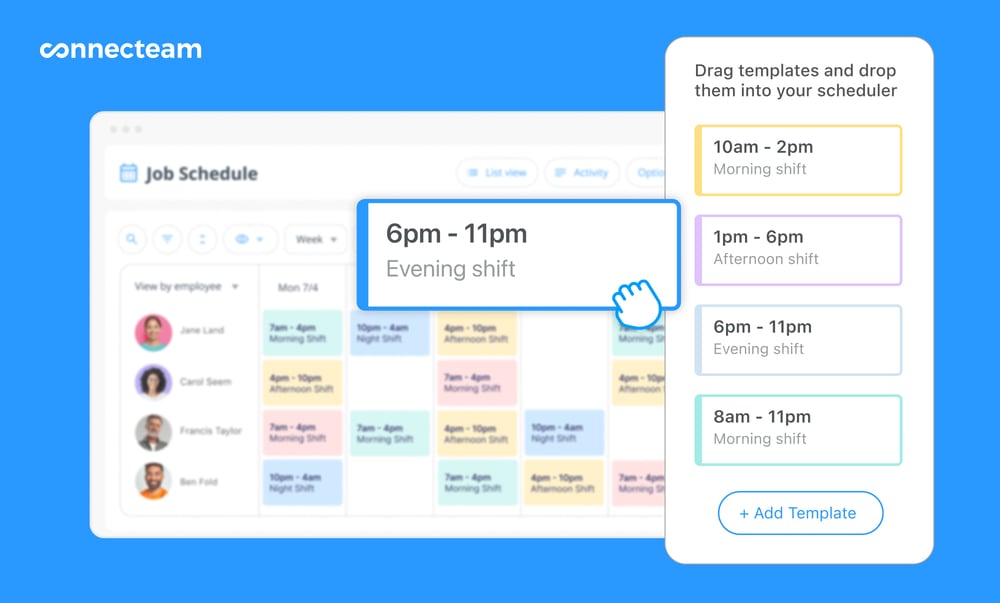 Connecteam also comes with robust scheduling and task management features that can help you streamline your training process.
For example, you can add notes to employees' shifts about training that they need to complete that day. Or, you can reinforce knowledge from recently completed training by adding checklists, attachments to training materials, and more to tasks.
Use the updates feed and in-app chat to communicate with your team
Connecteam's updates feature, which is like a social media-style newsfeed for your business, makes it easy to share information with your team.
You can schedule posts, enable or disable comments, and see which employees have viewed your announcements. Connecteam also sends employees notifications so they never miss a post.
There's also the secure in-app chat that enables you to get in touch with employees in real time. Communicate one-on-one or create groups to chat about anything from training to schedule updates to new menu ideas and everything in between.
Chat data is saved in the cloud, not on your team's devices, and you can monitor conversations to ensure they stay on-topic and professional. Plus, Connecteam keeps work chatter and personal conversations separate on users' devices, so there's never a chance of communication mix-ups.
Affordable for all
Connecteam offers a range of affordable plans for businesses of every size. Teams of 10 or fewer can sign up for Connecteam's free-for-life Small Business Plan, while larger teams can pick a paid plan starting from as little as $29 per month for up to 30 users.
The Bottom Line on Restaurant Management Courses
Whether you're running a casual family diner or high-end gourmet café, training your restaurant staff is essential to your business success.
There are many restaurant management courses online—from general courses for managers to more specific courses for front of house staff and bartenders—that can address your training needs. But creating your own training program is a much better choice.
Connecteam is the perfect solution for creating custom training courses for your restaurant staff. You can create videos, upload existing training material, get feedback on your courses so you can update the experience, and so much more. Plus, with Connecteam you can create learning modules in minutes, even if you've never created a course before.
Get started with Connecteam for free today!
FAQs
What restaurant training is mandatory?
In the US, most restaurant staff members are required to have a food handler's license, also known as an employee health permit. Most states require workers to complete an approved food handler's course before they're issued a license. This ensures staff know how to prevent food-borne illnesses and other hazards at work.
What is cross-training in restaurants?
Cross-training is the concept of training all your staff to hold multiple positions in your restaurant. For example, if all of your staff members receive wait service training and your bartender can't show up at the last minute, another individual on your team can step in.
Want to Receive More Great Articles Straight to Your Mailbox? Subscribe Here ⤵