10 Clever Employee Retention Strategies in 2020
Employee turnover costs you big time, and we're not just talking about the dollar amount. We also mean the ramifications the entire office and workforce feel when your shining star exits. However, if we're only focusing on the costs, a 2017 study found that turnover costs employers $15,000 per worker. With numbers like that, employee retention has never been more important.
Let's focus quickly on why employee retention is important. If you're a small business, you probably have limited resources therefore retaining top talent is key to business success. So when you have effective employee retention strategies in place, you are improving office morale and are ensuring that your best workers continue to work only for you and not your competition. And no, you don't need to spend a fortune on employee retention strategies either.
Retention strategies are a must during crisis management
A crisis here refers to cyber-attacks, man-made disasters, workplace violence, or a global pandemic like COVID-19, managers must get ahead to effectively manage the situation. Your employees are hit hard during disruptive times, from high levels of uncertainty to time urgency and negative morale, the strain only leads to lower productivity, poor employee retention and higher financial problems – all of which can lead to organizational failure.
However, there are companies that come back stronger than ever. What's the secret? Effective leadership.
A 2016 study published in Group Organization Management examined the leadership in organizations that had survived a crisis. They found that transformational leaders were instrumental in helping employees stay positive during a crisis, which was critical to the organization's outcome.
Even when an employee's personal and professional life at teetering on the edge, it's the best leaders who can help their team experience positive emotions. This is the key to keeping your team mentally strong. When you have resilient employees then you have a more resilient organization.
How to retain employees during a crisis?
Ask for your employee's ideas and feedback so they can take ownership of the disruption. This will create more loyal employees who are devoted to beating the chaos and are motivated to help.
Empathize with the stress, don't hide because you're also anxious and stressed out. Acknowledge that everyone, yourself included, feels some form of distress. Be authentic in your communication as this will provide genuine reassurance and your team members won't feel like they're alone in the chaos. "This is tough, but we're in this together," is something you should emphasize and your employees will band together.
Encourage your team to ask for help. During a crisis, your employees may think that asking for help is a sign of weakness but that couldn't be further from the truth – tell them that. Just saying, "If you need any help, let us know what we can do" can really go a long way.
A crisis can either make or break your business but the difference here is based on leadership.
Managers who are serious about employee retention strategies know that they need to do more than just the bare minimum. It makes no difference how big your business is, anytime an employee leaves, it's bad for business. The Wall Street Journal also found that "a high employee turnover rate can cost twice an employee's salary to find and train a replacement." It isn't just about the financial repercussions, but without great employee retention strategies, you'll also lower the knowledge base, lower morale, and decrease performance. By following the retention strategies we dive into below, you can avoid a high turnover rate.
10 Clever Employee Retention Strategies in 2020
1. Hire right from the start.
Glassdoor reported that 35% of employers who hire new employees do so expecting that more employees will quit in the year. If you're already expected one-third of your new hires to leave, that's not a good way to start the hiring process!
So make sure that you are hiring the right employees and that you don't fall into that negative mindset. Many new hires admit that they would stay at a job longer if they were better informed about their role during the hiring process. Therefore be honest about what you expect from the new hire. Whatever you do, don't omit details of the job just because you are desperate to fill an empty position. Being transparent is crucial in finding the right employee for your company.
The Wall Street Journal suggests you "Interview and vet candidates carefully, not just to ensure they have the right skills but also that they fit well with the company culture, managers, and co-workers."
2. Smart onboarding process.
From the first day, your new hires should be set for success and that all rely on the on-boarding process. Make sure that you aren't just teaching the new hire about their job role and responsibilities, it is just as important to teach them about the company culture and how they can thrive every single day. Layout goals for them, for their first week, first month, first three months, first six months and their first year. Make sure they have every opportunity to talk with you about questions or issues they have, consider setting them up with a mentor if your plate is full.
3. Have mentors.
Speaking of mentors, pair a new hire with a seasoned employee to ensure the greatest chance of employee retention. Your veteran employee will act as their best resource and vice-versa, the new hire can offer fresh eyes and a new perspective on how things are done. However, make sure the mentor doesn't act like a supervisor, instead, they are there for new hires to lean on, to be a sounding board, and to welcome them to the company culture.
4. Communicate!
When you have an open and healthy line of communication, you make employee retention much easier. Employees should feel like they can come to you with any and all ideas, questions and concerns. And on the flip side, they are expecting you to be honest and open with them about what's going on in the company and their own performance. Make sure you're communicating with them on a regular basis.
Implementing a team chat app, like Connecteam, keeps an "open door" between the employees and management. As a manager, you can easily send a company announcement, the weekly goals, celebrate the employee of the month, birthdays, anniversaries, and so on. Plus, employees can contact you if they have a problem or want to acknowledge a win, and they can easily send feedback (through a suggestion box or a survey done via the app) on any matter.
Additionally, if you look at points 5 and 7 of our list (celebrating wins and asking for feedback), using a team chat app makes these employee retention strategies even easier to distribute.
5. Celebrate wins.
Whether it's an individual or team success, make sure you acknowledge it. All major milestones should be celebrated! From an employee landing a massive $100,000 sale or setting a new record (sales, revenue, customers, etc.) or even if an employee just got married or had a baby. Seize the opportunity to celebrate together, opt for a team lunch or a company outing.
Verbal Praise: Sometimes it's enough to just say "Thank you, great work!" Offering verbal praise, but in a public setting, can boost the feeling of recognition an employee feels. Be specific and time, like "Great job with that customer the other day" is a nice thing to say. But what exactly are you talking about? Give more details. Try the following instead, "Remember the customer who complained about slow delivery times? You did amazing at helping us boost our delivery times and have made even more customers happy!"
Written Praise: Sure, sending an email is nice but an email sent to every employee about an individual's success does even better. By celebrating success company-wide, you influence the entire team to work harder and experience that same kind of recognition.
Throw a Party: When a huge success occurs, sometimes an event or party is appropriate. For example, if a massive achievement happens then go for a huge party with a DJ and invite family and friends of each employee. For the smaller achievements, provide food at lunch or bring in some goodies to enjoy in the break room.
6. Relaxed and casual.
The atmosphere in the office should be relaxed and casual, while still demanding professionalism. You need a balance between the two. One simple way to ensure this is to offer a business casual dress code. Or a "dress down" day every week, like on a Friday. This is a unique employee retention strategy but it is an incentive that is highly appreciated and puts employees at ease so they are motivated to work harder.
7. Ask for feedback and act on it.
As far as employee retention strategies go, this one is often overlooked. You need to get into the habit of encouraging and listening to all the feedback your employees give. So if you want to boost morale and employee happiness, it's time you listened and acted on what your employees are saying. Don't wait for an annual review, send weekly or monthly feedback surveys to your employees on various things – from new office design to the new marketing strategy or a new product you're pushing out. Make sure your employees have a platform where they can voice their thoughts. Consider a suggestion box that they can access at any time.
8. Work-life balance mentality.
We've said it before and we will say it again, company culture is key! Especially when it pertains to an employee's work-life balance. Do your employees have a lot of long nights? Or are expected to answer calls and emails at any time, even when at home? If that's the case, your employees will burn out quicker than ice cream melting on a hot summer's day. Creating a healthy work-life balance is essential for all your employees and they need to know that management gets it. So make sure your employees are taking vacation days and if they work late, let them come in later the next day or offer a day off. If possible, arrange for telecommuting or flexible schedules to ensure a healthy work-life balance is more than possible.
9. Team outings or lunches.
Boost the atmosphere and employee morale in the office with a company outing or pay for everyone's lunch. Or you can even hold some team building games and exercises in the office. It's an easy employee retention strategy that's sure to work. Why? Because everyone loves to have fun! Your employees will be more productive and effective in their work when they are compensated, bonuses and pay raises aren't the only option at your disposal.
10. Offer training opportunities.
Forbes highlights that "you should offer skills enhancement to all your workers." Why? "New technology, new selling techniques, changes in employment laws, and the huge impact of the internet are all compelling reasons to keep permanent employees in the loop."
Keep your employees trained and professional with these methods:
Outside seminars and classes
Computerized training (especially relevant with remote employees)
DVDs, audiotapes, books, articles, and pamphlets
Mentoring programs
Cross-department training
Offer Learning Management System (LMS)
If you're not sure what training opportunity suits your employees the best then involve them in the discussion! Ask them how they learn best and what appeals to them to excel in the company.
The bottom line on retention strategies
When looking at employee retention strategies, you don't need to break the bank to make it happen. When you are clever in your execution, you save on general cost and on employee turnover costs – now that sounds like a win-win situation. Be sure to review your employee retention strategies on a regular basis to ensure your strategies and company culture are working efficiently and effectively.
Boost employee retention with Connecteam
Connecteam is your tool to manage employee engagement, retention, development, and relationship. You can streamline communication, give your employees a platform to be heard, boost engagement, strengthen the company culture, align employees with company policies, streamline daily operations, build professional skills and so much more.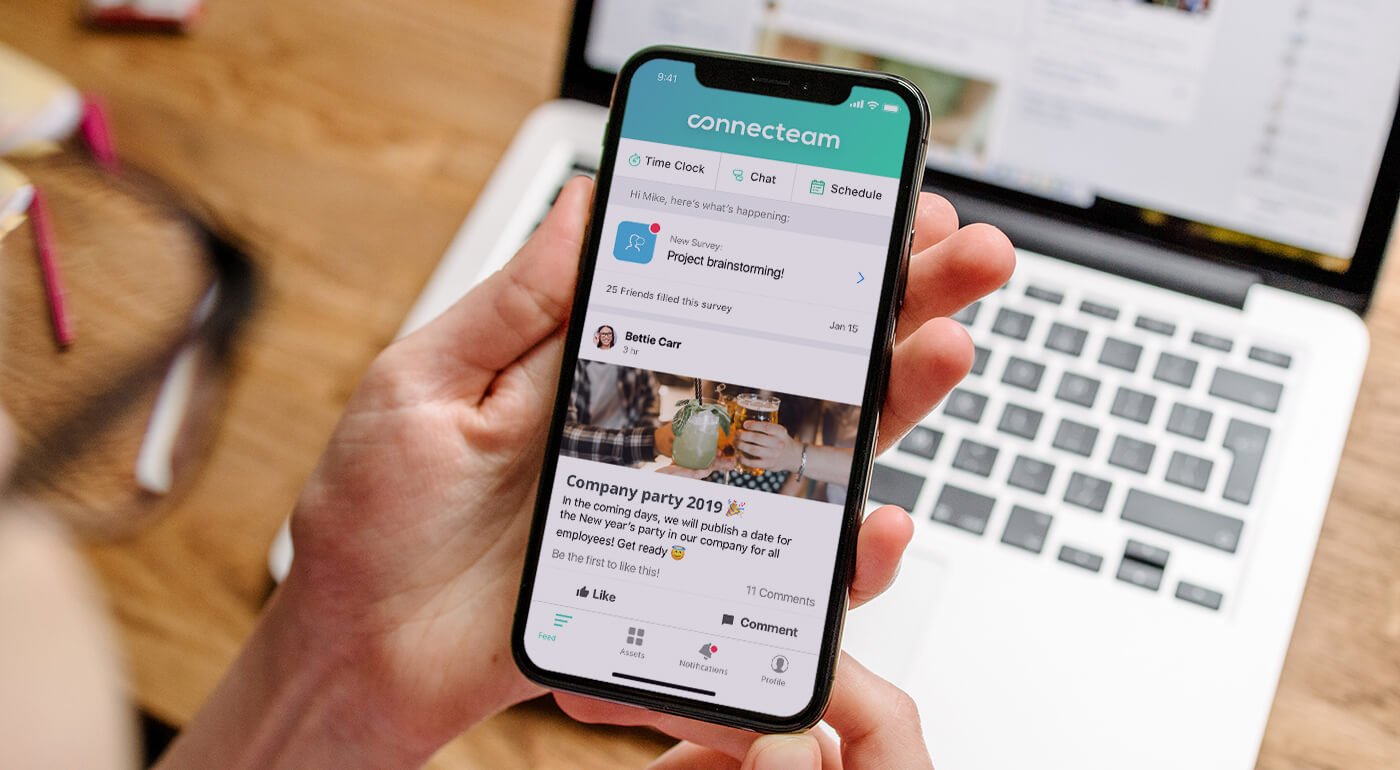 Find out more
Want to get more tips?
Join 20,000+ others who get our weekly newsletter with Business owner tips!