26 Employee Incentives That Will be Appreciated by Your Employees
Rewarding employees helps boost employee engagement and keeps employees motivated. Only by recognizing the need and following through can you recruit the best talent and keep employees happy. Pay raises and promotions are not the only tools you can use as employee incentives – think out of the box to truly energize your staff. Plus, employee incentives don't need to be elaborate, pricey or hard to implement, sometimes the simplest gesture can go a long way.
Here are 26 employee incentives to keep your employees engaged, motivated and happy.
1. Lunch or dinner with the boss.
Whether you're a massive company or a small business, it can be hard to chat or have access to the person at the top. So setting up a lunch or dinner with the CEO can help to increase loyalty, make the employee feel special and recognized and they can pitch ideas to the person who makes all the decisions. Plus, it gives the CEO a chance to connect with employees he or she doesn't regularly come in contact with.
2. Puppy fun.
Talk with a local shelter and have them bring puppies (or grown dogs) to the office so the staff can play with them. It's not just fun, but it is proven to relieve stress! Additionally, if an employee adopts one of the puppies, gift them with a "starter kit" full of treats, a leash, some toys, etc.
3. Free lunch for the team.
Who doesn't love food? Yes, everyone has their own preference so let the teams choose where they will spend lunch. Rotate the departments so everyone has a chance to enjoy this employee incentive. It's a great perk for everyone to enjoy, and it doesn't have to be pizza either. Try an office barbecue, a cooking class or bring in a chef to cook for everyone on the spot.
4. Scratch offs.
Buy some $5 scratch offs and gift them to your employees. It can be more fun than just a plain gift card and who knows how much they could win!  
5. Wine tasting or brewery tour.
Either send an entire department or use it as an employee incentive they can share with a family member or friend. It is best to go on a Friday or weekend so the employee can really enjoy themselves.
6. Work from home.
Sometimes a break from the office is just what the doctor ordered. And no one has to stress about getting ready in a hurry and beating morning traffic just to get to the office. Working in your PJs can be a blast. Not to mention, it's more environmentally friendly and can lead to more productive and happier employees!
7. Movie tickets.
As far as employee incentives go, this one is a no-brainer. Buy some movie ticket coupons in bulk and gift them to your staff just because or when they hit a goal. They can share the tickets with friends and family as they catch the hottest film of the year.
8. Netflix subscription.
Okay, so maybe nowadays most people prefer to stay home and watch Netflix instead of heading to a movie theater. Add $50 to a Netflix gift card so your staff can binge watch The Office for the 50th time.
9. Casual Friday at any time.
Let your employees choose which Friday they'll come to work dressed in casual attire, however make sure they are aware of a business casual dress code means so they don't show up in something inappropriate. Employees will enjoy coming to work dressed down a bit as it is more comfortable and can ease them.
10. Instant employee recognition.
Send updates to all your employees in seconds – create groups per location, department, project or anything else relevant to your business. It can be an important announcement, a weekly goal update, a quick message, birthday wishes, a company anniversary, or acknowledge an individual employee's success. Encourage and engage your employees with public recognition that all their co-workers will see, this helps to motivate your employees as they're placed in the spotlight.
11. On-site fitness class.
Bring in a yoga or pilates instructor in the morning to help everyone loosen up and get ready for the day. Or finish off the day with a high intensity workout (because no one wants to walk around the office drenched in sweat all day).
12. Lazy Monday start.
One Monday a month, let all your employees come in later than usual. It can help them avoid the morning rush while keeping them happier as they got to sleep in.
13. A certificate or plaque.
A simple employee incentive that can go a long way, gift an employee with a special certificate or plaque. It can be professional such as breaking a company record in sales, meeting a tough KPI, etc. Or it can be a silly certificate like the best mustache, funniest employee, best coffee drinker, etc.
14. Company swag.
Tech accessories are a great employee incentive – from headphones to car phone chargers and anything in between. And you can personalize the accessories with the company logo and branding or even an employee's own name.
15. Go off-site.
Get all of your employees out of the office to enjoy activities and games so that you can build a strong culture and also have everyone get to know one another a bit better. Choose activities that are accessible for everyone.
16. Bring your dog to work.
Like we already mentioned, dogs help relieve stress so why not let your employees bring their own four legged best friend to the office?! It's fun and your employees will appreciate the chance to bring along their best friend.
17. Volunteer work.
Either let everyone sign up to various charities they can volunteer at or let the departments choose. It is a great way to get everyone out of the office and to give back to the community. Plus, it can help boost the community's image of how they view the company.
18. VIP parking.
If it is possible, gift your employees a special parking spot for a week or even a month.
19. Handwritten note.
Sure, this seems old-fashioned but it's effective. Show your employees you care by taking the time to write them a personalized note. Thank them for all their hard work or congratulate them on achieving their KPIs or even on a personal note, like getting engaged, buying a house, getting a new dog, etc. Make the note whatever you want, your employees will appreciate it.
20. Breakfast treat.
We all know that breakfast is the most important meal of the day so arrange for a morning filled with donuts, hot coffee, pancakes, egg sandwiches and so on. This will fill your employee's belly so they have more energy to work hard for the day.
21. Nap time.
Dedicate one of the meeting rooms for a special nap time where employees can sign up for a 20 minute slot. That's probably one of the best employee incentives we're ever heard of!
22. Office games.
Get a ping pong table or foosball for the office to enjoy. Whenever employees need just a few minutes to unwind and burn off steam, they can enjoy a quick game of ping pong or foosball. Plus, it's easy to move if you need to save space.
23. LinkedIn recommendations.
Write a glowing recommendation for your employees to reward them on a job well done.
24. Meal delivery.
Meal prep can be tedious and time consuming so ease that task by setting up your employee with a meal delivery for a week. This way, their favorite meals can show up straight to the office when it's lunch time.
25. Custom coffee cup.
There is no doubt that almost every one of your employees is a coffee drinker so why not get them a customized coffee cup or mug?
26. Traveling trophy.
Have a trophy of some kind that moves from employee to employee (whether it's weekly or monthly) based on them doing something outstanding – like going above and beyond for a customer, landing a huge deal, etc. The trophy can be voted on by their peers.
Connecteam: one app to manage your employees & business
Connecteam is your tool to manage employee engagement, development, and relationship. You can streamline communication, give your employees a platform to be heard, boost engagement, strengthen the company culture, align employees with company policies, streamline daily operations, build professional skills and so much more.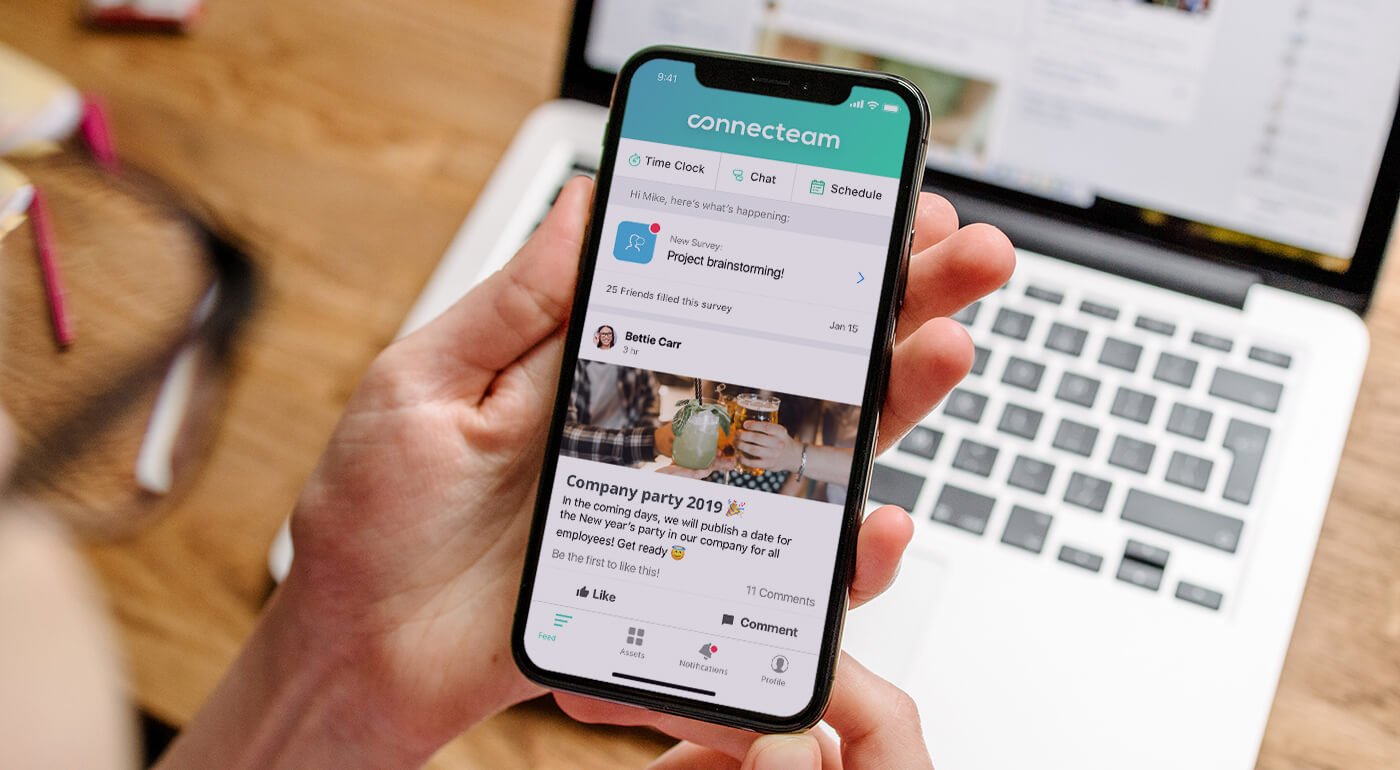 Find out more
Want to get more tips?
Join 20,000+ others who get our weekly newsletter with Business owner tips!