Table of contents
Who thought the best way to train employees was by giving them a bunch of books to read? No one? We're not surprised.
If you're managing a team of workers who spend most of their time doing hands-on tasks away from a desk, throwing them in at the deep end might actually be the best way to get them up to speed.
By that, we're talking about on-the-job training. Let's break down exactly what that is and why it's the ideal way to train employees for so many industries.
What Is On-the-Job Training?
On-the-job training is a form of workplace training for deskless workers that familiarizes new hires with their work environment.
This type of training is usually conducted during a new hire's probationary period. If the manager believes that the hire has completed the training at a satisfactory level, they'll most likely be retained as a regular employee.
Usually, general managers, HR managers, or senior employees adopt the role of mentor to a junior employee. They are tasked with passing on their knowledge and expertise and ensuring that they integrate into the company culture.
Studies show that on-the-job training is an investment. Training new employees and providing equipment/materials costs time and money. The returns on these investments are measured by the employees' rise in productivity throughout their employment.
On-the-Job training can be broken down into two main categories:
General training teaches the workers skills that are transferable across industries.
Specific training only teaches the employee skills that are useable in the industry they are working in.
In specific training, employees learn how to use the machinery, equipment, tools, materials, and everything else they need to use on a regular basis to execute their job to standard. For example:
But what are the actual benefits of on-the-job training? Is it really worth the investment?
Why Is On-the-Job Training So Important?
On-the-job training programs are a vital component of onboarding new employees in a wide range of industries for various reasons. Here's why:
It simplifies the process of acclimatizing to a new workplace, co-workers, and everything else that comes with the job.
It is an affordable activity, as all of the learning resources and tools are already in place. They are simply applied in a more hands-on setting.
Instead of being stuck in a classroom or a library, new hires get to learn at the actual job location, seeing colleagues execute the job first-hand.
It teaches employees how to face routine challenges that may occur on a regular workday.
It improves workplace safety, especially in risk-heavy environments (like construction sites or security patrol).
Unfortunately, as the bar chart above suggests, businesses have been investing less and less in OTJ training as the years have passed.
So how exactly can you build your own program to share knowledge with your new hires while on the go? We've got you covered.
Download your FREE guide on "6 Pillars for Improving Frontline Employee Retention" ⤵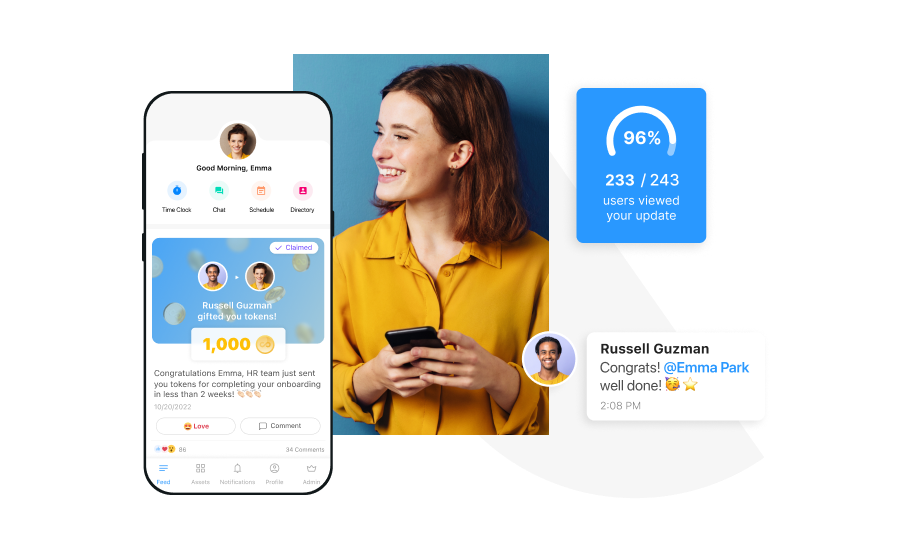 5 Steps to Create On-the-Job Training Programs
Identify Company Objectives
Long before you even hire the new employee, you need to understand why this position is required to begin with.
Upper management should have a clear idea of the current knowledge and skill gaps in the company. This determines what kind of employees you need to execute specific jobs.
Then, when it comes to the hiring process, you can identify which candidates' professional goals coincide with the company's. As a result, you'll find better fits for open positions.
Create an Action Plan
After identifying your company's goals and finding a candidate that's a good fit, you need a specific plan that covers all bases to ensure successful on-the-job training programs.
Here are some questions that are worth answering and can help you develop an OTJ training plan for your new hire:
What are the goals of the employee's job?
What tools, machinery, and equipment does your new employee need to learn how to use?
What skills do they need to learn by the time their onboarding process is over?
What health and safety rules do they need to maintain?
Who are the employees' direct points of contact?
With that said, learning too much at once can prove to be counterproductive. The trainee's needs must be considered at all times when creating an action plan.
Implement On-the-Job Training With a Digital Solution
Whether you have a new nurse or a construction worker, using the right tools can make all the difference when conducting on-the-job training.
With an employee training software solution like Connecteam – business owners and HR managers can provide your new hires with a comprehensive training experience.
Create libraries, company handbooks, and learning materials that employees can access directly from their mobile devices.
Here are just some of Connecteam's essential features that make OTJ training more effective than ever before:
You can customize your training resources as much as you need with PDFs, pictures, videos, and more, to make your employees' OTJ training as interactive as required.
With Connecteam's progress tracking capabilities, you can stay up to date on exactly what each trainee has read and watched and notify them accordingly to ensure no information falls through the cracks.
See if employees are actually learning every aspect of their roles by testing their knowledge and skills with Connecteam's online quiz app. Check their results to spot knowledge gaps and provide feedback accordingly.
You no longer need to bring out the huge binder full of paper-based training materials. Create libraries that are fully searchable so that your employees can review their content at any time.
OTJ is not just about providing tools for the trainee – but also for the trainer. With Connecteam, managers can complete their assessment checklist or form and share it with the trainee. Managers can also add private notes, assessment scores, feedback, and much more.
As mentioned before, your employees can use all of these features from their mobile devices. What's more, Connecteam is completely free for the first 30 users.
The #1 On-the-Job Training Software Solution for Your Business
Be an Open Book for Your Employees
According to studies, at least 75% of voluntary turnover is influenced by managers. And a lack of communication can play a big part in that.
Managers need to ensure that they are as available and responsive to their employees as possible, especially during their training period.
While it's not practical for employees to exchange countless back and forths with their managers during OTJ training, a digital communication tool can help alleviate this time-wasting issue.
With Connecteam, trainees can communicate directly with their managers via the employee team chat feature, asking any training-related questions.
Review Your On-the-Job Training Program
Even after planning and implementation, you can't just expect your on-the-job training programs to be perfect and cater to every new hire.
The key to maintaining effective employee training is to regularly review it, pinpoint areas for improvement, and make necessary changes as you go.
One useful method can be to ask your employees how they feel about the training program once they have finished onboarding.
If you have a group of trainees who have recently completed their training, you can send out online surveys via the app that they can complete at their own leisure or set a deadline if it's time-sensitive.
The survey results are automatically converted into a summary report, teaching you what the general consensus is regarding each question.
Also, managers can empower employees to have a say in how training is carried out for future hires. They can easily access the app's online suggestion box and send anonymous ideas to improve these programs.
The Bottom Line Regarding On-the-Job Training
Whether you run a cleaning business or train bartenders, your employees are the foundation of your business. Giving them first-hand skills and knowledge in what they do is integral to meeting both company and individual goals.
On-the-job training provides employees with more insights into how to operate effectively in their work environment. All it takes is identifying the goals, devising an action plan, implementing it with the right tools, and reviewing the plan as you go along.
With an HR people management solution like Connecteam, you can provide your employees with all of the training resources they need.
They can easily learn while on the job, communicate instantly with their managers, and provide feedback to improve future training, all from their mobile devices.
All of Your On-the-Job Training Tools in One Place
Use Connecteam to train your employees, test their knowledge, and provide feedback, from any place, at any time.
Discover More
Want more great articles straight to your inbox? Subscribe Here ⤵