Hiring the right candidates is only the first step to building a great cleaning team. You also need to effectively train your cleaning staff so they perform their jobs perfectly. Read on to learn how to do both.
Table of contents
When running your own cleaning business, creating a client list and meeting their needs is only the beginning. You need to build a well-oiled team, so every individual can work independently and provide your clients with quality service.
First, you need to recruit the best candidates for your cleaning staff. And second, you need to give them the right tools and training resources to hit the ground running and grow into their role.
Let's break down exactly what you need to hire the very best talent for your cleaning business. Also, learn how to administer the best training for cleaning staff to execute the job to perfection. This can apply to any cleaning service, including house cleaning, disinfection, or laundry cleaning.
Traits You Should Look for When Hiring Cleaning Staff
The first step of hiring cleaning employees is highlighting the core strengths of the ideal staff member you're trying to recruit. You can only do this by advertising well and writing exactly what you're looking for in the job description.
Here are some of the most crucial traits to consider when hiring cleaning staff:
They have previous cleaning experience: Ideally, you want to hire employees who already have previous experience in other cleaning companies. Everyone needs to start somewhere, but hiring newbies requires training. You might be more inclined to recruit employees who already have the skills and knowledge to perform your required jobs.
Problem solvers: Even when your team is in one location together, you need to assure that each employee has the ability to work independently. This means they should be able to solve problems, both big and small, without needing to seek help from others.
Approachable for clients: Your cleaning staff should always be friendly to your clients and make them feel accommodated and safe.
Trustworthy: When a client starts bringing cleaning staff into their homes or facilities, they are bringing in strangers. Allowing others to clean or maintain their premises comes with a high level of trust. They have faith that your staff won't steal or damage any items on site. Criminal background checks could be necessary, depending on the clientele.
Dedicated: Ideally, you'll be able to count on all of your staff. This means they always arrive to jobs on time and don't regularly decline their shifts last minute.
How to Hire Cleaning Employees
Finding ideal candidates for your cleaning business isn't easy. Let's break down the necessary steps of the hiring process:
Step 1 – Create & share your cleaning job ad
Identify the strengths of your current, successful team members and use them to create a job specification ad. For many potential applicants, it's the first time they'll see your company, so you want to give the best first impression.
You need to explain what your company wants to achieve and why they should apply. Typical job ad details include:
Make sure to provide contact details so applicants can reach out to you, whether that be an e-mail address or phone number.
When posting job ads, you should exhaust your options. Not only should you upload the job ad to your website, but consider posting on social media platforms such as Facebook, Twitter, and Instagram.
Upload job ads to job posting boards such as Indeed and Monster, as well as professional networking sites like LinkedIn.
Also, don't underestimate the effectiveness of referrals from your current employees. They may know other professional cleaners or be able to spread the word about a job opening in their social circles.
Step 2 – Review all applications
After your application timeframe has expired, review every single application, and then sort them in order of how interested you are in pursuing each applicant.
Step 3 – Schedule & conduct interviews
A quick phone interview can give you an initial idea of whether an applicant is a good fit or not.
After that, schedule an in-person behavioral interview to get a more in-depth overview of the applicant, covering their background, strengths, past experiences, and previous jobs with focused questions.
Step 4 – Conduct background checks
Because your cleaners will be entering private property to perform their jobs, it makes sense to perform background checks to ensure they don't have any criminal records. This will protect both your clients as well as yourself from liabilities.
After shortlisting your best candidates, conduct background checks to learn if they have any kind of criminal record, with their consent.
Step 5 – Ask for references
Ask the candidate's previous employers for opinions on how they are as an employee. The applicant will most likely provide references with positive reviews of their performance, but it's nevertheless worth checking up on.
Step 6 – Offer the ideal candidate the job
Once you know who you want to hire, provide them with a formal job offer. While many will accept the offer unconditionally, others will attempt to negotiate terms.
Don't go over budget to accommodate a candidate's needs. There's also the option to hire someone under a probationary period.
💡Pro Tip:
Once you've identified the candidate you want to hire, use a formal job offer template to create a professional offer letter. This is the best way to summarize key terms and conditions of the job. It also provides crucial details about the role and your company to help the candidate decide if they will or will not accept.
Why You Need Training For Cleaning Staff
If your cleaners are untrained, then they are open to risks to themselves, to others, and to the surface materials around them. Not to mention that they will ultimately waste time and product.
Apart from the safety aspect, training for cleaning staff is critical to establish better cleaning practices and standards, and can even contribute to reduced labor costs.
However, employees who don't have proper or effective training end up costing the company more than just money. Poor training results in poor customer experiences, higher rates of errors, and low-quality work.
Another thing to keep in mind is that employees want proper training. In fact, 74% of workers are willing to learn new skills or re-train in order to remain employable.
So, if you're looking to save on labor costs, have less turnover, more satisfied customers, and a competent team, you must know how to properly train your staff from the moment they set foot in your door.
We gathered the best and most effective tips on how to train cleaning staff so you can be sure your team is delivering exceptional customer service and repeat business.
Download your FREE guide on "6 Pillars for Improving Frontline Employee Retention" ⤵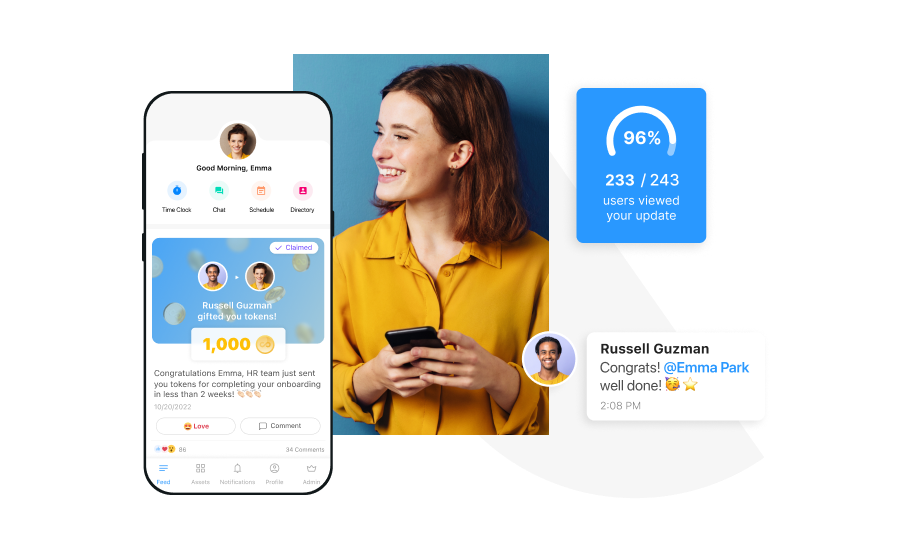 10 Tips on How to Train Cleaning Staff
Training for cleaning staff requires a multifaceted approach. To create the most effective training program for your cleaning company, each staff member needs to learn about the company's requirements, culture, expectations, as well as the specifics of how to perform their jobs.
Here's a list of our 10 expert tips on training your cleaning staff.
Use an employee training app for the best results
If you're still running your company with pen and paper or endless Excel spreadsheets, you're open to countless human errors and unnecessary costs due to those mistakes.
Some points to keep in mind when making the switch to a digital onboarding and training app:
All information is readily available: Cleaners want digital training because it keeps important information easily accessible in one centralized location.
Digital training is time effective: No one wants to spend time sitting in one room for an all-day training session.
It's flexible: It's a more flexible way to learn, as it's done on employees' own time and they can complete the training at their own pace.
You can create interactive and customized courses. Create customized training courses for your staff that they can complete right from their phones. Include any file formats you need, digital badges, and
This is exactly why so many cleaning companies are turning to digital onboarding and training processes.
Take Connecteam, for example. This all-in-one employee training software helps managers and owners of cleaning companies ensure that employee development and training are efficient and quick.
Digital training is used to reach every single cleaner from one single place, no matter where they're located. Employees don't need to print or download any materials and you're able to keep track of their progress and complete training on subjects including:
Health and safety training
Proper use of hazardous materials
Equipment usage
Maintenance of equipment and resources
Knowing how to perform cleaning in restroom care, carpet care, general office cleaning, etc.
You can also set deadlines for training programs, see who hasn't completed their courses in time, and send your cleaners reminders and notifications to ensure that no important knowledge falls through the cracks.
Additionally, you can create a full knowledge center for safety resources available at the click of a button. This allows your cleaning crew to immediately get answers to questions so they don't have to chase after you with countless text messages or phone calls.
Train Your Cleaning Staff Effectively With Connecteam's Courses
Give your cleaning staff all of the training resources and skills they need to execute their job to perfection 
Learn More
Onboard before you train
Onboarding is the first step of any professional training program and shouldn't be overlooked. This initial training period provides an overview of company requirements and expectations, the company culture, and daily tasks.
This is important so new employees have clarity and a firm understanding of what's to be expected of them in their new roles. It also weeds out employees who aren't a good fit for the company before you invest in their training.
With Connecteam's employee onboarding app, you can administer the onboarding process to new cleaners quickly and efficiently so they can be brought up to speed in a timely manner.
💡 Pro Tip:
For your cleaners to get the most out of the onboarding experience, take advantage of customized onboarding courses and quizzes in the Connecteam app. You can even include introduction videos from the CEO or a longtime employee to make your new employees feel welcome – all while your cleaners are on the go.
To learn more, check out our article: The Ultimate Guide to a Successful Employee Onboarding Process in 2023
Utilize microlearning for better retention
Gone are the days of long, lengthy, in-person training sessions. Not only are they difficult to coordinate, but they're expensive and downright ineffective.
The most impactful training is administered in short, bite-sized segments. Why? Because employees are much more likely to retain information when it's presented in shorter pieces.
This training method is called microlearning, which involves presenting short chunks of information through multiple mediums, instead of long, drawn out training sessions. Using bite-sized modules and multiple mediums like videos and quizzes help your staff retain information better, keeps them engaged, and prevents them from getting bored. 
Keep it interactive
To keep your employees engaged throughout the training process, be sure to include interactive elements in your training courses, like videos, quizzes, and digital badges.
Videos are especially useful for retention. In fact, the human brain processes visuals 60,000 times faster than it does text, so videos are a great training tool!
Here's an example of how you could structure a section of a course:
Let's say you want to teach your trainees about the most important cleaning products, how they work, and on which surfaces they work best.
Instead of simply listing the information, you could include a short video of a longtime employee describing their experiences with each product. Have them describe tips and tricks to using them that would be useful for a new employee.
Then, include a short, colorful presentation describing each product and what they do. Finally, add a multiple choice quiz to test new employees on their new knowledge.
Just a few minor changes to traditional training can help your employees learn (and work) better!
💡 Pro Tip:
You don't need fancy cameras or a film crew to create training videos. All you need is your smartphone camera, and you're good to go! Take a quick video of an experienced worker demonstrating a process or of your CEO explaining the company culture. Then, within seconds, upload it to Connecteam's training app to create enjoyable and interesting training content for new employees.
Take advantage of forms and checklists
With so much to learn, new employees may feel overwhelmed. However, checklists are a great way to help your cleaning staff manage their training and keep track of their progress.
Include training checklists in each module and store them directly in your employee training app. Each checklist can include information and processes they're supposed to complete in that module, allowing them to check each off as they go.
Forms are another tool you can use to guide employees through their training. For example, use forms to gather feedback on training to see how employees feel about it and what they would change.
Here are some other ways forms and checklists can help build your in-app training process:
Checklists to guide trainees, such as a "New Employee Checklist"
Include real, on-the-job checklist examples to show trainees what they'll need to do during each shift.
Forms to gather personal information, from contact info to food preferences
Background and security check compliance forms
Employee uniform order and agreement forms
Use Connecteam's Checklists to Train Cleaning Staff and to Gather Information Directly from the Field
Create an employee handbook and refer to it often
Creating an employee handbook can be helpful for training your cleaning staff because they can refer to it at any time if they have questions or concerns.
Try to keep it short, to the point, and updated regularly.
If you're using Connecteam, then you can upload the employee handbook directly to the knowledge base so your employees can refer to it in real-time, whenever they need it.
Make sure to include the following in your employee handbook:
Company history
Company mission, values, etc.
Company hierarchy & contact information
HR procedures like calling in sick, requesting time off, etc.
Payroll information
Review of key training components
Health and safety
Potential damages management
Employee expectations, code of conduct, etc.
Dress code
Resignation and termination
Regularly update the employee handbook and add material as needed.
Keep the lines of communication open
When your cleaners are training from the field, it can make communication more difficult. However, it's important they know that you are always available for questions and that your job is to professionally guide and support them.
Fortunately, training apps, like Connecteam, come with in-app chat so the lines of communication are always open. This not only makes it possible for employees to reach you directly anytime, but it supports a healthy work-life balance by keeping work and personal messages separate.
New workers have the freedom to reach out to you with training questions throughout their work day, and you can check in with them via instant message. You can also create group chats if you want to address multiple employees at once.
In addition, all employees' personal contact information is in the employee directory, so they can call or email their colleagues if needed.
Train on customer service
Soft skills are positive and strong personality attributes that allow your workers to form relationships with clients and better perform their jobs.

While it can be challenging to train soft skills to your cleaning crew, you can encourage emotional intelligence and "people skills" on your team.
Don't solely focus on performance metrics when training for cleaning staff. Instead, motivate and encourage your cleaning staff to build personal connections with clients. No, your team doesn't need to know the customer's entire life story. However, ensure your team can be sensitive and attentive to your customer's needs and expectations to help ensure repeat business.
Soft skills include many of these traits:
Communication skills
Creative thinking
Work ethic
Adaptability
Teamwork
Decision-making
Positivity and motivation
Problem-solving
Time management
Conflict resolution and flexibility
In addition to soft skills, your cleaning job training should cover tactics on how to offer exceptional customer service, including:
Taking notes on client preferences and sharing them with the team
Having answers to common customer questions (an FAQ section in your training app comes in handy here)
Quickly responding to phone calls or requests from customers
Allow time gaps between jobs to minimize arriving late or needing to leave early for a cleaning job
Wear the proper uniform
Have all necessary tools and equipment (along with backup)
Train staff to deal with potential damage
Even professional cleaners have accidents, so make sure your team is trained to handle them correctly. Whether it's breaking or damaging a piece of property, your staff needs detailed instructions on how to handle the situation.
Once they let you know about a cleaning accident, they'll need to inform the client. Ideally, business insurance covers your clients' property and employees' safety. And you should make sure that your team has the insurance information on hand.
Ensure your cleaning staff understands how insurance covers them and the customer, and how they can best communicate this to the client, if necessary.
Set high standards for health and safety
Training for cleaners should involve making sure all staff is 100% up to speed on the latest health and safety protocols, including fire protocols. They need to be regularly updated on health and safety standards to ensure they and your customers are safe, and to ensure that your business remains compliant.
You can store all relevant health and safety documents in an online knowledge base so they're readily available at any time. Storing them digitally also means you can update them whenever you need.
For companies in the United States, OSHA has laid out health and safety topics relevant for cleaning companies:
The Bottom Line on Training For Cleaning Staff
Onboarding and training your cleaning staff is a lengthy yet important process for growing your bottom line and holding on to quality workers for the long term. By investing in a great training program, your staff will have the necessary tools they need to execute their cleaning jobs properly.
Even more so, using an employee training app, like Connecteam, to do this is the most effective way to carry out training for cleaners. You can create customized training courses and quizzes and store all important training materials in one place.
Another tip: Make sure you ask your new hires and even veteran staff for feedback and suggestions about training, onboarding, and development. This will allow you to create the best training program for your business and maintain open lines of communication.
The App to Get Your Cleaning Staff Up to Speed in No Time
Effectively train your cleaning staff, build their schedules, track their time, and instantly reach them from any location with Connecteam.
Discover More
Want more great articles straight to your inbox? Subscribe Here ⤵