Do you have a team of deskless workers? Do you find training and onboarding them difficult? Here are 5 key elements to assist when training your deskless workforce!
Training a deskless workforce is difficult. The understatement of the year!
Most are working in several locations and due to the pandemic, face-to-face training has become nearly impossible.
And still, these deskless workers are typically in frontline roles, making them a huge factor in determining your businesses' success.
But don't you worry. Here are 5 key elements that you must include in effectively training your deskless workers.
Cost of Employee Turnover
Total cost to onboard new employee
Total cost of lost productivity
What You Need For Effective Deskless Workforce Training
HR managers and business owners can reduce employee turnover, increase employee engagement, increase employee productivity, and increase profits and sales! Sounds great, right? Well, not training these deskless workers properly could put your business at risk.
There are few key elements that are required for effectively training your deskless workforce:
A mobile training solution for deskless workers to make the training process smooth and efficient.
A deskless worker training checklist.
Communication!
Collecting training feedback from your deskless employees.
Engaging deskless workers during the training process.
As previously mentioned, deskless workers are usually not behind a computer or a desk (if ever), that's why investing in and implementing an employee management app for your deskless workers is paramount to their success and that of your businesses'.
The leading mobile training solution is Connecteam! Gone are the days of heavy training binders and tons of paperwork that frequently get lost or misplaced. Connecteam can be used to streamline the training process for deskless workers in the following ways:
Create custom training courses and quizzes per location and/or job role.
Send all training materials and new employee forms directly to your employees' mobile device.
A digital knowledge center gives deskless workers access to the employee handbook and company policies and procedures right in the palm of their hand.
Receive real-time notifications with complete oversight on employee training progress, quiz assessments, and when employees have completed the training.
Make the training experience engaging and fun with PDFs, links, videos, and images.
Collect feedback from new deskless workers with digital surveys, live polls, or a suggestion box. Find out how they think the training went and ways in which they think it can be improved.
And these are just some of the ways an employee management app can make training deskless workers more efficient! There are a ton of other benefits to using an employee management app.
Make Training Deskless Workers Simple & Effective With Connecteam Today!
14-day free trial, no credit card required.
Start Your Free Trial
Create A Deskless Worker Training Checklist
A training checklist should be made for all employees, but a deskless worker training checklist will have its own set of guidelines and focus points.
Here are some key elements you don't want to miss when creating a deskless worker training checklist…
Make sure all deskless employees have access to all the tools and technology to guarantee they can do their jobs as efficiently and professionally as possible.
Set new hires up with an experienced employee to mentor them throughout the training process.
Make sure all documentation has been completed.
Provide new deskless workers with some branded company gifts to make them feel part of the team and encourage engagement.
Ensure all new deskless employees are familiar with the company culture, its values, and mission.
Go through all policies and procedures, and provide new deskless workers access to the employee handbook.
Make sure all new employees have a clear understanding of their job role and responsibilities.
Have all the new deskless workers schedule one-on-one meetings, either in person or digitally, with their direct managers, team leads, and fellow employees so they can get to know each other. Formal and informal meetings are both encouraged.
Ensure all new deskless workers understand the organization's communication policy, how the organization runs their internal communication, and through what channels to communicate with colleagues.
Set consistent meetings with new deskless workers for the first three months of their employment to ensure the training and onboarding process is running smoothly.
These are just a few key elements you must include when training deskless workers.
Download your FREE guide on "6 Pillars for Improving Frontline Employee Retention" ⤵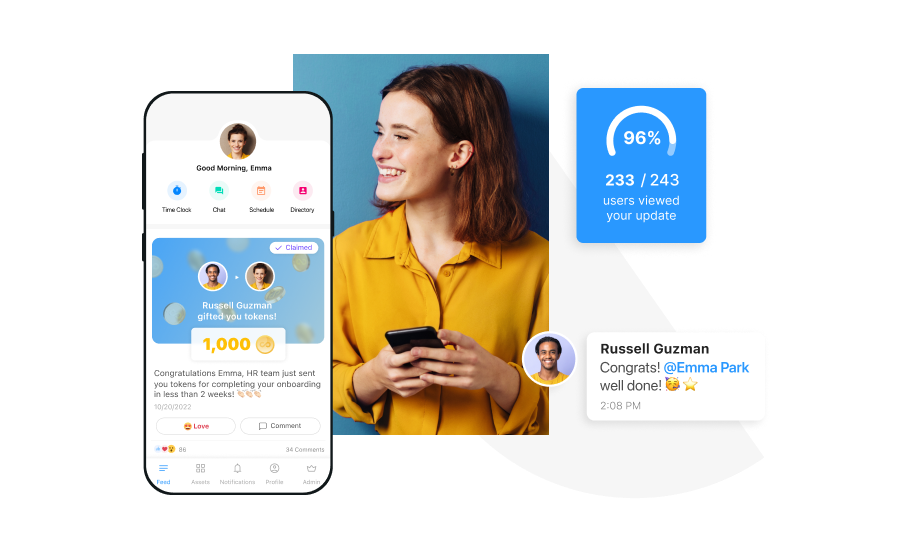 Communicate, Communicate, Communicate
Did we say it enough?
Training deskless workers is difficult, and without proper communication, employees can be left confused, frustrated, and even leave the job before it really begins.
When training new deskless workers, managers and supervisors must guarantee an open line of communication.
New employees should feel comfortable being able to approach their managers and other colleagues should they have questions or concerns.
With an employee management app, like Connecteam, you can improve your internal communication strategy as follows…
Provide an open line of communication with an employee directory. Deskless employees can reach whomever they need, when they need.
Managers and employees can send one-on-one messages through the chat to specific employees or send a group message to reach a whole team at once.
Managers can even check to ensure everyone has read the message and everyone is on the same page. If a message is unread, automatically send a push notification to remind them to give it a read!
Attach images, videos, GIFs, and links to increase engagement among your dispersed deskless workforce.
Post company announcements, news, or events on the digital social feed so deskless workers are informed, connected, and engaged.
Without efficient channels of communication, training deskless employees will definitely lead to frustration and confusion. Deskless workers should feel comfortable to come forward, ask questions, and clarify anything they need during the training period.
Use Feedback To Improve The Process
Employee feedback from those who have successfully completed the training process is the only way you can improve the training process and techniques for the next training of new deskless employees.
Send your deskless employees digital surveys to be completed on their own time. This will allow you to further understand what changes need to be made in the future.
Some questions you can include in your survey are:
How do you think the training process went on a scale of 1-10?
Were you able to have all your questions answered in an appropriate amount of time?
Do you feel like you clearly understand your job role and responsibilities?
Do you feel that you were provided all the tools to do your job as best you can?
What did you like most about the training, and what did you like the least?
Without asking the right questions and collecting employee feedback, you won't be able to make your training process for new deskless workers better the next time.
Engage Your Deskless Workers Throughout The Training Process
It's really difficult to keep deskless workers engaged for many reasons. The main being that it's difficult for them to feel connected to the company.
Research shows that "just 56 percent of employees surveyed say they feel 'connected and engaged' by their employer".
Ensuring that you keep high levels of engagement during the training process will help guarantee that these employees will continue to feel engaged long after the training process is completed.
How to increase deskless employee engagement during the training process:
Use videos, images, and other interactive tools to keep training exciting and engaging.
Set up weekly check-in meetings with their provided training mentor.
Play fun icebreaker games to introduce the new employee to the team!
The Bottom Line: 5 Key Elements Of Effective Training For Deskless Workers, In one App!
Making an effective training program for your deskless workers is a must. To efficiently train deskless employees, the 5 key elements you must focus on are; creating a solid training checklist, providing deskless employees with a mobile solution for effective training, efficient communication, collecting employee feedback, and engaging your deskless workers throughout the training process to encourage that behavior in the future!
Although it sounds overwhelming, all of these tasks and procedures can be done with the help of a digital training app , like Connecteam. Reduce manual pen and paper processes, streamline daily operations, and reduce daily friction with an all-in-one employee management app.
Easy, Affordable, And Effective Deskless Workforce Training With Connecteam!
Want more great articles straight to your inbox? Subscribe Here ⤵