What is Employee Management & How to Manage Employees Effectively
Employee management is easier said than done. And we all know it. Managing employees is the most challenging part of a manager's day-to-day responsibilities. However, seeing as employees are crucial to your company's success, management is something you have to get right.
What are the fundamental aspects of employee management?
Selection.

You have to

choose the right candidates

during the hiring process.

Measurement.

You have to determine if an employee is meeting goals and has exceptional performance.

Monitoring.

You have to actually monitor the measurement.

Interplay.

You have to communicate, ask for feedback and interact with employees, and vice-versa.

Reward.

You have to

reward employees for exceptional performance

.

Discipline.

You have to discipline employees when they exhibit poor performance,

this may lead to termination

.
These aspects are just the basics of employee management, but you may still be asking, just what is employee management?
Employee management is how you can help transform underperforming employees into exceptional ones, and you can also help prevent top employees from underperforming. Employee management is more than just employees doing their job, "it's a variety of procedures and strategies that can help you measure, monitor, and interact with the workforce that plays a huge role in your company."
So, how does employee management work?
In the Journal of Diversity Management, Robert Morris University Professor Dean R. Manna wrote, "employee management is based on ideas and procedures developed to increase worker motivation, productivity, and performance."
The bottom line, employee management is a key role that is a key part of the employee's lifecycle, and it starts during the hiring process. Managers must focus on building and maintaining healthy relationships with employees and following along to the tips below to manage employees effectively.
How to Manage Employees Effectively
Foster open communication.
A survey of over 1,000 employees said found that 81% of employees would join a company that values "open communication" over other benefits and perks. This survey also concluded that just 15% of employees were satisfied with how their company communicates with them.
Communication isn't just talk either. Set up a system where employees have a voice and you able to truly listen and hear their ideas, thoughts and complaints. This includes:
Visibility:

Be around. Let employees see you around the office, and keep an open door policy so that employees can approach you if they need to talk.

Transparency:

Share company updates, information and announcements with employees. Don't let them hear company news through the grapevine! By keeping them in the loop, they will feel more included.

Open feedback:

Be open to criticism! There needs to be a proper system in place so employees can make their opinions known. Use their feedback to identify potential problems which could cause a negative ripple effect.
We recommend sending out employee engagement surveys on a regular basis so you are always aware of how satisfied employees are and where issues lie.
Set clear expectations.
Here's the thing, you have to know what you want so that your employees can deliver. Whether it's specific sales, work quality, office culture, hours worked, etc. Know what you want.
Once you know what you want, tell your employees – but tell them what you want, when you want it, and how you want it to get done. You have to communicate it all. Be clear and detailed, for instance, do you want something achieved in a broad sense? Like employee attitude or output? Or are you focused on when it should be done, like per shift or weekly?
When employees don't know what you want, they will only become confused, afraid to do anything because they think they'll fail, and they will be unproductive because they aren't working to your level. All of this is because they don't know what you expect of them.
Be crystal clear and don't beat around the bush – that's the most effective employee management rule you can deliver.
Help employees develop.
Monster polled that 72% of respondents felt like their manager doesn't care about their career growth. Therefore, it is crucial to give employees a chance to grow in new roles. This will keep employees engaged and helps them build their skill set so they can contribute more to your company. Help your employees grow by:
Offer in-house training (one-on-one or online programs)

Send employees to conferences and seminars

Allow employees to adapt based on strengths and interests
Build trust.
Don't put your employees under the microscope! A study found that 46% of employees were satisfied with the level of trust managers had in them at their company. So how can you help avoid this?
Don't micromanage.

If you tell your employees how to do every little thing, you are adding stress on them and on yourself. You're the manager and they're the employee so let them do their job.

Avoid constant feedback.

Yes, feedback is great but not if you're dishing out feedback on everything the employee is doing. It's like you're doing micromanagement after the fact and this only leads to low confidence.

Offer physical privacy.

Don't force employees to have their computer screens where you can see and let them work where your eyes aren't always on them. Give them physical privacy.

Social media engagement.

Some managers might think that friending or following employees on social media channels is a good way to know whether an employee uses social media during work hours. However, this is a bit uncomfortable as it only reinforces the idea that you don't trust your employee and are spying on their personal life.
Employee management software can help you ensure your employees do their best work each and every single day. From the list we outlined above, Connecteam, a leading employee management software solution, can help you do it all. From fostering open communication, building transparency and trust, helping employees develop and so much more, you can do it all on Connecteam. Start your free plan now and watch the positive results pour in.
Improve manager-employee communication.

Start a one-on-one or group chat whenever needed. Simply search by role, department, location and whatever else. Track who received and read your message and enable social functions, like comments and likes, when necessary. Boost transparency and engagement by sending company updates, announcements (promotions or sales wins), birthdays, anniversaries, and more.
Employees have everything to get the job done. With Connecteam, you have a task management tool that ensures employees are fully equipped to get the job done without managers hounding them. In a click, checklists & forms are digital on the app which allows employees to fill checklists, forms and reports from anywhere. Such as,  on-boarding forms, expense reimbursement forms, vacation requests, invoices, and more. Start from scratch or choose from the templates on the app, employees can add images, files and can even sign digitally on the app.

Send surveys on a regular basis.

Create your own surveys, or use the premade templates, to instantly receive feedback from your employees in minutes. All entries are automatically aggregated so you have visual insights into how your employees are feeling. Send surveys after a company event, a meeting, on-boarding, and on any other matter you feel relevant.
Create a suggestion box that's always accessible.

It's time to join the digital era and get rid of pen and paper. Whenever employees have an idea or thought, they can open the suggestion box on Connecteam and can submit their thoughts in seconds. Whether it's about management, how to improve customer satisfaction or a new color for the break room, it's all relevant. Employees need a platform that allows for them to be heard so they can feel valued and connected at the company.
Empower your employees with a management app
With Connecteam's all-in-one employee management app, you'll experience consistent results, reduce mistakes and costs, increase productivity, and improve overall employee satisfaction.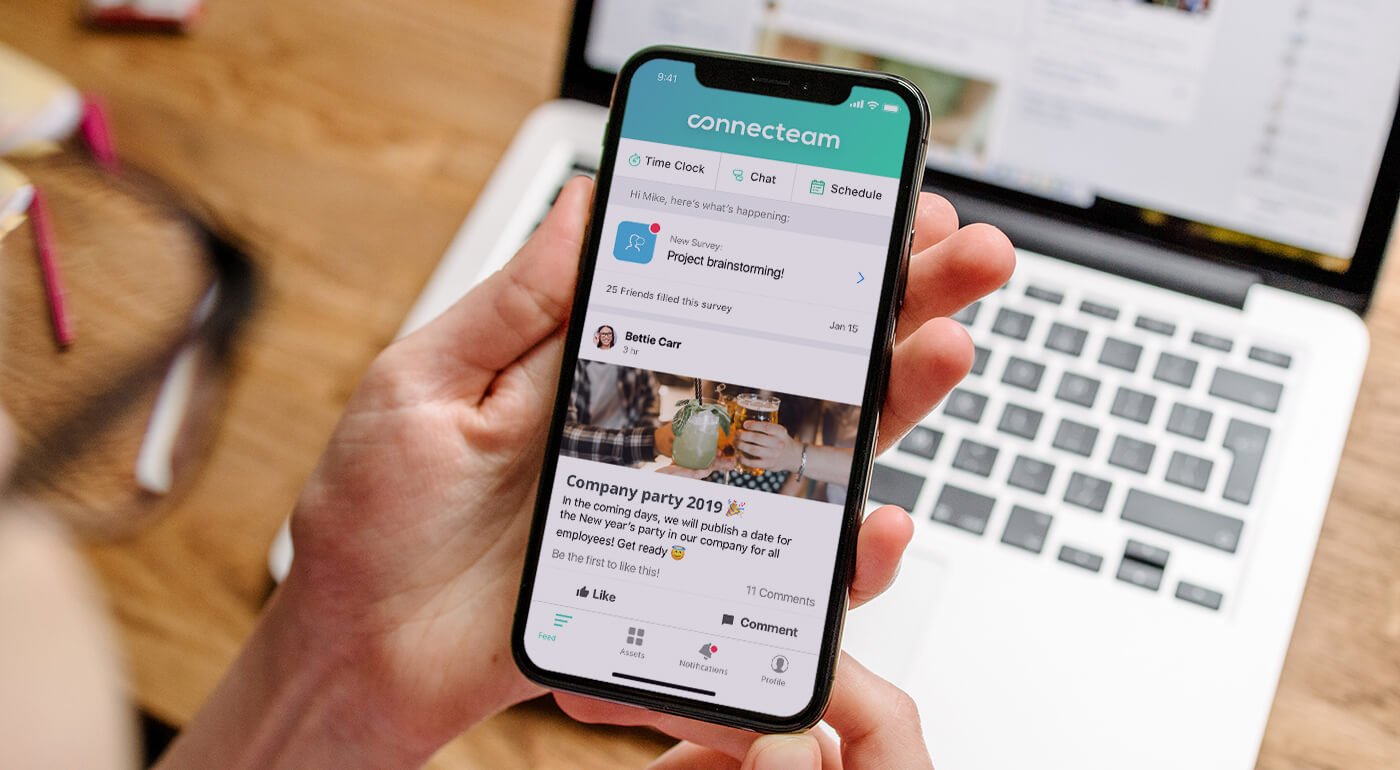 Try for free
Want to get more tips?
Join 20,000+ others who get our weekly newsletter with Business owner tips!