If you are an HR or an internal communication executive, you are probably always looking at your peers and what you can learn from them – after all, the experiences of professionals in other companies are a great way to develop your methods. As you know, effective communication and engagement are important in the daily work environment. It doesn't matter if your employees are in the same building, work from home, or are scattered across the country, effective internal communication has a direct and immediate impact on your organization's success.
We gathered examples of best practices from leading companies in the market, who are using Connecteam's employee communication app, to help you identify what can be relevant for your company – check it out!
Reach Your Entire Team With Connecteam's Employee Communication and Engagement App
It doesn't matter if your employees are in the same building or are scattered across the country, effective internal communication has a direct and immediate impact on your organization's success.
When it comes to communication and engagement, common use cases often leverage a combination of multiple capabilities to best address the organizational needs. Below are some of the key tools and concrete examples of how they are being used in the organizational context:
News, Updates, and Announcements
The #1 feature when it comes to communication and engagement is the use of 'Updates'. Updates are a way to distribute information with push notifications, to all or part of the team. It can contain any media and is fully trackable so we'll know how far our message came across.
Characteristics and Capabilities
1. Targeted communication
This allows you to choose the exact target audience, whether it is an individual or a group. Providing each employee with a personalized experience – showing them only what they are meant to see.
2. Measurable communication
You sent out an update, now it's time to understand exactly who saw it and who didn't, who liked it, who commented on it, and how many times.
3. Specific follow-ups
You can easily point out the team members that are yet to see the update and follow up just with them, as opposed to sending once again a company-wide email, spamming all those who already got the information.
4. Schedule for later
Prepare now and schedule for later, this allows you to be more effective in the way you work, and to better target High Attention Time (HAT) of your users, which is usually around early morning, or just before lunch when they are more tuned to their mobile phones.
5. Automatic reminders
Did you get an important message? Pre-set and automated follow up. That way a user will automatically get a follow-up notification if they didn't review your update.
6. Engaging content
Use videos, images, GIFs, PDFs. file attachments, locations, and everything you need to make your communication engaging. You can choose if you wish to allow people to like/comment or not – so to differentiate between more 'formal communication' and 'non-formal communication'.
Common use Cases:
1. News and Newsletters
Teams use the updates feature to send out company newsletters, share company news, relevant media coverage links, and more.
2. Executive communication
Often, senior executives utilize the ability to personally address each and every one of the company employees. This is most common among CEOs when sharing their executive letter with the team.
3. Company announcements
Some examples of such announcements may include announcing on an opening of a new location or campus, winning a new customer or deal, reaching a key milestone, upcoming company event, etc.
4. Celebrating success
Celebrating success allows the team to like comment, engage, and be part of the success. Some examples include the sharing of a great feedback letter on performance, an employee that provided an outstanding level of service, positive media coverage the company got, and more.
5. Employee recognition
One of the most common practices for companies looking to improve employee engagement is to put the employee in the center through employee recognition. Just to name a few examples:
– Employee spotlights releases
– The employee of the month recognition
– Celebration of employee anniversaries
– Birthdays and newborns wishes
– Welcoming new team members to the team
– Announcing promotions
It's worth mentioning that this is done on the company level, but also locally by mid-managers to their teams.
6. Operational communication
Depending on your industry, you can easily share operational related updates, such as a drastic weather alert, a new collection promotion, a road that is closed, a regulation change, and much more. Once again, benefiting from the targeted measurable communication.
Wellness and Benefits
Many companies invest a lot of resources into facilitating robust wellness and benefits programs for their teams. Often, HR professionals leverage Connecteam to raise awareness of the current programs, benefits, and more. This may include:
Providing background about the existing programs and plans
In-app links serving as an easy gateway to your wellness program login page.
Registration forms and RSVPs for upcoming plans and related events
Announcement of new benefits/wellness plans
Uploading of the employee wellness/ benefits book making it accessible for the teams in a click.
In-App Chat
In today's world, chat is a common and important means of communication. In most organizations, employees end up using their private chat for work-related issues, such as WhatsApp or Facebook Messenger.
Companies prefer to use Connecteam's in-app chat feature for a few key reasons:
1. Work-Life separation
With the in-app chat, there is no longer a need to utilize the 'private chat' for work purposes, creating a full separation between work and life channels reduces stress and improves the employee experience.
2. Self-maintaining groups
You set up a chat group for your New York team – all team members are automatically assigned to it. If someone leaves the New York team or joins it, the system will automatically add/remove them from the group so you no longer need to maintain those groups.
3. Profanity control
In order to meet your organizational needs and unlike with private messaging apps, you can limit one on one chats, or even delete inappropriate messages if needed.
4. Data storage
Using the in-app chat gives you control over the information exchanged over the chat. So if someone leaves the company, all data shared on chat is not stored on the employee's phone, like in the case of private messaging apps where it is impossible to deny the employee from accessing the data.
Best practices of utilizing the in-app chat include:
One on one chats: allowing team members to easily and quickly communicate with each other.
Team Channels: one side communication from group admins to the channel members. Mostly relevant for very big groups when only a few individuals can send updates to the rest of the team
Team groups: team groups are the most common groups used on chat. Whether it is for managers and their teams, for a specific facility or a cross-company group, team groups are very popular.
Peer groups: many teams create groups that cross the organization to allow the pier to pier communication. Some common examples include "senior management", "HR", "Finance", "Production team", "Store X" and many others.
Subject groups: whether it is to share safety updates, debating preparations for the upcoming party, or for car-sharing arrangements, teams like to create groups that are related to their projects, events, etc.
Listen to how a field service company with 200+ employees utilizes Connecteam for daily internal communication & engagement!
Surveys and Polls
Most organizations utilize surveys one way or another. When using the survey tool in the app, not only does it make it easy to conduct the traditional surveys, but it makes it easy to create "micro surveys", simple quick surveys to get quick feedback with little efforts from our employees. Had an onboarding trainer and want to know how they did? Send a single question survey ranking the instructor on a scale of 1-5
Characteristics and Capabilities
Send targeted surveys to specific groups or individuals
Conduct anonymous surveys
Get insights into the overall rankings and statistics of the survey results
Review each individual entry
Export the results for further processing or documentation
In some cases, companies wish to leverage their already existing surveys such as 'Survey Monkey', in such cases you can easily distribute this as an embedded link in the app that looks and feels natural to the user.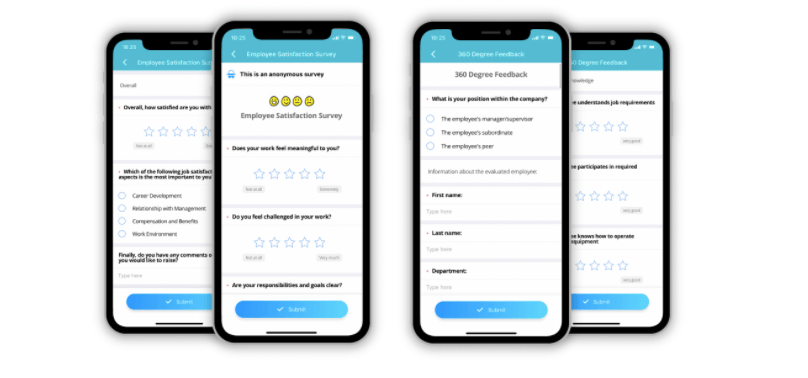 Suggestion Box
A common practice used by many companies is the use of a virtual 'Suggestion Box'. Users can easily share ideas and thoughts, and once they post an idea it is automatically delivered to a predefined email address(es) and is logged in the platform, making it easy to consume the data and to look back at ideas suggested over time.
Direct channels to HR / Senior leadership
Companies with an 'Open Door' policy or companies looking to let employees a channel to address HR and senior managers, often create a direct channel box, allowing the employee to submit a query/thought which goes as a pdf summary directly to the email of the designated person whether that is the CEO of the company or an HR professional.
Employee Directory
Having your team's contact information at hand is very useful. Companies utilize the employee directory to make contact information available and searchable with ease, so team members can find the contacts they need quickly and easily.
A few things worth bearing in mind when using the employee directory:
Quick actions: easily call, chat, text, or email your team members in a click, without the need to store their phone number.
Automatically populated: setting up your employee directory happens at the click of a button. You don't need to input data, as it is already part of your app.
Fully searchable: whether you are looking at someone using their title, name, or location, all the information in the directory is searchable making it easy to find the person you need.
Customized for privacy: for organizations with specific privacy needs, you can choose what information to show, to hide specific individuals, or to hide specific information of individuals. So you can easily choose if to present mobile numbers or not and what info you want to make available about the CEO.
Additional work contacts: on top of your employees, you can add relevant working contacts such as office numbers, cafeteria, or third parties you often work with – making it easy for your teams to find the information they need.
Employee Referrals
Recruiting employees is always a big investment for the company. Your employee app is a very powerful tool when it comes to getting referrals for potential candidates from your already existing workforce. A common best practice for getting employee referrals to include:
Sharing information on the referral incentive program
Publishing an 'Employee Recommendation' form that employees can feel recommending on family and friends
Posting links/info about open positions spreading the word across the organization.
Events announcement and registration
When it comes to events, with your employee app, you can notify people about upcoming events, and let them pre-subscribe so you'll know who's expected to attend.
Frequently Asked Questions (FAQ)
The use of FAQ is nothing new, but the ability to make it available for your teams in a click is a powerful tool. That way much of the frustration and ongoing communication can be addressed quickly and efficiently. Many times companies choose to create an FAQ section in the App, to address questions around vacation and sick leave, protocols, wellness and benefits, and much more.
Boost engagement and streamline communication with Connecteam
Connecteam keeps all communication & tools in one place so your team stays productive from field to office to remote work. It's the best communication app in the market!
Start Your Free Trial
Want more great articles straight to your inbox? Subscribe Here ⤵