What is an Employee Experience Manager? Here's Why You Need One
No one can easily sum up what employee experience is – ask anyone and you will get a million different answers. In short, employee experience is when we treat our employees like our customers in order to give them the best experience in their day-to-day work grind. This is not just a one time job, it's ongoing – from the first day and even after the employee leaves the company. An employee experience manager is the one who checks and monitors the heartbeat of employee experience and engagement through surveys, peer-to-peer chat, KPI's, rewards, meetings, and much more.
In fact, Forbes said that employee experience goes beyond the notion of employee engagement, perks, or employer branding, and it isn't considered to be at the forefront of HR innovative practices. This is why many companies are adopting employee experience managers and why employee experience managers turn to technology like Connecteam to enhance their team's experience. Technology plays a key role in our day to day work life and it's just as beneficial in contribution to the employee experience as it is for customer success. Especially as Millennials and Generation Z are asking for better employee experience and more technology in the workplace.
The Leading Employee Experience Platform
Connecteam helps you build company culture, drive engagement, and reach 100% of your employees so that you can increase your company's employee satisfaction, productivity, and retention. Discover the benefits of Connecteam's employee experience platform today by setting up a call with one of our experts.
Book a demo

So what is an employee experience really?
"We define employee experience simply as seeing the world through the eyes of our employees, staying connected, and being aware of their major milestones. In the last year we have appointed a Head of Employee Experience and we are developing a strategy to create an employee experience which takes into account the physical environment our employees work in, the tools and technologies that enable their productivity, and learning to achieve their best at work. All of this is part of continuously evolving our HR capabilities." — Says Susan Peters, Senior Vice President, Human Resources at General Electric.
Diving deeper it seems the employee experience is more than just a passing trend –  If you go onto Google Trends, a tool that maps out just how popular a term is on a search engine, you'll see a major spike in searches in the past 12 months. In fact, the average popularity value was 35 in 2011 and currently (June 2020) it's already at 70 and is only projected to increase. If we want our business to flourish and our team and employees to be both productive and happy, there is no doubt that implementing an employee experience doctrine is a necessity. We created this video that highlights just how you can curate employee experience at your company. However, if you want a more detailed playbook, you are encouraged to continue reading.
We created this video that highlights just how you can curate employee experience at your company. However, if you want a more detailed playbook then continue reading.
What's the value of employee experience?
As Josh Blumenfeld, an Employee Experience Expert at Espresa, Inc. phrases it: 
"Employee experience is an emerging space, and many organizations have only recently started using tools like HR analytics. Another challenge—which I think most employee experience professionals face—is helping financial decision-makers understand the business benefits of investing in these types of programs and tools." 
So what is the value of employee experience for your company?
Strengthens the sense of belonging
Employees will feel more connected to the company, more in the know. In fact, the latest ADP report shows that employees are increasingly more committed to their current job roles and more employees intend to stay in their company for the rest of their life. This is all because more and more companies are heavily focused on employee engagement, a strong company culture, and employee experience.
Improves recruitment and retention
You will have a competitive advantage when it comes to attracting talent and with the right employee experience, they will be encouraged to stay at your business for many years. In the end, employees are people, and they remember how you made them feel.
According to HR Technologist, "Organizations that invested most heavily in EX were included 11.5 times as often in Glassdoor's Best Places to Work; listed 4.4 times as often in LinkedIn's list of North America's Most In-Demand Employers; 28 times more often listed among Fast Company's Most Innovative Companies; listed 2.1 times as often on the Forbes list of the World's Most Innovative Companies; and twice as often found in the American Customer Satisfaction Index."
If done right, employee experience can really make a difference in aligning your team and providing them clarity on your business goals. To bring that down to earth, think about it in terms of giving your employee the information they need, when they need it and continuously communicating to them your business priorities and decision making sense. That way you can have everyone on the same page, even if you are not in the room. 
Employees will have an internal compass, confidence, and assurance to push forward business processes and make decisions even in situations of uncertainty, and even if you are not there.
Happy employees are more productive. In fact, an in-depth study of happiness and productivity found that employees are 13% more productive when happy. For your company to have a highly productive workforce, then you need to create a positive employee experience for your employees. When you do it right, increased engagement and productivity will follow.
Uplifting the bottom line
At the end of the day, employee experience is a key driver for your business and profitability: it reduces costs and uplifts profits. Your employees are more productive, they stay with you longer, recruitment costs you less and your team delivers more. It really is that simple.
How to nurture a healthy and productive employee experience in your organization
Employee experience isn't about just one single thing, but instead, it is about looking at the bigger picture, the combination of various factors over time that results in the overall experience our employees are experiencing (and remembering for years to come).
Consider the full employee journey
Employee experience begins during the interview process and lasts until after they have left the company. It comprises every single step along the way, that shapes their perception of the company and their place within the company. Having said that, we strongly recommend you give much attention to the first impression you set among your employees. Set clear expectations when speaking with candidates. Offer as many details about the company and the job role so they know exactly what to expect. Considering that Jobvite found that almost 30% of job seekers leave a new job within the first 90 days of starting and that 43% of these same people said they left because their day-to-day role wasn't what they expected.
Map out the "moments" that matter to really improve the employee experience – everyone remembers the first job interview, their first day, their first one-on-one with the CEO, and other "firsts". But don't forget about the second, third, fourth day, and so on. Always have the following in your mind while shaping the employee experience, some we mentioned already, the first job interview, first day at work, first one-on-one with a supervisor or direct manager, first annual performance review, celebrating their birthday, all training sessions, all team event, all company restructuring, promotions, raises, feedback surveys, and exit interview.
Nurture the employee-employer relationships
While many factors affect the employee experience, the employee-employer relationship is the most comprehensive, complex, and connected factor in terms of employee happiness, morale, and productivity. 
There are many things that the manager can do to nurture the employee relationship and experience and many ways in which an employee experience manager can help their team to better nurture a relationship:
Frequent feedback between the employee and employer is crucial in both directions

Give manager tools, guidelines, and aids on how and when to interact with their teams.

Be clear on the job role and goals the employee must meet

Offer "psychological safety" – encourage your employees to be open and to discuss mistakes made so that lessons can be learned and actions can be taken

Offer training and development to drive employee engagement and strong workplace culture

Prioritize and discuss mental wellness
Empowered employees will do more for your company and will stick around longer. Empowerment of employees is not about checking the box, it's about continuous effort. Recognizing them, creating opportunities for them, and making them be meaningful. What kind of employee empowerment can you offer?
Continuous healthy communications
Like in any relationship, the organizational relationship with the employees relies heavily on communication. Communication from management to front line employees, communication among peers, communication from HQ to the field, etc. Make sure you have healthy communication practices and tools to facilitate healthy relationships with your teams and to give them a positive experience. 
Inc. summarizes this aspect perfectly, "You need their input. You don't make assumptions about what your customers want in your product or service, right? Then don't make assumptions about what your workforce wants or needs. Ask them what types of resources, technologies, and spaces they believe are critical for success and then make sure they have them. No one knows how to upgrade the employee experience better than your employees themselves."
 So make sure you are tuned and gathering feedback from your teams regularly.
Technology, tech, and technology once again
Actually, since technology plays such a key role in shaping the employee experience, we dedicated the next chapter to the role of technology and its potential. Oh, did we mention technology already?
How technology enhanced the employee experience
Technology is a powerful tool, when it comes to shaping the employee experience it is an unseparated part of the employee's journey. From the moment we join the company, and through our day to day technology is always there by our side. And the better our technological experience is, the more positive the overall employee experience will be.
So how can technology enhance the employee experience?
Most of us use emails and phone calls on a daily basis, but this is just one form of communication. With the right communication tools, we can make it easy (And sometimes even fun) for our teams to stay aligned, deal with uncertainties, and just feel part of the organization by leveraging technology for efficient and engaging communication. Make sure you can reach every single employee in your organization, their existing methods and tools support two-sided communication and that you build your cultural communication practices in alignment with your technological tools.
Providing a tailored personalized experience
One of the most unique things that technology can contribute to the employee experience is to personalize the experience for the user. Managers, front line employees, and sometimes even people in different locations may have different needs and different work environments. With the right technological tools, you can make sure each employee will have the personalized experience that is tailored for them but without investing much effort in doing so.
A single source with everything a team needs
We can't always be with our employees and whisper over their shoulders, but we can definitely provide them with all the resources they need. We all know how frustrating it can be when during your onboarding phase you need to search and chase resources, not sure yet what to do and when. With technology putting everything our teams need under one roof is easy. From making sure they have everything they need for on-boarding, to making their training courses available, sharing the most up to date company protocols, or simply making their cheat sheet they need so much available. With the right technology, it's all there and always available.
Remove friction for a positive experience
What is it in your organization that requires a lot of effort from your team? If you answer this question, you can probably find the right technological tool that will make it easy to remove friction and effort for your team and improve the employee experience. For example, in manufacturing companies, many times reporting from the floor is difficult and requires finding the closet computer station. By allowing the teams to report from the mobile, you are saving them much effort and increasing the likelihood of accurate detailed reports, while at the same time improving the employee experience.
Bridging the gap from senior leadership to frontline employees
The bigger the organization, the more significant the gap is between the senior management and the front line employees. However, with the right technological tools, this gap can be bridged. Give your senior management the tools they need to keep your team up to date, to share success, to align on company goals, and to 'get closer' to the front line employee.
The best app for employee experience managers
Customize our employee engagement app to perfectly suit your employee experience, company culture, organizational language and business needs. With powerful tools in an easy-to-use platform, you'll find everything you need to engage your employees like never before.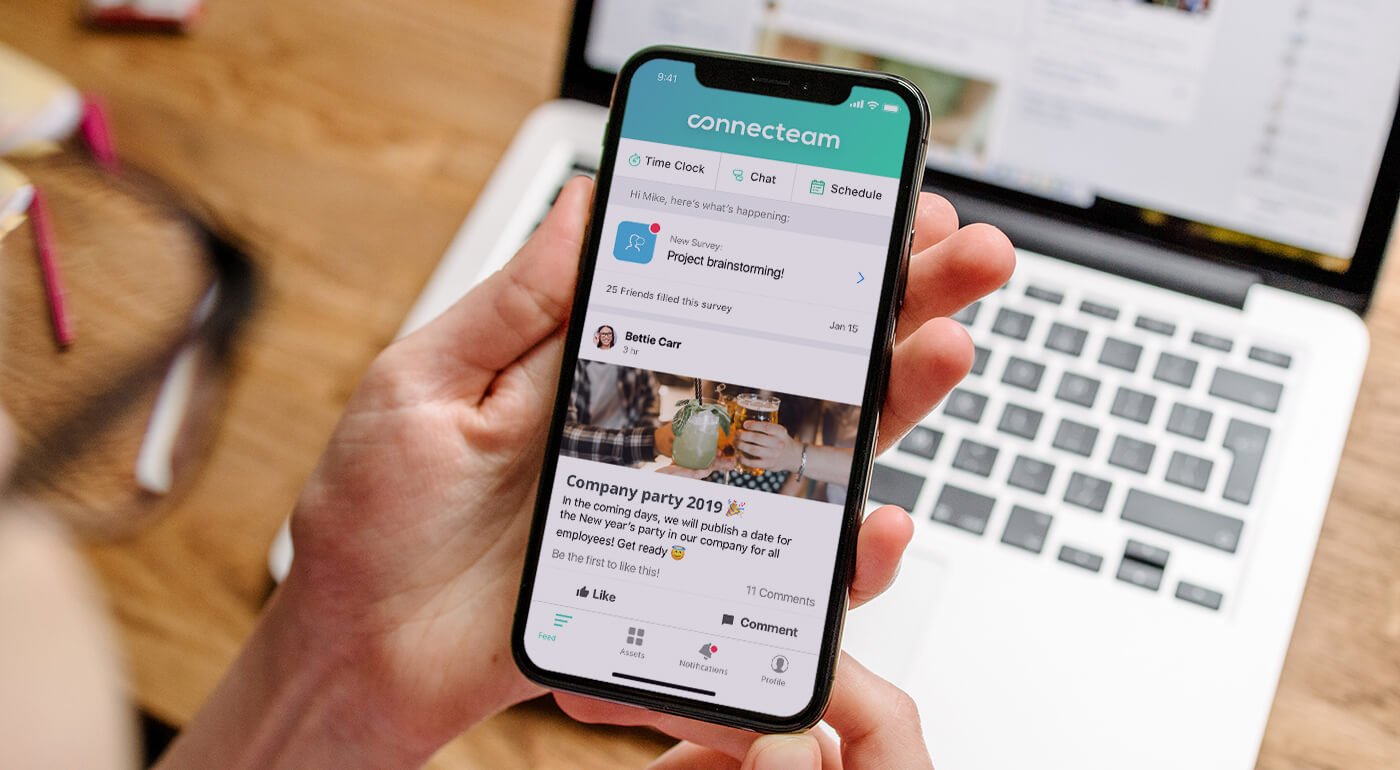 Schedule a demo
What is an employee experience manager and the responsibilities included?
As we hammer out the importance of employee experience and how to apply it, we also need to further understand what is an employee experience manager. Some of the job responsibilities of an employee experience manager, according to Study.com, may include creating and maintaining files like performance appraisals, overseeing employee leaves of absence such as FMLA, and assisting with new employee training. Additionally, employee experience managers will collaborate with the company's internal stakeholders so that organizational policies are effective and are correctly carried out.
Employee experience managers are also responsible for the development and implementation of an employee rewards program which acknowledges outstanding performance and work anniversaries. Finally, another job role of an employee experience manager is creating and implementing employee feedback surveys, they compile the results and recommendations to management what to do based on the data.
Take employee experience to the next level
Employee experience came into the radar of human resource management for a reason. The reason? It became clear to managers that their employees were the cornerstone of the organization and that their experience and well-being couldn't be ignored in favor of the customer.
Even though there are obvious benefits behind using technology to enhance employee experience, there are some organizations that are hesitant to dive into any technological innovation at the workplace. However, the recent trend does clearly show that these innovations guarantee employee satisfaction which in turn only leads to more positive to your organization.
To wrap it up, when your employees feel fulfilled, happy, and satisfied than their positive energy and vibes will rub off on the customer. 
(7 votes, average: 5.00 out of 5)

Loading...
Want to get more tips?
Join 20,000+ others who get our weekly newsletter with Business owner tips!