What is an Employee Experience Manager? Here's Why You Need One
No one can easily sum up what employee experience is – ask anyone and you will get a million different answers. In short though, employee experience is when we treat our employees like our customers, in order to give them the best experience in their day-to-day work grind. This is not just a one time job, it's ongoing – from the first day and even after the employee leaves the company. An employee experience manager is the one who checks and monitors the heartbeat of employee experience through surveys, peer-to-peer chat, KPI's, rewards, technologies, and so much more.
So what is employee experience really?
"We define employee experience simply as seeing the world through the eyes of our employees, staying connected, and being aware of their major milestones. In the last year we have appointed a Head of Employee Experience and we are developing a strategy to create an employee experience which takes into account the physical environment our employees work in, the tools and technologies that enable their productivity, and learning to achieve their best at work. All of this is part of continuously evolving our HR capabilities."
— Says Susan Peters, Senior Vice President, Human Resources at General Electric.
With all of that in mind, is employee experience even a trend? If you go onto Google Trends, a tool that maps out just how popular a term is on a search engine, you'll see a major rise in the past 12 months. In fact, the average popularity value was 35 in 2011 and is now at 73 in February 2019. We can see for ourselves that employee experience is something we must implement in our company, it's a growing revolution, if we want to succeed and have happy employees.
But why does employee experience matter?
You will have a competitive advantage when it comes to attracting talent and through employee experience, they will be encouraged to stay at your business for many years.
According to HR Technologist, "Organizations that invested most heavily in EX were included 11.5 times as often in Glassdoor's Best Places to Work; listed 4.4 times as often in LinkedIn's list of North America's Most In-Demand Employers; 28 times more often listed among Fast Company's Most Innovative Companies; listed 2.1 times as often on the Forbes list of the World's Most Innovative Companies; and twice as often found in the American Customer Satisfaction Index."
Employee-Employer relationships.
Deloitte reports, "Employers must provide development more quickly, move people more regularly, provide continuous cycles of promotion, and give employees more tools to manage their own careers."
Inc. summarizes this aspect perfectly, "You need their input. You don't make assumptions about what your customers want in your product or service, right? Then don't make assumptions about what your workforce wants or needs. Ask them what types of resources, technologies and spaces they believe are critical for success and then make sure they have them. No one knows how to upgrade the employee experience better than your employees themselves."
Employee experience isn't about just one single thing, but instead is the combination of various factors over time. Additionally, there are three essential elements when it comes to employee experience:
Employee perceptions over time.

Environmental factors: cultural, physical, and technological.

HR functions responsibilities which understand the correlation between employee engagement and customer experience.
When you focus on these three key factors, you are taking your company to the next level when it comes to shaping their experience.
What does the employee experience manager do?
Some of the job responsibilities of an employee experience manager, according to Study.com, may include creating and maintaining files like performance appraisals, overseeing employee leaves of absence such as FMLA, and assisting with new employee training. Additionally, employee experience managers will collaborate with the company's internal stakeholders so that organizational policies are effective and are correctly carried out.
Employee experience managers are also responsible for the development and implementation of an employee rewards program which acknowledges outstanding performance and work anniversaries. Finally, another job role of an employee experience manager is creating and implementing employee feedback surveys, they compile the results and recommend to management what to do based on the data.
Let's get a bit specific about the daily routine of an employee experience manager.
Onboarding new employees.
The first time the employee is exposed to the company agenda, culture, his job role, and so on, he or she should feel like they really matter. When that employee goes home, he should say, "Wow! I learned so much about the company and my job role, the employees aren't looked at like just another number, you really matter and can make a difference. That was the best first day I've ever had!" Your new hire should be energized to come back because they know they matter and what they do matters.
When leaving the company.
Whether an employee was fired or is retiring – think about how that employee will feel but also the impact to the rest of the workforce. Don't leave a bad taste in anyone's mouth, it's important not to sweep anything under the rug like it doesn't matter. Employees will remember how someone left the company and if it was met with a good experience, they'll want the same sendoff instead of dreading every moment. Think about what the employee will say to other people when they ask him about the company. Especially his friends and family. What about his team? What will they feel?
This isn't something you must tick off a checklist, it truly matters when it comes to shaping the company and employee experience. It's a big celebration so be sure to throw out all the bells and whistles.
From parking to lunch to sick days, the employee experience manager must be involved in it all. The day-to-day operations are crucial to empowering an enjoyable employee experience. If parking is a nightmare, the employee is already starting off the day on the wrong foot. No good lunch options nearby, delivery to the office takes forever, or the kitchen environment is just annoying and poor? Yet another tick on the bad experience column. What if an employee is sick? Do you send him a get well soon card? Or leave something special on his desk when he comes back? The little things matter.
How can technology help the employee experience manager create the best environment around? According to Josh Blumenfeld, Employee Experience Expert at Espresa, Inc., one of his biggest challenges is the fact that, "Employee experience is an emerging space, and many organizations have only recently started using tools like HR analytics. Another challenge—which I think most employee experience professionals face—is helping financial decision-makers understand the business benefits of investing in these types of programs and tools."
Why you should turn to Connecteam to effectively put employee experience into action:
Group chat that is specifically created for a department or location so everyone is always on the same page. Send birthday wishes, anniversary celebrations, or congratulatory wishes for the birth of a child, a graduation, a new house, and more. Make it a channel to celebrate your employee's, and yes, you can also send out important company updates and messages.

The employee directory

is available on Connecteam so no one wastes time adding, editing or deleting a colleague's contact information. Search by name, title, location, or department.

Employee feedback surveys can be sent out on a daily, weekly, or monthly basis so you never miss an opportunity to discover how your employees are feeling. Act on the data you receive to make the change necessary.

Employ a suggestion box that is always accessible so employees can send their thoughts and suggestions whenever they want. Read the suggestions and implement the ones that are great ideas or comment on ones just to say, "Thank you."

Digitize all checklists and forms

, from expense reimbursement forms, vacation requests and sick leave forms, safety and hazard reports, invoices, equipment checkout and so much more. Everything is accessible from anywhere at anytime.

Onboarding new employees

has never been so easy. All the information, policies and training materials they need is available on Connecteam at any time. Create courses and quizzes and monitor all progress.
Plus, Connecteam is super affordable – pricing starts at $29/month for up to 200 users. Sign up for your free plan now.
The best app for employee experience mangers
Customize our employee engagement app to perfectly suit your employee experience, company culture, organizational language and business needs. With powerful tools in an easy-to-use platform, you'll find everything you need to engage your employees like never before.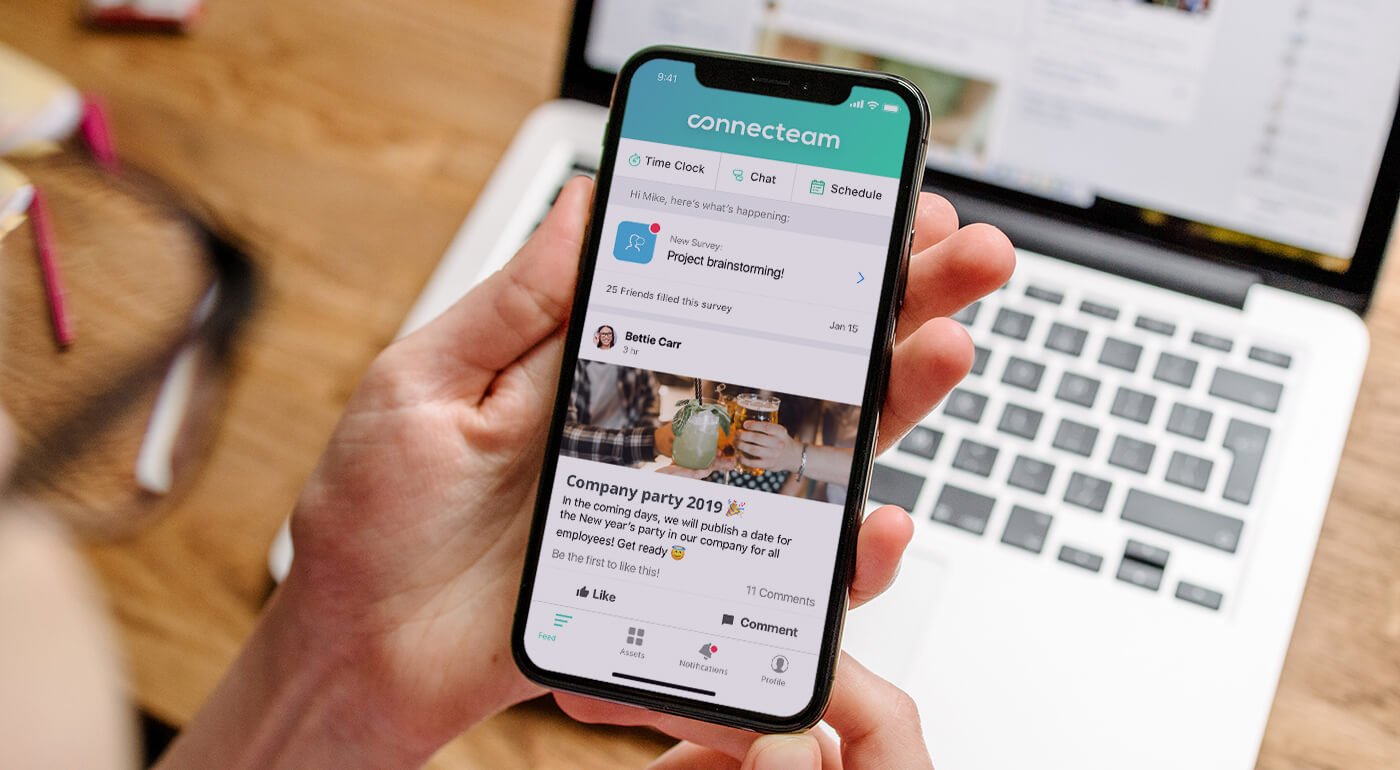 Start for free
Want to get more tips?
Join 20,000+ others who get our weekly newsletter with Business owner tips!