Top 11 Employee Management Software Solutions
Technology offers us a plethora of solutions to make our lives easier as HR professionals and business managers. Or at least it tries. It doesn't matter if you're migrating from an outdated system or looking to implement from scratch for a new business. Sometimes the main challenge is choosing the right solution from the vast variety.
Swiping right with HR software
Employee management software offers a full set of employee management tools that a company needs in order to manage employee information, engagement and performance, and drive more value company-wide.
If you're just looking for a list of our top picks for employee management software, scroll on down. But before you do, we strongly recommend you ask yourself (and your HR team, if need be) some very important questions:
Like, "What is my budget"? or "How many employees do I need to manage"? Those are pretty obvious but what about something more complex. For example, the location of your workforce and the location of your corporation, as well as local laws across jurisdictions can have an effect on your choice. The technological skills of your team and of other users for these systems play a role as well. So ask as many questions as you can, and as you answer them, you'll have a better understanding of the HR tech needs of your organization.
The most important step to choosing the right employee management software for you is evaluating your needs in-depth, and creating a list of "must-have" and "nice to have" features and capabilities you require from the solution (or solutions) you desire. And then do what we like to call "the Tinder method for product selection" – go over available solutions within your price range, and pick the one (or ones) that answer all your needs, or at least the "must-haves".
Through the right employee management software, you can easily build professional skills, streamline onboarding, track time, boost engagement and morale, create job schedules, provide exceptional customer service and the list goes on. As the small business manager, you wear a million hats and then some, using the right technology gives you a leg up on your competition and helps you focus on delivering the bottom line. 
These are just some of the most common benefits employee management software can bring to your company:
Fewer manual errors
Better accuracy and efficiency
Fewer costs
Higher employee engagement, motivation, and productivity
Fewer compliance risks
Increased profitability
Much like on Tinder, you might come across features and offerings you haven't considered and didn't think you might need. You can swipe right on those too. Once you've narrowed your list down, put them to the test by Googling user and customer reviews of your finalists.
To help you out on this challenging mission, we've collected 11 of the best solutions out there for various business and HR applications. The way we chose this top 11 list is based on the following:
Ease of use
Feature set
Pricing
Customer reviews we sourced online
Relevance for small and medium-sized businesses
Top 11 Employee Management Tools
1. Connecteam (Free plan. Starts at 29$/month for up to 200 users)
Connecteam is the only employee management software on this list that is a mobile-first, all-in-one app that's designed and built especially for non-desk employees. It offers powerful solutions for communication, operations, time tracking, scheduling, workflows, files, knowledge base, and much more.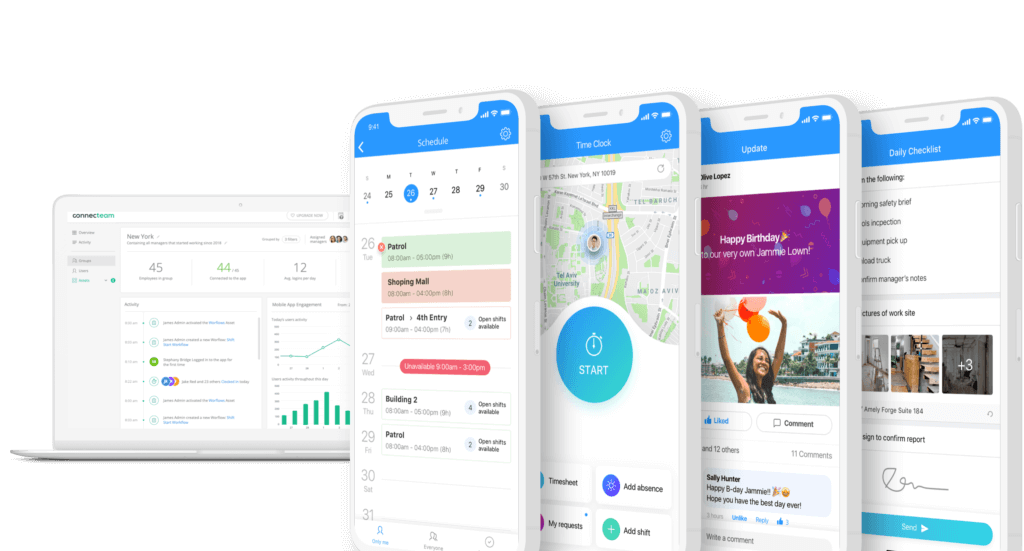 Finally, and probably the best feature of all, Connecteam offers a fixed price for up to 200 users that starts at just 29$/month and includes access to all features! You will save a lot of time and money when you don't have to pay per user, now that sounds like a win-win. The app is highly customizable too, you can change most of the app's language, colors, and icons and truly make it your own. All, for an affordable price like no other. Over 6,000 companies worldwide trust Connecteam to help them offer consistent results, reduce mistakes and costs, increase productivity, and improve overall employee satisfaction. Sign up now for the free plan and find out for yourself just how much Connecteam can do for you and your business.
Connecteam: the best employee management app
Connecteam is an all-in-one mobile solution for employee management. And it offers powerful solutions for communication, operations, time tracking, scheduling, workflows, files, knowledge base and much more.
Start for free
2. Gusto (Pricing: $39 + $6 per month, per employee)
Gusto (formerly ZenPayroll) is one of the best and most popular cloud-based payroll solutions out there. Among others, Gusto offers built-in benefits administration for small to medium-sized businesses at a reasonable cost. The Gusto platform has a surprisingly user-friendly interface and offers automation for many activities in the payroll process. This software includes an employee onboarding interface to let new employees enter all their information (like bank details) directly into the system.
3. Workday (Pricing available by quote only)
The Workday Human Capital Management (HCM) Suite is a SaaS (Software as a Service) for medium businesses and enterprises. If you're running an international business, with payrolls in multiple currencies and according to different laws? You want to check out Workday's global payroll solution. It provides integration with third-party payroll applications to manage payments across the globe. Although Workday lacks some components and is one of the most expensive products out there, it's one of the only HCM that is fully cloud-based.
4. PeopleSoft (Pricing available by quote only)
Oracle's PeopleSoft Human Capital Management (HCM) solution is another enterprise-grade solution for complex businesses operating globally. It is widely adopted by government agencies, academic institutions, and similar large organizations managing hundreds of employees. The main advantage of this service is Oracle's long history of providing reliable business solutions to clients. Unlike with other, newer services, you can rest assured this one isn't going anywhere for many years to come.
5. Kissflow (Pricing starts at $5 per month, per user)
If you feel that workflows are getting chaotic as your organization grows, you can give your workflows the kiss of automation with Kissflow. With a friendly interface, Kissflow lets you create your own customized workflows. Alternatively, you can choose from 50 pre-made applications including employee onboarding, purchase orders, vendor payment, and other functions.
6. Bullhorn (Pricing starts at $99 per month, per user)
This comprehensive SaaS (Software as a Service) software for recruitment process management is aimed at large corporations and staffing agencies. It's very customizable and user-friendly, with features like drag and drop to save you precious time. Granted, its pricing makes it somewhat unapproachable for small businesses, but if you have the budget, this is one of the best solutions out there to manage your employee recruitment process.
7. Litmos (Pricing starts at $3 per month, per user)
There's no lack of eLearning software out there, but most are developed for academic applications. Litmos is a solution for businesses looking for an all-in-one instruction and training platform. It includes an integrated eCommerce solution, some gamification options and it's fairly affordable for small businesses.
8. 15five (Pricing starts at $49.00 per month for up to 10 users, $5 for each additional user)
15five is an employee engagement and performance software solution that aims to help businesses get and give feedback. The platform tries to be an online replacement for group office meetings and has good integration with Slack. The funnest (and most engaging) feature is the ability to high-five co-workers. That's just cool.
9. Halogen (Pricing available by quote only)
If employee evaluation and feedback effectiveness are important to you, this cloud-based performance and talent management application might just be the solution for you. Halogen offers useful features like employee performance appraisals, succession planning, learning management, and the recruitment process. In addition, it has a user-friendly interface and numerous add-ons for additional features and functionality.
10. Employee Navigator (Pricing starts at $445 per month, per user)
This solution is a web-based comprehensive benefit and compliance administration software, aimed mostly at medium-sized businesses or bigger. Employee Navigator includes a variety of apps from administration to onboarding and PTO & vacation tracking, but the pricing limits access to this solution for small businesses. We recommend really evaluating what this solution does before making a final decision. 
11. Zoho (Pricing starts at $10/month, per user)
Zoho is a web-based online office suite that offers its clients access to word processing, spreadsheets, databases, note-taking, web conferencing, project management, invoicing, and more. With Zoho, you can access data at any time, give employees their own personalized portal, post updates on the dashboard for all to see, managers can approve/reject work matters in a tap, and more. Zoho is also accessible by mobile, can integrate with many software solutions (Zapier, Mailchimp, Goole Suite, etc.), and can be customized to fit your company image.
It's All About You and What Your Employees Need
With your needs and demands well defined, you should have an easier time navigating the seas of HR tech for your business. I also hope that our list of recommendations will steer you toward a solution to answer those needs. If you think we've missed a particularly awesome software or solution – be sure to let us know in a comment or even shoot us an email. We'd love to hear from you! 
The fact that almost every single employee management solution is available on your smartphone means that you and your employees can do your tasks and work from anywhere, at any time. That's the beauty of technology, it can help make your daily grind that much easier. And that's the name of the game when you're got a million other tasks to take care of!
Using a management software solution, like the 11 options we presented above, makes it easier to stay on top of things especially as a business owner, you have a million things going on at one time. By choosing the solution that's right for you, it is easier to get things done, predict all risks, and even improve overall efficiency – that can be achieved with the management software solution, just in case we haven't made that point clear enough!
Connect with Your Workforce
Use Connecteam's employee app to collaborate, run processes, and develop skills
START FREE
Empower your employees with a management app
With Connecteam's all-in-one employee management app, you'll experience consistent results, reduce mistakes and costs, increase productivity, and improve overall employee satisfaction.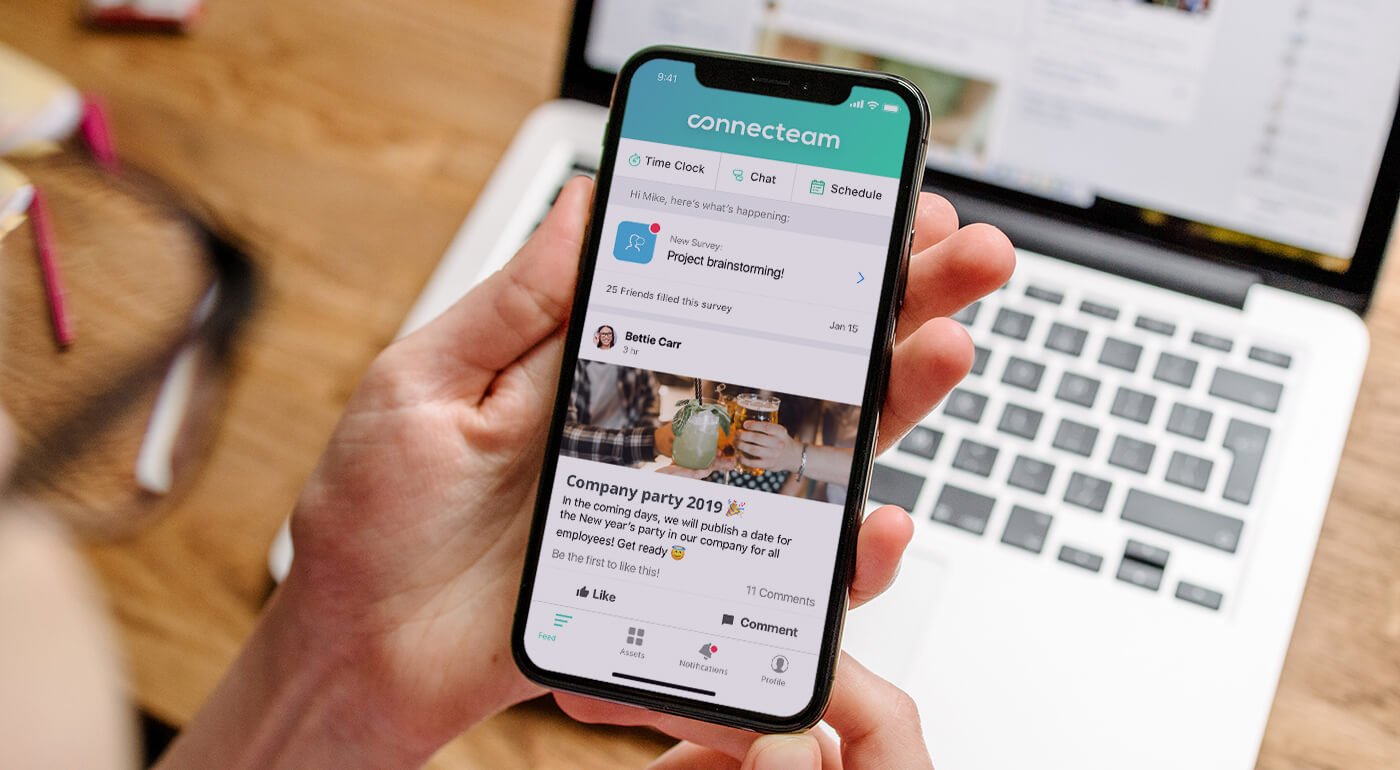 Try for free
Want to get more tips?
Join 20,000+ others who get our weekly newsletter with Business owner tips!