12 Best Employee Time Tracking Apps for Small Businesses in 2021
Do your employees hand in pen and paper timesheets? Or do they enter hours into a spreadsheet that is sent for your review at the end of the month? Or maybe you still use an ancient solution known as a punch card system? 
If your answer to the above is "Yes, we still handle everything by hand and it's a nightmare," then it's time to join the digital era. Investing in a time tracking app can help eliminate almost every single one of these problems and others we haven't even yet touched on. 
Tracking time as you work results in more accurate invoices than estimating time worked after the fact. Having a higher degree of accuracy creates trust for your clients, too, but it also benefits the business. When you know how you spend your time with high accuracy, you can analyze it and make smarter business decisions as a result.
These benefits of a time tracking app are just scratching the surface. And on top of it all, more than 42% of companies in the United States use a time tracking app and that percentage just continues to rise, it makes sense when you look at the data more closely: 
Using an

employee time tracking app

reduces the payroll process time by 15%-35%.

Using an

employee time tracking app

reduces total payroll hours by 10%-22% as budding punching and rounding of hours are curbed. 
Installing an employee time tracking app helps your business in so many ways but there are multiple solutions to choose from. We searched the market and compiled a list of the top 12 best work time tracking apps to make your decision-making process easier.
12 Best Employee Time Tracking Apps for Small Business
According to the US Department of Commerce, Connecteam is the best employee time tracking app for remote and deskless employees as the time tracking app was designed to simplify and automate time tracking and payroll processes.
Your employees clock in and out with a GPS time stamp, request time off, view current and past timesheets and add notes while on the go. As a manager, you know your employees' status and location at a glance and in real-time, have access to an easy payroll process, receive automatic notifications so you're always in the loop, can set limitations, and best of all – easily get reports and insights on how resources are spent on different types of jobs, customers, or projects, so you can invoice each customer without doing complicated calculations.
Key takeaways: 
Affordable pricing available as it's the only

time tracking app

that isn't user-based therefore your business can scale without dishing out extra cash whenever you need to add another user.

The dashboard is user-friendly and easy to use without any training needed.

Setup time is fast and easy 

It's a true all-in-one employee time tracking app. Use Connecteam for virtually anything (scheduling, communication, task management, training, and more) without needing to integrate or pay for multiple solutions. 
Price: As the best employee time tracking app, Connecteam offers affordable pricing too. Pricing starts at $39 per month for up to 200 users.
Free Trial: Start with a free 14-day trial with the employee time tracking app and then carry on with the free for life plan.
Find out how one cleaning company saved time and money on time tracking, scheduling, and more with Connecteam's time tracking app.
Timecamp is easy to use yet powerful automatic time tracking software appreciated by both teams and freelancers. The desktop app tracks time in the background, so you can stay entirely focused on what really matters. Tired of filling timesheets? Timecamp will do all the dirty work for you, just a few clicks are enough to fill them with time entries and computer activities. Tracked time can be turned into an invoice with billing rates, ready to send it straight to your clients.
Key takeaways:
Unique projects' tree structure with tags creates multidimensional time and project management,
The attendance module tracks employee work days, vacations, holidays, and leaves and in combination with billing rates create a payroll system inside Timecamp,
Offers many integrations with most often used project management, accounting, sales and dev tools,
Advanced reporting allows analyzing the gathered data to keep track of the team's performance
Price: Free for single users, paid plans start at 5.25$ per user per month.
Free Trial: Yes, the first 14 days are free.
Toggl is easy to use as it just takes a click to clock in or pick up where you left – if you forgot to start the timer, the Toggl Button and Desktop Apps will send you a reminder. If tracking in real-time isn't relevant, enter hours manually, or integrate the calendar. If you're a little forgetful, the Toggl Track allows you to trigger time entry suggestions that are based on the software you're using.
Key takeaways:
Toggl can integrate with over 100 apps, like Trello, Slack, Xero, Asana, etc. 

Easily filter reports so you can better understand what's being worked on and the hours put into each task or project.

Automatically round time entries up or down to the nearest interval of your choice.
Price: The start plan for time tracking costs $10/month/user. 
Free Trial: Yes, the first 30 days are free. 
With Automatic Time Tracking, Timely records everything you work on and stores it in its Memory Tracker – as a result, it just takes all your recorded work, groups it together, and then suggests time entries. So you don't need to log anything instead Timely details what you did and automatically adds project tags. Check that everything was entered correctly and make changes when needed – the more you edit, the more the time tracking app learns and enters time correctly going forward. 
Key takeaways:
Timely integrates with tons of apps like Google Forms/Sheets/Docs, Evernote, WordPress, Slack, Wrike, Quickbooks, and more. 

Easily track project status via the Project Time Management feature. 

Easily track and see what your employees are working via the Team Time Management feature. 
Price: The Growth plan is available at $99/month and includes five users, it costs $20 for every extra user you want to add. 
Free Trial: Yes, there is a free 14-day trial. 
ProofHub is an all-in-one tool designed to help managers and teams across the critical aspects of projects, including planning, organizing, managing, tracking, and delivering. You can add timesheets, set time estimates, track time manually or using timers, export timesheets, archive them, create time reports and bring all your time data at one central place using this time management software.
Key takeaways:
ProofHub integrates with Freshbooks, Google Calendar, iCal, Box, Dropbox, Google Drive, OneDrive and more
Easily tracks project and resource progress using time, workload, resource, project and even custom reports
Stay updated about all activities using Activity logs
Price: $99 /month (limited time offer) with a 10% discount on annual billing and no per-user fee.
Free Trial: Yes, the free trial is available and includes all features of ProofHub.
Employees can either download the app on their smartphone or create a fixed time clock terminal at the office by adding a dedicated iPad or computer. Easily sync the time clock with the work schedule, and export payroll into platforms like QuickBooks, ADP, and more.
Key takeaways:
The user interface is easy to understand and very appealing. 

Available at an affordable price.

Notifications are sent as reminders to clock in an hour before the shift begins.
Price: The Basic plan charges $1.50/user a month and the Pro plan costs $2.25/ user monthly.
Free Trial: Currently there is no free trial however you can use When I Work for free up to 75 employees. 
Click here to see how WhenIWork stacks up against Connecteam in time tracking capabilities. 
With Hubstaff's time tracking app, you can track hours with GPS location, payroll, invoicing, scheduling, and more. Hours can be tracked offline as well, and in real-time will sync when your phone is back online, so it's easy to monitor hours when you're on the road. Integrate Hubstaff with Asana, Trello, Quickbooks, and more.  
Key takeaways:
Holiday and time-off requests can be requested right from the app. 

Easy to set pay rates for team members or projects so that payments are automatically sent based on the hours worked in that pay period.
Price: All the plans are for one user only and start at $5/month, $10/month, or $20/month. Each plan includes different features and functions so be sure to examine which plan meets your business needs. 
Free Trial: Yes, there is a free 14-day trial. 
It's easy to invite someone to Avaza in order to track time per project, start and stop the timer when you're working, and you can copy or import timesheets. In addition, if it's needed, send invoices, collaborate with your team, manage your schedule, and more. 
Key takeaways:
Super easy to use and navigate. 

Track time with flexible billing and cost rates.

Get helpful reports that you can share with employees or customers that show where time is spent. 
Price: There is a free plan although this only includes one timesheet manager and up to 10 customers. Paid plans range from $9.95 to $39.95.
Free Trial: There is no free trial however you can start using Avaza for free then upgrade to a paid plan when you're ready. Note that all features are basic in the free plan. 
Even if there's no WiFi or cell coverage, T-Sheets mobile app can still track hours with a GPS time stamp. It's easy to track, submit, and approve time right from the app. Per job, shift, or task, T-Sheets makes scheduling and timesheets easy to manage. Send alerts reminding employees to clock in or out and to submit their time for payroll. 
Key takeaways:
Monitoring and location tracking are super easy with the "Who's Working" feature. 

The Time Clock Kiosk allows employees to clock in from the same device or location – it captures a photo and biometric facial recognition so buddy punching is severely limited. 
Price: The "Small Business" plan charges a $5 monthly fee for every user (only goes up to 99 users) and scheduling services are available at an additional $1 per user. Also, there is a $20 base fee each month. There is also a free plan for only one user so if you're self-employed, it's perfect for you.
Free Trial: Yes, there is a free 14-day trial. 
Check out how TSheets stacks up against Connecteam in this comparison table.
With Harvest, you use the stopwatch to track time as you clock in or out, or enter hours worked manually. Via the timesheets, track time per client, project, or task. Harvest is available on both desktops and smartphones. In addition, you can track expenses – just take a photo of the receipt, add details, and hit save. 
Key takeaways:
The

employee time tracking app

is easy to use. 

Integrates easily with multiple apps like Trello, Zendesk, Slack, Quickbooks, PayPal, and more.
Price: There is a free plan for just one person and the paid plans begin at $12 a month per user.
Free Trial: Yes, there is a free 30-day trial. 
"Jibble in or out" when starting and finishing a project or task. Plus, enable the "Selfie" recognition for verification when "Jibbling" from your mobile phone. Use the monthly or weekly timesheets for payroll or the daily timesheets for performance reviews. 
Key takeaways:
Access Jibble from desktop, mobile, Slack, or Microsoft Teams. 

In-depth daily, weekly, or monthly alerts that keep you up to date on what's happening with your employees. 

Set up an iPad Kiosk so employees can all clock in from one location. 
Price: There is a free plan as well as a power plan that is available for a monthly fee of $2 per user.
Free Trial: There is a free 14-day free trial and requires a minimum of 5 users per month. 
With employees constantly on the go and to avoid manual entries, HoursTracker makes it easy to track employee hours and earnings, business expenses, payment periods, and breaks. Plus, HoursTracker automatically tracks hours based on whether your employees are arriving or leaving the job location.
Key takeaways:
The interface is user-friendly.

Breaks are automatically added in. 

Easily add comments to time entries and include them when you export the data.
Price: The free plan stores 3 jobs and 21 days of entries. The Personal plan costs $5.99 for up to five jobs or you can purchase the Pro Edition for $9.99. 
Free Trial: While there is no free trial, there is a limited free plan. 
Benefits Of Using A Time Tracking App
We want to further drill into the importance of using a time tracking app. It isn't just that this is the 21st century and advancements in technology have come a long way. That's reason enough for sure. But it goes beyond that. Check out the list below on the many benefits of using a time tracking app.
The Fair Labor Standards Act (FLSA) requires all businesses to maintain accurate records of working hours, but it's up to the owner to choose their timekeeping method. FLSA clearly requires owners to keep documentation for at least two years, and everything must be readily available for government inspection at any time. A work time tracking app keeps all data on hand so you never have to worry that a paper was misplaced or lost. 
Not all mistakes are totally eliminated but the odds of an error taking place are drastically lower. The IRS reported that 33% of employers make payroll errors. The American Payroll Association reported that these errors range between 1-8% of total payroll.
When everything is automatic, it makes it easier to organize confirming timesheets so you save yourself time and money when you're not burdened by endless Excel sheets.
Since everything is automatic, all data is processed in real-time. This allows you to automatically see how many hours an employee has worked so if you need additional hours to cover a project, you can see who really needs it. 
As soon as an employee clocks in or out, a GPS location stamp is added so you always know where the employee was when clocking in or out for the day. This gives you the reassurance that you aren't paying for "wasted" hours like making a coffee run. 
A work time tracking app doesn't round up even a second when tracking hours worked so you don't need to worry about a minute being added here and there. 
When using a work time tracking app, it makes it much harder for fellow coworkers to help a friend out by clocking in for them. I mean, ask yourself if you're sure that your employees are being honest and truthful? Is everything tracked accurately? Can you turn employee hours into workable data so you can automatically catch problems like overtime? 
The American Payroll Association found that 75% of businesses in the United States are affected by time theft every year which has also lead to productivity losses of $400 billion annually.
Immediately React To Overtime
As soon as an employee goes into overtime, you are instantly alerted so the situation can be taken care of. Chances are, the employee simply forgot to clock out, but at least you're already a step ahead.  
Know exactly how many hours your employees are working so it's easier to track if an individual or team regularly goes over their capacity. This makes it easier for you to lower the workload to avoid employee burnout and your employees can maintain a healthy work-life balance.
The Bottom Line On Time Tracking Apps
Before we go, there's something else we want to focus on for a second because Forbes found that 89% of employees waste time at work and 57% waste around one hour a day – this costs your business billions of dollars. Why is this important? Because investing in a time tracking app can help eliminate this wage and time theft. 
What forms of time theft are there?
Buddy punching
Stand-in attendance
Late starts and early finishes
Super long breaks
Unauthorized overtime
Taking care of personal activities at work
Time theft is certainly not a new concept. In fact, it has probably been around since man first started rostering staff in order to get work done. The cost of time theft is well documented and there have been countless attempts to correct the issue through HR initiatives and different software solutions.
How much does wage and time theft cost?
Wage theft costs employees in the United States $22 billion a year.

Time theft costs employers in the United States $11 billion a year.

Buddy punching costs employers in the United States $373 million a year.

A study by the American Society of Employers found that around 20% of each dollar earned by a U.S. company is actually lost to employee theft.

Accountants report that 92% of their clients have time theft issues and point out that on average, that 5% is added to their gross payroll costs. 

The American Society of Employers reported that 20% of every dollar earned is lost to employee theft in the United States.
Time tracking, accurate time tracking, is crucial to your business. And not just the bottom line. When employees know their paycheck is right on the money, they will be much happier and engaged. In turn, productivity will go up as does customer satisfaction while turnover tumbles and all of the nasty and expensive issues we raised in our introduction. Finding the right employee time tracking app will do you a world of wonders. Choose from any of the 12 time tracking apps we have listed above and you'll easily save time and money! 
#1 Time Tracking App
Connecteam's time clock app was designed to simplify and automate time tracking and payroll processes.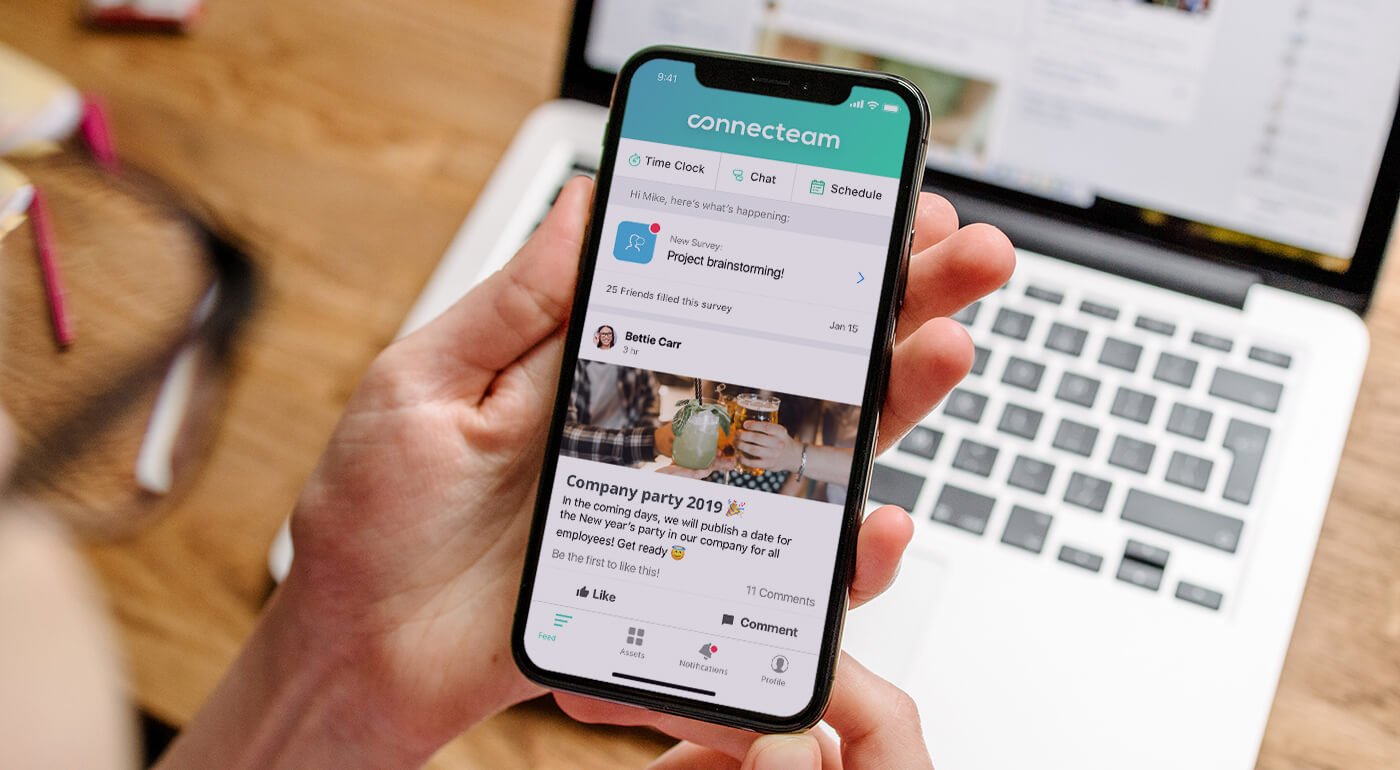 Start for FREE
Want to get more tips?
Join 20,000+ others who get our weekly newsletter with Business owner tips!