Whether you're a small business owner or the head of a large company, just hearing the words "company culture" seems like an intangible and unreachable task. However, that isn't necessarily the case. 
What is company culture? "Company culture is the personality of a company. It defines the environment in which employees work. Company culture includes a variety of elements, including work environment, company mission, value, ethics, expectations, and goals," writes The Balance Careers and we couldn't have said it better ourselves. 
And just why is company culture so important? For starters, it leads to higher productivity, better morale, greater employee engagement, more sales and creativity, lower turnover and so much more. 
On top of that, a Glassdoor study found that "56% of workers ranked a strong workplace culture is more important than salary, with more than three-in-four workers saying they'd consider a company's culture before applying for a job there."
Top Examples of Organizations With Amazing Company Culture
Twitter's employees are obsessed with their great company culture. From rooftop meetings to yoga classes to free meals and more, the employees just can't stop raving. Plus, the employees really love working with friendly and smart coworkers and in a team-oriented environment and atmosphere. All of the above motivate and push Twitter employees to go above and beyond to meet the company's goals. 
Google prides itself on its great company culture and rightly so. In fact, many would say that Google is synonymous with culture as they've inspired many of the perks and benefits companies incorporate today. Employee trips and parties, free meals, gyms, a dog-friendly environment, and more.
On their website, they paint the following picture, "At lunchtime, almost everyone eats in the office café, sitting at whatever table has an opening and enjoying conversations with Googlers from different teams… Every employee is a hands-on contributor… no one hesitates to pose questions directly to Larry or Sergey in our weekly all-hands ("TGIF") meetings – or spike a volleyball across the net at a corporate officer."
When you make Fortune Magazine's '100 Best Companies to Work For' (about 16 times so far), you're going to make our list too. Adobe gives its employees challenging and meaningful projects but ensure they offer trust and support to help employees successfully meet the challenges. And yes, they offer the usual perks and benefits but their company culture doesn't believe in micromanagement and instead trusts that their employees will do their best. 
While Google is synonymous with great company culture, Adobe is synonymous with creativity. As we said, they avoid micromanagement so employees can freely create. Additionally, they avoid ratings to create employee capabilities because they want their employees to naturally and productively create. Managers at Adobe are more like coaches and let their employees set goals and determine how they should be assessed. 
Building a great company culture doesn't require a massive budget, whatever your financial situation, company size, and industry, building a great company culture is completely within your means. As long you invest genuine time and interest in the happiness and well being of your employees then a positive company culture will grow. Use the tips below to build a great company culture at your workplace. 
Follow Our 9 Easy Steps to Build a Great Company Culture In 2021. 
1. Employee Wellness Matters
If you don't have healthy employees then you'll struggle immensely to create a great company culture. Your employees should be at their best – physically, mentally, and emotionally. Why? Because your employees are the core of your company, without them, success would just be a dream. Therefore, as managers, you need to offer as many resources, tools, and on-site opportunities for your employees so that they can live their healthiest life – whether inside or outside the office. 
Always be on the lookout for new ways you can lower employee stress so they can perform more productively.
2. Build-Off Your Current Company Culture
No reality exists where building a great company culture means starting from ground zero. Instead, you need to enhance the current culture. Employees can't be expected to make a complete 180! Ask your employees what they like about the current company culture, what they don't like, and what suggestions they have to help create and foster a great company culture that works for everyone. 
3. Hire The Right Team
The people you hire directly impact your business and company culture so make sure you aren't just hiring just based on skill or need, but also consider how an individual will fit into the overall picture. For example, if your company culture focuses on teamwork but your new hire hates working with others, they can seriously mess or even damage the flow you've established. 
Make sure your hiring process compliments your company culture:
Candidates must appreciate your culture and values:

It is much easier for your employees to work toward the same goal if everyone is aligned with the

company culture

and values.

Ask the following behavioral questions

to determine if a candidate will make a good fit.

Optimize the interview process:

Here's the thing, you need to optimize your interview process because it doesn't matter how good the interviewer is, getting the FULL picture isn't possible in an hour. Therefore, have a team of interviewers to cover different areas – like skills, experience, cultural fit, and so on. When different interviewers ask questions and digest the answers, that leads to deeper and different conversations to best understand the candidate.

Ask these questions

to best gauge the candidate.

Attitude comes before skills and experience:

It is far too easy to hire someone who can do the job "right now" and needs little training. Usually, a new hire like this has an immediate impact but rarely do they grow with your company thus

raising that turnover rate

. You will have greater success if you hire someone who doesn't have all the skills required but fits into the company culture and is genuinely excited to learn and grow. These hires stay longer at the company and can grow into different roles.

Avoid "mini-me"s:

Hiring someone to fit your

company culture

doesn't mean that the individual should look like, think like or act like you and everyone on your team. Instead, you're adding someone to enhance and diversify the culture. Create a balanced and diverse

company culture

!
Your hiring process needs to reflect your company culture in order to attract candidates who will make a great fit into the rest of the dynamic. Plus, you need to be able to easily gauge who is and isn't the right "one".
4. Use The Right Tool
Given today's technologically advanced world, employers find themselves turning to online solutions and mobile apps to reach their employees wherever they are. It's just expected that the tools you use grow with modern times, and this isn't a nice to have but a must.
Connecteam is a leading employee management app that provides organizations a powerful and robust mobile-first communication and engagement platform. We highlight how many companies are utilizing Connecteam's features to build upon their current company culture and enhance it further:
Employee Recognition & Acknowledgement: celebrate when new hires join the team, share personal milestones like anniversaries to boost engagement, create an employee spotlight, and allow employees to nominate peers for awards.
Share Employee Success: send real-time updates on business milestones like bringing new customers, exceeding the sales goal or KPI, etc. Plus, celebrate success stories received by customers with letters, pictures, videos, a story, and more.
Put Employees Front & Center: make smarter decisions based on organizational surveys, execute a suggestion box to gain feedback, and introduce an open-door policy to allows employees to approach HR or senior management.
Wellness & Benefits: provide all key information in one app that employees can access whenever is needed and allow your staff to register for company events in a click from their own mobile phone.
Non-serious Communication: use fun GIFs for interactive content, allow people to like and comment to be part of the discussion but in a structured safe organizational environment, and start interactive, fun polls like which Grey's Anatomy character are you?
A Personal Touch: share videos from the CEO to every single employee to allow front line employees to approach senior management in a structured and controlled environment.
Start building a better company culture by signing up for Connecteam's free plan or you can book a demo with an expert to learn more.
5. Meaning Matters
The time of just wanting to bag a paycheck is over. Employees want meaning and purpose in the work that they do, otherwise, they're just not interested. And without meaning and purpose, job satisfaction drops majorly. If your company culture has no meaning behind its work, you're doomed to fail before you even begin. Therefore, it's crucial that you have a mission statement and core values that your employees are aware of – show them examples of how their role will make a positive impact on the company, the clients, and even the community.
6. Workplace Relationships Are Gold
Fostering a great company culture means building workplace relationships. If your employees don't really know one another and interaction is limited, your culture can't grow. Create opportunities for social interactions in the workplace – like team meals, company outings, happy hour, or even team building games. 
7. Positivity Is Key
Building a great company culture requires positivity in the workplace. On a daily basis, you should express gratitude, offer recognition when due, smile often, and be optimistic during times of crisis. Even offering a casual dress code creates a fun and positive environment and atmosphere. Employees will engage more when they are accompanied by positive behavior in the workplace. 
Using an employee app, like Connecteam, to send updates to all employees can work wonders. In the click of a button, everyone can read messages to celebrate the employee of the month, achievements like exceeding goals or KPIs, positive reviews from clients, and more. By socially sending messages, you show employees their value and how much they matter, that social recognition can raise employee engagement in a heartbeat. 
8. Listen More
An easy way to build a great company culture is to be a good listener. CultureIQ reported that 86% of employees felt senior management listened to them in a strong culture environment, compared to 70% without a great company culture. Therefore, listen to your employees and ensure that their voices are heard. Ask for feedback at every possible turn, whether it's about company goals or how to better customer service, what to paint the kitchen, and more, make sure you're listening and acting on what your employees say. Don't just wait for an annual review! Instead, actively seek your employee's feedback and suggestions. 
As mentioned in point 6, Connecteam's employee app makes this easy to do. Instantly send surveys on any matter – create your own or choose from a template and watch the answers in real-time so you can start implementing action plans. You can also open the Suggestion Box so employees can send in their ideas, suggestions, and thoughts whenever the need arises. 
9. Reinforce Core Values
Programs and initiatives should be in place so that you are regularly reinforcing the core values that make up your company culture, that's how you keep it thriving. A way to do this is through "peer awards". Have an annual and monthly award that is given to the employee who best exemplifies the core values – they best represent your company culture. The award doesn't have to be something fancy either, it can be a stuffed animal or plastic flower. 
Sometimes, living these values can benefit your customers too, "Some of my favorites aren't programs at all but are the small examples of going above and beyond: Sending customer flowers when we learned about their 30th wedding anniversary; ordering an Uber for one of our customer' tenants who was in a bind; sending co-workers prepared meals when they and their families are going through a tough time. You won't find any of these things in any company handbook or manual. These are just examples of our employees exemplifying what it means to be a Buildian. That's a culture we're proud of," says Michael Monteiro, CEO of Buildium.
The Bottom Line On Building A Company Culture
Undoubtedly, the company culture in your organization is key to employees because your staff is much more likely to enjoy their job role and the company they work for when their needs and values match up with their employers. When employees work at a place with strong company culture, they develop better relationships, are more productive, and are dedicated to meeting the bottom line.
Redefine Your Company Culture
Reach every single member in your team, with fun, dedicated, and measurable communication. Engage your team like never before, reflect your company's culture, and solidify your employer branding with Connecteam's employee communication and engagement app.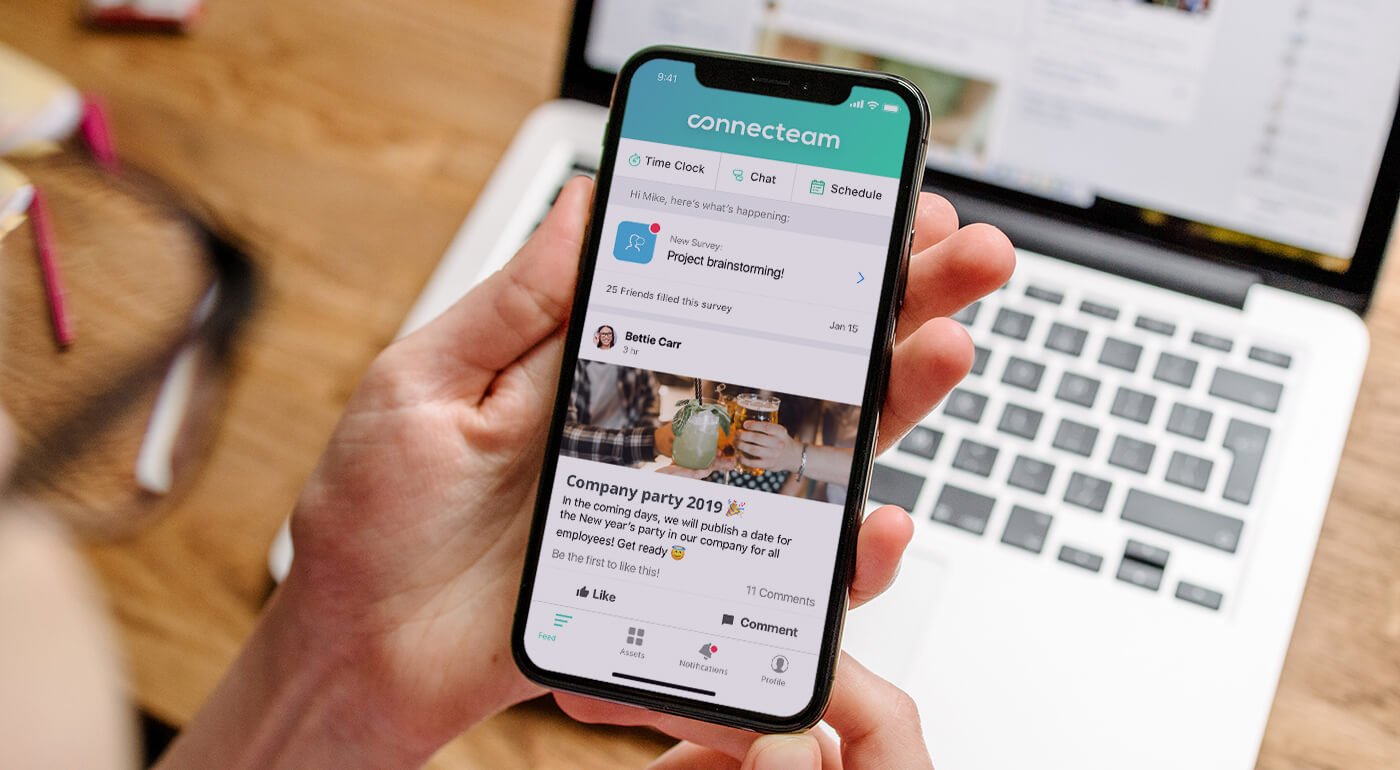 Find out more