8 Tips to Boost Workplace Diversity in 2021
When it comes to creating a thriving workplace and boosting employee engagement, workplace diversity is the key. Diversity in the workplace helps to engage the team spirit, encourage creativity and innovation from each employee, no matter their position or role in the company. All these backgrounds, experiences, and perspectives offer a unique viewpoint that can greatly impact your bottom line. 
A  study from McKinsey & Company found that companies that have the most culturally and ethnically diverse boardrooms were 43% more likely to attain higher profits.
So what is workplace diversity? Before we dive into answering that, it's important that you acknowledge the significance diversity plays in the workplace. Production, marketing, the company culture – these are all influenced by diversity and how diversity is perceived by everyone, company-wide.
"The term diversity includes understanding and acceptance of the fact that people have individual characteristics, which make them unique from each other, particularly when comparing individuals in a group. These characteristics may include race, ethnicity, gender, religion, political ideologies, sexual orientation, age, physical abilities or socio-economic status. These characteristics also may include life experiences and cognitive approaches toward problem-solving." – Chron definition 
Obviously, dealing with different social groups, for example, managing multigenerational employees in the same team is an additional challenge for the HR managers. But the benefits of workplace diversity make it much worth it — it truly offers your company a competitive advantage. That's why we list eight ways you can boost workplace diversity at your company.

Here are our 8 Tips to boost workplace diversity!
1. Workplace Policies Should Promote Diversity
Promoting workplace diversity may involve creating new policies or amending current ones – from hiring to employee performance evaluations to promotions. Consider posting an opening at your company with a job description that can reach a more broad audience. You can also share that job description with hiring/job fairs, outreach programs, or community hiring officers.
Just make sure the applicants meet the key qualities of a good employee.
Check if your company is an equal opportunity employer (EEO) that has been approved by the Federal EEOC. If it doesn't then ensure you're meeting their standards and gain approval as soon as possible. 
Connecteam Tip: a few diversity-friendly HR policies you may consider are allowing employees a day off for religious holidays (ones not necessarily observed by the company), on-site daycare, flexible hours, and more. 
2. Offer Diverse Opportunities
If you have multiple locations for your company then consider allowing your staff to go visit other locations, whether it's in another city, state, or country even. In addition, send a survey to learn where your employees like to spend their free time and what they're passionate about in terms of volunteer work. This information will help you arrange activities that suit everyone to help boost employee morale and engagement. 
With outings like this, you allow your employees to experience and participate in different kinds of environments which helps create opportunities for your staff to really get to know one another. In addition, your employees can learn how other locations deal with problems that are similar to their own so they can discover new ways to handle situations. This kind of "new thinking" is something they can implement back home to further their department. 
Connecteam Tip: Consider creating group chats and events for people with common interests and/or professional skills and mix up employees from different teams and locations for team-building, volunteer work, or seminars.
3. Diversify Your Workplace Management Tools
Effective employee management is about helping your people do the best they can. So you want to make sure they have everything they need at their disposal, to be able to focus on what really matters. With a workplace management tool, such as Connecteam, you can streamline your daily operations, increase internal communication, provide and collect feedback in a click, acknowledge team members, and so much more. 
Effortlessly onboard new hires. By doing it through the employee management app you can do it even remotely, including all the paperwork, protocols, and keeping track of a new hire's progress.
Ask them what they think. Create polls and suggestion boxes in order to keep track of your employees' needs and concerns. Ask them their thoughts on a new product you're developing and how you should market it to potential customers. When employees are more involved in what is happening with the company, they are more engaged and more loyal in the long run.
Show them recognition. Through group chat, you can share birthday wishes, work anniversary milestones, personal celebrations like marriage or a new baby, team outings, and so on. Take the time to celebrate your employee's personal achievements, whether in or out of the office. Employees will appreciate the attention and will be motivated to work harder.
Make scheduling easy and quick. Doing scheduling through a mobile app makes the entire process from planning to distribution to overseeing execution simple, quick, and intuitive for both you and your employees. Simplify your scheduling with advanced features like templates, in-shift tasks, status updates, messaging boards, and more. Also by letting your people choose and claim the shifts they want to take, you give them additional flexibility and allow them to adjust the work schedule to their own life.
Customize updates and policies. Customized folders and user grouping let you organize your links, updates, and policies and send them only to relevant employee groups. For example, with forms and checklists, people can see policies and regulations directly specific to them. Also, you can send group-specific updates, like announce updates about the maternity leave policy, monthly medical check-ups for the golden age employees, or special language courses for your immigrant employees, without distracting the rest of your workforce with irrelevant information.
Connecteam Tip: By using an all-in-one employee management app like Connecteam installed on everyone's phone —  you could provide your team (and yourself, as a manager) with a complete set of tools to make your workplace communication a blast.
Boost Workplace Diversity With Connecteam All-in-one Employee App
Learn more
4. Educate Managers
Don't assume all your managers understand how important diversity in the workplace is. From the hiring process to managing a diverse group of employees, there must be a connection and a trustworthy relationship between managers and their employees. Therefore, it is essential that managers are aware of diversity and know, how to support every employee – scheduling cultural and more sensitivity training can be a key first step. 
On a regular basis, reevaluate to ensure that diversity in the workplace is taken seriously. For example, examine if non-gendered bathrooms are available, review employee feedback strategies, see what religious holidays can be celebrated, and so on. 
Connecteam Tip: The key thing to remember is that when you celebrate workplace diversity, your team can go on to achieve more than you thought possible. 
5. Create A Mentorship Program
Sure, hiring a workforce that is diverse is great but without proper mentorship, not everyone will have the same advancement opportunities. Regardless of your employees' race, age, sex, or anything else is, everyone should get the same access to mentors and training programs. By having a mentor, your employees have someone they can go to with questions or problems while providing a clear structure and support for career growth.
A few development opportunities you can offer include continuing education, resource groups for women, or culturally relevant groups. Additionally, ensure that you hire diverse candidates from the get-go. 
Connecteam Tip: Face-to-face mentoring might be too time-consuming and expensive for many companies, but everyone can create engaging mobile training programs with employee training software like Connecteam.
6. Communication Is Key
Policies that promote diversity in the workplace are all well and good, but without clear internal communication, those policies won't be effective. Your workers must feel comfortable enough to come to their managers with any issues especially if they aren't being treated fairly because of their age, gender, ethnicity, sexuality, or anything else.
Managers must feel confident in their internal communication strategy with all their employees and that includes avoiding assumptions and using inclusive language. With the following, managers are able to create an open and respectful internal communication channel at the workplace.
Additionally, make sure your managers are gaining feedback from employees and are creating diversity tasks for each department based on the feedback. This helps create transparency and ensures your employees are being heard. However, respect that your employees may want to send feedback anonymously so use a communication chat app to send surveys on a regular basis and without forcing employees to sign their name – this will help strengthen responses and boost engagement. By the way, surveys are a great way to embed overall workplace democracy in your company.
Connecteam Tip: Employee communication apps like Connecteam let you streamline your daily interactions with individuals or teams, always deliver the right message to the right employees, collect feedback, track the reaction, make sure everyone's points are heard and considered. With features like group chat, private chat, an employee directory, immediate updates, and social posts, you can take your workplace communication to the next level.
7. Offer Diversity Training
Here's the thing, whether we care to admit it, a lot of us have a form of bias and that can be unconscious or otherwise. This can be as simple as associating with "like-minded" people or just hiring employees who "fit" the company culture. As a result, to overcome this bias, we need to be aware and that happens with diversity training.
Whether you send your HR team to a course or hold it in-house, it's important that all your employees are educated in diversity training to ensure an inclusive workplace.
Connecteam Tip: With Connecteam's training solution, you can deliver training materials by having the option of using existing documents, PDF files, media of any kind, and even web-services like YouTube, Dropbox, Google Drive, or your company website. Add our quiz to ensure understanding of content and your online employee training is good to go
Create Your Diversity Training With Connecteam Employee Training App
Start for free
8. Create Employee Resource Groups
Employee resource groups (ERG) are used internally to help a company grow and develop their talent pool and makes it easier for managers to gain key insights. However, it is important that the ERG allows everyone to participate and it isn't complicated to join. 
ERG are employee-led groups that are formed based on specific traits that group members possess. ERGs could be focused on race, gender, religion, or any other defining characteristics that group members share.
ERGs can positively affect turnover rates, increase loyalty, encourage organizational goal achievement, and even propel productivity rates within the organization.
Connecteam Tip: Make sure that the ERG has one senior leader to guide the group and that the goals of the group align with the company's business goals. 
Bottom Line On Ways To Boost Workplace Diversity
So as we've learned, workplace diversity is a crucial thing in 2021 if you want to build a loyal, capable team that works together as a whole, but every person feels valued and engaged.
We listed eight clever ways that your company can improve employee engagement through more diversity-focused initiatives and processes for your workforce. Start making these changes today to boost happiness and engagement across the board.
Diversify Your Company With Connecteam
Communicate with individuals or custom groups, automate payroll calculation for different rates, track hours and create schedules, build professional skills, and so much more in a simple to use, all-in-one employee app. Oh, and it's free to start too!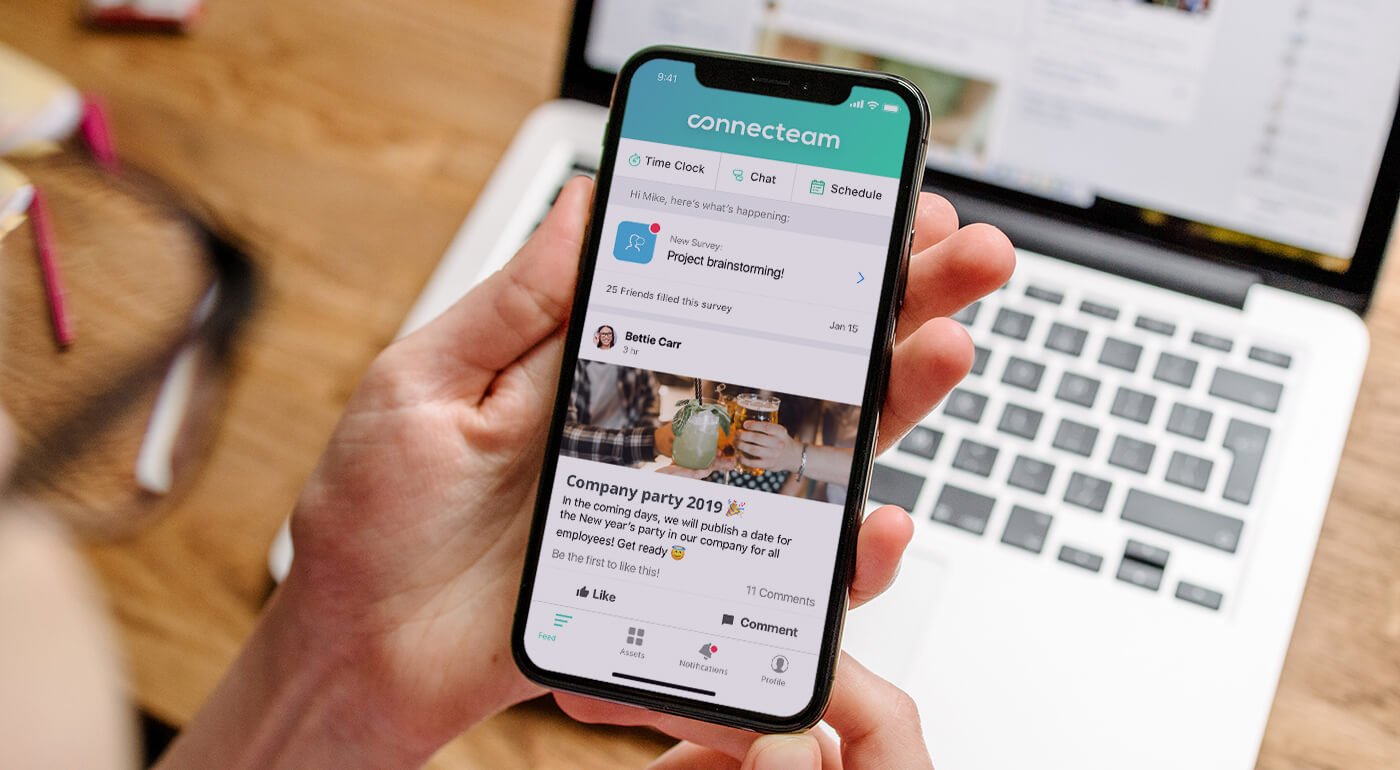 Start for free
Want to get more tips?
Join 20,000+ others who get our weekly newsletter with Business owner tips!