7 Ways to Further Workplace Diversity in 2020
When it comes to creating a thriving workplace and boosting employee engagement, workplace diversity is the key. Diversity in the workplace helps to encourage creativity and innovation from each employee, no matter their position or role in the company. All these backgrounds, experiences and perspectives offer a unique viewpoint that can greatly impact your bottom line. 
So what is workplace diversity? Before we dive into answering that, it's important that you acknowledge the significance diversity plays in the workplace. Production, marketing, the company culture – these are all influenced by diversity and how diversity is perceived by everyone, company-wide.
"The term diversity includes and understanding and acceptance of the fact that people have individual characteristics, which make them unique from each other, particularly when comparing individuals in a group. These characteristics may include race, ethnicity, gender, religion, political ideologies, sexual orientation, age, physical abilities or socio-economic status. These characteristics also may include life experiences and cognitive approaches toward problem-solving." – Chron definition 
Diversity isn't a mere HR topic to discuss, it truly offers your company a competitive advantage. That's why we list seven ways you can further workplace diversity at your company. 

7 Ways to Further Workplace Diversity
1. Workplace policies should promote diversity 
Promoting workplace diversity may involve creating new policies or amending current ones – from hiring to employee performance evaluations to promotions. Consider posting an opening at your company with a job description that can reach a more broad audience. You can also share that job description with hiring/job fairs, outreach programs, or community hiring officers. 
In addition, a few diversity-friendly policies you may consider are allowing employees a day off for religious holidays (ones not necessarily observed by the company), on-site daycare, flexible hours and more. 
Check if your company is an equal opportunity employer (EEO) that has been approved by the Federal EEOC. If it doesn't then ensure you're meeting their standards and gain approval as soon as possible. 
2. Educate managers
Don't assume all your managers understand how important diversity in the workplace is. From the hiring process to managing a diverse group of employees, there must be a connection between top managers and their employees. Therefore, it is essential that managers are aware of diversity and know how to support every employee – scheduling cultural and more sensitivity training can be a key first step. 
On a regular basis, evaluate your workplace to ensure that diversity in the workplace is being furthered. For example, examine if non-gendered bathrooms are available, review employee feedback strategies, see what religious holidays can be celebrated and so on. 
The key thing to remember is that when you celebrate workplace diversity, your team can go on to achieve more than you thought possible. 
3. Offer diverse opportunities
If you have multiple locations for your company then consider allowing your staff to go visit other locations, whether it's in another city, state or country even. In addition, send a survey to learn where your employees like to spend their free time and what they're passionate about in terms of volunteer work. This information will help you arrange activities that suit everyone to help boost employee engagement. 
With outings like this, you allow your employees to experience and participate in different kinds of environments which helps create opportunities for your staff to really get to know one another. In addition, your employees can learn how other locations deal with problems that are similar to their own so they can discover new ways to handle situations. This kind of "new thinking" is something they can implement back home to further their department. 
4. Create a mentorship program
Sure, hiring a workforce that is diverse is great but without proper mentorship, not everyone will have the same advancement opportunities. It shouldn't matter what an employee's race, age, sex or anything else is, everyone needs to be offered mentors. By having a mentor, your employees have someone they can go to with questions or problems while providing a clear structure and support for career growth.
A few development opportunities you can offer include continuing education, resource groups for women or culturally relevant groups. Additionally, ensure that you hire diverse candidates from the get-go. 
5. Communication is key
Policies that promote diversity in the workplace are all well and good, but without clear communication, those policies won't be effective. Your workers must feel comfortable enough to come to their managers with any issues especially if they aren't being treated fairly because of their age, gender, ethnicity, sexuality, or anything else.
Managers must feel confident in their internal communication strategy with all their employees and that includes avoiding assumptions and using inclusive language. With the following, managers are able to create an open and respectful internal communication channel at the workplace.
Additionally, make sure your managers are gaining feedback from employees and are creating diversity tasks for each department based on the feedback. This helps create transparency and ensures your employees are being heard. However, respect that your employees may want to send feedback anonymously so use a communication chat app to send surveys on a regular basis and without forcing employees to sign their name – this will help strengthen responses and boost engagement. 
Take communication to the next level
Connecteam offers effective communication tools for all businesses and teams in one place. With features like group-chat, private chat, an employee directory, immediate updates and social posts, you can better your internal communication in a flash.
Find out more
6. Offer diversity training 
Here's the thing, whether we care to admit it, a lot of us have a form of bias and that can be unconscious or otherwise. This can be as simple as associating with "like-minded" people or just hiring employees who "fit" the company culture. As a result, to overcome this bias, we need to be aware and that happens with diversity training. Whether you send your HR team to a course or hold it in-house, it's important that all your employees are educated in diversity training to ensure an inclusive workplace.
7. Create employee resource groups
Employee resource groups (ERG) are used internally to help a company grow and develop their talent pool and makes it easier for managers to gain key insights. However, it is important that the ERG allows everyone to participate and it isn't complicated to join. 
Make sure that the ERG has one senior leader to guide the group and that the goals of the group align with the company's business goals. 
We listed seven clever ways that your company can improve employee engagement through more diversity-focused initiatives and processes for your workforce. Start making these changes today to boost happiness and engagement across the board. Plus, what better way to increase retention and appeal to top talents? 
Scale your business with Connecteam
With Connecteam, it's super easy to communicate with all your employees, manage payroll, job scheduling, time tracking, move all checklists and forms to digital, build professional skills, and so much more. Everything you need to grow your business is at your fingertips.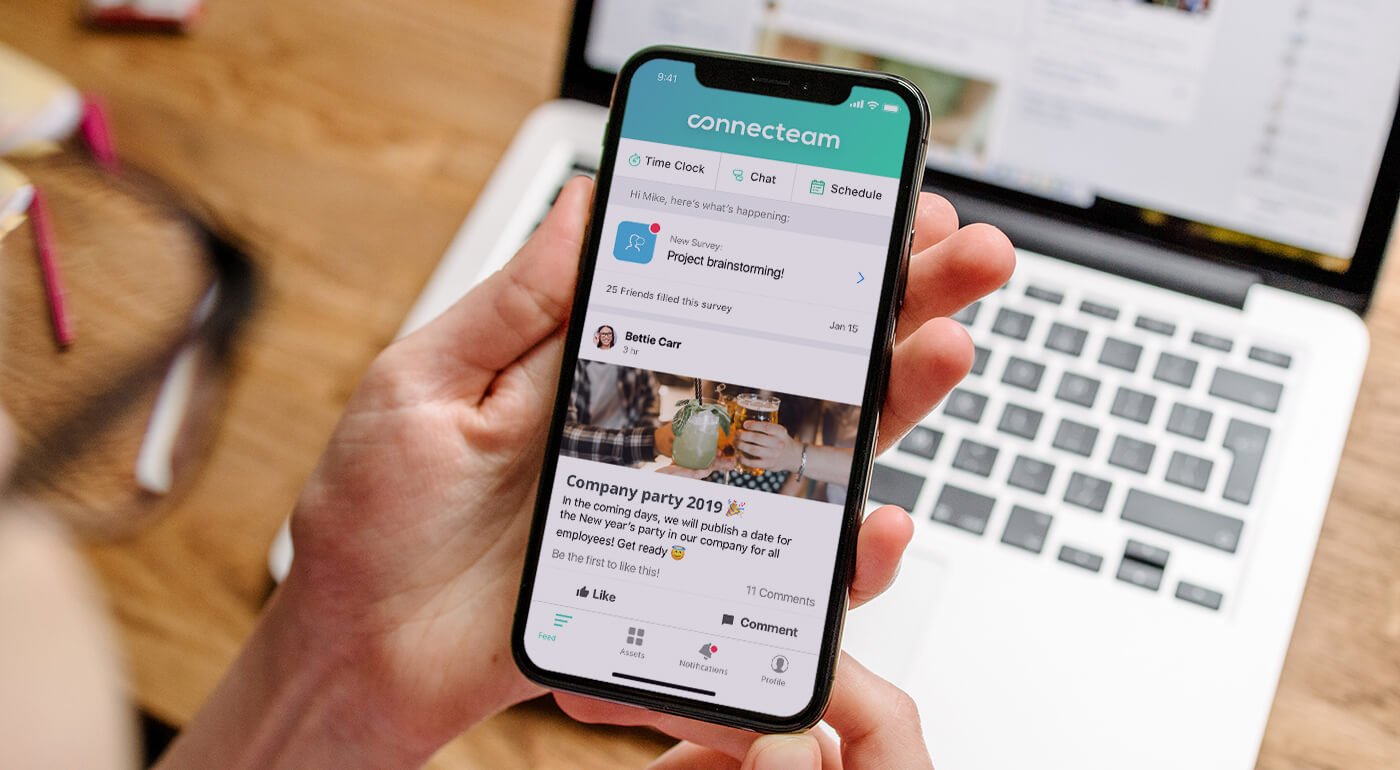 Learn more now
Want to get more tips?
Join 20,000+ others who get our weekly newsletter with Business owner tips!