As a small business manager, you're constantly juggling and prioritizing tasks in order to keep things running smoothly. However, the problem you're faced with is that the list of tasks is never-ending. There is too much chaos to sift through, to organize, and to prioritize. The solution? An online checklist app.
What Is An Online Checklist App?
An online checklist app is a digital solution that prioritizes all daily tasks and streamlines operations. Instead of piles of paperwork and rows of folders, everything you need to efficiently run your business is available in the palm of your hand. Day-to-day operations are a core aspect of running a small business, checklists and reports are used to reduce friction from daily activities, automate information flow for improved response time, and gain better oversight. Let's not forget that it allows you to easily standardize your business, oversee execution, and even improve efficiency. These are just some of the benefits an online checklist software offers you as a small business manager and we'd say it's definitely worth looking into.
What else can you do with a checklist app?
Capture relevant information and create a to-do list from the information
Display a task or project in real-time
Send task reminders
Collaborate with your team
Go through an overview of the day's tasks
Add pictures, video, e-signature and a GPS stamp for additional information
Track the progress of tasks and projects.
There are countless employee checklist app solutions available so be sure to think about what you need before making a final decision. For example:
Is a simple

online checklist

enough or do you need to add projects with subtasks? 

Can you collaborate or share your

online checklist?

Can you set recurring tasks so nothing gets missed?

Can employees receive push notifications as reminders? 

Can you do more than just complete a checklist? Can you fill and send forms and reports (especially if you're on the go)?

What systems can the

online checklist

run on? (Android, iOS, Mac, PC, etc.)?

Is it easy to implement and to use? And is it suitable for all my employees? 

How much training is required? 

Is it affordable? 
We took all those questions on board and did some digging to present you with 8 of the best online checklist apps in the market today. Not all of the options meet the above questions but they come close so be sure to read thoroughly to make the best decision for you, your employees, and your business. 
8 Best Online Checklist Apps
Out of all the online checklist apps on this list, Connecteam is the only mobile-first solution for small businesses as users can fill out checklists, forms, and reports that were designed especially for non-desk employees, which means it's easy to use and perfectly compatible for mobile devices.
Rich with features:

an intuitive and simple drag and drop editor allows you to create any form you need in minutes. Gather information from your field team with advanced capabilities like image-capturing, location stamps, detailed dropdown lists, voice recordings, file attachments, signatures, and more.

Accessible any time, from anywhere: 

your team always has access to all the forms they need, at any moment, even when they are on the go. No more dealing with messy handwriting, outdated forms, or waiting weeks for critical paperwork to arrive – every entry is sent from field to office in the blink of an eye, and is available in real-time!

Real-time notifications: get

notified in real-time on every entry made by your team and you can review it in detail, on your mobile device, or from your office. Advanced capabilities allow you to track completion rates, set up auto-reminders for users, and follow up with people that are yet to complete their forms and more.

Process information: with

advanced filtering and a searchable interface, it is easy to point out the things that matter. Flag exceptions, analyze historical data, and export the information when needed. All your previous entries are documented and are always available.

Automate information flow: 

you can download and send automated Excel reports whenever needed, get a PDF copy for every entry submission, and more. Keep your organization informed, improve information flow and response time, and be more proactive.

Mobile interface for managers: e

mpower your field managers with advanced mobile capabilities by allowing them to review entries on-the-go, respond and engage in predefined follow-up actions in real-time, search for historical entries, track completion rates, and even share relevant entries with other colleagues and stakeholders. 

Close the loop: provide feedback to employees about their submissions with manager notes and status for each entry.
All-in-one: g

et more done with embedded communication capabilities such as in-app chat, push notifications, and updates and with a dedicated task management tool that lets you quickly and efficiently delegate one-off tasks to your team. 
Price: Pricing starts at $39/month for up to 50 users so you save money while streamlining processes. There is also a free plan that you can start using today!
Automate Workflows In One App
Say goodbye to pen and paper, it's time to digitize your business with automated workflows, operational checklists, read & sign forms, inspection reports, and more. Easy to set up, versatile, and available on-the-go, Connecteam's employee checklist app allows you to drive your business forward, and you can start for free!
Start for free
With Zenkit, you can work on your daily tasks in the to-do app or Kanban and Gantt charts. You don't need to deal with syncing or imports, plus all the apps share one data store. Everything is connected in a single place from invoices to clients to features to bugs to documents and more.
Zenkit can integrate with over 1,000 apps like Asana, Clockify, EverNote, Gmail, Slack, and more.
Price: Zenkit has a few pricing plans you can choose from: free, plus ($9/month/user), business ($25/month/user), and enterprise (contact a rep about pricing).
Any.Do has two main features to offer: to-do lists and a calendar. Each feature allows for scheduled or location-based reminders and list sharing. You can also sync Any.do with a Google Calendar, Exchange, or iCloud so all your events are kept in one place. The Teams option allows you to choose from a Project, Kanban or Calendar view. 
Price: With the Premium ($2.99 per month) and Teams (ask for a quote) options, you can customize the theme and can review your agenda list of items in whichever way is easiest and best for you. Otherwise, there is a free option as well. 
Evernote Business is an organization tool with many uses. However, it is typically used for cloud-based media file storage, but it does have note-taking capabilities and an online checklist.
You can add images, videos, and other attachments to your checklist; sync tasks with your employees to everyone aligned. Plus, you can collaborate and share or pin notes so nothing gets missed. 
Price: Currently, Evernote Business costs around $13 per month per user and for free, you can get Evernote Premium for personal use, that's included with an annual business subscription. In addition, each Evernote Business account gets 20 GB monthly uploads to be shared across the company account, plus an additional 2 GB per user on that account.
There is a lot you can do with Google and that also includes a daily online checklist. With Google Keep, you are able to create a list and share it with co-workers, friends, and family. Easily add notes, lists, photos, and voice memos.
All tasks can be color coordinated while you can create unique labels that are specific to the topic. Google Keep has location-based and time-based reminders and you can also access the tool from your smartphone, tablet, or computer. 
Price: Free.
WorkFlowy is a simple web-based outliner or a notebook for lists. It is built for businesses, entrepreneurs, and individuals so they can be more productive. You can make lists, take notes, collaborate, organize your day, and so much more. All items are searchable so you save time looking for exactly what you need. Share lists with shareable links and use the text-based tool to organize whatever you need. 
Price: WorkFlowy is free for up to 100 items a month. Plus, successful referrals will add an additional 250 items to the free account. The Pro plan costs $50 per year and includes unlimited lists and items. 
Remember the Milk was founded back in 2004 and is still running today. This simple, efficient app makes it easy to create a basic task and to-do lists, which you can also sync across devices. Plus, you can set important deadlines, reminders, and prioritize tasks. 
Keep documents, spreadsheets, files, and photos alongside relevant tasks when you connect Remember The Milk to your Dropbox or Google Drive account. Remember the Milk can connect with Siri, IFTTT, Apple Watch, and Alexa devices. 
Price: There is a free, basic version you can download. Or you can pay $39.99 per year for the Pro plan. 
JotForm is an online form builder and creator that allows you to create online forms and gather data. It has an intuitive drag-and-drop user interface so it's super easy and simple to create forms, create fillable PDF forms, and once they're published, you can integrate them to your site and can also receive responses by email.
Price: Over 5.5 million users rely on JotForm and benefit from four pricing plans – from free and all the way to its most expensive plan of $82.50/monthly but billed annually.
The Bottom Line On An Online Checklist Solution
When looking for an online checklist solution, make sure you find the right fit for you, your employees, and your business. Go through the options we listed above and choose the best one for your business needs. Using an online checklist will help you make sure nothing gets missed, sets priorities, and keeps a digital record instead of a Mount Everest sized paper trail. 
If you want to learn more about choosing the best checklists app, check out this detailed blog here.
Collect Insights On The Go
Digital transformation starts with Connecteam because when your team is on-the-go, they can easily and quickly fill in the information you need.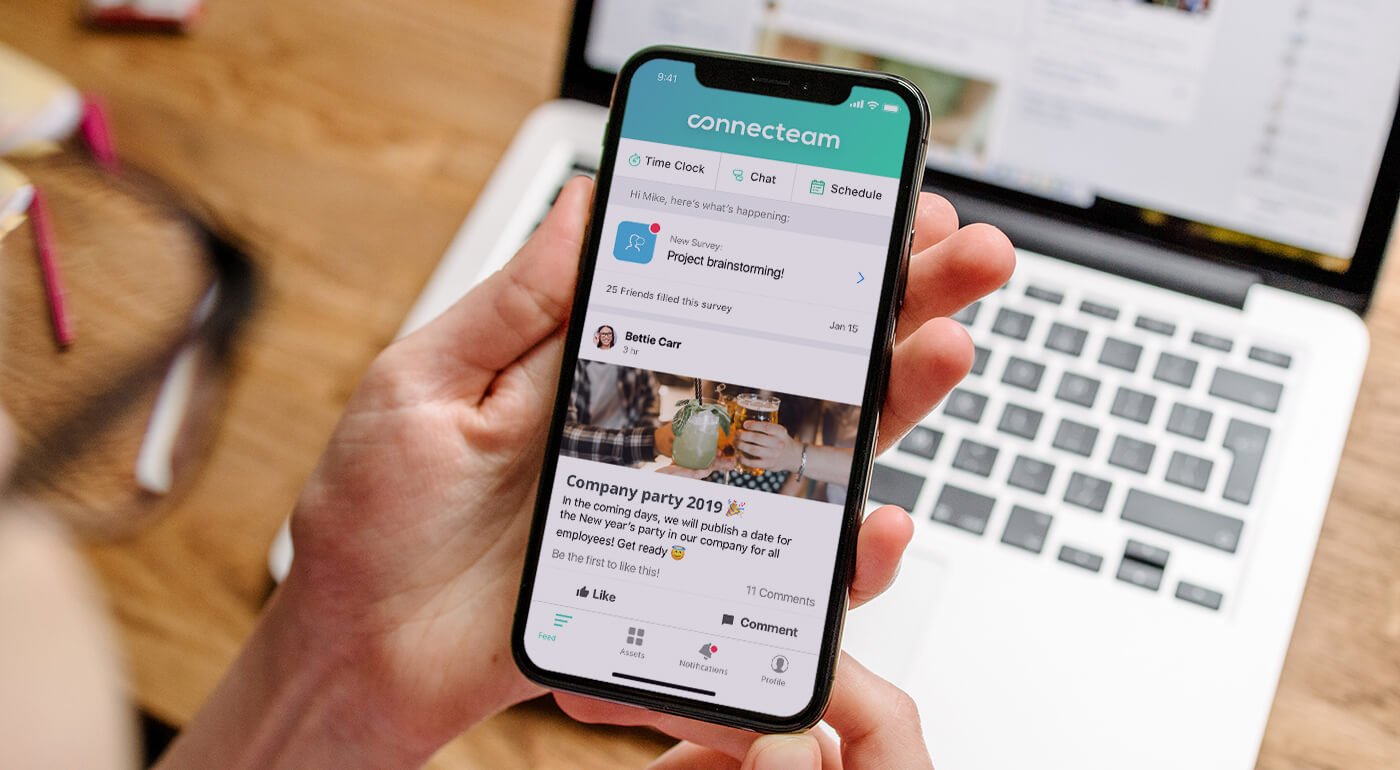 Start for free