Your guide on how to improve staff communication at all levels to boost engagement and productivity. (The tips can be applied to both small and large organizations.)
Table of contents
We know that effective staff communication is something that most managers and business owners consider to be a trivial part of their day-to-day. After all, there are other far more important tasks to worry about.
However, industry research has proven that "poor communication in the workplace now costs business leaders a staggering $37 billion in lost productivity, with average losses topping $62 million per year."
Whereas, a Willis Tower Watson report found that companies with effective staff communication actually lead to 47% higher total returns to shareholders than companies with communication problems.
It cannot be stressed enough how vital effective staff communication really is. But with the right methods and strategies, you can turn things around to keep productivity up without severe monetary damages.
Below we dive into 10 ways that you can improve staff communication in large organizations. As mentioned, these tips are focused on the use of a communication app, like Connecteam, but you can apply the tips to your current delivery method with small tweaks.
Consider Your Audience
In order to really make your staff communication method effective, you must consider your employees as one size doesn't fit all!
Consider the following to improve staff communication:
What is the best time to send out staff communication?
What gets them excited? What do they care about?
When is the best time to send out communication? First thing in the morning or after lunch?
It's also important to remember that your employees have no way to engage or send feedback back to you.
Additionally, ensure that staff communication is segmented into different groups for example, location, job role, department, etc. This is key because if your message isn't relevant to every single employee then you're just creating noise.
Be sure to send staff communication to those that it's relevant for – for example, the Brooklyn crew has new hours in place but those in Manhattan aren't affected so they shouldn't be messaged.
Employees will engage more when content shared is relevant for them.
"To ensure resonance and encourage ongoing channel adoption, tailor messages based on employees' motivations, interests and experience — and ensure the timing is relevant.
Build Staff Communication Habits
Building the right habits is key, especially around staff communication.
You must ensure you have frequent and structured communication. For example, monthly newsletters, a quarterly update from the CEO, or a weekly operational brief.
Make these communication habits even easier to execute by creating a template that is easy for everyone to use and requires less energy to put together. And on the flip side, by sticking to a template, your employees become used to consuming communication in a specific way that's digestible at a glance.
Your staff communication habits should run like clockwork.
Download your FREE guide on "10 Tips for Engaging Your Frontline Teams" ⤵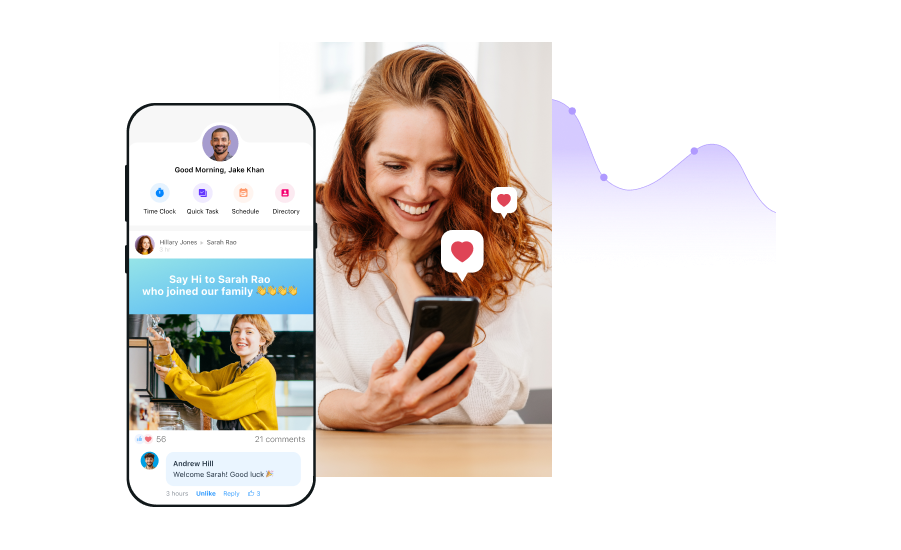 Ask For Feedback & Act On It
Communication isn't a one-way street.
Your employees want to feel heard and valued otherwise morale and productivity is shot with climbing turnover rates.
Especially when Gallup conducted a survey that reported that employees don't get enough feedback or provide enough feedback.
With an employee communication app, there are countless features to use to gain feedback, like:
Surveys
Live polls
Suggestion box
Private chat
However, don't limit yourself or your employees to just sharing feedback. Ensure they are empowered and comfortable with approaching you with all ideas, issues, successes, and whatever else is needed.
It's important to build a healthy relationship with your employees especially when 12% of employees quit their job for higher salaries whereas 75% will leave the company directly because of a bad relationship with their manager.
As such, the act of gathering feedback on a regular basis, acting on the feedback, and building a healthy working relationship with your team all leads to improved staff communication.
Improve Staff Communication With Connecteam Employee Communication App
Creativity Makes A Difference
You may think that staff communication is just about work, all the time. However, that's a misconception.
To truly make work engaging, you must provide avenues for a healthy, fun workplace environment. It's this company culture that leads to higher morale and productivity.
How can you get creative with staff communication? Use your employee communication app to send the following:
Start pet competition of the cutest/silliest employee pet
Share a positive interaction with a customer
Share a funny GIF to start the day
Vote on who has the best Halloween costume
There are many creative ways to improve staff communication so think outside the box a little bit and add that human connection to drive internal staff communication home.
You may want to consider hiring an employee engagement manager to really take it to another level.
Measure Staff Communication Methods
You shouldn't wonder how to get employees to communicate better because if you're measuring your communication methods and channels, then you know instantly what works and what doesn't.
This sounds a little intimidating, but with an employee communication app, you have direct access to results in real-time. Like how many employees opened your message, engaged with it, didn't open or take action, etc. It's all right in front of your eyes.
Otherwise, what you can do is set a baseline to understand what you're measuring and how it's performing to best determine the effectiveness of your efforts.
Through a targeted, measurable approach to staff communication, you have a smoother path to improve staff communication. Start by sending real-time updates to your staff or just to designated team members. And ensure the most important messages reach all employees, from a breaking announcement or news from the CEO, operational updates, and so on.
One-on-Ones
There is no one way to master staff communication, but you should be looking at all methods. The 1:1 meeting creates and establishes a direct method of conversing with your employees.
If you're working in an office, one-on-one meetings can take place anywhere – outside the building for some fresh air or in a conference room. If you have remote or deskless employees, then a video chat is the best way to engage with them.
One-on-ones can be quick, information chats like ideas, projects, deadlines, and so on. Or you can schedule more formal one-on-one meetings. It's up to you and your employee to choose which method is best.
Remember that one-on-ones aren't mandatory, "If there's nothing to discuss, it's OK to cancel. People, too often, view 1:1s as mandatory, but it's refreshing when you both acknowledge that things are ok for now, or the time may be better spent other ways… and you can do this as long as you both agree not to take a request to cancel personally," says Ben Saitz, Chief Customer Officer at RocketFuel.
Share Visual Staff Communication
We've all heard that a picture is worth a thousand words and there's a reason for that!
Visual communication works. This can include infographics, maps, flow charts, visual reports, presentations, posters, brochures, etc.
Or you can go for fun visual communication like memes, GIFs, pictures, or videos.
Ensure that your visual message is engaging and motivating while the design is eye-catching.
Visuals help create a better understanding where words alone can't get the job done.
In fact, visual communication truly matters because it helps to engage your team, easily communicates complex information, tells a story, and simplifies information.
Don't Forget Team Meetings
We mentioned the value of one-on-one meetings but when possible, hold team meetings too.
This helps to build a professional environment where all of your team members feel comfortable communicating with one another. But keep it consistent. Is it once a week? Bi-weekly or monthly?
The frequency of these meetings can help eliminate communication barriers or misunderstandings between managers and employees as you are all in an environment to openly talk about projects you're working on, challenges you're up against, or questions you may have.
Develop The Message Before Sending
Whether it's an email, a social post, an update on the communication chat app, or whatever communication method you're using, it's important to develop the message before hitting send.
You should be specific so that everyone understands the purpose.
Consider the following:
What: What does it mean? What led to this message?
Why: Why does it matter?
Where: Where/what locations are affected by this? Where can you get additional information?
When: When is this going to take place?
How: How will this be implemented?
Who: Who made the decision? Who do you contact for more information?
If we put this into context, you may have recently changed your health and safety protocols due to the global pandemic. So instead of just sending out messages to say "this is because of COVID", make it more clear and specific. "To ensure the health and safety of our staff and customers and to comply with CDC guidelines, we will be rolling out new protocols….." You get the point by now.
Being specific can help avoid confusion down the road.
Choose The Best Communication Medium
Choosing the appropriate communication medium is key here, especially when you factor in which tool is the best for optimizing your message. And you also need to consider how your audience would prefer to receive such information.
There are numerous mediums like a printed or digital newsletter, Facebook and WhatsApp groups, TV screens, bulletin boards, face-to-face meetings, gatherings like a daily or town hall meeting, intranet (which no one uses), email, and of course, the employee communication app.
We break these mediums down below:
Face-to-Face Communication allows you to create a personal connection so that you can enhance engagement and gain raw feedback.
Email ensures you can attach files and attachments easily in a logical and reliable manner.
Team Meetings build comradery while ensuring your message reaches multiple employees in one go. Consider engaging in team-building games and exercises to enhance engagement in a fun way.
Video helps you tell a story visually and to share visual presentations that can drive the message home.
A Notice Board is most effective when you don't rely on technology to share information like policy updates, job postings, schedule changes, birthday wishes, and more.
Texting or WhatsApp is common as it's free and easy to use when needing to share quick updates, attach files, and more.
An Employee Communication App is the most modern medium and tool that ensures nothing falls between the cracks. Plus, it allows for a two-way communication channel.

Communication is managed in real-time, while on the go, to best drive engagement, morale, and productivity
Create channels by location, job title, department, or whatever else, to quickly communicate with the right team at the right time
All work communication is stored in one place and is separate from a worker's personal storage space
Finding the right medium is critical to establishing effective internal communication and boosting engagement.
Moving Forward With Staff Communication
Long-term company success is directly related to how effective your staff communication really is.
Above we took you through actionable strategies to improve staff communication so that you can keep employees happy and keep the company thriving.
Additionally, ensure that you stay up to date on the latest communication workplace trends to make sure that you aren't missing anything that can help improve staff communication.
#1 Staff Communication App
Reinvent communication and engagement in your organization with Connecteam's complete set of communication tools.
Get started for FREE
Want more great articles straight to your inbox? Subscribe Here ⤵