Productivity means everything in this highly competitive world. To reach peak productivity, you'll need well-trained, appreciated, and happy employees. Employee engagement managers are professionals who can take on such a task. Read on to learn more!
Table of contents
Employee engagement has a direct effect on company performance, and for that reason alone, it has a lot of writing on it. With modern trends such as remote work, engagement is becoming increasingly difficult to get a handle on. With an employee engagement manager, you can have a professional in the workplace to take on the job.
They work across departments to make sure employees feel valued and motivated to work harder. Although employee engagement managers have one primary responsibility, it's not so simple. It involves many strategies for both the short and the long run.
Alongside your leadership, learn exactly where employee engagement managers come in and what they do.
What Does an Employee Engagement Manager Do?
Employee engagement managers have their work cut out for them:
They build an employee-centric workplace culture
If you are confused about what an employee-centric workplace is, let's first discuss what that is.
An employee-centric workplace is a workplace that puts employee happiness, well-being, and input as the top priority.
When employees feel they have a purpose in the workplace, they are more inclined to give their 100%. This is often accomplished through recognition, appreciation, and open, honest feedback, such as:
Applauding a job well done: keep the saying "A for effort" in mind.
Have fair and equal recognition: acknowledge various success styles.
Setting clear workflows in place: streamline tasks for better efficiency.
Train employees until they feel self-sufficient: help them grow!
They provide opportunities for professional development
Personal growth is a motivator within all of us.
You'll notice that employees find their jobs pointless without more to learn, personal progress, or something to work towards. Without much to hold onto, employees will become disengaged.
An engagement manager will want to avoid this at all costs. Employee engagement managers can offer:
Training and development sessions regularly
Dynamic work-life that requires a different approach each day
Career roadmaps for future advancement
They incorporate feedback into the company culture
Every employee will have their own set of strengths and weaknesses.
Employees who know where they shine can double down on their pluses to enhance the company. Employees who can pinpoint their weaknesses have more targeted goals for improvement. Figuring out what those are can help you strategically position employees in your organization.
To help employees find their niche and become as self-proficient as possible, team leads will administer 1:1 reviews. Although team leads administer the feedback itself, engagement managers are along for the ride to help them.
Engagement managers will make sure the feedback stays consistent and touches on:
Recognition opportunities
Commitment to growth and long-term success
A time to reflect on past performance and progress
Set up goals before each review period
Achieving greater motivation
The more feedback employees get, the easier it is for them to tackle their challenges bit by bit.
Join Thousands Of Managers Increased Their Employee Engagement With Connecteam!
They promote diversity and inclusion
A diverse and inclusive workplace is powerful. Having employees with different backgrounds (cultural, racial, age, gender, religion, etc.) opens the doors. With a well-rounded team, you'll have more than one perspective. This brings ingenuity to the workplace, and sometimes that can be the edge you have over your competitors.
Bringing balance to the workplace makes the employee experience a lot more fun and dynamic. However, this does mean that engagement managers will need to be twice as attentive to fair and equal treatment; many biases can take place.
They take an active role in hiring
High turnover and low retention are two very bad signs. It not only makes people question the company, but it also results in more time and money wasted on new trainees.
To avoid making the same hiring mistakes, recruitment will need to build a list of behaviors to look out for. The best way to know the "must haves" and "must not haves" of potential hires, is through the knowledge of an engagement manager.
Employee engagement insights can include:
Characteristics of engaged employees
Specific skills that prove to be useful
Warning signs
Trends for hiring purposes
With employee engagement managers, hiring can expect to strike gold almost every time.
Download your FREE guide on "10 Tips for Engaging Your Frontline Teams" ⤵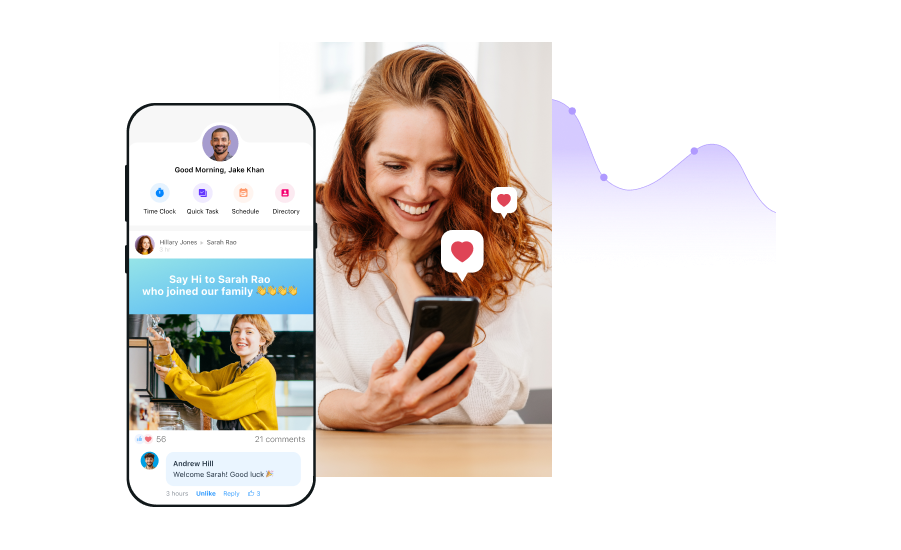 Employee Engagement Manager Job Requirements
Employee engagement managers usually bring a mixture of knowledge and experience to the table.
Engagement managers classically get a bachelor's degree in business or any field that will focus on topics such as human resources, organizational development, performance management, psychology, workforce planning and so on.
On top of that, engagement managers often upskill themselves with certifications and licenses. This can make engagement managers stand out from the crowd, but also keep professionals up to date with the new methodologies of today
While an education offers a solid foundation, there is nothing more useful than previous experience. To prove you can handle a manager's role, anywhere between five and ten years of experience might be expected. Sometimes, companies can be even more selective and ask that you have experience not only in the related field but also in the same industry. The more you know, the better!
Employee Engagement Manager Salary & Outlook
Employee engagement manager salary will depend on numerous variables. Salary factors unrelated to the employee engagement job description have to do with the size of a business and the industry it's in (some industries make more than others). However, when it comes to the person, an employee engagement manager's salary will depend on their level of expertise and years working in the field.
Zippia's Estimations for Employee Engagement Manager Salary (July 2022):
Bottom 10% Annual Salary: $76,000
Average Annual Salary: $110,530 ($53.14 per hour)
Top 10% Annual Salary: $159,000
With remote work and the demand for better work-life, the need for employee engagement managers is on the rise. This job has a massive influence on an entire organization, including the numbers on the bottom line.
Employee Engagement Manager Trends
Nowadays, a healthy work culture and employee benefits are sometimes valued more than a great paycheck. With remote work in the mix and technology that allows organizations to hire a wider pool of candidates, employee engagement managers have to step up their game.
To keep up with the demands, it's important to have a look at the current trends:
Employee Happiness
After COVID-19 hit, people suddenly came to realize "life is too short" to be unhappy. With the great resignation on the rise, employee engagement managers can make it their priority to ensure employees remain satisfied at the workplace. Healthy work environments are hard to come by these days, so if you offer more benefits, positivity, rewards, and recognition, you have the competitive edge to attract only the best employees.
A Modern Workplace 
A new generation of employees are rolling in and they are beginning to demand new modern ways of working. Often times people assume that this means you need to add technology to your workplace. It's true, that is one way to make your company culture stand out. But, there are more ways than one.
Another popular request by employees are flexible working schedules. This can help people get the work-life balance they are in need of. The list goes on and on. Whether it is about more open dialogue or even becoming a more inclusive workspace, many options are available. Engagement managers have the tools to make sure one or all options, can become a part of your work place.
Recognition & Rewards
Appreciation for hard work has been underestimated in the past. Now studies show how much power recognition has to push and motivate employees. Employees who excel will boost company productivity and positively effect the bottom line. Employee engagement managers can help you keep an eye out for the star players and come up with fun appreciation ideas.
All of these trends combined not only make you a more attractive workplace for employees to want to work at, but they also directly affect work productivity. If you can excel on all fronts, you're set for the long run!
Take Advantage Of Employee Engagement Tools and Software
Employee engagement software is becoming a popular solution for transferring all manual and paper processes over to a digital platform. Sending out hundreds of engagement surveys in paper form, collecting these papers, and then deciphering the data is completely outdated and inefficient. And if you're still doing this by email, the most impersonal form of communication, then your employee engagement will suffer right off the bat. So why put your employee engagement manager at a disadvantage when you can set them up for success with an employee engagement software?
Now, you may be scratching your head at this point wondering, "well what even is employee engagement software and how can our managers use it to increase engagement?". Great question, exactly what I'm here to explain! Employee engagement software is used by employee engagement managers to streamline daily processes, increase internal communication, and increase employee engagement. While there are hundreds of different software packages, Connecteam is the best all-in-one employee engagement software for all business sizes and industries.
With the Connecteam employee engagement app, managers can increase engagement with the following tools and features: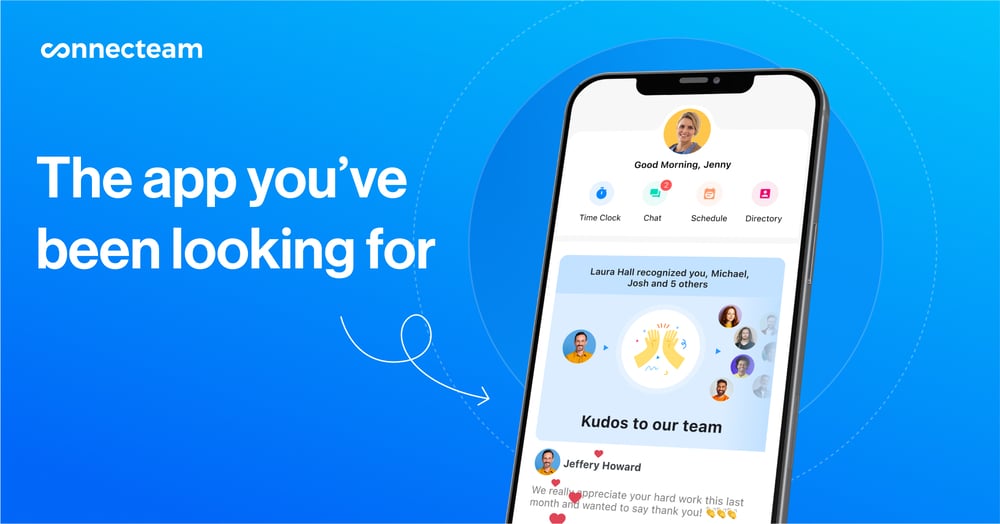 Distribute digital employee engagement surveys through the employee engagement app that can be measured in real-time. Once an employee has finished the survey, management will receive a notification and a report will be made from the responses. And voila, no more large piles of papers or misplaced surveys.
Encourage employees to take part in a live digital poll. If you'd like you can even keep responses anonymous. Summary reports are available once entries have been submitted and it's possible to look at individual responses as well.
A digital suggestion box allows employees to submit feedback to their employers. Management can take suggestions and ensure that their employees' voices are heard, opinions matter, and actions are taken to improve or change the situation.
The digital social feed is a great place to display company updates, news, employee of the month awards or any type of employee recognition. This is a simple, fun, and easy way to get employees engaged. Allow employees to like and comment on posts with GIFS, videos, or photos to further increase engagement! 
A digital employee contact list provides managers with full transparency. Now there's no need for employees to save work numbers in their mobile phones. Everything is stored and saved securely within the app. If the CEO or other employees don't want their personal information given to all employees, it's possible to just create details you would like to include.
A robust internal communication feature allows management to send targeted 1:1 messages or reach a whole team with group messaging. Keep internal communication fun and engaging with GIFS, videos, photos, links, voice messages, and more. You also have the ability to view who has read or not read messages reducing the friction of back and forth inefficient communication.
Post events on the social feed to invite teams or the whole company to a fun company event. Boost employee engagement, camaraderie, and morale with trust building activities and events.
As you can see, with the Connecteam app, employee engagement managers can now take all paper processes and streamline them into a digital process. Sending employee engagement surveys to every employee is now more time efficient and makes creating insightful reports easier.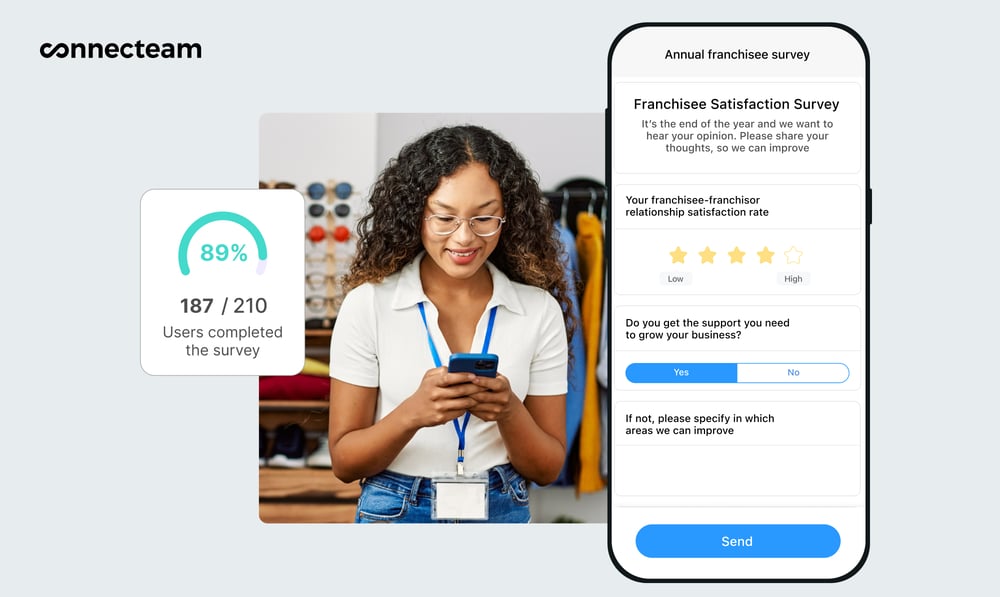 The Bottom Line On Employee Engagement Managers…
At the end of the day, it's up to your employee engagement manager to set up a working strategy that will increase employee engagement. In essence, their job is to find weaknesses and specific reasons for lack of engagement. In order to understand and pinpoint these reasons an employee engagement manager will distribute and analyze engagement surveys, a suggestion box to collect feedback, or live polls to increase communication and engagement.
Lastly, in order for these managers to be working as efficiently and streamlined as possible, you should provide them the tools and software to be able to excel in this position. With an employee engagement software, like Connecteam, all these manual pen and paper processes can now be done directly through the app. Send digital employee engagement surveys to the whole company or just a team and create an exportable, real-time summary report of the responses. Set up live polls to increase employee engagement. You can even create a digital suggestion box for employees to leave feedback directly from their mobile device.
With an employee engagement software, your employee engagement managers can now let the software do most of the heavy lifting and focus on ways to increase and improve employee engagement.
Join Thousands Of Companies That Trust Connecteam To Increase Employee Engagement
14-day free trial, no credit card required
Want to Receive More Great Articles Straight to Your Mailbox? Subscribe Here ⤵