Highly engaged employees are more productive, make fewer mistakes, and stick around much longer than disengaged employees.
Table of contents
Working in a different physical location can prevent remote workers from feeling less engaged and connected to their companies. However, engagement is incredibly important for maintaining high levels of productivity and motivation.
So, if you're wondering how to engage remote employees, you've come to the right place. In this article, we'll be going over our top tips for keeping your team feeling valued and motivated.
Why is Employee Engagement So Important for Remote Employees?
Employee engagement is a huge contributor to positive company culture and employee retention, even amongst a remote workforce. In fact, disengaged employees have 37% higher absenteeism rates, 18% lower productivity, and 16% lower profitability. In the US alone, this costs $550 billion annually.
However, it can be difficult to do this if your team works remotely, from home, or in the field.
This is because employees are not:
Seeing their managers daily
Necessarily in contact with their coworkers regularly
Being as productive as they could be
When company leaders prioritize employee engagement, companies thrive. Employees are more productive, satisfied, and stick around for the long term
Let's look at 9 effective ways to keep your remote employees engaged.
9 Effective Employee Engagement Ideas for Remote Workers
Maintain effective communication
Effective communication is essential for creating a unified team. Employees need to feel comfortable sharing their ideas and feelings with managers and coworkers.
For maximum employee engagement, it's important to create an effective communication strategy. Here are some ways you can accomplish this:
Holding weekly check-ins
Establish performance goals for the month, quarter, and year
Set clear expectations for projects
Implement a company-wide chat where employees can collaborate and ask questions, share ideas, and chit-chat with one another
Group channels should be created for each team to speak openly
Encourage two-way communication – get feedback on projects, marketing strategy, customer satisfaction, and more
Be transparent as possible when dealing with changes within the company
There are a ton of chat and collaboration tools available that make it easier to manage communication amongst your team. Make sure that whatever app or software you choose allows:
Group and one-on-one chat options, including media sharing
Real-time notifications, so your employees don't miss important updates
Employee directory to be able to contact anyone within the company
Surveys and polls to ensure you are getting feedback
💡 Pro Tip:
Ensure your team communication isn't one-sided. Managers should not be the only ones talking – the goal is to engage employees and make them feel heard.
Use the right tools
If you aren't using the right tools to manage and engage your remote workers, you won't be successful in doing so. The number one tool a team can use to accomplish this is an employee management app, like Connecteam.
With Connecteam, you can:
Seamlessly communicate with everyone
Connecteam comes with many communication features for keeping remote employees engaged and connected. Features like a social-media-style company newsfeed, in-app chat, and real-time updates allow everyone to stay connected, no matter what time zone they're in.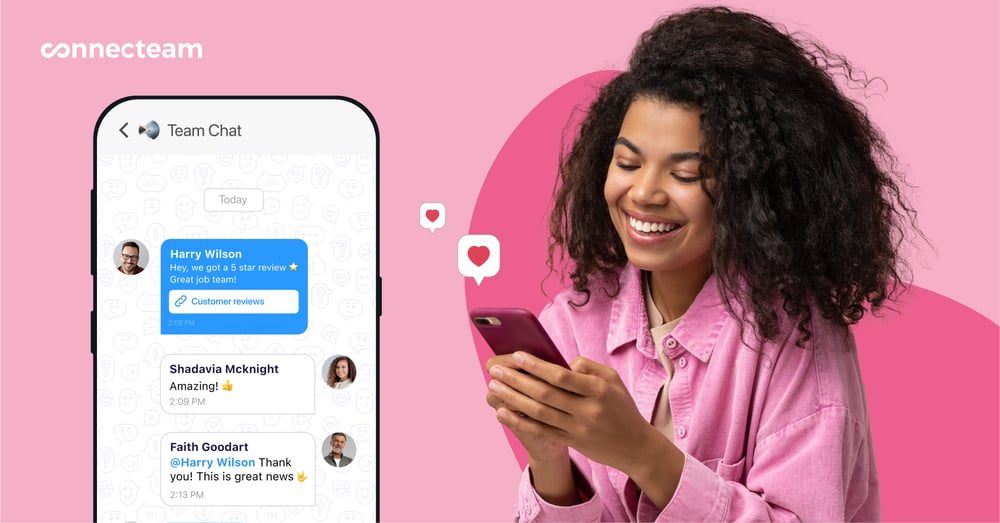 You can create private and group chats, send birthday wishes and congratulations, share customer feedback or policy changes, team recognition, and work anniversaries all within the app.
Gather employee feedback in real-time
Use surveys and live polls to promote an open-door policy and gather feedback from all your workers in the field. This allows everyone to contribute ideas and feel heard. Collect and review results directly in the app, keeping the information organized to prevent results from being lossed.
Recognize and reward star employees
Connecteam's rewards and recognition features ensure that all your workers feel seen, heard, and appreciated. You can easily put employees in the spotlight with digital badges of recognition, or send them digital tokens they can redeem for gift cards to participating retailers and restaurants.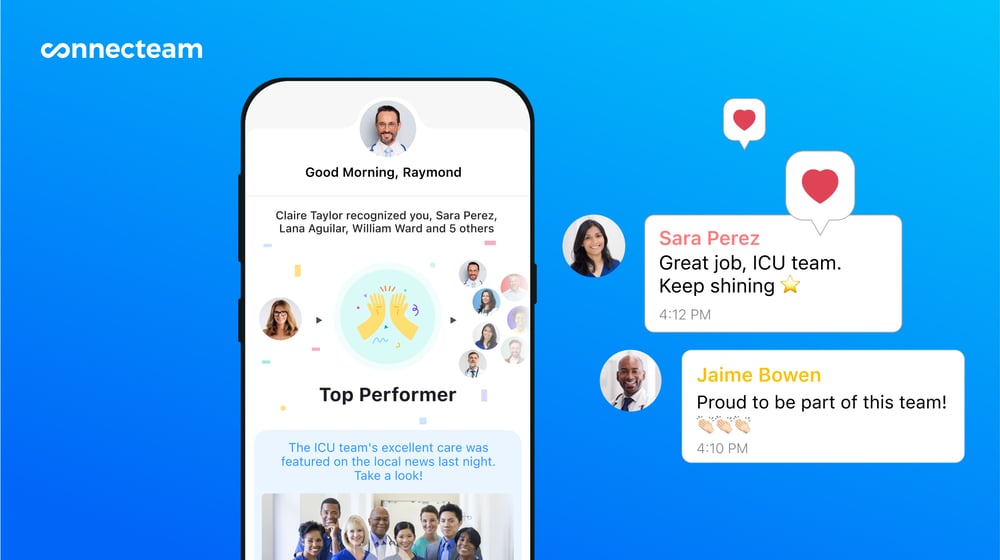 Public recognition is incredibly important because it allows the entire team to feel more connected. It also shows everyone that managers truly value employees' work, which can be a great source of motivation.
💡 Pro Tip:
Acknowledge star employees by starting an employee of the month program and celebrating the winner!
Host virtual team building activities
While you can effectively communicate with in-app chat and phone calls, hosting live, face-to-face video calls is a great virtual employee engagement idea. They're a great way for your team to get to know each other more personally.
You can host a variety of virtual team building activities for your employees, such as:
Holiday parties
Virtual gaming events
Birthday celebrations
Open mic nights
Virtual coffee dates
Virtual happy hours
Karaoke
Book/movie clubs
Encourage connections and friendships
Employees with friends at work are more than twice as engaged as those without. However, when working remotely, employees don't have the opportunity for the usual hi's and bye's that come with working in the same place. It takes some effort to form bonds amongst your team.
A great way to do this is with a social media-style newsfeed that employees can access from their phones. This creates a digital space for your team members to informally engage and chat with each other. Look for an app that allows employees to respond with messages, emojis, images, and videos to make the newsfeed as engaging as possible.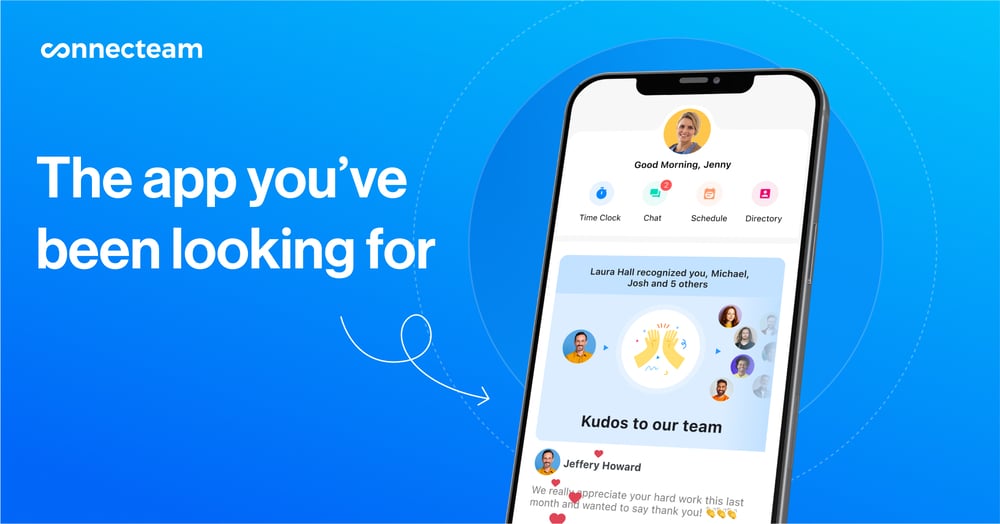 Don't micromanage
It can be difficult not to micromanage your team members when you aren't physically working in the same place. You may feel like you need to check up on them more and control projects to ensure they're getting done.
But the truth is that micromanaging your staff can have extremely negative consequences.
When employees feel micromanaged, they may:
Become frustrated due to a lack of trust
Feel less motivated and engaged
Doubt their abilities
Be less creative
Burn out
While it may be difficult, it's important to learn how to manage your team with a more hands-off approach. Here are 3 tips you can incorporate into your management style to establish trust and empower your team:
Measure success with outcomes instead of individual tasks. If your team knows what's expected of them, then there's no need to track their every move. As long as you make sure the end goal is reached, there's no need to hover over your worker' shoulders and monitor every single task.

Have weekly individual check-ins. Instead of tracking your workers' every move, set up weekly meetings with employees. Use this time to follow up on tasks and discuss problems or challenges. This can also help establish trust.

Use a good task management system. Make sure to implement a task management app or software that allows you to digitally track projects in real-time. This will reduce the need for you to check in with employees because you can simply track progress in the app.
Ask for feedback
Asking for employee feedback from your remote workers is a great way to promote engagement. When employees have this opportunity, they feel valued and heard.
A great way to do this is by utilizing surveys and polls. Ask your employees what you could improve on, what they're having a hard time with, and how the company can help them do their jobs better.
Just be sure to act on the feedback you receive. Have a plan in place to review survey results and make necessary improvements after gathering the information.
Provide recognition
A raise is great, but it's not the only way you can show your employees that they're doing a good job. Sharing positive feedback, glowing customer reviews, or a shout-out, when a project goes well, is a surefire way to motivate and engage your staff. You can also reward them with physical gifts, gift cards, experiences, or bonuses.
This is particularly useful for remote employees because it's another way to foster teamwork and a positive work environment.
Prioritize employee wellness and personal development
Employee physical and mental health should be a priority. When employees are healthy, they're more likely to produce better work. This not only benefits the company's bottom line, but shows employees that their employer cares about their wellness.

There are many ways you can prioritize employee wellness:
Make mindful breaks a priority
Offer courses for employees to better their personal growth
Create physical health challenges like 30-day yoga challenges or running groups
Offer comprehensive health benefits that include therapy
Ensure your employees are setting clear limits to better their work-life balance
🧠 Did You Know?
Providing wellness benefits for your employees doesn't need to be expensive. Get creative with free or cost-effective ways to let employees know you care about their health. Something as simple as sending a message to remind everyone to stretch or take breaks counts for a lot!
Create opportunities for career growth
Career growth is an important motivating factor for employee productivity and engagement. In fact, 74% of workers say that a lack of career development opportunities is preventing them from reaching their full potential. Employees that strive to learn more and develop professionally are a huge asset to your company, and companies that provide career growth opportunities retain their workers for longer.
You can help to facilitate these opportunities for your employees by:
Working with employees to create career maps so they can visualize a future at your company.
Building customized professional development courses to promote continued education.
Implementing a mentoring program in which seasoned employees work virtually with newer employees to support them professionally.
Holding regular employee reviews and checking in with employees about what they want to learn.
💡 Pro Tip:
If an employee wants to learn new skills, work with them to find a suitable way to teach them. Employees who voice their desire to learn are assets to your company, and you should prioritize their ongoing development.
The Bottom Line on Employee Engagement for Remote Employees
Engaged employees are your biggest asset. When remote employees feel connected and valued, it fosters a sense of belonging and loyalty to the company, which reduces turnover rates.
Additionally, engaged remote employees are more likely to collaborate effectively, contribute innovative ideas, and maintain a positive impact on work culture despite physical distance.
Want to Receive More Great Articles Straight to Your Mailbox? Subscribe Here ⤵