Table of contents
Let's talk about employee turnover because it's something all companies need to pay attention to. Turnover is when an employee leaves a company or has to be replaced. Some employee turnover is unavoidable, but if too many employees leave in a given period of time, it can completely ruin a company. Let's not forget that turnover is expensive, some sources claim it costs around twice an employee's salary to locate and hire a replacement.
The image above doesn't just highlight the hard costs of employee turnover but it also dives into the soft costs such as absenteeism, workforce reduction, productivity loss, and contacts and relationships loss – these are much harder to calculate but their impact is far more resounding.
SHRM also predicted that by 2020, 47 million (or roughly 1 in 3 workers) will voluntarily leave their jobs – even with the current pandemic.
Why is the number so high? For starters, employees weren't trained properly, the job wasn't what they expected, the benefits and pay are not very good, there is no room for growth, there is a lack of communication, there isn't a flexible work schedule, and so on.
"Employers continue to believe that they're in control of employment relations, but with the current economic condition, employees are squarely in control," says Danny Nelms. "Employees are sellers in a sellers market."
Cost of Employee Turnover
Total cost to onboard new employee
Total cost of lost productivity
With all that being said, it is time to figure out your company's new hires and departures in a way that works best for you; and that all begins with understanding employee turnover so here's your guide on what it is and how to decrease your employee turnover rate.
What Is Employee Turnover?
As we mentioned already, employee turnover is when an employee leaves a company and needs to be replaced. Or better yet, it is how many people leave a company and are replaced by new hires in a given timeframe.
Voluntary VS Involuntary Turnover
Voluntary turnover is when an employee actively chooses to leave a company. The cause for this might be because of better job opportunities, conflict(s) within the workplace, disengagement, and so on.
Involuntary turnover is when an employer makes the decision to terminate an employee, and this could be because of poor performance, toxic behavior, and so on.
Undesirable VS Desirable Turnover
Employee turnover can also be undesirable when a company loses its high performing and valuable employees and finding a replacement is difficult and expensive. Additionally, employee turnover is desirable when a company loses its underperforming employees and replaces them with employees who can help to improve output.
How To Calculate Employee Turnover Rate
The employee turnover rate is a calculation of the number of employees who left the company in a given time period, and it is a percentage of the total number of employees. Usually, the employee turnover rate is calculated and reported as a percentage per year, but you can also calculate it for different periods.
These are the three numbers you need to order to calculate the employee turnover rate:
The number of employees that left (voluntarily and involuntarily) in a year,
The number of employees that you started the year with, and
The number of employees that you ended the year with.
In order to calculate the employee turnover rate, you need to add the number of employees you started the year with and the number of employees you ended the year with, and then divide that total by 2. Next, divide the number of employees that left in the year by the number from the first equation. Multiply your final outcome by 100 and the percentage you are left with is your employee turnover rate.
Do this to calculate voluntary turnover, involuntary turnover, and total turnover. For example, if a company has 100 employees at the beginning of the year. During the year six employees quit and nine are let go later in the year. The voluntary turnover rate for the year would be 6/100 or 6 percent whereas the involuntary turnover rate is 9/100 or 9 percent. The total turnover rate would be 15/100 or 15 percent because we added together with the six employees who left voluntarily and the nine who were let go.
Take a Closer Look At Your Employee Turnover Rate
To better understand your employee turnover, you need to ask yourself these three questions:
"Who are the employees that leave?"
"When do they leave?"
"Why are they leaving?"
Download your FREE guide on "10 Tips for Engaging Your Frontline Teams" ⤵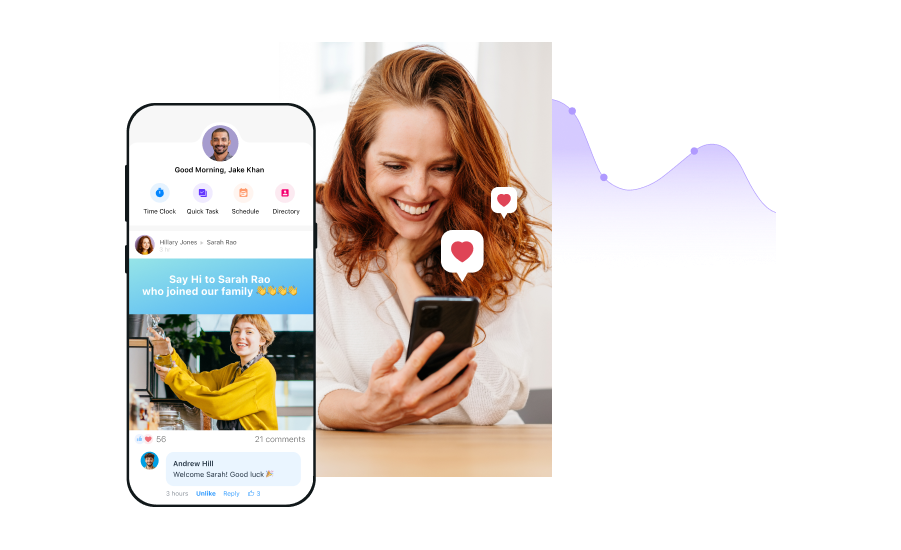 Focus on "Who"
You need to take a look at which employees are leaving the company, regardless if the employee turnover rate is lower than your industry average. Why exactly should you look into WHO is leaving? Because if your top performers are leaving, you are going to want to take action as soon as possible otherwise, your company's performance and profits are going to take a serious hit. However, if low performers are leaving, this is an opportunity to hire new employees who can boost engagement, productivity, and profits.
Focus on "When"
By knowing when employees are leaving, you can better understand if your recruitment and onboarding methods are working well. For instance, if a large number of your new hires are leaving, this can because of poor onboarding or because their job duties were not what they expected – this clearly tells you to better your onboarding experience from day one and to review the job descriptions at hand.
Focus on "Why"
It is pretty easy to understand why you would want to understand WHY your employees are leaving as this can help you change your company management style or policies. Add exit interviews to see if the employees leaving give similar reasons and ask if they have any useful suggestions. Think of it, if a majority of the employees leaving say it is because they feel as though their effort and feedback was not being appreciated then you know you need to work with your managers to help change their performance appraisal process. Or most employees are leaving due to a single manager's attitude, you know what the root cause is and can address it immediately.
Tips To Decrease Employee Turnover Rate
Here are some ideas on how to decrease the employee turnover rate at your company:
Hire The Right Employees
When hiring employees, you need to know exactly what a good candidate looks so you can vet interviewees properly. You want someone who doesn't just fit with the job requirements, but also will fit in perfectly with the team, management, and company culture.
And if you have employees on the clock who are becoming difficult to work with and are negatively impacting those around them then read up on how you can manage difficult employees before problems start to spiral out of control.
Have Great Employee Incentives
Take a look at what employee incentives you offer and make changes as needed. Get creative, because it's not all about pay raises and promotions. Employees want more options to stay happy and engaged, like the ability to work from home, casual Fridays, bring your pet to work, and so on.
Remember that incentives are not a long term solution but when woven into the company culture, they can lead to better retention.
Use The Right Tools
It's not enough to just change your internal tactics, company culture, or benefits. As a manager, whether you run a small business or a huge enterprise, you must be where your employees are to truly execute effective retention strategies that lead to better productivity and morale. And where are your employees? On their mobile phone!
So if you really want to decrease employee turnover, use their right engagement tool.
Connecteam is a top employee app that offers a powerful and flexible, mobile-first communication and engagement platform for your team. You are able to put your employees front and center so that engagement and morale are high and worries about turnover are virtually nonexistent.
These are some examples of how companies utilize Connecteam to engage their employees and lower turnover:
Employee Recognition & Acknowledgement: celebrate new hires, personal milestones like anniversaries, create an employee spotlight, and allow employees to nominate their peers for awards.
Share Employee Success: send updates on business milestones like bringing new customers, smashing the goal or KPI set, etc. And also celebrate success stories from customers with letters, pictures, videos, a story, and more.
Put Employees Front & Center: make decisions based on organizational surveys, offer a suggestion box to gain feedback, and introduce an open-door policy so employees can approach HR or senior management.
Wellness & Benefits: provide all key information in one place so employees can access this whenever is needed and allow your staff to register for company events straight on their mobile phone.
Non-serious Communication: use fun GIFs for interactive content, allow people to like and comment to be part of the discussion but in a structured safe organizational environment, and start creative polls like who's pet is the cutest?
#1 Communication & Engagement App
Reinvent communication, engagement, and morale in your organization with Connecteam's complete set of communication tools
Celebrate Achievements Often
Recognize employees publicly, whether through an email, on social media, or in a meeting in front of all their peers. This is a great way to help your employees feel valued.
Gallup reported that "Workplace recognition motivates, provides a sense of accomplishment and makes employees feel valued for their work. Recognition not only boosts individual employee engagement, but it also has been found to increase productivity and loyalty to the company, leading to higher retention."
Allow For Growth & Development
Present clear career paths that are challenging and motivating, talk about them at an employee's annual and mid-year reviews. Encourage them to bring questions and requests to their managers during the year. Empower employees to take charge of their own work and also offer skill development and training.
Focus on growth and development cannot be overlooked, according to Inc., as it helps keep star employees around for longer, helps create employees who will get promoted, leads to employee engagement, saves you time and money, and also keeps you looking forward.
Follow our guide on how you can create an effective employee development program that won't break the bank.
Collect Frequent Feedback
Employees really want to be heard and to have validation that their opinion truly matters. Check-in and seek feedback on a regular basis so that managers can easily detect problems early and can implement solutions. Plus, employees will be happier knowing their feedback is being taken seriously.
However, if it's hard for you to gather information from all your employees, like through surveys, if you don't have a place to celebrate achievements and if you struggle to keep your employees informed and connected to the company, you can use a tool like Connecteam.
This also allows you an opportunity to manage employee stress if that's a common theme.
The Bottom Line On How To Decrease Employee Turnover
In order to truly understand how to decrease employee turnover, you must first do some research about your own company. Look at the work environment, the types of employees who have been hired, what goals have and haven't been reached, what the company culture looks like, look at employees who have left, and then look at the costs like salary, benefits offered, and so on. A deep reflection of your company under the microscope can shine a light on where you can get started.
And if the problem rests on management, check out this guide we created on how to improve your management skills so that employee engagement and satisfaction levels are high instead of low.
Examine everything we have covered in this blog above to get you started on the right foot because as you've learned by now, people leave for far more than just money.
Put Employees Front & Center
Reach every single member in your team, with fun, dedicated, and measurable communication. Engage your team like never before, reflect your company's culture, and solidify your employer branding with Connecteam's employee communication and engagement app.
Learn More
Want more great articles straight to your inbox? Subscribe Here ⤵