Table of contents
In the last decade, many organizations worldwide have turned to WhatsApp as their primary internal communication tool.
It's easy to use
Most people already have the app downloaded on their phone
It's a free solution
And overall, it's just convenient
These reasons alone made it attractive to business owners to use the solution as their primary work chat.
However, a lot of managers and employees are raising concerns about the difficulties of using the app for organizational purposes. For example, an overflow of irrelevant and distracting information or product crashes.
And with WhatsApp having announced new privacy changes that took effect in February 2021, its 2 billion users – especially those who rely on WhatsApp for business communications – are looking to make the switch to a better, safer solution.
What are the new WhatsApp policy changes? In short, WhatsApp's data collection was the first marker for uproar and now in 2021, they are forcing upon their users totally new terms of service that require them to share their data with Facebook. (WhatsApp was acquired by Facebook back in 2014).
There were already eyebrows raised over WhatsApp's limited privacy settings, in fact, "data [collected] from the US National Vulnerability Database, a US government repository of flaws, disclosed 12 vulnerabilities in 2019—seven of which were classified as "critical."
Zac Doffman at Forbes also commented, "This isn't about WhatsApp sharing any more of your general data with Facebook than it does already, this is about using your data and your engagement with its platform to enable shopping and other business services, to provide a platform where businesses can communicate with you and sell to you, all for a price they will pay to WhatsApp."
Now with these new vulnerabilities in 2021 brought upon their decision to share data with Facebook, WhatsApp has a lot to answer for.
Business owners recognize that these new WhatsApp privacy laws are just a catalyst to using a business-dedicated internal communication software that allows the company to enhance communication processes.
As a result, many businesses are making the switch to Connecteam's employee communication app. It's an innovative internal communication tool tailored for the organization's needs providing a one-stop-shop for employees to communicate with each other and with the company itself, in a professional, secure, smart, and efficient manner.
Thousands of organizations already rely on Connecteam to streamline communication, enhance employee engagement, limit knowledge losses, and improve employee productivity.
Click here if you're interested in learning more about what Connecteam can do for your company's internal communication.
Are you still finding it hard to give up the workplace communication tool?
Below we dive into seven issues that will further convince you to consider a more efficient alternative to keep in touch and engage with your employees.
Download your FREE guide on "10 Tips for Engaging Your Frontline Teams" ⤵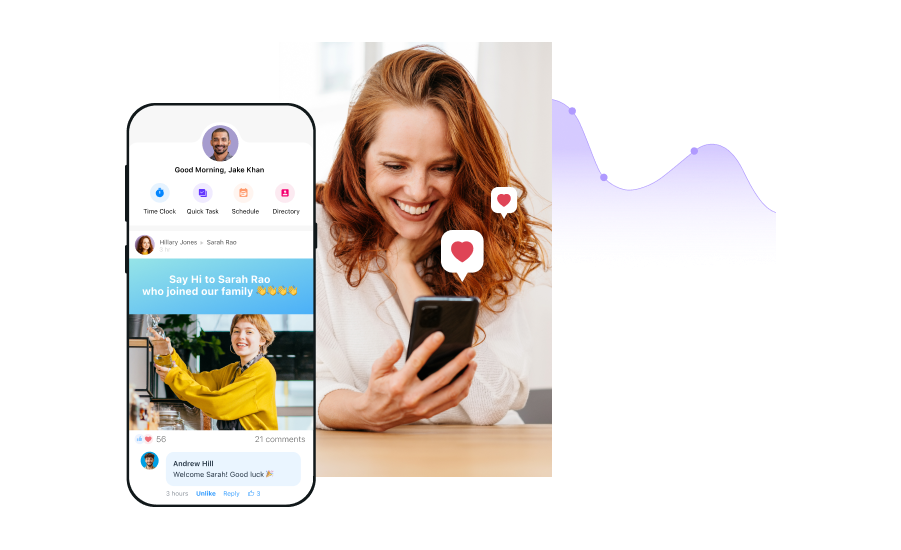 Managing Work Contacts
Every manager has faced this scenario: You start working with a new employee or supplier and need to text them to pass along key company news and updates, or to just engage with them. But for this to happen, you first need to add their number to your private contacts list – if you don't, you can't message them on WhatsApp. That's just how the app works.
Sure, you don't have to save their number but can you remember who everyone is just based on their phone number?
This becomes a frustrating task. Every time a new employee or supplier joins the company, you have to manually add, edit, and delete the contact information.
And that's just the beginning of managing work contacts on WhatsApp.
If the contact's name isn't accurate then you lose a lot of time searching for their details
What if the supplier has changed but you didn't know about this so you have outdated information? Who do you turn to then?
Or you started working on a project with a group of employees, what do you do when the project is done? Do you delete the entire group? This just leads to all the information getting deleted so you can't go back to refer to the project communication.
So what all of these examples boil down to is a total, unnecessary headache.
Group Management
Naturally, new employees join the organization, change positions, or quit. When faced with that scenario, are you prepared for the following scenarios?
Is someone in charge of removing the employee from all those chat groups that are no longer relevant for them?
How do you deal with an employee who was fired and when is the time to take them out of the group?
How do you help new employees who just joined get all the information and updates they missed?
How can you ensure they don't have access to key company information that they can use against you?
Here are some stories bound to send a chill down your spine: an ex VP manager of a certain retail company started working for the competition but stayed in the group text for a very long time and kept receiving crucial unauthorized information. Yes, this really happened!
Or employees in the HR department of a big company didn't add new employees to the group chat until they "passed their test", meaning that the communication tool becomes a private "club" and not everyone is welcome. This leads to a serious disbalance in employee satisfaction, engagement, and challenges the company culture.
In addition, there is no admin control available to regulate the users in WhatsApp which proves a huge risk of personal and unauthorized communications that can occur within the app. And as you can't monitor the communications that occur within the app, anyone can create an unauthorized group and communicate privately.
There are many more examples of the WhatsApp group text issue, starting with wrong contact names, and ending with actual damages to the organization.
Data Security
Data security can badly damage organizations and even cause a complete breakdown, which makes it one of the most crucial issues in the company. A fired employee, even if he was already removed from the group chat, still holds delicate company information like photos, files, chat history, and contact details. All this information is automatically stored in the employee's smartphone without the need for any action on his part. This disgruntled employee can reach out to the competition and can hand out all this information, just out of spite.
In addition, this information is also available for him in legal cases involving the company. But at the end of the day, the real problem is that the IS (information systems) department will have no way to monitor this information and find out what the employee chose to do with it until it's too late.
"If not given company-approved cloud tools, frontline workers may risk company and data security and regulatory compliance to use their own. Fifty-three percent of frontline workers use messaging apps such as WhatsApp and Facebook Messenger up to six times a day for work-related reasons, but 68% of them said they'd stop if given approved internal communication tools." – Google
On top of it all, your message content that does exist can be unencrypted:
Backups are not encrypted. This means that if you or anyone you are in conversations with, backs up their WhatsApp then that content is not, in fact, encrypted.
Exports of chats are not encrypted. Any person in any WhatsApp group that you belong to can actually export the entire chat history of the group as a plain text file and publish it anywhere or send/store it anywhere unencrypted.\
Therefore, you must assume that sensitive and private business information in WhatsApp could easily be exposed at any given moment, despite the end-to-end encryption that is within WhatsApp itself.
Deleting & Restrictions
It's obvious the type of content that appears in a private family or a friend group chat is not appropriate or fitting in the work environment or the organization's group chat.
Whether it's a tasteless joke, insults, blurted-out information about the company, sexual harassment, or even a disgruntled employee who was just fired and lets loose with rude comments, not to mention actual cases of employees accidentally sending a private picture in the wrong group.
You can probably guess the consequences of these situations, but it's most crucial to understand the importance of controlling, deleting, and monitoring the group text. It's not just important, it's a must!
#1 Internal Communication App
Engage your team like never before, reflect your company culture, and enhance daily communication with Connecteam's employee communication and engagement app.
Work-Life Separation
"My WhatsApp… it's really 91% work-related chats and it's bugging me even on weekends… it's mixed into my personal life and I hate it…. I wanna go on WhatsApp and chat with my friends, not deal with work, or be reminded of work," says one user
When there is no absolute separation between private group texts and work chats, the chance of confusion rises significantly. It's also very reasonable to assume employees and management wouldn't want their private WhatsApp photo to appear in the organization's communication system – no one wants to be represented in front of their colleagues or business partners with an embarrassing personal photo.
This creates an unusual overflow and might cause important information to disappear in all the chaos. For example, Joanna had a son? Congratulations! You can now expect 200 push notifications from everyone wishing her "Congratulations!". Every manager knows the irrelevant dialogue created over daily updates, CEO announcements, controversial information, and so on. That is why there has to be a clear separation between the two!
In other words, a blurred mix of personal and business conversations should not be taking place within a single interface, as it only leads to confusion and even a lack of motivation to really work.
Communication Is More Than Chat
Companies don't just need a tool to chat with their employees, they need to boost engagement, share updates, connect with colleagues, enhance productivity, better collaboration, and so much more.
Communication in the workplace is focused on exchanging information and ideas that are both verbal and non-verbal. And when you do it right, you have a strong company culture.
If you're not sure of what an internal communication strategy should even look like, download our free eBook to get started.
Emergency Management
Whatever emergency pops up, your company needs to be able to handle it right away. Examples of emergencies include sexual harassment, man-made disasters, workplace violence, cyber-security attack, and more. If presented with an emergency, your employees need to know how to report it and who to report to. After, HR needs to handle the situation right away.
Managers also need to know that their message went through and that the employees saw and read the update. WhatsApp is limited in this case.
And let's not forget the global pandemic, COVID-19, which has forced many companies to react quickly. Managers need to be able to keep everyone on the same page, distribute real-time information, manage stress levels, and much more to help avoid serious blowback.
The Bottom Line On WhatsApp & Internal Communication
Using WhatsApp in the work environment seems comfortable and easy. And sure, it seems easy to implement WhatsApp quickly and successfully, even if not formally, in the organization, but if you take a better look, you'll find a lot of malfunctions that can eventually prove to be very costly.
At the end of the day, it is clear to business owners that their company is ready for an employee communication app as the next communication tool for the company.
Today, more and more companies around the world use an employee communication app for all their organizational needs.
What's an employee communication tool? It's a mobile-friendly tool tailored for the organization's needs in order to have one place to easily communicate with each other in real-time.
The solution is designed to tackle the different challenges of the organizational field, now thousands of companies worldwide use the Connecteam employee app to keep track of the organization's data, manage groups automatically, add restrictions and authorizations, create diverse channels, produce reports and run organizational communication successfully and professionally.
The chat feature helps staff stay engaged and connected. We created chat home teams where employees can celebrate achievements and send updates about anything and everything.

Brian Jolliff, COO at Total Compass Care
At the end of the day, switching your company over to a secure communication tool, like Connecteam, will put your mind at ease as your data and documents are completely safe with the highest security required.
Improve Employee Communication Today
Connecteam is the communication app that moves work forward and keeps your team connected in the tap of a button.
Want to Receive More Great Articles Straight to Your Mailbox? Subscribe Here ⤵