Business casual sounds like a pretty easy dress code to maintain when you're starting a new job or changing fields, but unfortunately it isn't. It can be incredibly confusing. Why is that? Well, a business casual dress code changes from company to company, from industry to industry, and in all parts of the globe.
So just what is business casual? While there is no one true definition, basically business casual attire is less formal than traditional office clothing but it still falls under "just professional enough" to be appropriate. And no, sandals with a t-shirt isn't business casual! But wearing a full-on suit isn't business casual either. So you're probably asking yourself, "How do I know how to dress formally but not too casually?"
We've listed guidelines on what a business casual dress code means for men and women. From what to wear and what not to wear, you'll be far better prepared!
What is business casual for women?
Many times, women should be wearing a combination of the following in the office: skirt, dress slacks, sweater, blouse, jacket, hosiery, and closed-toe shoes. Some offices might even allow sandals or peep-toe shoes, but double-check before you show up in the office wearing such footwear.
Stick to the following:
Top:

blouses, elegant sleeveless shirts, vests, blazers, turtle necks, dressy tops, neutral or solid colored sheath dresses, casual dresses and skirts that split at or below the knee.

Bottom:

pencil-cut skirts, knee-length skirts, dress pants (khaki, corduroy, twill, or cotton).

Shoes:

flats, pumps, stilettos, open-toed heels, and closed kitten heels.

Avoid:

strappy sandals, denim, ripped pants or pants with bold prints, bright colors, spaghetti straps, crop tops, sportswear, leggings, off-the-shoulder shirts or dresses, T-shirts, tennis shoes and hooded sweatshirts.
What is business casual for men?
For men, appropriate business casual attire is dress slacks or chinos, a button-down shirt, dark socks, and dress shoes. Avoid wearing polo shirts to an interview, even if they are acceptable for the job in question. Do not wear jeans or shorts. The following will help you solidify good standing at a new position:
Stick to the following:
Top:

neutral-colored short-sleeved button-down shirts, button-up or collared shirt, sportscoat, sweaters in a mix of colors and patterns

Bottom:

semi-formal pants, dress slacks, and dark jeans.

Shoes:

tie-up shoes, dark leather shoes, and loafers.

Avoid:

printed shirts, ripped jeans, denim, sandals, boots, boat shoes, sportswear, T-shirts, tennis shoes and hooded sweatshirts.
What is business casual in a manufacturing setting?
When working in a manufacturing setting, if you have a business casual dress code make sure you follow these guidelines. Make sure your clothes are pressed and not wrinkled, dirty or torn. As always, don't wear clothes with offensive writing or pictures but something with the company logo is encouraged – like polo or sweater.
Get Everyone on the Same Page
"Great Service, Great Product, Easy to Use, Fun to Use, Keeps Employees Connected"
Discover Connecteam
What is business casual during a job interview?
If you are applying for a job where the work environment boasts of a business casual dress code, you still need to dress appropriately for the job interview. Try to go for a look that is more formal and less business casual. If the interviewer is wearing shorts and a crop top, you shouldn't do the same! After all, you need to dress to impress during a job interview and that includes showing yourself as a professional.
Men can wear a suit jacket and slacks with a shirt and even a tie, or you can opt for a sweater and button-down. Women should choose a blouse and dress pants or even a statement dress. Both genders should avoid bright, flashy colors.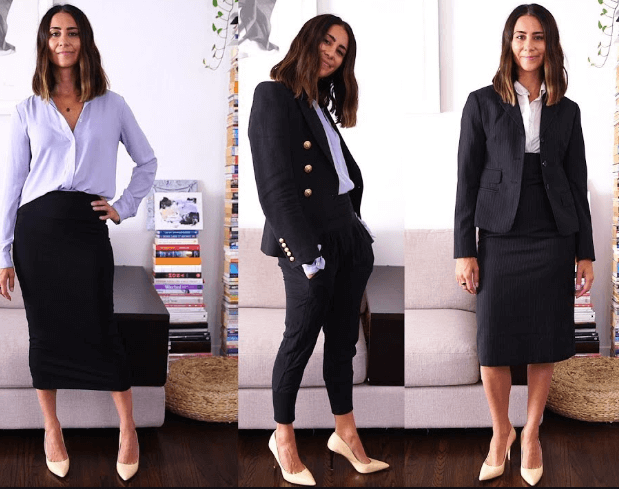 Diane Gottsman, an etiquette expert recommends, "When choosing an outfit for the interview, remember, when you look good, you feel good. Use your wardrobe choices to give an extra boost of self-confidence."
Under no circumstance should you wearing the following to a job interview, whether it's a casual setting or not!
Flip-flops or tennis shoes.

Undergarments that are exposed.

Shorts or jeans.

Short skirts.

Anything low rise or too tight.

Anything showing profanity or an offensive saying.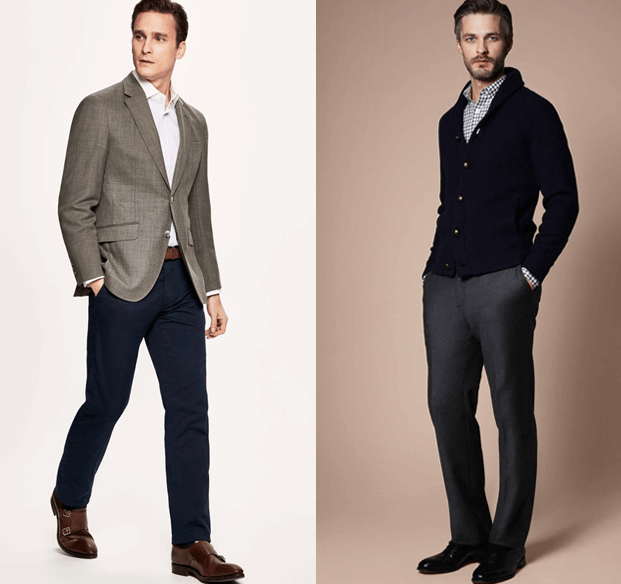 What we do recommend is that you follow all the guidelines we have listed! Choose a classic interview outfit that matches your industry and be mindful, don't choose an outfit that is trendy because the interviewer might not have the same perception of "trendy". Always make sure you plan your outfit ahead so if you're feeling rushed, at least your outfit is the last thing you need to worry about. And if you think you need to dish out a lot of money to dress appropriately to a job interview, think again. There are plenty of outlets you can shop or browse online and see if a coupon or sale is available.
What NOT to wear if the dress code is business casual:
We'll hammer this home as many times as we possibly can, you are still dressing so work! So no, don't wear ripped jeans, ratty sneakers, flip-flops, or a stained t-shirt just because it's comfy. Always remember that this is "business" casual, so leave all your comfy clothes at home! Make sure all your clothes for the office are clean, pressed, and fit you properly.
It goes without saying, but remember the following: DON'T wear clothes with logos or offensive words or graphics!

Men, be sure to shave as much as possible and always wear a belt. Women, don't wear tight clothes or anything low cut. And if you wear makeup, go for a natural look.
Kat Griffin is the founder of the fashion advice website called Corporette and she said,
"Senior people have a huge bank of credibility — they've earned the right to dress how they please. I advise readers to a) know generally what might not be acceptable, and b) to not wear any of those items until you see a midlevel person wear them, someone three to five years ahead of you."
Basically, look at what someone senior to you is wearing and learn from their example.
Key takeaways of business casual:
If you're a manager, make sure your dress code is crystal clear.

Employees – play it safe when you're in doubt!

Don't forget, you ARE dressing for work.

Business casual IS NOT sportswear.

Remember to dress for the industry you work for.
The bottom line, business casual might vary by industry but there are plenty of similarities across the board. Once you have all the basics down, you can either dress your clothing up with accessories and such or you can even tone down when needed and when appropriate. Just make sure you never cross the line.
Connecteam Has Proven Results in Engaging Employees
Enjoy multiple ways to communicate and engage with your remote employees. Take communication to the next level with Connecteam's intuitive app
See for Yourself