What exactly is business casual work attire? All workers seem to have their own idea of what this term means. But we're here to break down what men and women in the workplace can (and can not) wear if they want to fit in with a business casual dress code.
Table of contents
A business casual dress code sounds pretty easy to maintain when you're starting a new job or changing fields, but unfortunately it isn't. It can be incredibly confusing.
Why is that? Well, a business casual dress code varies depending on the company, industry and even the country you work in.
So what exactly is business casual? Sandals with a t-shirt don't really qualify, but wearing a full-on suit doesn't work so well either. So you're probably asking yourself, "How do I know how to dress formally but not too casually?"
We've listed some guidelines on what a business casual dress code means for men and women. From what to wear and what not to wear, you'll be much better prepared!
What Does Business Casual Mean?
Business casual is basically a dress code that involves wearing traditional business attire with a couple of relaxed tweaks here and there.
For example, wearing khaki pants or slacks with a blouse/polo, but without a tie would be considered typically business casual.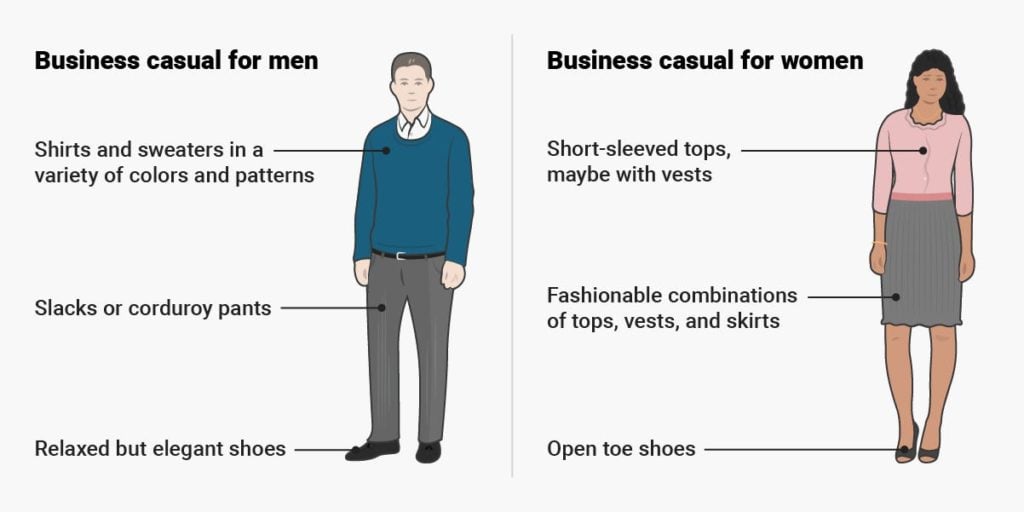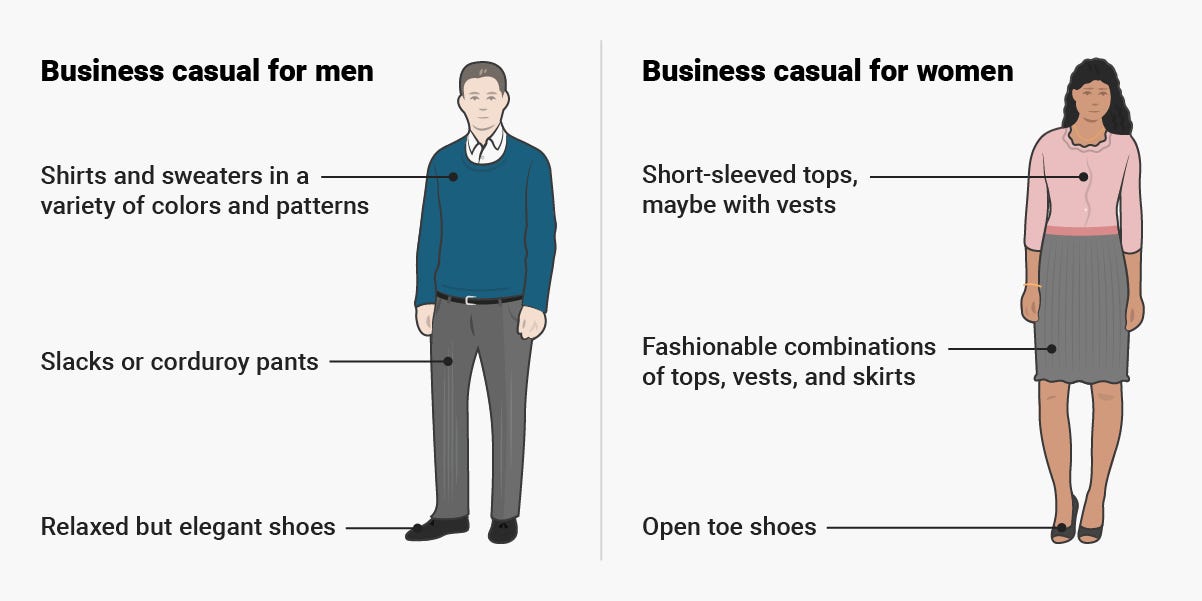 And the numbers show that giving employees the chance to dress a bit more laidback than usual actually benefits companies in the long run:
According to a study conducted by Stormline Gear, more than 61% of employees say they would be more productive if they could dress however they want.
Also, 61% of job hunters claimed that a strict dress code would negatively impact their perception of a company.
But of course, business casual attire can look very different depending on who you are.
What Counts As Business Casual For Women?
Usually, women's dress code can qualify as business casual if they wear a combination of skirts, jackets, blouses, closed-toe shoes and various other items.
Some workplaces might even allow sandals or peep-toe shoes, but double-check before you show up in the office wearing such footwear.
Stick to the following:
Top: blouses, elegant sleeveless shirts, vests, blazers, turtle necks, dressy tops, neutral or solid colored sheath dresses, casual dresses and skirts that split at or below the knee.
Bottom: pencil-cut skirts, knee-length skirts, dress pants (khaki, corduroy, twill, or cotton).
Shoes: flats, pumps, stilettos, open-toed heels, and closed kitten heels.
What Counts As Business Casual For Men?
For men, appropriate business casual attire is dress slacks or chinos, a button-down shirt, dark socks, and dress shoes. Avoid wearing polo shirts to an interview, even if they are acceptable for the job in question. Do not wear jeans or shorts.
The following will help you solidify good standing at a new position:
Top: neutral-colored short-sleeved button-down shirts, button-up or collared shirt, sport coat, sweaters in a mix of colors and patterns
Bottom: semi-formal pants, dress slacks, and dark jeans.
Shoes: tie-up shoes, dark leather shoes, and loafers.
What Is Business Casual For A Job Interview?
If you are applying for a job where the work environment boasts of a business casual dress code, you still need to dress appropriately for the job interview. Try to go for a look that is more formal and less business casual.
If the interviewer is wearing shorts and a crop top, you shouldn't do the same! After all, you need to dress to impress during a job interview and that includes showing yourself as a professional.
Men can wear a suit jacket and slacks with a shirt and even a tie, or you can opt for a sweater and button-down. Women should choose a blouse and dress pants or even a statement dress. Both genders should avoid bright, flashy colors.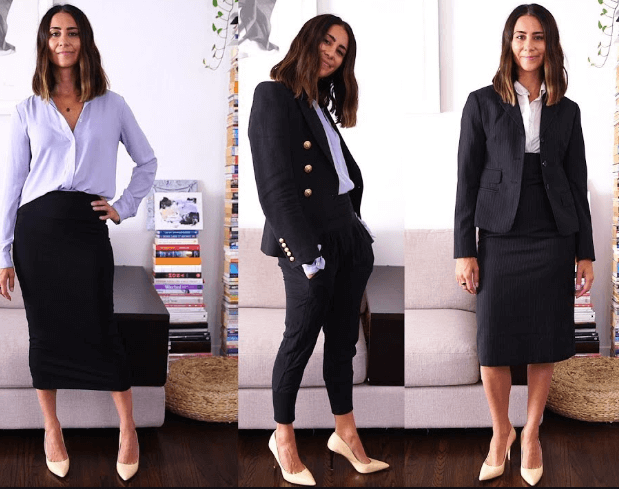 Etiquette expert Diane Gottsman recommends "when choosing an outfit for the interview, remember, when you look good, you feel good. Use your wardrobe choices to give an extra boost of self-confidence."
Under no circumstance should you wearing the following to a job interview, whether it's a casual setting or not!
Flip-flops or tennis shoes
Undergarments that are exposed
Shorts or jeans
Short skirts
Anything low rise or too tight
Anything showing profanity or an offensive saying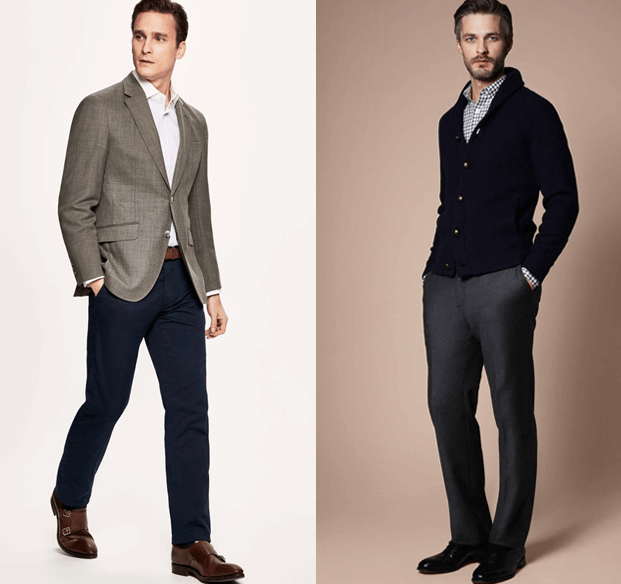 What we do recommend is that you follow all the guidelines we have listed! Choose a classic interview outfit that matches your industry and be mindful, don't choose an outfit that is trendy because the interviewer might not have the same perception of "trendy".
Always make sure you plan your outfit ahead so if you're feeling rushed, at least your outfit is the last thing you need to worry about. And if you think you need to dish out a lot of money to dress appropriately to a job interview, think again. There are plenty of outlets you can shop or browse online and see if a coupon or sale is available.
What Not To Wear For A Business Casual Dress Code
While there is wiggle room for dressing creatively in a business casual dress code, employees still need to make sure they aren't breaking any rules in the process. Some items of clothing that business casual dressers should avoid include:
Ripped jeans
Tattered sneakers
Flip-flops
Stained T-shirts
Clothes with offensive words/images
Women specifically should avoid wearing the following: strappy sandals, denim, ripped pants or pants with bold prints, bright colors, spaghetti straps, crop tops, sportswear, leggings, off-the-shoulder shirts or dresses, T-shirts, tennis shoes and hooded sweatshirts.
Men should try and avoid: printed shirts, ripped jeans, denim, sandals, boots, boat shoes, sportswear, T-shirts, tennis shoes and hooded sweatshirts.
Now you know what business casual exactly is and what men and women can and can not wear under this dress code. But there are tools and software that companies can use to ensure that employees are staying on top of the latest dress rules.
Use The Latest Tech To Implement Business Casual Attire
Connecteam is an all-in-one employee management app that companies can use to streamline their day-to-day operations. Make your company culture better and ensure that all employees are on the same page when it comes to what they can and can not wear. 
Onboard your employees efficiently with a variety of resources. Workers can access dress code manuals, office conduct guidelines and other important documents at the click of a button.
Communicate with co-workers using private 1:1 and group chats to keep each other up to date and give personal reminders on the latest company dress codes.
Schedule shifts and inform your employees when and where their next job is. You can also include important notes, including what the dress code is for the specific shift or meeting.
Create checklists for employees to complete, ensuring they maintain all of the rules connected to dress code.
The Bottom Line On Business Casual Dress Codes
Overall, it's not rocket science when we talk about dressing business casual for work. While maintaining this specific dress code isn't that difficult, it shouldn't be taken for granted. Managers need to set a good example and their employees need to follow suit – quite literally, sometimes.
Of course, business casual will look slightly different depending on your gender, the company you work for and even the country you live in. There is certainly leeway for creativity, but making sure that employees don't cross the line in terms of appearance is key.
If companies make the most of the latest technology to implement dress codes in the workforce, then they are setting themselves up for success. Because if employees look the part at work, then results will surely follow.
The #1 App For Teaching Dress Code To Your Employees
Learn More
Want to Receive More Great Articles Straight to Your Mailbox? Subscribe Here ⤵