Providing your security guards with the proper training is crucial to providing top services and keeping your clients safe. Learn all the ins and outs of security guard training in this guide.
Table of contents
Security guards, all too often, don't receive adequate training.
As a result, they are forced to learn necessary safety measures the hard way, leaving room for potentially harmful, lethal, and legally damaging mistakes.
Training your teams on all tasks and responsibilities is crucial to ensure they perform their jobs safely and correctly.
And besides, you want your team to be able to provide top-notch services.
While security guard training takes time and effort, it can make all the difference to your company's success.
Let's dive into some key aspects of security guard training programs.
Getting Started with Security Guard Training
Until recently, security officer positions did not require much training or qualifications. Many security jobs only require a General Educational Development Test (GED) and a clear criminal record.
And yet, this job requires many skills and responsibilities.
Effectively training your team is therefore essential to empower them to face modern challenges. Training also reduces workplace risk, helps guards perform at a high level, comply with government regulations, and ensures customer satisfaction.
Depending on the types of security guards your company trains, you may offer multiple courses or certificates.
However, security guard training courses cover topics such as:
Guarding and monitoring premises
Operating surveillance equipment
Preventing theft
Communicating quickly with emergency services
Escorting individuals around a site or off the premises
Assisting in the secure transportation of money or highly-priced goods
Making quick decisions and prioritizing duties
Fire safety and evacuation procedures
Security risk assessment and threat detection
Emergency response and crisis management
But let's break it down a bit and go over the differences between types of security guard training.
Types of Security Guard Training
While there are many different types of training for security guards, they usually fall under three categories: basic, occupational health and safety, and general.
Basic Security Guard Training
Basic security guard (BSG) training is a foundational course that covers the essential knowledge and skills required for individuals to work as security guards. Examples of BSG training topics include:
Legal responsibilities and limitations
Emergency response procedures
Communication skills
Access control and perimeter security
Patrolling techniques and surveillance methods
Crowd control and event security
Ethics and professionalism
Physical intervention and use of force (in some jurisdictions)
Cultural diversity and sensitivity training
Security technology
Occupational Health and Safety Training
Occupational Health and Safety (OHS) courses are training programs designed to educate employees on workplace health and safety hazards and how to prevent them. Typical OHS courses include:
Use of force training
Emergency response training
First Aid and CPR
Fire prevention and safe evacuation
Control of Substances Hazardous to Health (CSHH)
Incident reporting and investigation training
General Security Guard Training
General security guard training is more specialized and in-depth. Trainees learn about more specific aspects of security situations, such as emergency response, access control, and report writing.
Such training provides security guards with broader knowledge and skills beyond the basics of security operations and prepares them for different situations.
They can cover a wide range of topics, such as:
crisis management
conflict resolution
communication skills
legal issues

But how to train security guards is the big question that many business owners need answers to. Read on to find out what should be included in any security guard training program.
Download your FREE guide on "6 Pillars for Improving Frontline Employee Retention" ⤵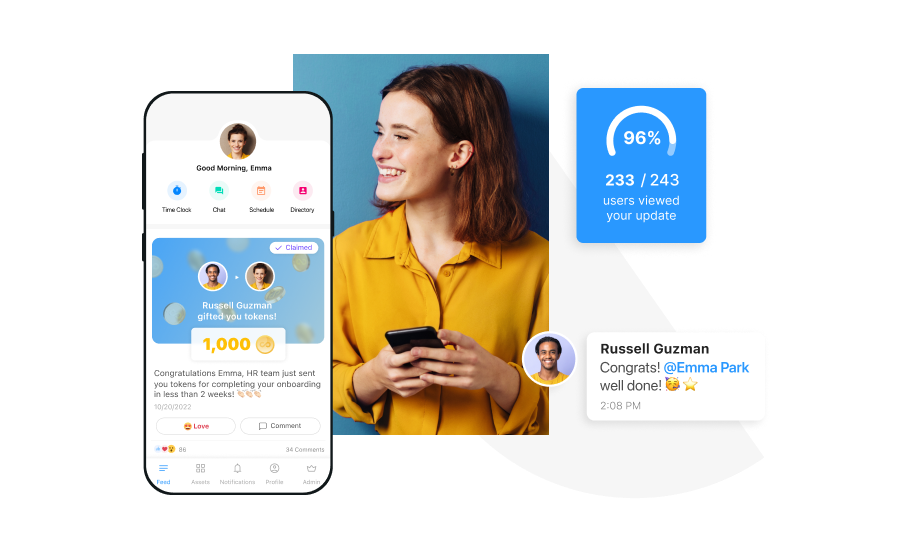 What to Include in Security Guard Training Programs
Whether you train security guards to patrol malls or provide armed security for government facilities, your training curriculum should include the following:
Basic security concepts and techniques
When creating your curriculum, cover fundamental security concepts such as risk assessment, threat detection, crime prevention, and security protocols. Teach security guards how to conduct effective patrols, identify vulnerabilities, and respond to suspicious activities.
Communication skills
Train guards in effective communication techniques, both verbal and non-verbal. This includes conflict resolution, de-escalation strategies, and customer service skills for dealing with the public.
Emergency response and crisis management
Provide training on emergency response protocols, evacuation procedures, first aid, and CPR. Teach guards how to handle various emergencies, including fire incidents, medical emergencies, and natural disasters.
Report writing and documentation
Teach guards how to properly document incidents, write detailed reports, and maintain accurate records. Emphasize the importance of clear and concise documentation for legal and organizational purposes.
Security equipment and technology
Familiarize guards with common security equipment and technology used in the field, such as access control systems, CCTV cameras, alarm systems, and metal detectors. Provide hands-on training on how to operate and troubleshoot these tools effectively.
Keep in mind that as technology continues to advance, you'll need to keep your training course up to date. Some examples of emerging technologies in the security field include enhanced video surveillance, GPS-tracking and geofencing, incident reporting software, drones, and biometric systems.
💡 Did you know?
With a training app like Connecteam, you can instantly update training courses as needed. That way, all security guard trainees receive the same, up-to-date training no matter where they're located. Even better, businesses with under 10 employees can get complete security training online for free!
Get started with Connecteam for free!
Legal aspects and liabilities
Security guard training courses should cover legal topics like liability issues, trespassing laws, citizen's arrest, and rights of individuals. Ensure guards understand the boundaries of their authority and responsibilities.
Cultural sensitivity and diversity training
Promote cultural sensitivity and awareness to ensure guards are respectful and inclusive when dealing with individuals from diverse backgrounds. Provide training on recognizing and avoiding biases or discriminatory behaviors.
Practical exercises and scenarios
Classroom training is important, but you also need to incorporate real-world practical exercises. Security guard training programs should include role-playing scenarios and simulations to allow guards to apply their knowledge and skills in realistic situations. This reinforces learning and helps trainees feel confident in their abilities.
Ongoing training and professional development
Emphasize the importance of ongoing training and professional development to keep guards updated on industry trends, new technologies, and evolving security threats. And with a security guard management app, like Connecteam, it's easy to provide professional development training on the go.
Give Your Security Guards the Best Training Resources They Need to Do Their Job Safely and Effectively
Discover More
Calculate the cost of Connecteam's app for your security business and start saving time and money
Estimated Yearly fee
(save 18%)
For the full list of feature, please visit our pricing page.
Subscription fees applied for this computation are based on Connecteam's pricing plans as of this writing
Using a Training App to Optimize Your Security Guard Training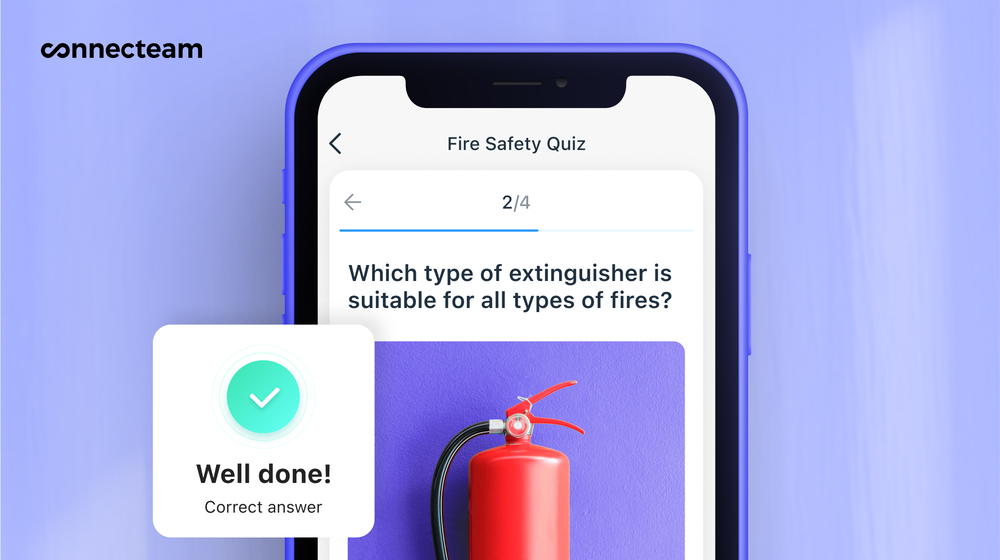 Security guard training software is the most effective way to create, manage, and track the progress of your security guard training programs.
Why? Because mobile training apps are the best way to deliver training most effectively to the modern workforce.
Training methods have evolved, and gone are the days of long, in-person training sessions that go on for hours and hours. They're ineffective and costly, and it can be incredibly challenging in terms of gathering all your trainees in one place for a course.
Today, effective employee training programs should be delivered in interactive, bite-size pieces to keep trainees engaged and interested. And with training apps like Connecteam, you can do exactly that.
With online security guard training, you can create your own customized training courses for employees to complete directly in the app, at their own pace. Create your own training documents and quizzes, too, that are easily distributable to all your security guard trainees.
Let's take a closer look at how training your security team can be simple, quick, and efficient with Connecteam.
Simple, customized course creation
Create fully customizable training courses on any topic. Organize them into sections or chapters to make them digestible and easy to navigate, and include any desired training materials – from documents and PDFs to links and videos.
What's even better, is you can store all training courses in consecutive order in one centralized place so no matter where your employees are located, they can complete the training at their own pace.
Add custom quizzes to test your team's understanding of the covered material and a post-training survey to gather feedback and insights on your training program.
💡 Pro tip:
You don't need fancy cameras or a film crew to create training videos. All you need is your smartphone camera, and you're good to go! Take a quick video of an experienced worker demonstrating a process or of your CEO explaining the company culture. Then, within seconds, upload it into the Connecteam app to create enjoyable and interesting training content for new employees.
Get started with Connecteam for free!
Intuitive and engaging learning experience
Instantly deliver mobile courses to all the right team members wherever they are. Your trainees can start, continue, and complete courses over multiple sessions at their convenience. Ensure trainees complete their training on time using deadlines, auto-reminders, or the in-app chat.
Communicate with your new employees from anywhere
Using a training app gives you the ability to check in with your trainees at any time. With in-app chat, you can message new employees privately or address multiple at once in a group chat. Or, divide your new employees into smartgroups based on guard type or course and address each group collectively with the company newsfeed.
Training tracking dashboard with detailed reporting
Connecteam's online security guard training software includes an admin dashboard where you can track each employee's training progress. Here, you can monitor everyone's training status, course completion, and knowledge level through progress data. Easily use the dashboard's extensive filter to find the detailed information you need and export the reports for your records. See exactly who has completed their training and send automatic reminders to those who haven't.
Deliver ongoing and professional development training
Professional development ensures your security guards have the most up-to-date security information to perform their jobs at the highest level. It also shows you care about their career growth, keeps them engaged, and encourages them to stay in their roles. With Connecteam's online security guard training, you can provide ongoing training courses and enrich your employees' knowledge directly through the app.
📚 This might interest you: Check out our case study on how UGS Private Security transformed its training program and simplified its entire business operations with Connecteam.
Addressing Common Training Program Concerns
Any big change in an organization can feel overwhelming, and may even get some pushback. When implementing a new training method like using Connecteam, here's how you can deal with the most common concerns and challenges:
Budget issues: While it might seem pricey, investing in employee training will have long-term financial benefits. It's an investment into your company's future and will equip your security guards with the necessarily skills they need to succeed in their jobs. Remember: better training equals happier, more satisfied employees.
It requires too much effort: Setting up a new training program for your security company can feel daunting. However, that's why it's important to do your research and select a professional and reputable training app that comes with 24/7 customer support. That way, if you ever encounter an issue while setting up the software, you can get it resolved immediately.
We don't have IT support: Luckily, many training software solutions don't require IT support. Intuitive mobile app platforms, like Connecteam, are easy to use, implement, and learn and offer full customer support.
🧠 Did you know?
With remote training, you can hold live sessions via audio or video conference and employees can participate from anywhere.
Learn more in our article: 7 Best Practices for Remote Training.
The Bottom Line on Security Guard Programs
Providing your team with the proper security guard training ensures they know how to identify and mitigate potential risks, respond appropriately to emergencies, and provide outstanding security.
And remember: by empowering them to provide top-notch security, you can boost your company's standing and bottom line – it's a win-win!
The best part is that it doesn't have to be complicated since training apps make creating, delivering, and tracking training simpler than ever.
Want more great articles straight to your inbox? Subscribe Here ⤵