5 Best Security Guard Scheduling Software Solutions in 2020
Creating an effective schedule for your security guard staff comes with many challenges. There are multiple job sites with their own unique shift times and rotations. So when assigning shifts, you have to account for all this along with ensuring the right employee is scheduled, sometimes a shift requires someone with certain skills. This information is usually scattered and so easy to dig up. 
On top of it all, the industry is faced with high turnover and a fluctuating workload. And if you're still using traditional methods, like pen and paper and spreadsheets, to create a schedule then the problems are even greater. This old form of schedule doesn't allow you to increase efficiency, reduce labor costs, and promote a healthy work-life balance.
Instead, what you need is a more modern approach – a security guard scheduling software.  This software allows you to meet and overcome these challenges. Most security guard scheduling software is packed with robust employee scheduling features and provides you with direct access to key decision-making criteria, such as staffing requirements, shift swapping, time off requests, regular, overtime and on-call hours, employee skills, availability and preferences, and much more.
The best security guard scheduling software solutions also include time tracking with GPS timestamps, geofencing, in-app chat, digital checklists and forms, and more.
In fact, there are over a dozen more benefits and we highlight some of our favorites below. 
The benefits of using security guard scheduling software: 
24/7 access:
A lot of these security guard scheduling software solutions allow for remote access so your employees have full visibility and access to their job schedule 24-7. Through instant access, your team can manage a healthy work-life balance which only leads to happier employees.
Avoid overtime:
Complying with labor laws is crucial especially as it helps you avoid penalties and lawsuits, plus the Department of Labor regulatory requirements and litigation spending is on the rise. Seyforth Shaw, LLP found that workplace action settlements totaled to $1.75 billion and the settlement value tripled in 2016 for wage and hour litigation. With a scheduling solution, you can receive an alert when an employee is close to overtime so you can come up with a solution to avoid this. 
Better communication:
Miscommunication, or a serious lack thereof, can cause problems in the workplace, including goals not being met, confusion, employees quitting, poor customer service and more. 
Forbes reported that one of the top reasons employees were not happy at their jobs was directly because of communication issues. A security guard scheduling software with built-in communication makes it a lot easier for managers and employees to stay in touch – share company updates, HR announcements, and more.
More efficiency:
Managers are always juggling a dozen tasks and more so a forced schedule change, like a no-show, can cause an issue. And let's not forget that all this usually happens when you're not even in the office. A scheduling solution allows you to schedule and track time while on-the-go so you can easily manage schedules in real-time. Plus, your team can receive schedule updates instantly on their mobile phone so they're always in the loop – this is far more efficient when tracking the workflow and you aren't scrambling to find replacements. 
To save your own valuable time and to ensure your security guard employees and customers are both happy, you need security guard scheduling software. We scoured the web and dove deep into research to present you with the five best security guard scheduling software solutions in the market today.
5 Best Security Guard Scheduling Software Solutions in 2020
Connecteam was built and designed with the deskless employee in mind. Meaning, it's easy to use (requires no training), has a sleek design, packs in the features, is seriously affordable and saves you so much time and money while engaging your workforce. 
Let's focus on its security guard scheduling software features: easily schedule shifts and dispatch jobs, keep track of what your team is doing with shift collaboration capabilities, create single, multiple or team shifts, or upload a bulk with an Excel file, includes a calendar view, drag & drop options, and copying last week's shifts to name a few. 
On top of this, Connecteam includes additional features to easily scale your business. Connecteam includes a time clock with GPS timestamps, easy to use timesheets, geofencing, and time off requests. Plus, there is an in-app chat for group or private conversations, uploading videos, files, images, and more, surveys, a suggestion box, and more communication features. That's not all, there is also a state of the art in-app employee directory and the ability to easily create digital, mobile-first checklists, forms and reports for your employees to fill from anywhere. Everything you need to manage your employees and run your business is available on Connecteam's all-in-one employee management app. 
Price: Premium pricing starts at just $29/month for up to 200 users instead of charging per user so it's easily the most affordable solution on this list.
Free trial: Yes, there is a free 14 day trial. After, you can continue with the free for life plan or can upgrade to the Premium plans mentioned above.
Start scheduling with Connecteam
Connecteam's security guard app is all about providing a true all-in-one experience for deskless employees, that's both powerful and easy to use. From scheduling to time tracking to communciation and engagement to training and so much more. Start saving time, money and resources today with Connecteam's security guard app!
Start for free
TSheets save you hours when you need to create a working and efficient schedule. You can create or modify schedules with drag & drop, add, edit or delete schedules from your phone, send schedule changes to your employee's mobile phone, copy last week's schedule, schedule by job instead of shift if relevant.
Now, TSheets isn't the easiest software to use so they help you set your account up and train your employees on how to use it best. A big selling point is that TSheets can integrate with many solutions like QuickBooks, Xero, Gusto, Wagepoint, Salesforce and more. 
Price: Pricing starts at $8/user/month and includes a $20 base fee every month so let's say you need 20 users, that brings you to $180/month for their most basic plan.
Free trial: There is a free 14-day trial.
Snap Schedule is a security guard scheduling software that allows you to schedule from anywhere, easily locate employees, keep track of your team's qualifications, reports for accurate payroll and contract invoicing, and more.
It's scheduling features include drag-and-drop or auto-generate shift schedules, tasks and breaks scheduled in, time clock and attendance, time off requests, automated shift callouts, labor cost control, schedule by skills/positions, and more.
Price: The base subscription costs $450/scheduler/year (for the employees who need to actually create the schedule) and the employee add on is $36/employee/year so employees can view their schedules. (So if you need 20 users that's $8,100 for the year and if you were to add on 30 employees then it would cost $1,080 which brings the total to $9,180 for the year.)
Free trial: Yes, there is a free 30-day trial. 
Homebase's scheduling features include drag & drop team scheduling, schedule from anywhere and from any device, copy over last week's shift schedule or use automatic scheduling, shift trades, send schedules to an employee's phone, track time off and availability, forecast labor costs, and so much more. 
Homebase can integrate with any solutions such as Clover, Square, Toast, Upserve and more.
Price: Pricing starts at $19.95/month/per location for unlimited employees. A single location for unlimited employees is free to use. 
Free trial: Technically, yes. You can get a free All-Access Pass to their Plus plan (the top plan) for 14 days. 
With Deputy's security guard scheduling software, you can quickly schedule security staff, gain accurate timesheets and find last-minute replacements in the tap of a button. To get the most of your team, you can schedule your employees to match budget and team availability, send work details to their mobile phones and quickly find qualified staff when needed.
Create new shifts instantly, drag & drop existing schedules, build a custom schedule template or auto-scheduling, schedule meal and rest breaks, allow for shift swaps, and more. Now, the other thing to know about Deputy is that it isn't the easiest software to use. The Deputy team will ask for your pen and paper timesheets and scheduling ahead of time so they can customize the software for you and you can start to onboard your team. 
Price: Pricing for scheduling starts at $2.50/user/month. In order to schedule, track time, get timesheets, use the payroll integration and more, you need the Premium plan which starts at $4.50/user/month. 
Free trial: Yes, there is a free 30 day trial. 
Choose the best security guard scheduling software
With one of the five security guard scheduling software solutions above, you will easily save valuable time and money! Additionally, your employees will be happier with a schedule that genuinely works for them and your clients will be satisfied that they're getting their money's worth. Choose the solution that fits your company and your employees best.
Find out why hundreds of security companies rely on Connecteam!
Connecteam allows you to dispatch jobs or create shifts, additionally, all your employees have direct and instant access to their schedule via their smartphone. Easily plan ahead and get a real-time overview of where projects stand by knowing where your employees are. In the tap of a button, you can assign security guards to shifts based on different locations and customer base, support multiple teams planning per shift, keep records of clock in and out time and location, and even allow for shift notes and comments, plus so much more.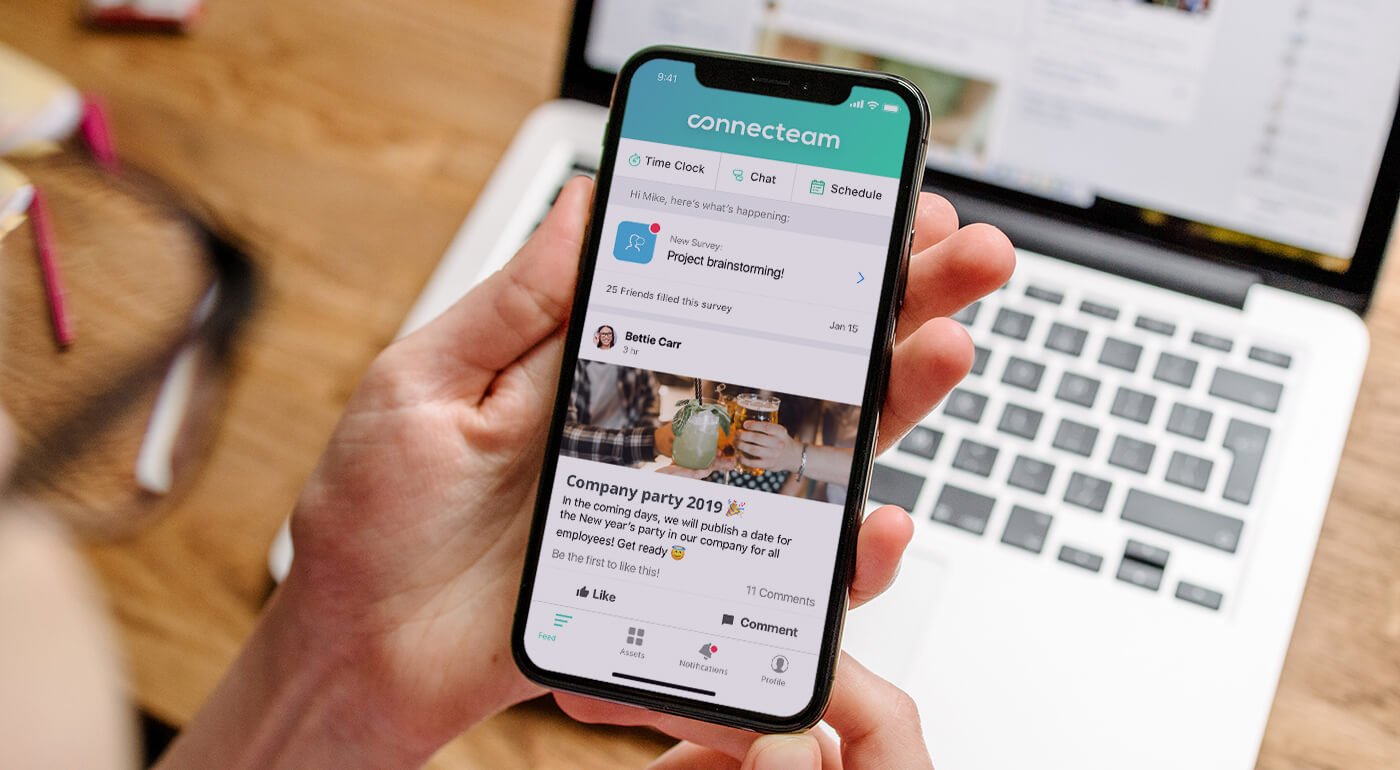 Find out more
Want to get more tips?
Join 20,000+ others who get our weekly newsletter with Business owner tips!