Top 5 Field Service Management Software for Small Business
Working in field service management poses certain challenges on a daily, ongoing basis. For instance, there are mechanical and administrative aspects that must be addressed, along with robust strategies to meet and exceed customer expectations, managing, balancing and engaging the workforce, and of course, staying profitable. 
But, before we get ahead of ourselves, let's first answer, what is field service management? Market Watch defines field service management as, "Field service management (FSM) is the process of managing the company's field operations by allocating them strategically for enhancing customer satisfaction and to maximize the productivity and efficiency of the company." 
Now that we have defined what field service management is, Market Watch also reported that field service management is on a steady incline, "The global field service management market is expected to reach approximately USD 5.59 billion by 2023 growing at a 16.6% CAGR over the forecast period 2018–2023." What industries are we talking about when we refer to field service management?
Field service management manages resources in many industries:
Telecommunications and cable industry

Healthcare (mobile nurses, in-home care, etc.)

Gas utilities

Engineering, mining, industrial and manufacturing (

construction as well)

Property maintenance (landscaping, irrigation, and

cleaning services

)
At this point, we have defined field service management, have reported its growing numbers and have listed what industries fall under its umbrella. But, we have to go back to our original point – the challenges that field service management face on a regular basis.
We listed the more "basic" difficulties that field service management is up against but seeing as how this is the technology era, there's an easy fix…using field service management software. Despite the specific industry, most field service management companies face the same challenges therefore the number of software solutions on the market is vast and specific to each niche. However, there are key factors that must be included in the field service management software you choose. 
What should a field service management software include?
Your customers demand that you deliver the products and services they pay you for and you need your employees to make this happen. That's why your employees must stick to the schedule that is set ahead, but you also need some data to always be in the know. 
For example, where your employee is, what task they're working, and what's the status of the project/job. By keeping track of your employees in the field in real-time, you can easily and smartly distribute work orders and manage task distribution.
Choose a field service management software that allows you to see the location of your employee, allows you to schedule and dispatch jobs, can track hours, and is available for download on a mobile phone. 
When you are in constant contact with your employees, without causing productivity loss, you are able to keep your customer's in the loop effortlessly and efficiently. The last thing you and your employees need is to bombarde one another with endless work phone calls.
Choose a field service management software that has communication features built-in. Such as private and group chat, discussion boards, an in-app directory and more. Additionally, you should be able to monitor who read your message so you can send a push notification to those who didn't, that way you can be sure everyone is aligned across the board. 
We don't just mean the control you have over the field service management software or if it's secure enough for your company, we are also talking about your employees. 
Working in field service management comes with its own risks and liabilities. Your workers must be protected at all times so you need to be in constant contact with one another and there must be procedures in place to handle emergencies. 
By using a field service management software that is mobile, you are able to have everything available at your employee's fingertips. Like an employee directory so they know who to call during specific emergencies or incidents. They can fill out incident report forms or hazard alerts before they turn into a physical incident. There is a library with all the procedures and protocols listed so employees can always refer to the material when necessary. You can send updated material or quizzes to sharpen your employee's knowledge and skills. 
Yes, the field service management software should be easy to use, no matter how tech-savvy someone is or isn't. Your employees should be able to use the  field service management software on a daily basis without disruption. 
You must choose a field service management software that is cost effective and is worth the price you pay. Consider if the software is scalable going forward and if it will cost you anything additional, like if you want to modify or add features. 
With all of the field service management software solutions in the market, how do you know which one is best for you? Well, we did just list a few features that the  field service management software should include so keep that in mind when scouring the web. But, fret not, we also rolled up our sleeves and listed the top 5 field service management software solutions available today. 
Top 5 Field Service Management for Small Business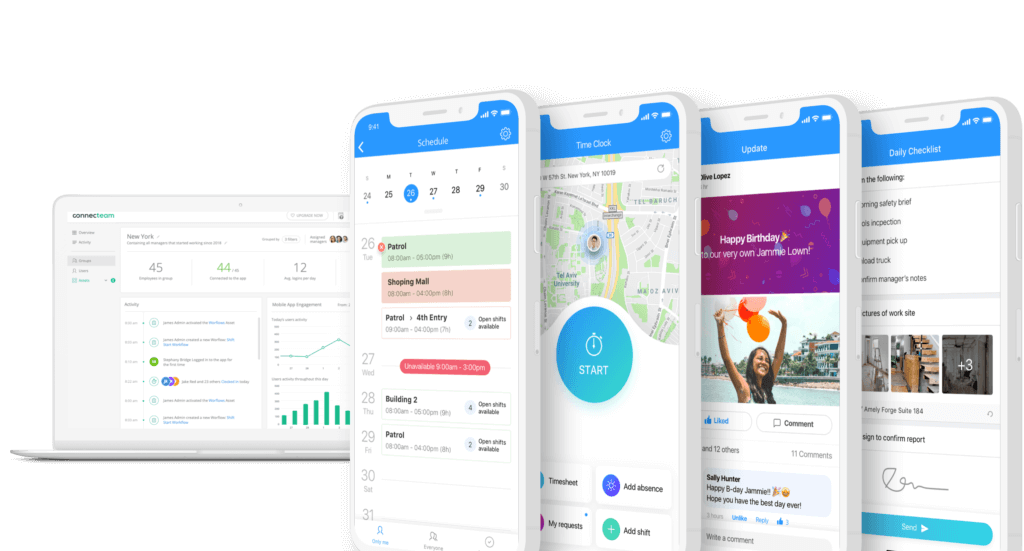 The best solution for deskless employees, small and medium business, & Enterprise
Avoid miscommunications, delays, and incorrect information by using Connecteam's field service management software. Connecteam makes it easy to enhance communication, streamline document flow, track working hours and create a robust schedule that works for everyone – with that, Connecteam helps bridge the gap between field and office. 
Operational features: employee time clock to track work hours with GPS, mobile-first timesheets, digital checklists and forms to ease workflows (can sign electronically, attach photo or video), and employee scheduling with recurring shifts or dispatching jobs.
Communication features:  private or group chat, in-app employee directory, updates through channels, surveys, a suggestion box and more.
Training features: professional courses for training and on-boarding, policies with a read & sign option, a searchable library, quizzes and more.
Price: Get started for just $29/month for up to 200 users. You have more than 200 users? There's an Enterprise plan available too. 
Connecteam is made for field services
With all the benefits we've listed above – from communication to operations to training – Connecteam is made for the field services management industries. See for yourself with a free plan!
Start for free
UpKeep is a mobile-first CMMS software and its features include: work requests with the ability to attach a picture, inventory management, digital checklists and forms (like work orders), a maintenance calendar, and scanning QR codes. 
Price: Choose from four pricing plans: Starter at $35/user/month, annually, Professional at $60/user/month, annually, Business Plus at $100/user/month, annually and with a minimum of five users, and Enterprise at $150/user/month, annually and with a minimum of 25 users. There is a free 7 day trial with the Business Plus plan. 
Wrike is an online project management software that allows you to have full visibility and control over all your tasks. With Wrike, you can create customized reports and forms for both customers and employees to fill out. Through its folders system, you can organize work by region, type of work or manager. From the dashboard, employees can choose the tasks they are going to work on and can change the status to "In work" and can execute the task.
Price: Choose from five pricing plans: Free (for 5 users), Professional available at $9.80/user/month up to 15 users, Business available at $24.80/user/month  up to 200 users, and the last two options require contacting a customer support member to create a quote. There is also a 14 day free trial. 
Fluix allows you to fill out reports and checklists online and offline, to collect and analyze field data, and to automate workflows. Through this, Fluix says it is easier for you to accelerate business cycles, reduce costs and human error. All of which, they say, will boost productivity. Fluix is available on mobile and tablet. 
In additional, Fluix supports integration with Dropbox, Office 365, Google Drive, WebDAV, and FTP.
Price: There are three pricing plans: Starter for $20/month/user, Core for $30/month/user, and Advanced for $50/month/user. A free trial is available. 
AI Field Management is a cloud-based solution that can help you manage and collaborate with your field employees. Some features of this software include invoice and payments, inventory management, time tracking, payroll reports, and job management. There is a mobile app so you can communicate with your employees in real-time. 
In addition, you have the ability to track sales revenue and commissions and can also create customizable reports. AI Field Management can integrate with QuickBooks, Dropbox Mileage Tracker, Slack, Google Maps and Waze. 
Price: Contact a representative to get a price quote and schedule a demo. Or you can sign up for a 21 day free trial.
Field service industries should try Connecteam
Any industry in field services management, like HVAC or cleaning or construction, could benefit from all the features Connecteam has to offer. It's super easy to streamline communications, operations and training when you have a mobile app available at your fingertips. Find out why Connecteam is the #1 choice for over 8,000 customers!
Learn more now
Want to get more tips?
Join 20,000+ others who get our weekly newsletter with Business owner tips!