Digitize Incident Report Forms & Transform How You Handle Workplace Incidents
Whether you're a small business or a large enterprise, you always want to avoid and stay ahead of workplace incidents like occupational injury and accidents, fatal or minor near misses, environmental cases, facility or work environment flaws. On top of that, you should encourage a good incident reporting culture to create a safer workplace and to help identify how to continually improve the workplace environment.
In addition to ensuring your employee's safety, you must also guarantee that your business is always in compliance with OSHA's regulatory standards. As a manager, you must have sufficient documentation to show that you did everything possible to prevent a workplace incident and the steps you took when one occurred.
But what's your process when an incident does happen? How does an employe report the incident? Is it handled in real-time? Do employees have a manual on hand they can reference and act accordingly? How can you, as a manager, quickly share the incident to other employees? And how can you even be sure that ALL your employees got the message? On top of all that, how can new employees learn about old incidents?
The tools you and your employees need to handle hazards and incidents:
Before an incident:
Before an accident even takes place, you want your employees to alert you about a potential hazard! For instance, a dented ladder, a wet floor, or exposed cables – these are hazards you want to know about as it will help prevent accidents!
Additionally, you want all procedures to be easily accessible to all employees – if an employee is about to work the forklift, he must review the procedural steps before he does the action. This helps to prevent an accident as he goes through the checklist of what's needed.
During an incident:
If an employee is involved in an accident, he needs a checklist of what he needs to do now. This can be a hectic, confusing time and your employee can't be expected to remember step-by-step instructions on the spot. For example, if an employee falls off a ladder and breaks his leg, a fellow employee can help to calm him as they go through a checklist together. You wouldn't expect the employee with a broken leg to sit there and review a checklist! The first step is go through the checklist, call an ambulance and notify the relevant emergency contact. Next, fill out the incident report form. (Of course, you are in charge of creating an efficient checklist of what to do when a certain workplace incident occurs.) It's important to get the data as soon as possible with as much information, such as pictures of the hazard and surroundings, along with a GPS location.
What are important elements to include in an incident report?
Specific, factual details and descriptions, but remain objective – employee information, date, time, and circumstances of the incident.

GPS location.

What lead to the incident.

Attach photos of the incident and surroundings.

Elaborate what body part was injured and what treatment you'll need.

Damaged equipment, materials, etc.

Include witness statements whenever possible.

Keep some information confidential.

Signatures from all relevant parties.
After an incident:
As quickly as you can, share an update about the incident (what happened and how to avoid it) with all employees who might be exposed to a similar incident, such as a wet floor or a broken ladder. This way you can prevent similar incidents from happening again. A few days after the incident, you can share a new, detailed procedural update on how to handle that incident if it occurs.
However, if you're still using outdated incident report forms, like pen and paper, it's time to make the switch! In 2019, paper checklists and procedures are irrelevant, you have to switch to mobile.  
With all of the above highlighted, it's also important that you know companies fill out an incident report because it proves:
The company acknowledges the incident
The company investigated the incident
The company took all required steps to comply with state or federal regulations that are related to the incident
The company made sure all involved in the incident were included in the incident report and their report was acknowledged
The company held a root cause analysis to find out why the incident occurred
The company took necessary steps to prevent it from happening again.
And if we haven't made it crystal clear, using outdated methods like pen and paper just won't cut it anymore.
Why so many companies are moving to mobile incident report forms to handle hazard & incident reporting:
Easy to submit information about hazards and incident reports. Plus, everything is reported on in real-time.

Simply add photos and GPS location. No need to write a long explanation when a picture is worth a thousand words.

Accessible to all employees and they always have access to checklists and forms.

Sending an updated procedure takes one click.

All data is measurable and is stored securely.

Share videos of how to use equipment properly and handle hazards and incidents.

100% compliance as you can see who did what.

Documents are always accessible for training and regulatory requests, and whenever they're updated, all employees immediately have the latest version available.  

Regularly improve and update

incident report forms

as needed.
What you need to look for when choosing an incident report software:
Available on mobile and not just online.
This way, your employees are always plugged into the nature of reporting hazards and incidents as it's convenient and super easy to do so. When you have deskless employees, they don't have time to sit behind a computer to inform you of an incident or hazard. But when it's available right on their smartphone, that means they can be on top of it all while on-the-go. 
You shouldn't have to go through a lengthy training process, it should be as simple as 1-2-3 (especially if you have less tech-savvy employees). No one wants to waste time learning how to use an app, only to find out that it's super complicated. If reporting isn't easy to do, your employees won't be motivated to use it! 
Downloading an app takes seconds and isn't a complicated process so you save time and can immediately begin to use the new incident reporting software.
Includes communication features.
You and your employees will never miss a beat as you can open private or group chats on various topics. Send updates with or without comment capabilities to ensure the message is delivered and no one is bothered with too many notifications.
Digital forms are available.
Either choose from a template or create your own customized digital form. This ensures that the forms are similar to the company's look and feel so your employees aren't blindsided.
Depending on your company size, you need to choose the software that makes the most sense for your company and your wallet.
With all of that in mind, how do you choose the right incident report software? We've rolled up our sleeves and have done the work for you! Below you'll find 12 incident report software options that can be the perfect fit for your company.
These are the top 12 incident report software solutions for your business:
Connecteam's easy to use, all-in-one mobile app makes reporting and handling an incident quick and easy. Create a report before an accident happens (like a wet floor), fill out an incident report form after an accident, open a library to see the checklist of what you should do after an incident, and send the new protocol to everyone in minutes, instead of days or weeks after an incident. Additionally, all work numbers are stored on the employee directory within Connecteam so you can quickly reach the designated emergency contact.
With almost 2,000 employees, Sodastream used Connecteam to improve their reporting environment and within months, they immediately saw results. Sodastream moved all old checklist procedures to digital and quickly saw that Connecteam became the main tool for communication and also online training. Most impressively, they saw that 300% more employees reported potential hazards because it was so much more convenient to do so! On top of that, whenever Sodastream created a new procedure, they could share the brief with everyone 12 hours after an incident occurred. Three years later and Sodastream is still working with Connecteam to ensure incidents are handled appropriately, and they're bettering their internal communications and operations with Connecteam's all-in-one mobile app.
Price: For a fixed monthly price, Connecteam gives you the ultimate bang for your buck. Pricing starts at just $29 per month for up to 200 users. If you need more than 200 users, choose their Enterprise plan which also comes at a fixed monthly price. Start with Connecteam's free plan to test its amazing capabilities.
Easily report and handle incidents with Connecteam
We've listed numerous ways on how Connecteam can help streamline your incident reports, so start your free plan now! What are you waiting for?
Start for free
If you have a majority of office employees who are in front of computer, Typeform is a great fit. It's similar to Google Forms and isn't company specific. Choose from preexisting template of forms so that your employees can fill out an incident report form.
Price: Typeform has three pricing plans to offer: free (which is seriously limited), Pro at $35/month/for 1 user, and Pro+ at $70/month/1 or more users.
Freshservice is an IT service management (ITSM) in the cloud. It hosts a number of incident management capabilities that can integrate with other ITSM processes such as problem, change, release, and asset management. Open  tickets through a number of channels like email, support portal, chat, and so on. Your company's IT department can then automate ticket assignments and can issue canned responses.
Price: Start a free 21 day trial and afterwards, choose from four monthly plans that Freshservice offers. Their four pricing plans include: $29/month, $59/month, and there are two $99/month plans – for large teams and enterprises.
Customize this incident management software  to suit your company's look and feel. Easily implement to get dashboard metrics & charts, a web portal, Incident Reports, loss runs, and more. You can also offer modules to track events, incidents, contracts, insurance, claims, injuries, payroll data, and assets.
Price: Chat with a customer service representative to find out what the monthly or yearly costs are.
What you'll get with ServiceDesk Plus is a help desk and asset management software. It also features a package of incident management like trouble ticketing, purchasing, contract management, self-service portal, and so on.
Price: You will have to contact a customer service representative to learn more about pricing for ServiceDesk Plus.
Use Incy.io on your mobile, computer or tablet to issue an incident report or observation. You can customize the incident report form, add images, analyze risks and trends, and all data is presented in real-time.
Price: They only offer an annual fee and you have to contact a customer service representative to present you with a quote, which depends on the size of your organization.
PagerDuty describe themselves as "a cloud computing company that produces a SaaS incident response platform for IT departments." Send SMS notifications on incident management quickly and easily – customize for teams or individuals.
Price: Pricing for PagerDuty starts at $6/month for only 6 users, $35/month, $47/month, and $119/month.
VictorOps boasts of on-call basics, cross-team collaboration, and simple visibility. They use IT and DevOps system to push out automated alerting, it integrates information, and hosts crucial documentation.
Price: Pricing starts at $9/per user/month, $29/per user/month, $49/per/month, or get a custom pricing plan for all your incident report needs.
As far as incident report features go, Compliance 360 supports: audit trail, corrective actions, incident reporting, root-cause diagnosis, and task management.
Price: In order to get a price quote, you will need to talk to a customer service representative.
Emergency service organizations use Adashi Systems for all their incident report needs. First responders can report, respond, and manage all incidents safely and quickly.
Price: Talk to a customer service representative about pricing plans.
ProcessMAP Incident Management is a web-based solution that works in investigating, reporting, and also analyzing environmental, injury/illness, property, and fleet incidents.
Price: Chat with a ProcessMAP Incident Management customer service representative about pricing.
Audit trail, root-cause diagnostics, disaster recovery, incident reporting, safety management, task management, and ticket management – that's why OnPage Incident Management System supports in the event of an incident. You can allow for incident reports in real-time and post-mortem inquiry with its audit trails and reports. OnPage also integrates with RMM and PSA solutions and chat tools like Slack.
Price: There is a free 7 day trial with OnPage, otherwise you will need to contact a customer service representative to learn more about pricing.
Connecteam: a mobile first solution for digital reports & forms
Take compliance and procedures to the next level with Connecteam's checklists and forms app. It's easy to create a customized, mobile-first checklist app that can be used anywhere at anytime. Just choose from one of our templates, or create your own checklist, form or report. Get started for free now!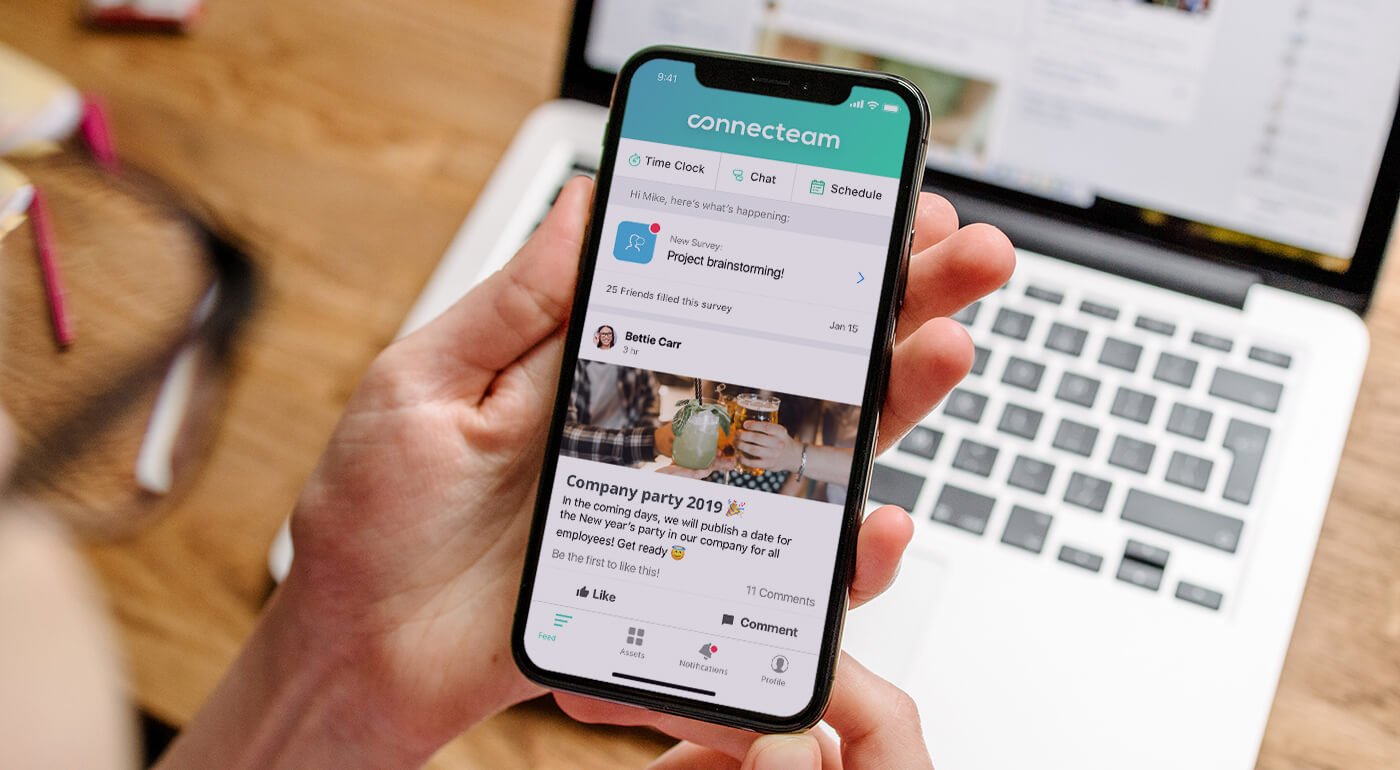 Find out more
Want to get more tips?
Join 20,000+ others who get our weekly newsletter with Business owner tips!