Let's start off with the best real-life example of a compressed or 4/10 schedule that I can give you. I love being able to set my own schedule and I especially love 3-day weekends. I am a writer, and as a salaried employee and with approval from my superiors, I have the ability to make my own schedule. Instead of working 8 hours, 5 times a week, I choose to work 10 hours, 4 times a week. In doing so, I get to enjoy a 3-day weekend or I choose a day during the workweek to treat myself, run errands, or schedule doctors appointments!
But even hourly wage employees who are FLSA exempt have the ability to request a 4/10 schedule. It's up to management whether or not to approve these requests. But before we jump into employee scheduling requests, let's briefly explain what a 4/10 or compressed schedule is for those who may not be totally familiar with the concept.
What is a 4/10 Schedule?
The Office Of Human Resources notes, "a compressed schedule involves longer but fewer work days, so that you can complete a full 80 hours during each biweekly pay period in less than 10 work days".
This means that employees have an extra day off during the week. This doesn't mean that employers must always agree to a 3-day weekend, the employee can also request the extra day off be taken during the week as well.
It's important to keep in mind that a compressed schedule isn't right for everyone. There are several pros and cons to think about before deciding if a compressed schedule is right for you. For example, is working a 10 hour shift doable for every employee? Furthermore, research shows that working long hours isn't necessarily good for productivity.
Additionally, there are some state overtime laws that must be followed and scheduling employees can become more difficult if everyone is on a 4/10 schedule. Therefore, it's important to be up to date on all overtime laws in your state, but we'll go into those details later on. In addition, management must be able to efficiently create a working schedule that can accommodate all employees needs and wants.
In order to schedule employees, more and more companies are turning to new technologies such as employee scheduling apps to assist management with all their scheduling needs. These software solutions, like Connecteam's employee scheduling app, takes all manual paper processes and streamlines them onto a digital platform.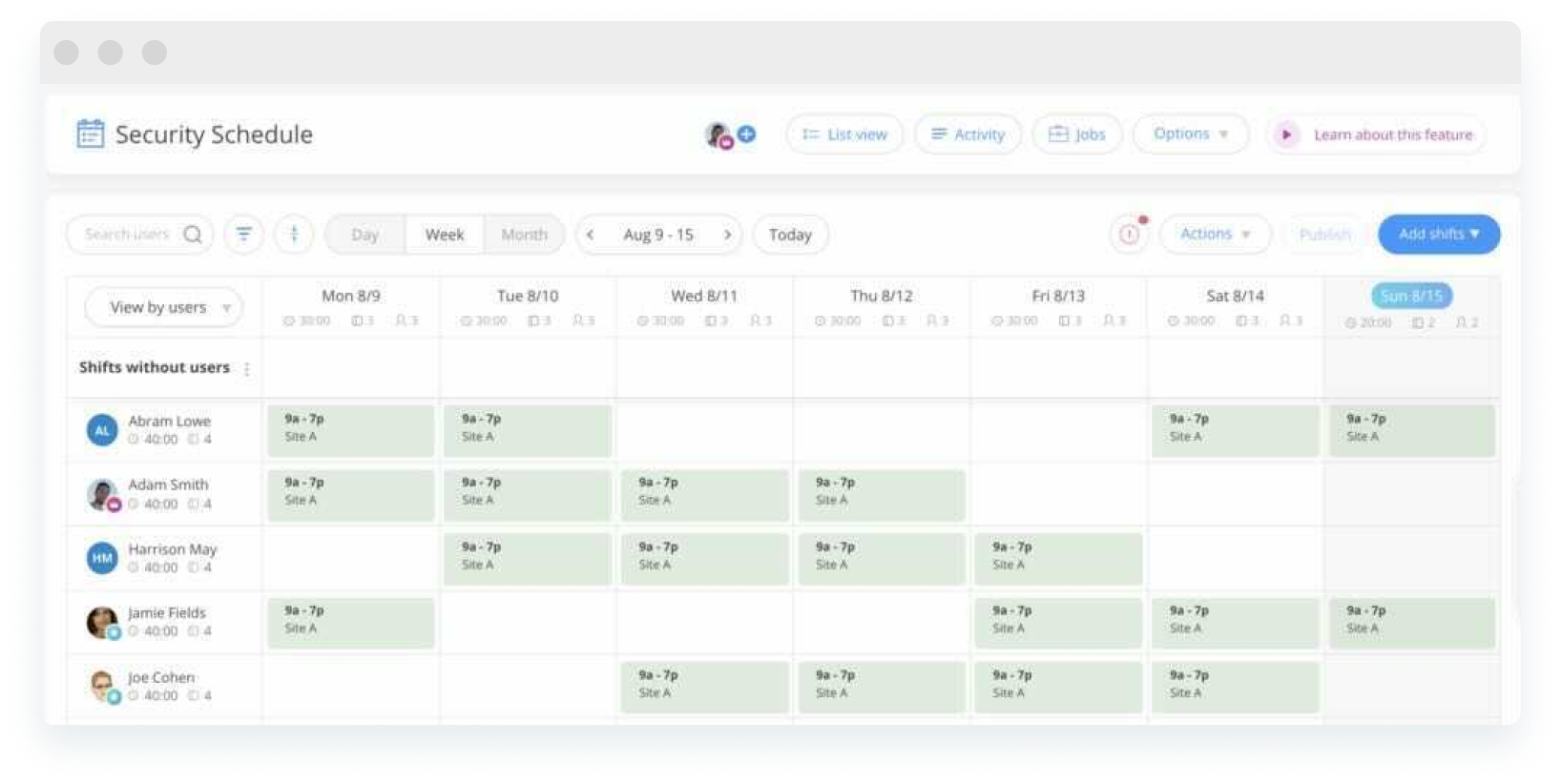 Before we get into scheduling softwares and all its benefits, let's discuss the major benefits and disadvantages of compressed scheduling so you can better understand if it will fit your needs.
Benefits of a 4/10 Schedule for Employees and Managers
Research shows there are many pros and cons to a 4/10 work schedule. Workforce Institute's research demonstrates that a 4/10 work schedule reduces employee stress, creates a more stable work-life balance, and increases employee happiness. And these are just the employee benefits, there are also definite advantages for management in adopting a 4/10 schedule.
With a 4/10 work schedule studies have shown that management will notice an increase in employee productivity, an easier time recruiting and keeping talented employees, and an increase in employee attendance. Because employees will now have an extra day off either during the week or over the weekend, they have the opportunity to use this day to complete their own personal errands or appointments. All these benefits have a major impact on the company's bottom line.
One of the biggest benefits of a 4/10 schedule for small businesses is being able to reduce employee turnover rates and retain employees they worked so hard to get in the first place. Business News Daily says it perfectly, "attracting and retaining top talent is a major concern for small business owners across every industry. While things like competitive wages, top-notch benefits and adequate vacation time are important, for high-demand employees, such features are widely considered to be the bare minimum. If you want to attract the best workforce possible but can't necessarily afford to increase salaries or benefits, offering flexibility is an excellent strategy". With that in mind, if you're a small business currently recruiting for new talent, it may be time to offer compressed or flexible scheduling as an option if you aren't already.
Disadvantages of a 4/10 Schedule for Employees and Managers
While there are definitely some great benefits to a 4/10 work schedule there are some drawbacks and disadvantages as well. Some employees may feel that a 10 hour work day is way too long and will easily cause them to burn out quickly. This is especially true for some specific industries where employees may be on their feet for a long period of time or driving for extended periods. In these cases, it may not be a great fit.
In addition, not everyone works on a 4/10 work schedule so there may be some scheduling or timing conflicts. For example, BND notes there may be "other business partners, clients or contractors who work a traditional 9-to-5, Monday-through-Friday schedule [who] may not be in sync with your schedule". No matter what, a 4/10 work schedule should not make it difficult for employees to complete their daily tasks and it should not become an inconvenience to clients or other colleagues.
There may be some employees who simply may not want to work a 4/10 schedule. For employees who have children, BND mentions that employers should remember "some child care providers have a traditional 9-to-5 schedule, which could make it inconvenient, or more expensive, for your employees to find care for their children". If you're going to implement a 4/10 work schedule at your business, it may be best to let employees try it first and decide if it's a right fit for them.
Lastly, there are also overtime laws that need to be carefully followed and considered when deciding if employees should be on a 4/10 work schedule. In certain states like Nevada, California, and Alaska; any amount of time over 8 hours in a single day is required to be counted as overtime. This accumulates to a weekly 32 regular working hours with an additional 8 hours of overtime pay. It's crucial you look into your state's overtime laws in order to be in compliance. You can easily find resources located on the U.S. Department Of Labor website.
There are also other aspects that need to be carefully considered. For example, how will you calculate vacation time? How will management ensure all shifts are covered and there are no scheduling conflicts or issues? BND advises, if you want to implement a 4/10 schedule, "employees and management need to coordinate closely when switching to the new schedule. Managers need to ensure there's proper coverage on the days that other employees are off.
Further, managers need to ensure that the new schedules allow for a smooth workflow and that deadlines are met". A 4/10 work schedule can create a lot of confusion and major headaches for payroll, especially if you aren't using an employee time tracking and scheduling app to manage this.
Employee Scheduling Apps to the Rescue
An employee scheduling app or an all-in-one solution like Connecteam, that also provides employee management, is a great way to manage and implement a 4/10 work schedule for your employees. It will also help in resolving some of the other issues mentioned above, such as overtime compliance and task oversight. Technology today makes it delightfully easy to transfer all pen and paper processes over to a digital platform.
With the Connecteam all-in-one employee management app, business owners and management can now easily and efficiently:
By using an all-in-one employee management app, you will be able to efficiently implement a 4/10 working schedule and clearly see if it works for your employees based on measurable insights and data.
Save Time & Money With Connecteam's Employee Scheduling App
14-day free trial, no credit card required.
Start Your Free Trial
The Final Word on 4/10 Work Schedules
Before jumping into implementing a 4/10 work schedule for all your employees, it may be wise to gather some employee feedback first and see whether or not that is something your employees would be interested in. If so, there are a lot of pros and cons to consider before trying out this new type of schedule.
While it may reduce stress, increase employee happiness, increase productivity, and increase retention rates, it may not be a good solution for all your employees. Be sensitive to all your employees scheduling needs, allow them to choose if it's something they would want.
In addition, you must make sure you're in compliance with overtime laws in your state. If you're unsure on what those exact laws are, a quick Google search for "overtime laws" followed by the state in which you are working, will help you find the answer.
Make sure that the 4/10 work schedule doesn't negatively impact your business. While your employees may want to be on a 4/10 schedule, that doesn't necessarily mean that clients and customers are also working during those times. If you notice that employees are having difficulty connecting with clients, or you don't have enough employees to cover shifts, then a 4/10 work schedule may not be the right fit for your business.
Lastly, in order to streamline scheduling, time tracking, communication, and task management within your business then it would be a good idea to take advantage of employee management apps to do so. With Connecteam, you can schedule employees with the touch of a button and track overtime to ensure legal compliance. Not to mention a ton of other features to reduce day-to-day friction.
Connecteam: The Best All-In-One Employee Management Software Solution
14-day free trial, no credit card required.