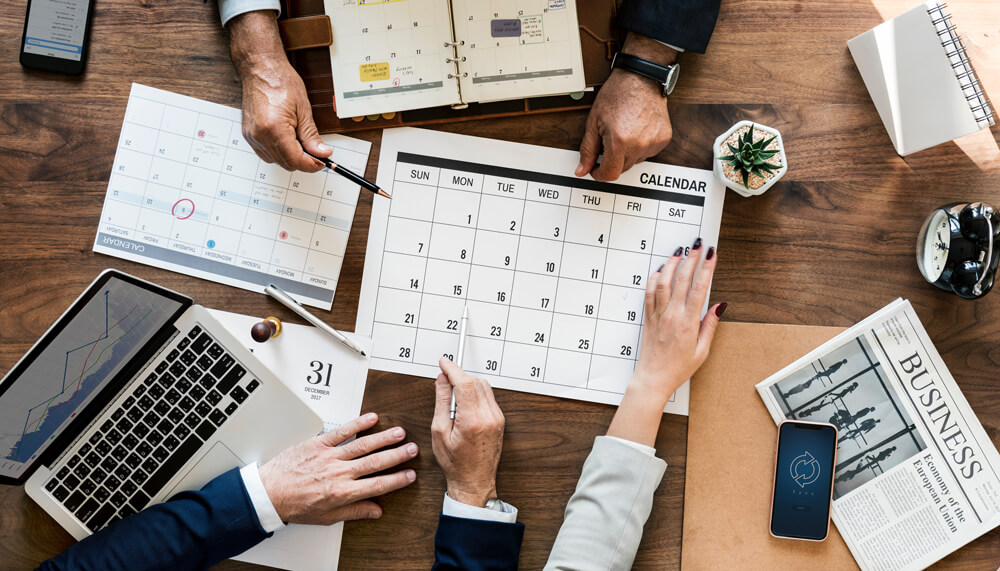 Most managers struggle to create a fair and balanced work schedule. You're juggling budgets, anticipating scheduling needs, processing time-off requests, fair distribution to avoid employee fatigue, boosting productivity, and quickly filling shifts if problems occur, like no-shows. It's a pretty tall order to maintain.
Especially if you're still manually creating the employee schedule. You're only open to more errors and employee dissatisfaction.
Research shows that on average:
3.14 hours are spent creating the work schedule a week

20% of a manager's time is spent manually creating the work schedule

174% more turnover occurs due to errors from manual schedule creation

140 hours are wasted annually by creating a manual work schedule
By automating scheduling, you are able to deliver consistent results, experience fewer mistakes, reduce costs, maximize employee productivity, and boost overall employee satisfaction. 
What are the benefits of automated scheduling? The list is quite long but we'll stick to the most important, relevant benefits such as full visibility into every employee's availability, can avoid overtime, streamlined communication, better efficiency, saving time and money, stress-free task delegation, fewer turnover rates, happier customers, and happier employees.
By now, you've probably learned that creating a proper, fair schedule that keeps you and your employees happy is a full-time job all on its own. And more often than not, managers are drowning in stacks of spreadsheets, calendars, timetables, and employee time off forms.
On top of it all, you also know that it takes days, even weeks, to create a ~good~ schedule. So if a scheduling error is made, or even a last-minute shift change comes into play, it can be a daunting task for managers to take on as you are forced to return to your never-ending stack of papers.
This situation, can understandably leave owners and managers at a loss but for every problem, there is a solution:
1. Last-Minute Scheduling
Leaving things to the last minute is never a good idea. Make sure you plan your shift schedules well in advance to give everyone a chance (managers included) to digest the roster and make sure that they are available.
Scheduling far in advance can create headaches but to cut out the extra work, make up a routine that suits the company and employees that you can regularly make use of and only tweak occasionally.
Having that predictability should help keep everyone happy. Employees know what to expect and once the rhythm has been established they, or you as the manager, will be able to reach out to those who are free if they are unable to do a shift and things need to be juggled around.
This can also offer flexibility to those employees that may need it, for example, those who have families may want to take shifts during the day when children are at school, while employees that are studying may prefer the night shifts, and so on.
One thing that's always been true about successfully managing a shift schedule is that it takes great communication and organizational skills. However, one thing that has changed is technology, which makes being organized and having great communication a much more reachable goal. Employee apps like Connecteam make the process of scheduling a lot simpler.
CONNECTEAM TIP: With an automated scheduling app, like Connecteam, you correct last-minute scheduling problems by easily understanding who is available and how much time (and how many shifts) each employee is already scheduled for, you can create shifts quickly and edit them in seconds, automatic notifications are sent to the employee about ta new shift, and finally, changes may happen when you're on the go which is why Connecteam's scheduling capabilities extend to its mobile app as well.
Intuitive Employee Scheduling App
Try a scheduling app that makes the entire process from planning to distribution to overseeing execution simple, quick, and intuitive for both you and your employees. Simplify your scheduling with advanced features like templates, in-shift tasks, status updates, messaging boards, and more. Start for free now!
Start for free
2. Employee Confusion
Confusion among employees when it comes to shifts can occur for a number of reasons including the unpredictability of shifts and last-minute changes. If there's no consistency or people are able to swap and change at a whim, with no system to track it all, it can cause havoc in the workplace. The way to avoid this is to plan in advance and double-check the schedules so there are no conflicts.
If there is consistency, then it's also important to hold employees accountable for their own schedules and to find a replacement if they are unable to do a shift. This means that managers need to do their part and compile schedules in good time so that employees can make alternative arrangements if they can't make a shift. Make sure you choose the right software that can help keep track of shifts and enables everyone access to the schedule so they can plan accordingly.
CONNECTEAM TIP: Avoid employee confusion with Connecteam – all of the shift's information is available on their app, including the date & time, location, notes & files, who are they working with, shift tasks, and so on. Easily communicate & collaborate with shift statuses, notes, and instant chat with the shift creator (directly from the shift details) so you're not swamped with dozens of phone calls.
3. Clopen
Here's a nightmare scenario that would keep any employee disgruntled: being chosen for the dreaded 'clopen' shift, not just once but on a regular basis. 'Clopen' is a term that has been coined from the words 'close' and 'open'. It effectively means that your employee has the last shift of the day and then has the first shift when the company's doors open. This may mean that your employee could work two shifts in a row without the ability to go home to get some shut-eye. This commonly occurs in hospitals, restaurants, and other 24 hour establishments.
So how can you ensure that your employees avoid the dreaded clopen? It really boils down to scheduling in advance and having the right time and labor management software in place that could detect conflicting shifts or ones that are too close together. Otherwise, it means the manager involved has to have a keen eye out for clopen when doing the final screenings of the schedule.
Clopens could also occur if different managers are responsible for different parts of the schedule (perhaps there's a night shift manager and another for the day). To avoid this conflict and to ensure your staff are kept happy, it's vital that the managers liaise with one another to ensure that employees get the break they deserve. Again, installing the right software could help the business in detecting these issues.
CONNECTEAM TIP: With real-time visibility and calendar view on Connecteam, as a manager, you can instantly see who closed so you can ensure their shift doesn't overlap to the morning shift the next day.
4. Overtime Spiraling Out Of Control
Are your employees still being productive if they work overtime and are your clients getting the service they deserve? If the answer is 'yes' to both of these questions, then there's no need to change the status quo.
However, overtime can become an issue and affect productivity. It's an extra cost to the business too so it should ideally be avoided. But if your employees need to work more than 40 hours a week then it may be worthwhile to make them salaried employees.
CONNECTEAM TIP: With insightful and detailed reports on Connecteam's scheduling app, you can easily see how much time (and how many shifts) each employee is already scheduled for and there are schedule limitations so you can set the number of shifts per day or week, how many hours per day or week you'd like to set a limit for and have them flagged instantly.
5. On-Call Scheduling 
Customer demand can be unpredictable so some companies prefer to have employees on stand-by or on-call. This practice involves getting employees to call in before their shifts start to find out if they are needed or not. If the shift is set to be a quiet one, employees could then be told not to come into the store, restaurant, or office.
But this practice is on the way out because it's frustrating for employees as they can't plan their lives around it and regulators are also increasingly not happy with this concept either. Coffee chain Starbucks and retailers Gap and Abercrombie & Fitch (A&F) are just some companies that have pledged to scrap the practice.
Solutions to on-call scheduling are available – it just involves managers being more detail orientated when it comes to data or information about the business' busiest times and keeping track of everything. Having staff on stand-by because you can't make predictions about customer demand is the lazy way out!
CONNECTEAM TIP: Create the schedule ahead of time and allow employees to set their availability ahead of time so you know who to call first. In addition, create open shifts that are up for grabs so anyone can claim them if they're interested.
6. Inequal Shift Distribution
It's a common thing to rely on a select few employees to do particular tasks (like close up shop) or to get certain staffers to take particular shifts on particular days. It's difficult to be objective at the best of times!
But if you're not careful you could send out the wrong message, i.e. that you favor Susan Smith over other employees or that you don't think John McDonald is up to the task of being there when it's time to cash up. If you have the right rota software system in place you can avoid these types of scenarios altogether. Selecting the right software management tools could also help in you giving your employees their preferred shifts and in turn ensure that you have the most experienced people in place for the shift and the specific needs that come with it.
CONNECTEAM TIP: In a tap, easily see how much time (and how many shifts) each employee is already scheduled for so you ensure equal shift distribution across the boards.
7. Messy Shift Swapping
There are pros and cons to allowing workers to swap shifts. Allowing employees to manage their own time can mean less responsibility on the manager but if it's not managed properly it can cause havoc and confusion.

Swaps could result in workers forgetting about their new shifts or you could end up in a situation where a qualified employee switches with a junior employee and there's a lack of experienced workers on duty.
CONNECTEAM TIP: An automated solution takes the mess out of schedule creation. A shift status can be used for employees to reject shifts in case they aren't available, and they can even add a note to their rejection with who should replace them which then the admin can easily drag their shift to that person in a single click. So it's both easy and quick but also goes through the manager's observing eyes. Additionally, job qualifications help the manager ensure that only qualified users are assigned to each job type.
8. Bonus Tip
There are a few more scheduling problems we have to address that most managers come up against on a regular basis:
Complex and Overloaded Scheduling
With Connecteam, you can create multiple schedules and assign them to different groups either by department or site. You can filter different smart groups to use other filters to see only what's important for you – even with a schedule that includes many employees or shifts. You can also easily find employees by those groups and even assign shifts to an entire group. Additionally, you have access to multiple ways that you can create your schedule quickly such as shift templates, weekly templates, copying the previous day/week/month, creating multiple shifts at once, or even loading them all from Excel.
Connecteam allows for statuses and notifications so you can see each shift's status right on your dashboard in a glance, set notifications in case employees didn't accept, check-in, or complete their shifts on time. All this ensures you're in total control and have full visibility of what's going on at any given moment.
Managing The Work Schedule On The Go
It's not rare for managers to be out in the field as well. Some other scheduling solutions don't have manager capabilities as Connecteam does. With Connecteam, you can edit or create new shifts on the go easily, or even see shifts information and communication with the relevant employees.
One Solution for All
In the end, it all boils down to two things: communication and organization.
To avoid the common problems that occur when employees have the freedom to swap shifts, it's important to have the right scheduling software in place, especially one that can capture shift-swapping history accurately.
What's more, there should be a digital 'trail'. For example, the employee requesting the swap should be notified via the system if the swap has been accepted by the replacement staffer and managers should have the ability to approve such requests if need be.

Communication and verification are key when it comes to scheduling and maintaining order in the workplace. This will go a long way to ensuring that the business thrives along with a happy workforce that looks forward to coming into work.

Connecteam's employee scheduling app helps reduce scheduling problems:
Quick schedule-planning and distribution

All the information in one place
Full visibility with real-time status updates and notifications
Mobile interface for managers on the go
Add shift tasks and get notified upon completion
Reduce the noise and communicate effectively with dedicated communication channels
Templates and quick actions for time-saving
In conclusion, we highly recommend scheduling software that allows you to create, change, and publish schedules at the click of a button. The days of endless excel spreadsheets are over, using an employee scheduling app will save you so much time so that you can focus on the things that truly matter in your business.
Leading Employee Scheduling App
Save time and effort on planning and oversee execution with Connecteam's employee scheduling app and its advanced features. Like assigning shifts in a click, duplicate, drag & drop, use templates, bulk actions, & more. Shift attachments, in-app chat, in-app directory, full visibility with real-time status updates, and notifications. Start for free now!
Start for free