An employee scheduling template lets you build, update, and manage your workers' shift schedules.This article covers the different types of schedules and the best templates to use for your business. We also discuss the benefits of switching to scheduling software and what to look for in order to find the right one for your small business. 
Table of contents
Effective scheduling is an integral part of running a business, but it can also be difficult and frustrating to achieve.
You may struggle to balance employees' availability while maintaining adequate shift coverage. Plus, creating a schedule is time-consuming on its own. Add in the time it takes to fix scheduling conflicts and shift replacements, and suddenly scheduling has eaten into the time you could have spent on more pressing matters.
The good news is that strong employee scheduling templates can help solve some of these challenges. This article breaks down the different types of scheduling templates—and also shows you a much more effective alternative.
Key Takeaways
Use an employee scheduling template to streamline your business's shift scheduling in a repeatable way, rather than starting from scratch. 
Consider your business's needs when determining which type of schedule you'll use. These might be a daily, weekly, monthly, annual, on-call, or shift rotation schedule. 
To understand the best type of schedule, consider your business's hours of operation, how time is tracked, and how shifts are managed. 
Dedicated scheduling software like Connecteam offers more benefits than templates, including automations, employee self-service options, time tracking features, and accessibility. 
Types of Employee Schedules
When deciding what sort of employee scheduling template to use, it's important to be familiar with the various types of work schedules.
Daily schedule. Used to manage a single day's shifts. It includes each shift's start and end times, break times, who's assigned to each shift, and any other relevant information for the day.
Weekly schedule. Encompasses an entire week of work, listing each day's shift assignments. Includes shift times, breaks, employee assignments, and information about who's on call or serving as an alternate.
Biweekly schedule. Uses the same information as a weekly schedule, just for a 2-week time span.
Monthly schedule. Includes all the information of a weekly schedule but for an entire month.
Shift rotation schedule. Based on a specific time period and type of shift rotation. These schedules can span weeks, months, or longer. They outline the shifts themselves, who's assigned to work them, rotation patterns, and other shift-related information. On-call schedule. Outlines on-call shifts and details who's responsible for coming into work if they're needed. On-call information can also be added to any of the other types of schedule templates.
Annual schedule. Details shifts for an entire calendar year.
How to Choose the Right Scheduling Template for Your Business
When selecting a staff schedule template, consider your business operations and existing shift scheduling practices. Think about the following key elements:
Business scheduling structure. How long is your business open each day? Is it open on weekends? How do you structure the shifts each day? For example, many 24-hour businesses schedule employees for first, second, and third shifts.
Hour tracking. Do your employees self-report their hours, or do they punch in and out each shift? How often are hours reported? For instance, it's common for hours to be tracked and reported weekly or biweekly, but at some businesses, they're tracked daily.
Shift schedule types. Think about the sort of schedules your employees work. Do they work a typical 5/8 schedule—working 5 days per week, 8 hours each day? Do they work a 4/10 schedule—working 4 days per week, 10 hours each day? Or are your employees on rotating shifts or some type of flexible schedule?
On-call employees. Use a template that has the on-call rotation (or a space to note who's on call) if you need employees to be on call.
What to Include in Your Staff Scheduling Templates
Whether you're creating a template from scratch or searching for one that already exists, there are a few things you need to ensure are included:
A week's or a month's worth of days and shifts.
Dates for the scheduling period.
Your business's hours of operation.
The hours of each shift.
Employee names (and positions, if you need this information to ensure adequate coverage).
A way to show the employees' scheduled hours. Consider color-coding different shifts to highlight who's on first, second, or third shift.
Manager and/or shift supervisor's contact information.
The Downsides of Manual Employee Scheduling
Using templates can make your life a little easier, but manual scheduling still isn't the best solution. Below are the major downsides of manual scheduling.
Time-consuming. It can take a significant amount of time to manually schedule employees, even if you use a template. You have to ensure you account for everyone on your team is accounted for, accommodate their preferences and availability as best you can, consider time-off requests, and avoid overlapping schedules or conflicts.
Prone to errors. You're more likely to make mistakes when you manually enter information into employee schedules. You might double-book employees, schedule the wrong worker for a shift, incorrectly calculate work hours, and more. This can lead to problems like inadequate shift coverage and employee frustration.
Doesn't offer much flexibility. Employees typically don't have much say over their schedules when they're created manually. With manual scheduling, it's usually hard for them to request shift changes and time off, as it requires time and effort to find replacements.
Difficult to make changes to schedules. Likewise, with manual scheduling, it can be a real headache trying to adjust schedules based on unexpected changes or employee requests for shift swaps or time off. You have to regroup, coordinate with employees to discuss availability, manually rework the schedule, and publish it all over again.
What To Look For in a Digital Employee Scheduling Tool
To maximize efficiency and reduce errors, a better bet is to use scheduling software. The right software enables you to go beyond just creating and displaying a schedule, making it much more effective than a template.
When looking for scheduling software, consider the following:
Scheduling features. Look for templates, drag-and-drop scheduling, notifications, and error flagging.
Time tracking tools. An especially useful scheduling app will let you keep track of employees' time and let them clock in and out with ease. Ideally, this data can be exported to or integrated with your payroll system to keep everything streamlined.
Break and PTO management. You should be able to track and automatically calculate break times and time off right in the app. Employees should have the ability to request time off on their own, with requests getting sent directly to you for approval.
Employee self-service. This enables workers to manage their availability, update their own schedules, and request time off from within the scheduling app. The software should require manager approval so nothing is changed without your permission.
Analytics and reporting. Look for the ability to view detailed reports on scheduling patterns, employee attendance, overtime hours, time spent on projects, and more.
Mobile and web access: While an online template can likely be accessed from anywhere, it probably isn't well-configured for mobile viewing. Look for scheduling software that is accessible on both mobile and web and is optimized for both.
Connecteam: The Best Alternative to Templates
When looking for scheduling software, the best option is to consider one that doesn't offer just scheduling tools but instead delivers an all-in-one solution.
Connecteam is the best all-in-one employee scheduling app. It provides everything you need to schedule shifts, track hours, manage time-off requests, and more.
Create schedules with ease
Even easier to use than a template are Connecteam's employee scheduling tools.
Not only can you use user-friendly templates to create and deploy schedules, but you can also easily distribute shifts and prevent conflicts or overlapping schedules. Connecteam will automatically alert you of any scheduling conflicts so you can address them ASAP.
You can schedule employees based on availability, preference, or qualifications. Alternatively, create open shifts that any team member can volunteer for.
Connecteam gives you 24/7 visibility into your teams' schedules from any device, and you can set automatic shift reminders to prevent employee no-shows.
Plus, you can include important information right there in the schedule, so your employees can access shift locations, notes, file attachments, and other details instantly.
Let employees swap shifts and request time off
Gone are the days of spending your time on last-minute shift replacements and swaps. Employees can take this into their own hands by using Connecteam to switch shifts with coworkers.
You'll be notified of changes and asked for approval before anything is finalized, so you're always in the loop and have the final say.
Employees can also use Connecteam to request time off from anywhere, and you can keep track of all your employees' vacation pay and PTO balances in one place. You can quickly review and approve time off requests right from your device, too.
Make shift work a snap
Connecteam's shift schedule maker keeps shift scheduling organized, efficient, and simple. Even with a complicated rotating shift schedule, you can use Connecteam to copy and duplicate shifts, create recurring shifts, and even drag and drop templates into the calendar.
Connecteam will also flag any errors or inconsistencies like duplicate shifts or unintentional overtime so you can easily fix them.

Track employees' time and verify their locations
Employees can clock in and out directly within Connecteam using the built-in time clock tool. It records time to the second, and workers can categorize time by project, client, job, or location. This lets you keep track of exactly how many hours employees are working and what they're working on.
Plus, Connecteam offers GPS location tracking so you can verify your team's whereabouts while they're on the clock. The geofencing tool works with GPS, allowing you to create borders around job sites and restrict punch-in and punch-out to those specific locations.
Manage breaks, overtime, and time off stress-free
Along with tracking hours worked, Connecteam also lets you manage employee breaks and time off when building your schedules.
You can see at a glance who's on break, who's off work, and who's on the clock. Connecteam even calculates breaks, time off, and overtime hours and adds them to schedules—no extra effort required.
Plus, you're able to set custom rules around breaks and overtime and receive automated notifications when an employee is about to enter unscheduled overtime.
Communicate effectively
Furthermore, Connecteam lets you easily communicate and share information with your entire team, regardless of location.
Use the work chat to update the team about a schedule change, ask for volunteers to work a last-minute shift, or send any other information.
You can chat in real time in groups or one-on-one, and messages can contain audio notes, images, videos, and more for easy information sharing.
There's also the updates feed that's perfect for sharing important announcements with certain teams or everyone in your company at once.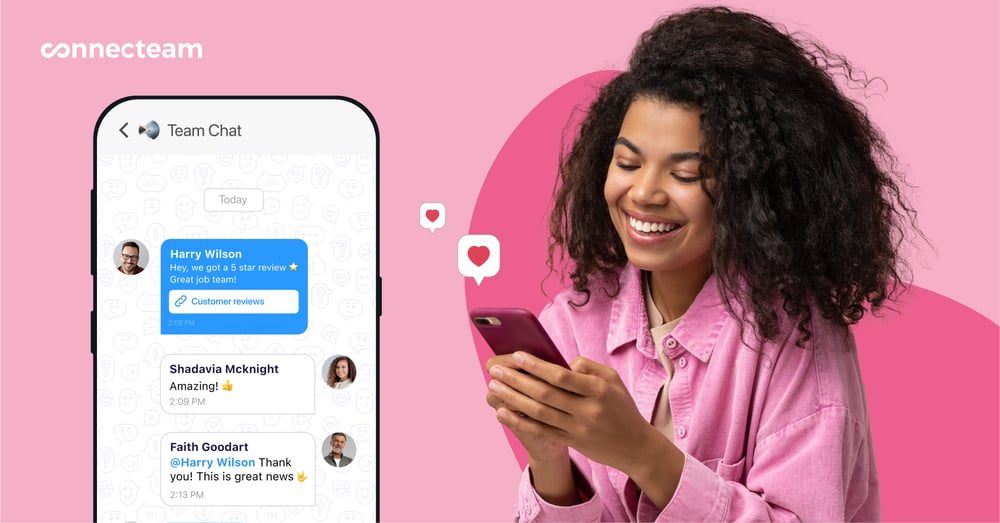 Analyze employee data with detailed reports
Connecteam's automated reporting tool can automatically generate detailed reports on just about any data you might want to review.
Need to assess attendance data or understand time spent on a specific project or job site? Simply customize the report and start gaining valuable insights. There are also helpful templates to get you started.
Automated reporting can also be used for payroll: Avoid human error by exporting timesheets to your payroll system or department, or use one of Connecteam's direct payroll software integrations.
Affordable for all
In addition, Connecteam has tons of other tools for communications, HR, and operations management. What's more, it starts at just $29 per month for up to 30 users and has a free-for-life option for businesses with 10 or fewer workers.
>> Get started with Connecteam for free today! <<
5 Free Employee Scheduling Templates
Airtable's Employee Scheduling Template
This employee scheduling template uses Airtable to coordinate employees' availability, their scheduled shifts, and any necessary contact information.
Download the template here.
Smartsheet's Employee Schedule Template
This template lets users build out a schedule for their team for a Monday-Sunday workweek. Users can add employees' ID numbers, duties for each hour across 12 hours, and note how many hours each employee worked each day. Managers can even mark certain workers as "off."
Download the template here.
WhenIWork's Free Schedule Template
With WhenIWork's Excel template, users can input information about employees, their availability, and open shifts, then build a schedule. It's designed as a printable, making it easy to post a physical copy for workers to reference. 
Download it here.
TemplateLab's Weekly Shift Template
This free Excel template lets managers design a weekly schedule for their employees, broken down by the hour. It includes a helpful breakdown of which role each worker will perform so everyone's clear on their duties for the day.
Download the template here. 
Time Clock MTS's Color-Coded Shift Rotation Template
Use this color-coded template to create a full schedule of rotating shifts. Users can keep track of holidays, vacation time, and other days off, and view the whole month at a glance.
Download it here. 
Conclusion
Ensuring adequate staff coverage can be tricky, but it's a necessary part of running your business. While using a template is a great start to simplifying the process, it's even more effective to use scheduling software that solves multiple pain points.
Scheduling software mitigates the risk of scheduling errors, saves your time by offering employee self-service options, and streamlines the scheduling process with built-in templates and drag-and-drop features.
If you're ready to make scheduling simple, Connecteam offers everything you need to create, edit, and manage employee schedules and more. Get started today!
FAQs
How do I create an employee schedule template?
To create your own staff schedule template, consider what information you want to include—like dates, names, shifts, and other important details. Build a spreadsheet or document with space for these details and save a copy as your template.
Does Excel have an employee schedule template?
Yes, Excel offers staff schedule templates you can customize for your needs. However, it can take some time to get used to Excel, and spreadsheet tools like it are prone to errors. We recommend using dedicated scheduling software like Connecteam to create your templates.
How do I make a simple employee schedule?
Think about what sort of schedule you need your employees to work. Will they work 5 days a week? What about a different configuration, such as a 4/10 or 9/80 schedule? From there, determine how many employees must be on shift at once, factor in their availability, and plug it into a template.
Want to Receive More Great Articles Straight to Your Mailbox? Subscribe Here ⤵