If you were to ask a business owner, "What's the one task that is the most difficult and takes up a ton of time for you to complete?" Chances are, 99.99% of owners would say – creating a well-rounded employee schedule.
Here's the thing, this responsibility is even more difficult when you're still using old-fashioned methods like pen and paper or countless Excel spreadsheets.
Automating the scheduling process offer managers consistent results, reduces mistakes, lessens costs, lifts productivity, and helps improve employee satisfaction.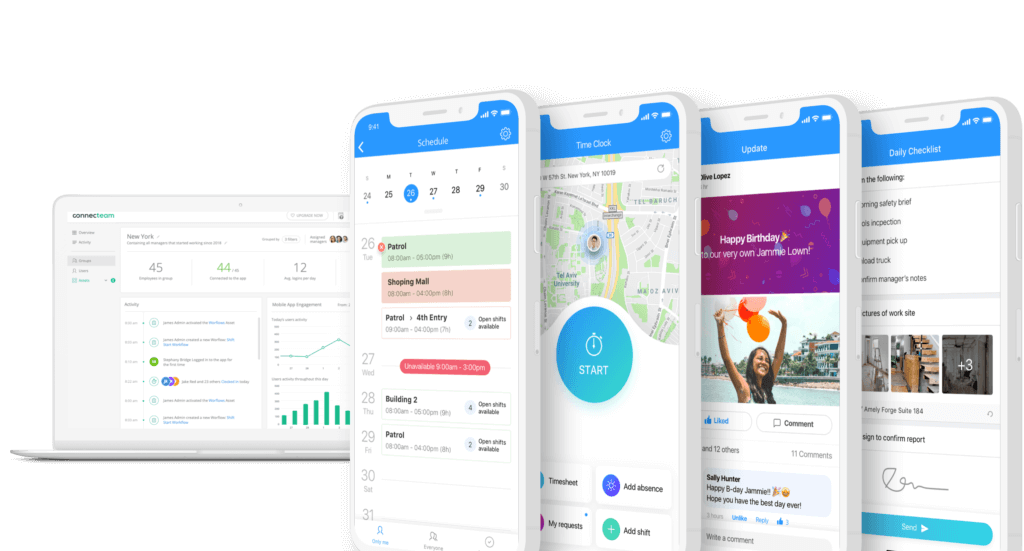 Why you need Connecteam's mobile scheduling software:
Boost employee engagement and happiness
Keep your employees happy with a schedule that accommodates their needs and wants while ensuring your top people are on the clock.
Use the in-app chat so you can talk to your employees directly while they're out in the field. Plus, your employees can easily reach you in the click of a button if they have questions about a shift or need to request a change. Manage everything through the app and allow for communication to be a two-way street. This easily improves engagement and happiness because your employees don't have to jump through hoops to get ahold of you.
Remote access
When an employee's schedule is available on their smartphone, they have instant and direct access to changes 24-7. As such, employees can instantly catch mistakes, can take on open shifts, can request time off or shift changes. This level of interaction helps boost an employee's satisfaction and productivity which in turn lowers turnover.
In addition, as a manager, you are able to reduce the time it takes you to create and finalize shifts each week by 50-60%. All the back and forth with employees is quick and instant instead of waiting days for feedback about the shift coming up.
Stay on top of schedule changes
Changing a schedule you already created can cause mayhem, especially if you're using older scheduling methods. However, when you use an online solution, like Connecteam, you can avoid these headaches.
From creating and editing single, multiple or shift schedules, and copying last week's schedule, everything is done with a single click. Plus, any time you make a change, everyone receives a notification with the latest updates.
Easily add more information for every shift
Easily receive feedback from your employees with notes that can also include free text, video and image upload. All notes and status updates are easy to locate in a gorgeous timeline and is attached to each shift – this makes everything reachable, organized, and documented securely via your dashboard.
Know what's happening with instant shift status alerts
While your employees are working, they can easily notify you with updates regarding their shift status, for example, they can accept, reject, check-in and complete a shift. This makes it easier for you to understand what the status of shift is so you know how close you are to meeting deadlines and what's happening with a current project.
On top of it all, benefit from a GPS pin and mapping to take it to the next level. Each time an employee sends a shift update (accept, reject, check-in and complete a shift), their GPS location is pinned so you can see everything via map view to know where your employees are and what project was just worked on.
Reduce overtime
Complying with labor laws is required and a must as the Department of Labor regulatory requirements and litigation spending is growing. Seyforth Shaw, LLP reported that workplace action settlements have reached a total of $1.75 billion and that the settlement value tripled in 2016 for wage and hour litigation.
Preventing and managing overtime for hourly workers with a 40 hour work week is necessary as it helps you avoid incurring costs and helps prevent employee burnout. Connecteam's scheduling app alerts you when an employee is close to overtime and when they go over. In addition, Connecteam has paid breaks built in so if your state requires you provide paid breaks, that's taken care of.
Focus on collaborative scheduling
Collaborative scheduling gives employees the ability to set their own availability. This makes it easier on the manager as he or she is sharing the scheduling responsibilities with the employees – plus, this helps free up nearly 80% of a manager's valuable time.
All-in-one
Connecteam has everything available in one place – activate the GPS time clock app function to track working hours in real-time, receive absence requests and manage timesheets for payroll. Go one step further by completing the entire process of payroll through its direct integration with QuickBooks Online and Gusto. Add workflows to create checklists and forms to increase compliance so you can ditch pen and paper and those endless Excel spreadsheets. Utilize in-app training to improve professional skills for all employees and provide an innovative on-boarding experience for new hires.
Everything you need to manage your employees and have full visibility on your workforce is available with Connecteam.
I've been incredibly impressed with the scalability of Connecteam: they are the only app I've found that allows me to do everything from employee scheduling and new hire on-boarding to extensive employee training via videos and quizzes and even monitor and display metrics for performance in different departments. – Meghan H. (Chief Operating Officer, Hospital & Health Care, 75 employees)
Super easy to use
Never miss a beat with Connecteam's scheduling software. We make it so easy to schedule shifts for your multiple employees, save valuable time and make the most of your workday with an app that can seriously do so much more.
With affordable pricing, starting at just $29/month for up to 30 users, choosing Connecteam for your scheduling needs is a no-brainer. Sign up for a free plan and see just how Connecteam takes your business to the next level.
Read More: The Top Employee Scheduling Apps in 2022
Start scheduling with Connecteam today
Quickly and easily schedule shifts and dispatch jobs with the only scheduling app that offers true shift collaboration. Starts at $29/month for up to 30 users!
Try for free
Want more great articles straight to your inbox? Subscribe Here ⤵