Table of contents
There are many ways to reduce your operational cost and increase employee engagement.
The ambitious goal of our "Small Business Hackers" blog is to cover (almost) every way possible. But, for this blog post we want to do what certain members of our team cannot stop doing, talk about ourselves. And our favorite topic is how can businesses that manage deskless teams use Connecteam's employee app to improve their productivity.
It's actually very simple. Ever heard of the intranet? An intranet is what large businesses use to communicate internally. Well, Connecteam is like an intranet mobile app on steroids. You can collaborate with deskless employees, run your operations, and develop professional skills all on a completely branded and secure employee app that's simple to use – so it's also great for small businesses.
But you're here because you want to dig deeper. Ask, and you shall receive.
Let's start by throwing some numbers at ya: 66% of organizations can't attract employees that possess the necessary skill set for their businesses to grow. 41% of organizations have problems retaining these critical-skill employees, and these numbers are part of an ongoing trend over the past four years. So what this all mean in dollars and cents? Well, it means an expensive recruiting war between companies trying to poach top talent is underway.
Let's get back to the recruiting war analogy later. For now, let's focus on the real issue. Since employee recruitment has turned into a difficult, time consuming, and costly expenditure you'd expect managers to do all they can to develop their current workforce's skill set and retain them within the organization.
But, according to recent surveys, only 31% of managers are creating and utilizing an "increased/targeted use of training opportunities" for critical-skill employees. The result? A disconnected, unmotivated, and disengaged workforce, which makes for, you guessed it, an unproductive workforce and higher operational costs.
Enter employee engagement programs. You've probably heard of "employee engagement" but if you haven't: an engaged employee is one that harnesses their physical, cognitive, and emotional self to perform their role[1].
In other words, an engaged employee is one that feels fully involved and in tune with your companies values and goals, and will make a full fledged effort to advance them. Engaged employees are 43% more productive, 87% less likely to leave your company, and overall outperform disengaged employees by 200%.
To recap, we've learned that it's harder and more expensive than ever to recruit quality employees. At the same time, investing in your current workforce seams like the smart thing to do. What's next?
The Battle to Attract, Engage, and Retain
Back on the battlefield, victory goes to those that have the most advanced technology and tactics. It's as simple as that: Adapt, modernize, or go home defeated.
Can you see where we're going with this? A successful business is one that is founded on a core of great employees. If you want to recruit and retain the type of employees that will make your business grow and flourish you need the most modern tools and tactics at your disposal. In the ongoing War to Attract & Retain, these are the trenches in which the battle is fought.
At the HR offices of the FOX Group, the largest clothing retail group in Israel, this is hardly news. They've been running various creative programs to motivate their employees, enhance career opportunities, and develop excellent managers. Some of their programs have been more successful than others. Since most of their employees work away from a desk or work station, engaging this mobile workforce has proved to be a challenge.
Download your FREE guide on "10 Tips for Engaging Your Frontline Teams" ⤵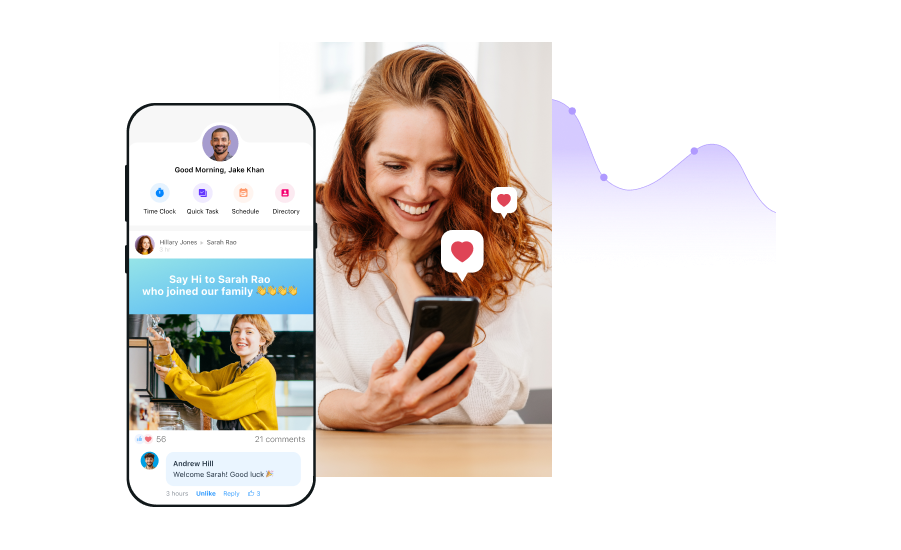 The Problem – Communicating with deskless employees is complicated
The Fox clothing chain operates over 400 branches in 15 countries through its headquarters Israel. Under its umbrella you'll find globally recognized brands such as American Eagle, MANGO, BILLABONG, CHILDREN'S PLACE, and many more.
One of the biggest and most costly challenges facing the FOX operations team is: How to effectively communicate company procedures and basic training to its branch employees?
Before using Connecteam's employee app platform, FOX's preferred method of communicating training and procedure manuals with its locations was to print, ship, and deliver manuals and employee pamphlets on the back of delivery trucks. The fleet of trucks would make their way through all of the locations and hand deliver each procedure or training manual. Imagine the logistical nightmare that must be, not to mention the costs of running such an operation. Actually, let's break it down for you:
The old way:
HR creates employee pamphlets and commissiones a publisher to print out in bulk for thousands of deskless employees (This would take 5 days of work on average).
HR managers then co-ordinate with logistics and operations to send out employee pamphlets to all the relevant locations.
A truck fleet is sent to deliver the employee pamphlets to each branch.
Employees receive pamphlets.
The Solution – Using Connecteam to deliver training and measure compliance with company procedures
Barak Alfital, FOX group's Training and Organizational Manager realised that their way of communicating procedure manuals to employees was a bit dated, and started researching more modern solutions that would be more cost effective, in-tune with the needs of on-the-go employees, and last, but definitely not least, measurable and accountable.
Connecteam's Launch Pad allows managers to create assets such as courses, surveys, or workflows and then quickly deliver them to their workforce via the mobile app. For FOX, Connecteam offered the perfect solution to their internal communications needs.
The new way:
The HR manager creates a branded employee app using Connecteam.
The manager then uses ready-made templates as a base to quickly create procedure manuals, training modules, and other business assets.
The manager then uses the Launch Pad to send a text message to all employees to download the new company app from the App Store or Google Play.
Once downloaded, the employee has all procedures, training, and other assets available on their own phone.
| | | |
| --- | --- | --- |
| Benefits | The Old Way | The New Way |
| Cost Effective | | √ |
| Time Efficient | | √ |
| Replicability | | √ |
| Scalability | | √ |
| Measurability | | √ |
| Verifiable compliance | | √ |
| Does not require change | √ | |
| Will survive a technological apocalypse | √ | |
| Time from creation to delivery | 8 – 10 business days | 1-2 business days |
Adopting new tech in a non-tech workplace
New technology is sometimes met with with resistance and fear, especially when introducing new tech to a non-tech environment. That's why it's a smart idea to take on new tech in baby steps, and the FOX Group took their baby steps by introducing their procedure manuals to select employees.
One of the main goals for their trial was to see how employees would react to the new app. Would they accept the new technology? Would employees engage with the app and the content they are being provided through it? Would it prove effective in not only delivering procedures manuals but would it reduce technological implementation costs as well?
To management's surprise, not only did employees accept the new app very readily, but the word about the new FOX Group employee app quickly got out and the training department was flooded with requests from employees who wanted to join the trial.
But the trial wouldn't be complete without an employee satisfaction survey, delivered through the mobile app, obviously. The results of the employee survey, as well as some other interesting stats are shared below:
Results
There's enough research out there to know that having more engaged employees leads to happier employees, which leads to higher retention, and eventually lowers your operational costs. For FOX Group, the justification for using Connecteam was much more readily attainable.
FOX was able to lower the cost of delivering procedure manuals to their employees by about 90% using Connecteam's platform for employee app creation. The FOX employee app eliminated the need for printing and shipping procedure manuals, which made up the largest chunk of operational costs.
Finally, the cherry on top is that every manager can use the Launch Pad to gather insights on how their teams ae using the mobile app like: which employees opened their procedures manuals, how did they engage with the asset, and how did it compare with other assets distributed previously.
But what does it all mean?
Most businesses that manage employees away from designated work stations are already aware of how difficult it can be to communicate effectively.
That's why if you manage deskless employees we want you to take away a few suggestions from this success story:
Find a cost effective way to communicate with your employees using mobile devices.
Find a comfortable and enjoyable way to communicate using the mobile phones your employees already know and love.
Measure the performance of your new tool and compare to see if you are, in fact, creating a more effective way to collaborate, run your operations, and develop your employees' skill set.
The FOX Group is still finding the best uses for their employee app and we'll keep you updated of how they do right here.
If this story rings a familiar bell, we're here to help! The Connecteam Launch Pad comes with ready made templates prepared in liue of the FOX Group success story. You can start reducing your communication costs by using one of the readymade templates.
Want to Receive More Great Articles Straight to Your Mailbox? Subscribe Here ⤵