9 Best Company Intranet Apps in 2021
We don't have to tell you how important effective communication is in the workplace. Not only does it create a well-functioning office but it keeps everyone on the same page so that all departments and operations run smoothly.
However, with over two-thirds of employees working remotely, large teams, and disconnected departments, keeping everyone synced up becomes a daunting task.
When you use the right intranet app, communication is streamlined and a lot of time is saved. But the benefits don't stop there.
Why Would A Company Use An Intranet?
This is a given when using a mobile intranet, communication between all team members is seamless. With a mobile intranet, it's that much easier to share updates, hold a conversation in real-time, and share videos, documents, images, and more.
With better communication, the app also helps remote workers to work efficiently as the workflow is streamlined. In real-time and from any location, team members can hold virtual regular meetings to discuss current tasks, issues that arise, and can also ask for instant feedback.
Download our free eBook now to build an effective internal communication strategy at your organization.
Better Employee Engagement Leads To Lower Turnover
Gallup's State of the American Workplace survey clearly shows that just 33% of American employees are committed to their work. The same research also found that the turnover rate for disengaged employees is 10% higher than engaged employees. 
A mobile intranet reaches every single employee through a tool that is common to an employee's everyday communication habits with features that are distinctly designed to keep employees engaged. As such, turnover drops massively for engaged employees says a Gallup poll – the same poll also shows that engaged employees are 27% more likely to report excellent performance.
Read more here on how to keep your remote employees engaged.
Effectively Handle Crisis Management
Whenever your company is faced with a crisis, like hacking, workplace violence, man-made disasters, or a global pandemic like COVID-19, you need to get ahead to manage the situation. Only by using an intranet app can you be prepared, proactive, and communicate effectively. 
A mobile intranet lets you control events as they unfold: keep your entire team informed in real-time, distribute key information and protocols, stay up to date with reports from the field, enforce compliance, and much more.
The McKinsey Global Institute found that "productivity improves by 20-25% in organizations with connected employees". 
An intranet app allows you to send updates and announcements instantly to the relevant team, plus you have the ability to track who opened and read your message so you know that everyone is on the same page. As a result, you have better productivity, higher engagement, and better morale when your team is connected and informed.
Read more here about easy ways you can increase workplace productivity. 
The IDC, the Working Council of CIOs, and Reuters all conducted studies which "show that employees spend on average 20% of their hours searching for information necessary to do their jobs effectively". While knowledge and remote work need different types of information and at different frequencies, this issue can't be talked about enough. When a company uses an intranet app then time wasted on these tasks is reduced by 15% which leads to a higher revenue per employee by 5%.
Stronger Team Relationships
As your team works together on different tasks and projects, they are bound to develop a healthy working relationship. The ability to talk with fellow team members on chat (about the project, sharing ideas, gaining feedback, etc.) helps foster a healthy work environment which leads to more innovation and development.
Take this a step further and implement remote team-building exercises to limit misunderstandings and help build comradery and inclusion. 
Statista reported that 53% of all businesses worldwide are using a company intranet and the numbers will only continue to increase. As such, we went ahead and created a list of the leading company intranet solutions in the market that you can implement in your company today. 
9 Best Company Intranet Apps in 2021
The Best Solution for Remote Work, SMB, and Enterprise
Connecteam is an all-in-one company intranet software with robust features that eliminate the need to invest in additional solutions. Easily streamline communication, limit unnecessary phone calls, and improve employee productivity with Connecteam's top features. 
As a leading company intranet software, Connecteam promotes transparency, feedback to engage employees, and motivates cultural change. In real-time, Connecteam brings all workplace conversations and collaboration, tasks, and tools in one place.
Employee Recognition & Acknowledgement: celebrate new hires, personal milestones like anniversaries, create an employee spotlight, and allow employees to nominate their peers for awards.
Share Employee Success: send updates on business milestones like bringing new customers, a new location, smashing the goal or KPI set, etc. And also celebrate success stories from customers with letters, pictures, videos, a story, and more.
Put Employees Front & Center: make decisions based on in-organizational surveys, launch a suggestion box to gain feedback and insights, and introduce an open-door policy so employees can directly approach HR or senior management.
Wellness & Benefits: provide all necessary information under one roof that employees can access whenever they need and allow your team to register for company events right from their mobile phone.
Non-serious Communication: use nice GIFs for interactive content, allow people to like and comment to be part of the discussion but in a structured safe organizational environment, and start funny polls like who's your favorite superhero?
A Personal Touch: from senior leadership all the way down, you can share videos from the CEO to every last employee. This is an easy way for front line employees to approach senior management in a structured and control environment.
Price: Pricing starts at just $39/month for up to 200 users. Or you can sign up for the free for life plan!
Free trial: Yes, there is also a free 14-day trial. 
#1 Intranet App
Reach every single member in your team, with fun, dedicated, and measurable communication. Engage your team like never before, reflect your company's culture, and solidify your employer branding with Connecteam's employee communication and engagement app.
Start for free

Slack is an enterprise messaging and collaboration app that many hi-tech companies rave about using for their teams' thanks to its unique interface. Many know Slack for its amazing integration capabilities, the Slack App Directory has over 1,500 apps it can integrate with (Trello, Asana, Zoom, Polly, and more). 
Slack allows for one-on-one and group chat, individual and team audio calls, video conferencing, drag-and-drop PDFs, images, videos, and so on. To invite an employee to join Slack, you need an email address.
Price: Slack has a few pricing options to choose from: free, Standard costs $6.67/month, and Plus $12.50/month. 
Free trial: There is no free trial but you can use the free plan. 
The best B2G solution
Troop Messenger brings your team together so you can collaborate and talk shop on one interface with one-on-one conversations, voice-video calls, screen sharing, audio messaging, group conversations, and so on. Additionally, the user experience is enhanced with file sharing, a preview of files, filtering content, and making favorites. 
Intra-corporate or government teams rely on Troop Messenger the most as its security features and large storage size allow for one-on-one or group conversations, screen-sharing, add video-calls, a desktop app, and more.
Price: Pricing starts at $1/month/user or $5/month/user. 
Free trial: Yes, there is a free 30-day trial. 

From any location, Microsoft Teams allows you to chat, meet, call, video conference, and collaborate. Teams also allow you to access, share, and edit Word docs, PowerPoint, and Excel files. Use Teams on desktop or mobile devices. 
Price: Pricing is similar to Slack – $5 per user/month or $12.50 per user/month for up to 300 users, both include an annual commitment. There is a free version but it does require all users to have a Microsoft account.
Free trial: There is a free plan.

Redbooth allows your team to collaborate on tasks, threaded conversations, and start an HD video meeting. It helps take project management to the next level with Kablan boards, task transparency, Gantt charts, visual project timelines, detailed reports, and more.
Redbooth is available on iOS and Andriod. It can integrate with many solutions like Dropbox, Evernote, Zapier, Slack, Hubstaff, and much more. 
Price: Pricing starts at $9/month per user.
Free trial: There is a free 14-day trial. 

Google developed Hangouts as a communication platform so users can initiate and engage in different communication channel types without much effort. Direct messaging, group messaging, HD group conferencing and voice calls, screen sharing options, supports multiple computing devices, and custom administrative control options are a few features on Hangouts.
Hangouts are available on iOS, Android, macOS, and web. Currently, Hangouts supports 28 languages and each room can support up to 8,000 members. 
Price: Hangouts Chat is offered to G Suite customers at no additional cost. G Suite pricing starts at $6/user/month for Basic, $12/user/month for Business, and $25/user/month for Enterprise.
Free trial: There is a free 14-day trial.

Flock is popular as it allows for team messaging, project management, and more. It organizes all your conversations, creates channels for discussions and meaningful conversation, video calls, employee directory, drag & drop files, share any file type, and integrates with over 30 third-party apps. 
Flock makes it easy to discuss projects, share ideas, and get work done in real-time. You can also add vendors as guests on Flock and specify the chats and channels they can access.
Price: Pricing starts at $6/month/user. 
Free trial: The Pro plan comes with a free 30-day trial otherwise there is a free plan as well. 

Bitrix24 unifies chat, videoconferencing, calendars, workspaces, documents, tasks, and internal communication. It also includes a human resources management system with attendance management, work reports, workflow automation, and employee directory.
Bitrix24 is available on free mobile and desktop apps available for Android, iOS, Mac, and PC. The solution is available in cloud and on-premise with source code access which you can install on your own server and customize as needed.
Price: Pricing is modeled on how many users you need: 2 users cost $19/month, 6 users cost $55/month, and 50 users cost $79/month. 
Free trial: There is a free plan you can sign up for.

Chanty is an AI-based chat app that provides chat, audio, and video calls and screen sharing. Additionally, it allows for some light project management and can turn messages into tasks. Chanty can integrate with Google Drive, Trello, Dropbox, and Github, among others. A fan favorite as it holds everything in one place from organized tasks, conversations, pinned messages, and all content shared.
This solution is available on iOS, Android, Windows, macOS, and Web. 
Price: The business plan starts at $4/user/month and delivers additional features and unlimited members.
Free trial: The free plan is for teams with up to 10 members.
The Final Say On A Company Intranet
It's clear what the advantages are when it comes to using an intranet app. As mentioned above, streamlined communication, better productivity and working relationships, streamlined workflows, massive savings on time, higher employee engagement, and the list could go on. But you get the picture. 
Download any of the 9 intranet app solutions we listed above to better the communication within your organization and with your remote workers. 
Leading Intranet App
Reinvent communication and engagement in your organization with Connecteam's complete set of communication tools.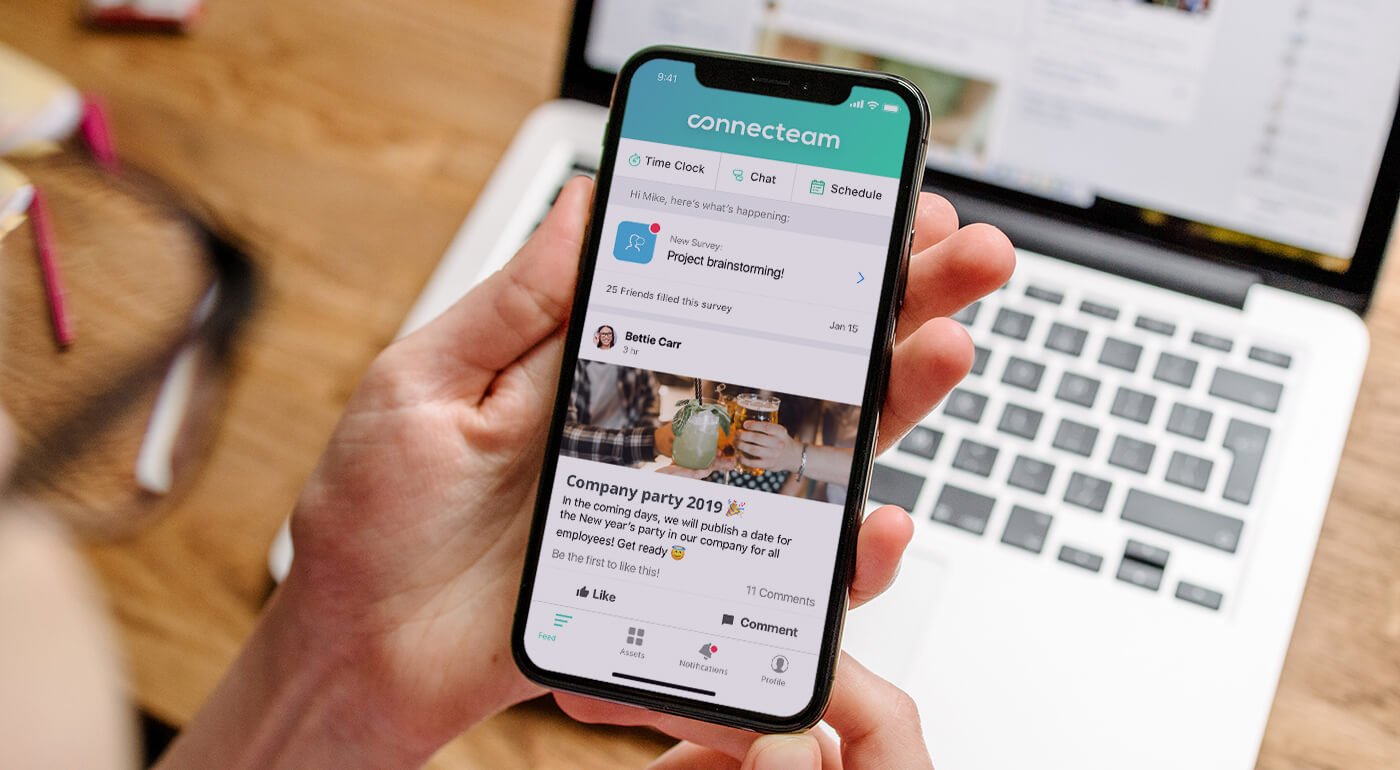 Learn more
Want to get more tips?
Join 20,000+ others who get our weekly newsletter with Business owner tips!