Table of contents
Running a retail business can be a complicated and stressful job. This was compounded by the effects of the COVID-19 pandemic, which shuttered many businesses and even forced some to file for bankruptcy. Now that the global pandemic is slowly coming to a head and businesses reopen, retail business owners will have to make drastic changes to the way they run and operate their business.
For example, daily tasks and procedures were already just as challenging and stressful but after the pandemic, this only escalated. And let's not forget about all the other countless challenges faced. For example:
Training and onboarding new employees and seasonal employees.
Effectively communicating from headquarters with employees throughout several store locations.
COVID-19 compliance and protocols.
Easily and efficiently scheduling employees.
Retail store standardization of visual merchandising.
Employee engagement and customer service skills.
Manual pen and paper processes that are time consuming and can potentially be full of mistakes or errors.
Updating all employees among all retail store locations on company news, announcements and procedures.
With all of the above in mind, retail owners recognized the need for better tools to be able to stay a step ahead. It's now more important than ever to use the right tools and technology to simplify and ease day-to-day operations. Why? For starters, so that employees can focus on providing the best customer service possible. And on the other hand, so that managers can focus on the bigger picture while ensuring that daily operational tasks are running smoothly.
One way to quickly adapt to these challenges in the retail industry is to start using an employee communication app.
A powerful, yet intuitive employee communication app provides the solution to all of these common problems that the retail industry is facing in 2023.
With an employee communication app like Connecteam, retail business owners can efficiently train and onboard new employees, communicate with all employees among all locations, easily disseminate COVID-19 protocols, quickly schedule employees, standardize all branch locations, lower employee turn-over, increase employee engagement, productivity, morale and streamline all daily operations.
In other words, an employee communication app allows retail businesses to overcome daily challenges and streamline daily operations like never before.
We put together a list of the top 7 reasons you should start using an employee communication app to more efficiently and easily run your retail business.
Train and Onboard New and Seasonal Employees in a Flash
According to Forbes, after the global pandemic "businesses were forced to close, and many essential businesses were hit hard by reduced foot traffic. Retailers are struggling to revive their businesses and rehire employees". This created a severe hiring challenge that the retail industry must overcome in order to make a comeback in the years to come.
Furthermore, Forbes notes that "due to staff shortages, some have been forced to be open for shorter hours or fewer days. With reduced cashiers and employees, many businesses cannot keep up with their store management." With this knowledge, it's also time for retail businesses to start hiring more employees to ensure they are not understaffed and can run their business smoothly and efficiently.
In an industry where turnover rates are high, it's important to not spend extensive amounts of time training and onboarding new employees. In order to easily onboard and train new and seasonal employees, retail companies should use an employee communication app. A robust employee communication app will have a digital training and knowledge center where employees can easily access training material and important information with just a touch of a button, at any time, in any place.
Additionally, you can train existing employees with new skills directly through the app. For example, provide employees with more sales training or a course on how to improve the customer experience.
Every person on the floor is a sales person and you want to make sure they are extremely professional, always up-to-date and provide the customer with the best customer service.
An efficient employee communication app should also provide capabilities for upper management or administrators to view the employee training progress or create customizable quizzes to ensure the material is actually being retained. This provides retail business owners complete oversight into the training process and the ability to make appropriate changes if they see it doesn't work or takes too much time.
Download your FREE guide on "10 Tips for Engaging Your Frontline Teams" ⤵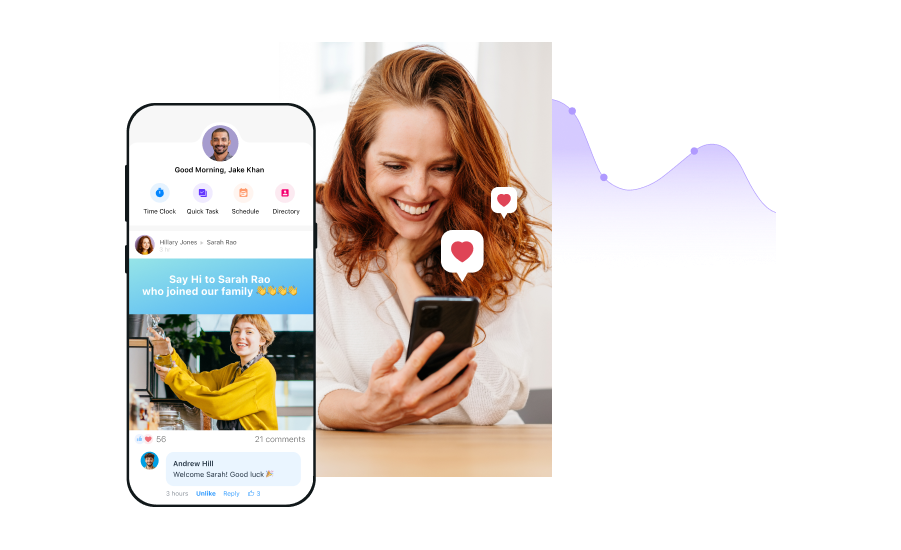 Quickly Disseminate Information From Headquarters, to Store Managers and Everyone In Between
If you own a retail company that operates in several different locations, making sure everyone from HR, store managers, sales departments, visual merchandisers and even cashiers are up to date with current and correct store information is paramount to success.
In order to make sure everyone is on the same page, retail business owners should highly consider an employee communication app that will streamline and expedite communication among all employees.
A proficient employee communication app will alleviate many internal communication challenges retail companies face:
Reach the right audience at the right time by creating separate chat groups and channels based on location, job title, seniority, etc. For example: District and store managers can easily send one-on-one messages to employees or send a group message to all the cashiers, visual merchandisers or sales team.
Reach every single sales associate directly from HQ with the updates feature so that messages don't get lost in translation.
Empower midmangers with advanced permission settings so they can directly communicate with their own team.
An in-app employee directory makes it easy for employees to search for other employees by name, location or job role.
Make internal communication fun and engaging with GIFs, photos, videos and even voice notes. For example, visual merchandisers can easily close the loop by sharing photos or videos to make sure things are done right and at the appropriate standard level.
Try Connecteam Today!
Thousands of retail companies use Connecteam to ease daily operations, increase productivity and employee engagement!
Effortless COVID-19 Compliance
In order to prevent the spread of COVID-19, retail business owners should bear in mind and be up to date on all regulations put forth by their local government. If an employee is feeling sick or has a fever, it's important to let these employees know that they must stay home and not come into work.
With an employee communication app, employees can fill a daily digital COVID-19 form to ensure they do not have a fever, if they have come in contact with someone who has tested positive for COVID-19 and even request time off to get vaccinated. Daily COVID digital reporting will save you time and money by automating communication and form retrieval. As soon as an employee fills the digital form, management will receive a push notification and everything is stored in a digital cloud.
In addition, with justification, business owners can legally require that employees get vaccinated. Specifically, retail industry employees are face-to-face with many customers, so it may be beneficial for you to require your employees to get vaccinated in order to avoid sick days and absences. Keep in mind that you cannot force those who have specific disabilities or religious objections to get a vaccination.
Furthermore, the CDC has now made it clear that while they do encourage wearing a mask in public or closed spaces, that employees and customers that are fully vaccinated no longer have to wear a mask in outdoor or indoor settings, as long as there is proper social distancing among employees and other customers. Regardless, business owners should check out the OSHA and CDC website in order to determine your exact state's rules and regulations regarding vaccines and mask guidelines in regards to your employees and also customers.
Simplify Employee Scheduling
Scheduling employees can become a major headache for retail business managers. Manual pen and paper schedules take time to plan out and you may end up playing hours of phone tag with several employees trying to schedule shifts. 
Making sure the schedule works for all employees and being able to easily communicate with employees to cover shifts can take loads of time and effort, not to mention tons of back and forth calling or messaging. With a digital employee communication app, you can now schedule employees and solve scheduling conflicts right from the palm of your hand and avoid playing phone tag with your employees.
With an employee communication app, retail business owners will be able to simplify the scheduling process in the following ways:
Quick and intuitive scheduling with features like templates, drag and drop functions, quick actions and more.
Your team will always be up to date with push notification for new shifts, canceled shifts, shift changes or even before a shift starts.
Additional advanced administrative capabilities right on their mobile phone so managers can make quick schedule changes while on the go. (However, when behind your desk, you can utilize the desktop scheduling feature instead.)
If scheduling conflicts arise, you are instantly notified and unable to schedule that employee for a specific shift. Easily communicate with employees through an in-app chat to resolve scheduling issues or clarify tasks that must be completed upon an employee's arrival to work.
With the Connecteam employee communication app, you can make sure all team members are on the same page so nothing falls through the cracks, decrease response time and spend less time planning out schedules.
By digitally streamlining scheduling and internal communication and spending less time manually writing out schedules or making inconvenient phone calls, you can spend more time focusing on ways to increase foot traffic, improve your visual merchandising and brand awareness.
Standardize Visual Merchandising Among All Locations
A Chron article describes that visual merchandising is a key factor to a retail company's success because if "done well, it can create awareness while simultaneously increasing brand loyalty. Most importantly, it can draw customers in and close the sale – all based on the aesthetic quality of your retail display". Due to online growing sales, increasing foot traffic, brand loyalty and awareness will be paramount to the retail industry's success in 2021.
As mentioned above, it's important that retail chain locations are standardized and portray the same brand image. With a powerful employee communication app, retail store owners can easily standardize visual merchandising and branding all in one place.
Get messages and instructions directly from the visual merchandiser to the branch locations.
Branch locations can submit a form with images of their setup.
Visual Merchandisers can easily approve and decline layout setup.
Easily oversee execution of visual merchandising
Frederick R. Barnard once said that "a picture is worth a thousand words" and this couldn't be more true when standardizing a retail business chain. Visual merchandisers can quickly send photos and videos to every branch location to ensure that all storefronts, layouts, interior displays, point of purchase displays, bundles, atmosphere, exterior displays, window displays and even seasonal displays are all the same.
By simplifying and digitizing the internal communication process, visual merchandisers and creative directors can quickly and efficiently standardize branch locations; saving your retail company time and money by reducing constant back and forth communication, miscommunication and errors.
Engage and Motivate Retail Employees
Increasing employee engagement, productivity, and motivation is a hard task for any business. Employee engagement, productivity, and motivation has a direct impact on employee turnover, customer service, and satisfaction in the retail industry.
So how do you increase engagement and productivity in the retail industry?
Recognize employees that go above and beyond. With an employee communication app, store managers can shout out and publicly congratulate an employee who exceeded expectations or sales goals. Employees who feel that their hard work doesn't go unnoticed are more likely to push themselves and work harder.
Celebrate success together— share team members achievements, opening of new locations and more.
Build a tone of voice, communicate on more than just operational elements— get the senior management team to send out updates and announcements to the frontline teams.
Ask your employees for feedback. When employees feel that their voices are heard, you increase employee satisfaction.
Act on their feedback. Don't just ask your employees on what can be improved on, but actually act on it and make direct changes and reformations. By regularly collecting feedback and making appropriate changes, like with surveys, suggestion boxes and live polls, you can also reduce employee turnover rates.
With an employee communication app, like Connecteam, management can create fully customizable digital announcements, updates and newsletters to engage and motivate employees.
Streamline and Digitize all Daily Tasks and Operations
It's time to stop manual pen and paper processes and take advantage of new technologies, tools, and trends of 2021. A digital employee communication app gives management the ability to create digital forms, tasks lists and reporting. Instead of writing everything by hand, you can easily send employees a digital form or a task list and monitor their progress, increase team standards, and ensure compliance.
Examples include:
Digitize your store opening and closing checklist
Put protocols in place for end of day cash reporting
Automate maintenance ticket reporting
Damaged product reports
Stock order request forms
Manager observation reports
Customer incident reports
An employee communication app makes it easy to stay in the know with real-time notifications, digitize information flow with automated reports, and know that you have it all filed and in order; making it easy to search for.
Additionally, digital reporting and maintenance ticketing allows management an extra layer of security and control over their retail business. For example, cash flow reporting at the end of the day allows management to view, in real-time, after an employee has counted the money in the cash register. You can further boost security to this by adding read and sign forms to cash flow reports so that an employee must sign and submit the cash flow report before clocking out.

Connecteam lets you boost productivity and standardize your business across the board.
Now That You're Up To Date On Retail Communication…
With the compounded effects of COVID-19 and the increasing popularity of online shopping, being familiar and willing to adapt and adopt new technologies and trends is vital to the retail industry's future success. In order to efficiently train and onboard new employees, quickly circulate company updates, comply with all COVID-19 regulations, improve internal communication processes and streamline daily operations and day-to-day tasks, you should take advantage of digital technology and switch to an employee communication app.
For a business owner, the Connecteam employee communication app gives you complete oversight and control, even when you cannot physically be at your retail store location. Create standardization across your business and reach your frontline teams directly.
With an employee communication app, retail business owners can easily scale their business and operate smoothly and efficiently. To learn more, check out this link and feel free to book a free product tour to see if Connecteam meets your business needs.
Loading...
Want more great articles straight to your inbox? Subscribe Here ⤵