Hundreds of Retail Companies Choose Connecteam to Handle Common Challenges
Every retail manager and owner wishes they had enough time to oversee day-to-day operations, hire and train employees, offer efficient management, manage the total cost of operations, and deliver the best customer service – all while beating the competition, in stores and online. And the online competition is fierce, retail managers understand they need to change in order to play the game. But the problem is that you need more than 24 hours in a day to deliver all these business needs. 
We interviewed hundreds of retail companies who utilize Connecteam every day to tackle these common day-to-day challenges and decided to create a blog that showcases the best practices to overcome these challenges.
Challenges retail companies faced before Connecteam: 
Communication across the board
"Communication between all my retail staff, from management and even bottom to top, is not easy to maintain or even execute because all the employees don't really know one another but they depend on one another to get the job done."
"I just don't have the time to communicate changes – whether it's protocol, an announcement, a new sale, theft or fraud, the employee of the month, new PR efforts, or even a positive review – there isn't enough time. And I don't even have a way to track who got the message." 
As a big retail company, Connecteam's solution is ideal for us. The app and its management system help us to be in constant contact with all the employees of the company, which are located across the country. – Barak Alfital, FOX Group
Keeping employees engaged 
"Keeping my entire staff engaged and motivated to get the job done and provide quality customer service is a tall order. It's just time consuming and usually really expensive. I just don't have the time or money." 
"I struggle to connect with my millennial workers, they expect an instant and robust solution but we just don't have the reach." 
Creating a schedule that works for everyone 
"I feel like I'm wasting too much time on creating the work schedule, it isn't even my job but for some reason, I am dealing with it way too much."
"I play a lot of phone tag with my employees when it comes to creating and editing the schedule, and on the other hand, I'm taking a lot of calls because last minute requests come in and I need to find someone who can cover the shift."
Paperwork is endless and disorganized 
"With so many physical paperwork and checklists to review, it's hard for me to understand that everything was done in the right way and at the right time.
"Whenever we need to update our sales, protocols, procedures and more, we waste a lot of time printing new pages and adding it to the necessary binder. Plus, making sure all the locations have the updated pages is a hassle. Not to mention we aren't even sure all the employees are aware of the new changes."
"An entire day is usually lost because I'm just so busy organizing a day and time that works for everyone to come in and learn a new method or develop new skills. The employees aren't huge fans of training days and I'm not a big fan of organizing them."
"In retail, we have a lot of new hires who leave within the first three to six months so we lost a lot of time on training and on-boarding. We really need a more efficient and quick way to handle training while making sure the employee is professional and ready to hit the ground running."
Connecteam is the best all-in-one solution for retail companies
Connecteam's retail employee app is the perfect solution to have everyone on the same page. Schedule shifts, automate processes, enhance communication and provide an amazing work experience for all your employees.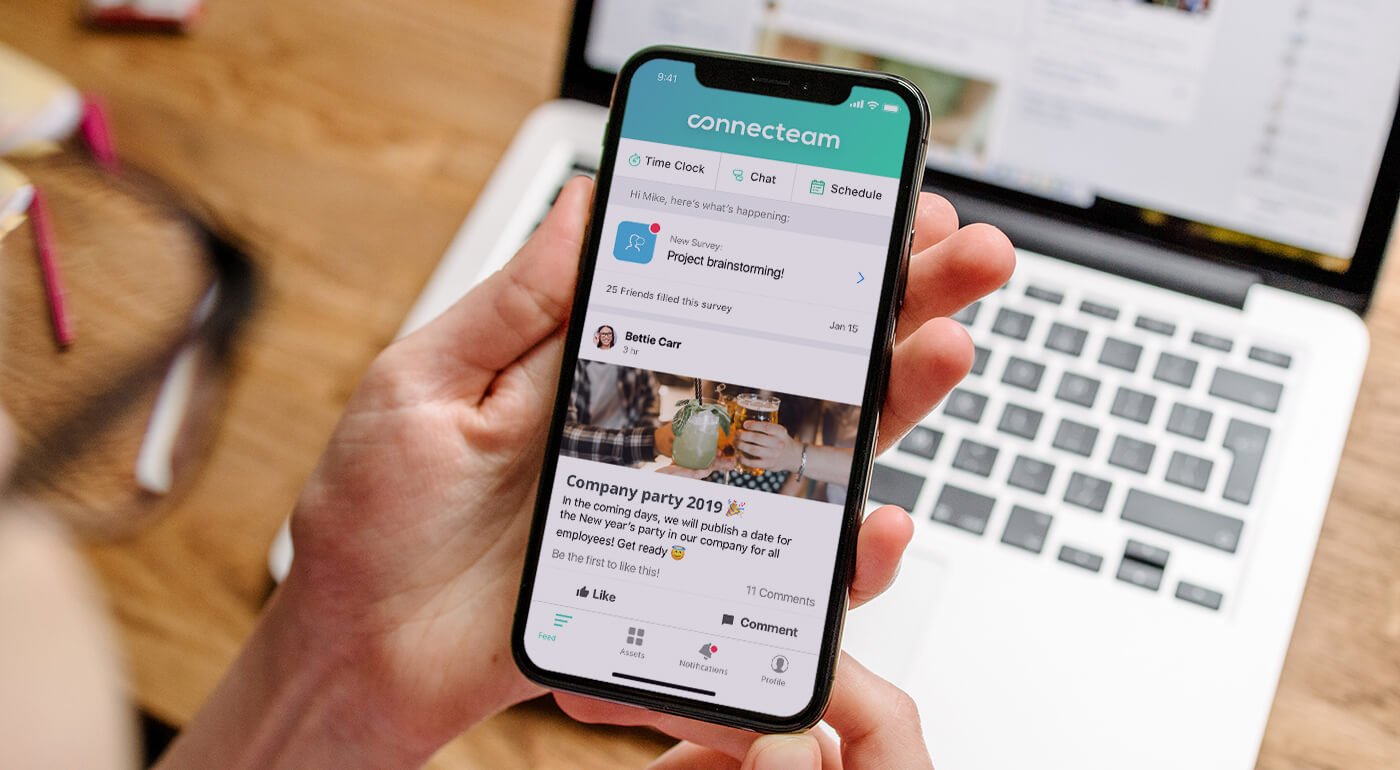 Find out more
How Connecteam helps you tackle common challenges
Automate daily operations
As day-to-day operations are a core element for retail companies, checklists and reports are commonly used to reduce friction from day-to-day activities, automate information flow, improve response time, and gain better oversight. Here are some popular examples:
Store weekly summary report 

End of day cash reporting

Refunds and returns report

Employee purchase record

Expenses reimbursement form

Tax exemption report 

Product expiration check and reporting

Reporting a damaged product 

Auditing Planograma compliance

Reporting virtual merchandise sightings 

Stock order request form

Stock transfer request from one store to the next

Cleaner checklist 

Maintenance ticket
Streamline communication 
Retail companies are heavy users when it comes to communication. Communication takes place at all levels, for example: HQ>Store managers, HR>All teams, Store managers>their employees, between shift managers, etc. Common communication practices include:
Employee directory:

making it easy to find the contact details of team members and managers. Instead of saving the information on their personal phone, it's all kept in the app so employees have access to the latest and most updated contact information. 

Chat groups and channels:

to streamline day-to-day communication easily and efficiently, utilizing internal groups for sites or small teams, professional groups, and separating between 'work' and 'private life' chats.

Realtime push notifications and updates:

for both formal and informal announcements. A few examples include updates from the visual marketing team to store managers, announcements and guidance from HR to the entire team, introduction to new collections, brands or promotions, sharing success stories across the organization, employee recognition, etc.

Raise team standards
In retail operations, team standards play a key role in the success of the company. Retailers build upon Connecteam's capabilities to raise team standards and build an improving culture of excellence. 
This includes shadowing practices during training, manager observation reports to boost standards, encouragement of reporting from employees and communication of success and excellence to distribute best practices among the company.
Manager observation report examples:
Store visit checklist for inspectors (appearance, visual merchandise, team appearance, team service, operations)

Team standards – customer service observation (to be filled by a manager)

Team standards – appearance observation (to be filled by a manager)

Team standards – visual merchandise (to be filled by manager, to include pictures)

Employee performance review
Team member report examples:
Excellent service received (filled by any team member in one of the company's locations)

Visual merchandise sitting (filled by any team member in one of the company's locations)

Customer incident report 
Training shadow practices examples:
Cashier hands-on training checklist (one-on-one to be filled by trainer)

Emergency protocol (one-on-one test for emergency response, such as fire, theft, etc.)

Helping the 'just looking customer' (observation form, for on-the-job-training)
On-boarding new employees
As an industry with high employee turnover rates, on-boarding is a crucial element when it comes to operational efficiency, sales excellence and customer service. Retailers most commonly utilize Connecteam to provide new employees with a structured, clean and simple on-boarding experience that puts everything they need in one place. Some examples include:
Downloading the app prior to arrival in order to gain access to all relevant information and on-boarding guidelines.

Filling user information form (contact details, emergency contact, photo, etc.)

A welcome note and background about the company (usually accompanied by a short video)

Frequently Asked Questions section

On-boarding related paper-work:

Health and safety – watch the video, go through the presentation and sign to acknowledge

Loss prevention policy – read and sign to acknowledge

Employee handbook – read and sign to acknowledge

Uniform agreement – read and sign to acknowledge

Disabilities support policy – Read and sign to acknowledge
Employee training on a regular basis
In-app training is used to reach every single employee and keep track of progress and execution and ongoing trainings. Different job roles will conduct their own related training based on their seniority level and position. Common training practices include:
Point of Sale training

Customer service

Consumer body language

Do's and Don'ts

Operations training (stock management, product quality issues, stock order, etc.)

Visual Merchandise training

Product knowledge – brands, products, collections, promotions etc.

Helping multiple customers at once

Helping the 'just looking' customer

Detecting counterfeit – how to recognize fake bills?

 Health and safety training

Sexual harassment prevention training
Many companies build on their existing training resources – Google Drive, Onedrive, Sharepoint, presentations, etc. – making it all available in one place to the relevant employees.
Stopping loss-prevention and shoplifting
To ensure loss-prevention and fight shop-lifting, retailers often use Connecteam to:
Submit end of day cash report for each POS.

Get all employees to read and sign their loss-prevention policy and also make employees aware of the consequences if they fail to do so.

Fill in 'Loss-prevention inspection forms' and reviewing random high end products

Provide a follow-through protocol for dealing with such situations

Communicate in real time on high-risk individuals and incidents. (Don't open email from, no one approves cash withdraw but, etc.)
Shift scheduling is easy
Retailers often user Connecteam's job scheduling feature to plan manage and distribute shifts. This is usually done at each store individually for their teams.  
Provide all relevant information including time, position and special instructions.

Send push notifications to ensure employees arrive on time and to notify the manager if someone runs late.

Keeping records of clock in and clock out time, along with the location tagged.

Allowing for shift notes, comments and pictures when needed.

Allowing employees to accept and reject shifts (optional – can be disabled).

Better compliance across the board
When it comes to compliance, 'Read and Sign' forms are common, as well as periodical refresher training courses. All documents are logged and automatically sent as a PDF copy to predefined email(s) that can be customized per each form, and users can export a summary report at any time.
Read and sign documents include:
Employee handbook acknowledgment

Health and safety 

Uniform agreement 

Sexual harassment policy
All company protocols are easily accessible 
The most common protocol related resources retail companies usually make available for their employees on the app include: 
Employee Handbook

Health and safety protocols

Code of Conduct

Sexual harassment policy

Uniform policy

Loss prevention policy

Aid to Disabled individuals policy
Human resource needs 
Recommend a friend: making it easy for the workforce to recommend friends for a position which helps increase their recruitment reach.
Vacation and sick leave request management:

users receive an automatic update if requests were denied or approved.

Personal information form for on-boarding new employees:

personal info, contact info, emergency contact, documents such as tax forms /photo ID, etc.

Updating contact information:

address, name, mobile number, email, bank account change.

Employee satisfaction surveys or performance reviews.
Manager forms and materials:

how to conduct an interview, termination related paperwork, the Do's and Don'ts, FAQ and more.
Time tracking is easy to manage
Taking advantage of mobile phone availability, retail companies use Connecteam for time tracking and payroll sheets:
Clocking in and out of shifts, in some cases using a Kiosk station (iPad).

Setting predefined reminders to make sure employees are clocking in and out on time.

To manage and approve leave and time off for employees.

Exporting payroll sheets, per shift or as a total.
Connecteam is used by hundreds of retail companies worldwide and after all the examples we highlighted above, it's no surprise why! Start your free plan today and feel free to message us with questions at [email protected].
Scale your retail company with Connecteam
Find out why hundreds of retail companies rely on Connecteam to tackle daily challenges by signing up for a free plan.
Try for free
Want to get more tips?
Join 20,000+ others who get our weekly newsletter with Business owner tips!