Table of contents
Front-line customer service may not be everyone's ideal job and oftentimes, it is exhausting. Especially when Gallup reported that 13% to 16% of the workforce is actively disengaged, with almost 70% still not even categorized as engaged at work. Employee engagement and motivation is a real concern for many businesses and industries.
In addition, call centers do face a high turnover rate which makes these disengagement statistics above even more alarming.
So what is employee engagement exactly? If you thought it was employee happiness or satisfaction then you'd be wrong. Instead, employee engagement is, "…the emotional commitment the employee has to the organization and its goals." When you have employees who are emotionally committed to the job then you have engaged employees who genuinely care about their job role and their company. Engaged employees aren't just focused on the paycheck, instead, they productively work to deliver the company's goals because they really want to see it succeed.
Now, this might seem like a lot to take on and while you can't erase angry customer calls, you can motivate your agents to enjoy their role and stick around for the long-haul. We rounded up eight call center motivation ideas that won't break the bank and are easy to implement.
Implement The Right Tools
Our first call center motivation idea is a big one: provide your agents with top tools so they can do their best work. It's far too much of a hassle for your team to be jumping from window to window or app to app, aimlessly searching for information, jotting everything down on paper forms, and using a ton of disjointed systems.
Make your agent's workday easier by implementing a single app that connects all your employees and customer workflow.
With Connecteam's employee app, it becomes a lot easier to motivate agents in call centers. How so? It allows you to keep everyone on the same page, to create an effective employee schedule, to easily enhance daily procedures, to boost and better employee engagement and the company culture, to create an amazing internal communication channel, to minimize training costs, to enhance professional skills, and much more.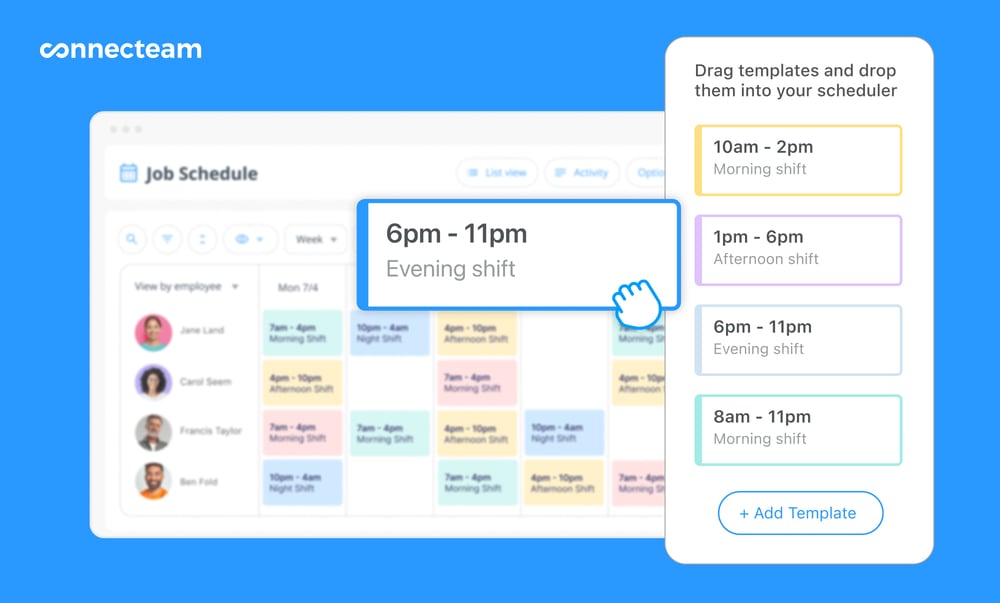 With Connecteam's employee app, you are right where your employees are. These are the most popular and effective features that call center managers have said impacts their day-to-day operations:
Drag and drop feature allows you to create shift templates for different positions and shifts, like morning, evening, etc.
Automatic alerts when schedule conflicts arise so mistakes and errors are quickly corrected
Employees can clock-in on their phone from their shift meaning you have all hours recorded to their individual timesheet so it's ready for payroll
Streamlined internal communication through updates, group or individual chat, surveys, a suggestion box, live polls, and more
Better employee training and onboarding to easily create, share policies with a read & sign option, a fully searchable library, quizzes, and more
Digital checklists and forms that can be done on the go, like employee expense reimbursement, plus employees can sign, attach photo or video, etc.
Looking for a way to motivate your call center agents?
Connecteam helps you build trust, boost satisfaction, better employee engagement, and motivate your team effectively.
Learn more
Offer Rewards And Incentives
When your employees feel appreciated, their self-worth is lifted which leads to more productive and happier employees. Let them know when they make a difference, congratulate them on a job well done, share company news, and celebrate achievements. Recognition isn't complicated to implement either; share news on your company's social media channels, share positive reviews during the morning huddle, send a message via the employee app, and more.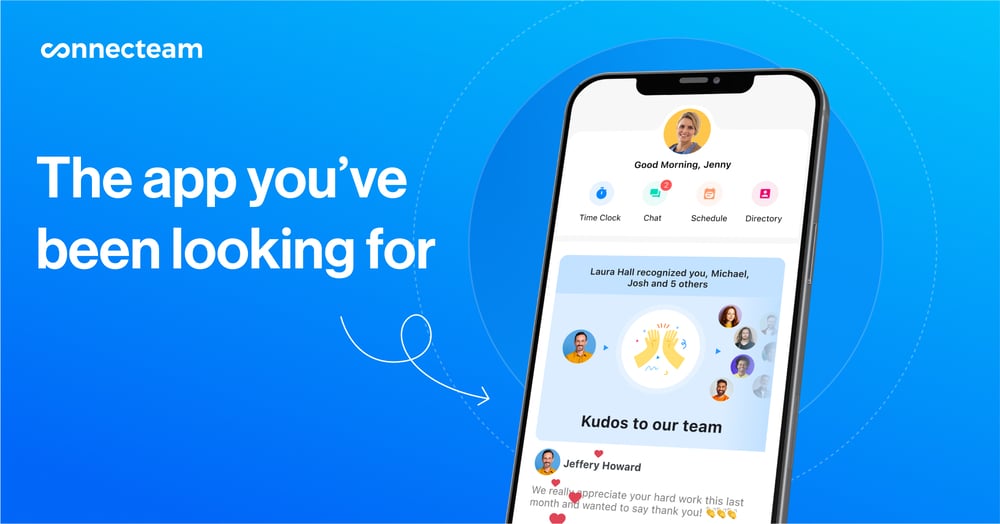 Offer good incentives and rewards to keep your team engaged, happy, and satisfied. As a result, your team is energized and productive, but here's the thing, rewards don't need to be grand or costly – host a team lunch, let your teamwork from home, offer a free Netflix month subscription, bring in puppies and dogs from a local shelter, host workout classes at the office, give them a hand-written note to say thanks, and more.
We want to take it even further and focus on three main points as to why rewards and incentives are so crucial to motivate agents in call centers:
They create happier employees
Taking the time to show your team that their efforts are acknowledged and appreciated helps them feel great about their job role and those positive vibes still carry on even after they clock out. that you acknowledge and appreciate their efforts, they will feel great about what they do and those positive vibes will carry on long after they clock out.
Studies show that, "We find that human happiness has large and positive causal effects on productivity. Positive emotions appear to invigorate human beings."
They build trust and appreciation for management
To create a team that can work together productively, cohesively, and successfully then trust in one another is essential. Once trust is established and reinforced, only then will your business experience less turnover, better morale, less workplace anxiety and can even help improve the products and services of the company. All of which leads to better earnings, stability, and a reputation as a great place to work.
They create company loyalty and lower the turnover rate
All managers and business owners know that onboarding new employees are highly time-consuming and costly. In fact, studies show that estimates of a new hire can cost as much as $3,500 for recruitment and about $1,200 and 32 hours annually in ongoing training. Combined this shows that a new hire could cost $4,129 and about 42 days in lost or compromised productivity. And here's the kicker, according to a U.S. Bureau of Labor and Statistics report, a lot of employees leave their job because they don't feel respected and feel there is a lack of autonomy.
Encourage Feedback And Act
It's vital that managers remember this when wanting to motivate agents in call centers, your employees are involved in everything, from every customer complaint, compliment, and concern. On top of that, they know what works in the store and what customers prefer so make sure you use this to your advantage.
On a regular basis, not just annually, you need to ask your employees for feedback on anything to everything. From customer experience, sales ideas, the company culture, employee experience, and more, just make sure you listen to it all. In addition, if your employees raise serious concerns or problems, then you can tackle this right away before it gets out of control.
If you don't gain feedback, then your company can't grow and instead, you're faced with stifled company culture and frustration.
Never wait for an annual review or an exit interview to gain feedback, instead get it done on a regular basis. 65% of employees believe their company is behind and 82% have ideas on how they can better things, but no one is listening.
Additionally, offer feedback on employee performance as it helps an employees' ongoing development, clarifies expectations, helps employees learn from mistakes, and also builds confidence. Connecteam's employee app allows you to easily create a channel to give and receive feedback on a regular basis through surveys or a suggestion box. Additionally, you can send company updates and announcements and start group conversations or a private chat – with this level of communication in the workplace, you help build trust, boost satisfaction, better employee engagement, and motivate agents in call centers.
Foster Open Communication
When you have open and good communication in the workplace then it's easier to experience the following: mitigate conflict, increase employee engagement, build better relationships, lower turnover, boost productivity and so much more. If you're facing communication problems then our guide on how to improve your communication efforts can offer a starting point.
As a call center motivation technique, open communication and trust create an environment that leads your business to success. Open communication allows your agents to understand their job role and how it brings success to the company. When your employees understand the big picture and their part in the company's success, then it becomes easier for them to understand why certain decisions are made and how those decisions directly impact them specifically and the company as a whole. Not to mention, effective and open communication also keeps everyone on the same page so they're all working in the same direction to achieve the same goal.
Download our free eBook to build your own effective internal communication strategy.
Create SMART Goals
Establishing clear goals for your agents to reach and achieve is a huge aspect of call center motivation ideas. Now goals like handling 8 calls an hour or selling 15 products a day may be totally out of reach and that defeats the purpose.
When you create goals that are measurable and attainable, then you don't have to ask yourself how to motivate call center employees. Take the time to create realistic, attainable goals and include your team in the decision making process. Additionally, provide feedback on a regular basis and help your team out if you see they are struggling or they ask for your help.
Use the S-M-A-R-T method:
SMART goals allow you to keep everyone on the same page, keep the goals public, create a workable timetable to keep your team on track, defines what counts as a success, and allows you to gain feedback in order to optimize your goal setting.
Provide Opportunities For Growth
Your employees should have every opportunity to move up in the company, even if you are a small call center, the opportunity for employee development growth should be on the table. Encourage your agents to grow within the company, for example, the opportunity to learn about marketing so they can run your paid advertising or social media channels. These opportunities allow your agents to feel engaged and motivated while learning new skills so you can keep turnover low and prevent your employees from working for the competition. Plus, your employees are learning valuable skills that can greatly benefit the bottom line.
Managers and supervisors have to acknowledge that their agent's job may only be a kicking-off point at this time in their career. Therefore, make it an awesome experience so your team can improve, grow, and achieve better things within your company walls. When hiring a new agent, ask them what their career goals are. Then make sure to work with them to create a growth path, like through coaching or 1:1s, and you can reference this when checking in to ensure they're on track.
Create A Fun & Warm Work Environment
When considering how to motivate call center employees, the work environment plays a key role. The space your agents work in should be conducive to good performance. It's no secret that everyone enjoys working somewhere nice, a place with clean carpets, working computers and phones, some nice plants, comfortable chairs, a lounge area, and more.
Just think about it, an environment where the office is a bit dodgy and untidy that has equipment that works some of the time and where even the bathroom makes you nervous, that doesn't sound like a place where your team is motivated to clock in and give their all. Instead, you need a clean space that's friendly and has all equipment working properly (if it isn't, there is an effective procedure to take care of it), with a healthy kitchen and smells good, now this sounds like a space where your team wants to show up.
While the example may be slightly extreme, it does make it perfectly clear that when your call center is clean, warm, and welcoming then your agents will want to show up and will be motivated to get the job done.
Team Building Games Are Key
There is no doubt that team building games can help to break up that repetitive routine so that motivating your team is fun. Plus, when someone new joins the team, it's a great exercise to welcome them on-board and meet their new teammates. When you have an objective in mind, it becomes easier to choose the game. Whether it's conflict resolution, communication, team bonding, etc. – a game exists.
Games like: Truth and Lies, Scavenger Hunt, The Mine Field, and more are perfect examples of how you can revitalize the day, offer healthy competition and sometimes you can even offer a huge incentive to the winning team to boost performance.
Wrapping Up Call Center Motivation Ideas
When you implement the eight call center motivation techniques above, your call center is on the right track to effectively motivate your agents. What's more is that by following these tips, you won't break the bank! After you master the above call center motivation techniques then everything will run on auto-pilot.
All-In-One Solution
Everything you need to save time, streamline communication, increase employee engagement, enhance daily operation, boost professional skills and more is available in one place – Connecteam employee app. Sign up for the free for life plan to see what Connecteam is all about!
Discover More
Want to Receive More Great Articles Straight to Your Mailbox? Subscribe Here ⤵