7 Best Call Center Scheduling Software Solutions in 2020
There is no doubt that building a loyal customer base at your business cannot be done without a foundation of engaged, sincere and motivated customer service representatives. 
Just consider the following:
12 – that's the number required for positive experiences to compensate just for one negative experience.
$2.3K – that's the annual amount a disengaged employee costs a business, in terms of lost revenue.
26% – that's the number of call center professions who believe that morale directly affects the customer experience. 
It's numbers like this that show just why scheduling call center employees can't afford any mistakes. One of the biggest challenges facing call center scheduling is ensuring that enough employees have been scheduled for a shift. When too many employees are scheduled during down hours but too few are scheduled during high call volumes, you are only bleeding cash and are definitely not satisfying all customers. You need a call center scheduling app that issues detailed real-time reports so you can create an optimal and efficient schedule week after week. 
What to look for in a call center scheduling app:
The whole purpose of a call center scheduling software is to make your life and your employee's lives so much easier, so don't choose a solution that's so complicated no one uses it. All you're doing with a complicated solution is annoying employees and burning through cash for no reason whatsoever. 
When you have employees scattered across the globe, you need a schedule that's efficient and easy to access. Chances are that every one of your employees has a smartphone so they have full visibility and access to their work schedule 24-7. That level of instant access to their schedule means they can create a healthy work-life balance, plus it's that much easier to catch mistakes or take on open shifts. This degree of satisfaction helps to lower turnover and boosts employee morale. 
When your workplace suffers from a lot of miscommunication, or even a lack thereof, you can experience high turnover, poor customer service, low engagement levels and more. 
In a recent Forbes report, we learned that two of the top five reasons employees are unhappy at work is because of serious communication issues. Therefore, choose a call center scheduling software with built-in communication so everyone can stay on the same page and sharing updates on scheduling matters only requires the push of a button. 
Employees can set their own availability and manage shift swapping with the right call center scheduling software. This level of collaborative scheduling ensures all shifts are fully staffed and makes it easier to approve time off requests. Plus, managers free up around 80% of their time when they share scheduling responsibilities with their employees. 
Most call center scheduling apps comply with state and local labor laws including overtime and sick leave. Receive alerts as soon as an employee hits overtime so you can take care of the situation, sometimes it's as simple as someone forgetting to clock out. 
Via a calendar view, you can immediately see the status of an employee's shift. For example, did they reject or approve the shift? Or maybe they're running late? Have they clocked in and are working to complete the shift? Note that not all call centre rostering software have this feature so check to see if it's an option. 
When needed, employees should be able to easily add notes, free text, pictures, attachments, videos, signatures and more. 
Now, there are plenty of benefits of using call centre rostering software so what are the best solutions in the market? That's what we answer below! Below you will find a list of the top seven call center scheduling apps, we explain the features available and pricing so you can make an informed decision. 
7 Best Call Center Scheduling Software Solutions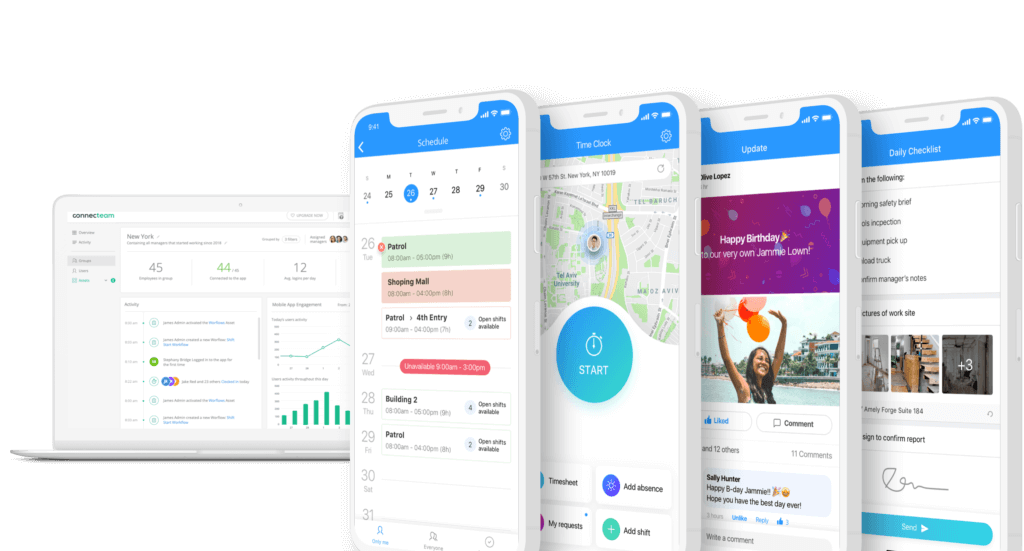 Connecteam's call center scheduling software makes it easy to schedule shifts and dispatch jobs. Create single, multiple or team shifts, or upload bulk files with an Excel sheet. Save time with calendar view, drag & drop options, and copying last week's shifts. Scale workforce operations with the in-app chat and employee directory. Plus, employees can easily add shift attachments like photos, videos, notes, and more.
Manual scheduling takes too much time and effort for call center managers. – which is why so many call centers rely on Connecteam to streamline daily scheduling operations, reduce turnover, and boost engagement to create the best customer experience.
Affordability: Pricing starts at just $29/month for up to 200 users. 
Free trial: While there is no free trial, there is a free plan available!
Spend less time planning and more time doing
Connecteam is your one stop shop to schedule, dispatch and collaborate. Easily schedule shifts for multiple employees, save valuable time and make the most of your workday with a shift planning app that can do so much more.
Start for free
With Humanity's scheduling software, you can monitor employee attendance, export reports with real-time data, create future forecasts, employees can set preferred working hours, shift swapping, and create schedules that align with customer demand and employee availability.
Humanity is available on devices and can instantly alert managers of overlapping shifts, overtime, and other scheduling conflicts.
Affordability: Pricing starts at $2/month/user and requires a $80/month minimum. 
Free trial: Yes, there is a free 30 day trial. 
Whether on desktop or mobile, all your employees have access to their schedule so you can reduce absenteeism and late arrivals. Enjoy features like no more Excel files, automatic reminders, time and attendance included, forecasting, one-click payroll exports, employee self-service and Enterprise compliance. 
Affordability: Pricing starts at $179/month for up to five teams (reams are the employee groups that your company naturally divides into).
Free trial: Yes, there is a free 15 day trial.
When you have a large call center staff that's scattered across multiple locations, Shiftboard can help cover your scheduling needs. With real-time reports, alerts for overtime or cost issues, auto-scheduling, shift swapping, vacation requests, push notifications and more. 
Shiftboard can integrate with many software solutions including Oracle, Dropbox, ADP, Paycor and more.
Affordability: Plans start at $3/user/month.
Free trial: Currently, there is no free trial however you can schedule a free demo.
When I Work is completely free when you have less than 75 users and aren't limited to a single company location. However, the call center scheduling software won't allow you to schedule weeks in advance. Easily create a template you can replicate week by week, navigate simply with drag & drop options, and see who from your staff is available and qualified for a shift. Quickly send notifications on shift changes right from the dashboard to all employees and manage everything from mobile or desktop.
Affordability: Pricing starts from free and goes up to $2.25/user/month. Time and attendance tracking can be added but at an additional cost of $1.50/user/month. 
Free trial: While there is no free trial, there is a free plan for up to 75 users. 
With Sling, you save time creating employee schedules, managing time off, knowing all employees' availability and with convenient shift swapping, you can plan for overtime, reduce absenteeism and late arrivals. Instantly get alerted when you have overlapping shifts or double-booking. Simply save scheduling templates so you save even more time when creating a new one. Plus, employees can clock in and out straight from their mobile phones so timesheets are automatically maintained. 
Affordability: Choose from either $2/month/user or $4/month/user.
Free trial: There is no free trial, however Sling has a free plan for scheduling and communication.
Click has a highly useful feature known as forecasting, through its Computer Telephony Integration (CTI), it can process call data to create accurate planning of every single call types, times, duration, volumes, and customer information. This allows you to schedule staff based on real data so you always have enough people working. 
Affordability: Contact a Click representative to learn more about pricing. 
Free trial: Speak with a Click representative to find out if a free trial is available.
Choose the call center scheduling software that's best for you
Out of the seven call center scheduling apps we have listed above, the right fit for your company and your employees can be found. With one of these software solutions, you can create a fair and balanced schedule that works for everyone and ensures the best customer experience. 
Create a schedule that works for you
Employee scheduling is super easy with Connecteam's employee scheduling app, especially when running a call center. Easily and quickly add shifts and publish to employees with a single click. Save time and keep everything organized – find out what other scheduling features Connecteam has to offer.
Find out more
Want to get more tips?
Join 20,000+ others who get our weekly newsletter with Business owner tips!