Seeing how your employees spend their working hours helps identify time theft and other bottlenecks that can lead to missed deadlines. Below, we look at 6 popular time tracking methods so you can decide which one works best for your company.
Table of contents
Time tracking gives you insight into how employees spend their time when they're on the clock. You can ensure that they're completing tasks as planned and sticking to deadlines.
It also helps with better resource allocation and allows you to check and control overtime hours.
Moreover, with an accurate way of tracking hours, you can pay workers correctly—preventing disputes and payroll errors.
With the right time tracking methods, you can capture when workers clock in and out of work, have rest breaks, and take time off.
We look at 6 popular ways to monitor time so you have everything you need to pick the best one for your team.
Key Takeaways
Time tracking is key to understanding how your team is spending their time.
You can track time using paper and pen, the honor system, punch cards, or calendars. However, these methods are manual, time-consuming, and don't provide insight into tasks.
The spreadsheet method is popular and makes it easy to create timesheets. But, it's still a manual process to enter every worker's data into 1 sheet to identify trends.
Using time tracking software is the best method to record time, create timesheets, and identify trends.
What Is Time Tracking and Why Is It Important?
Time tracking refers to the practice of recording the amount of time spent on tasks, activities, or projects. It involves documenting the start and end times of work—often including rest breaks, meal times, and other time off.
You can track time either manually using paper and pen, spreadsheets, calendar entries, and more. Alternatively, there's software that simplifies and automates the time tracking process. You can track time daily, weekly, once in 2 weeks, or even customize time tracking to the needs of a project.
Tracking employee time has several benefits for an organization. It helps you:
Maintain a productive workforce
Time tracking gives you complete visibility of how your workers spend their scheduled hours. You can spot workers who are consistently late or absent. Plus, you can identify and address time theft or when workers use their time unproductively.
Tracking time also helps you spot where employees need additional help and resources. For example, if a team always takes longer to perform tasks, they may require more training or support. Once identified, you can quickly resolve these issues to ensure your workers remain productive.
Allocate workload efficiently
Understanding how different workers spend time across projects helps with better resource allocation. For example, you could assign your fastest workers to projects that have quick turnaround times.
Further, you can identify projects that are progressing more slowly due to understaffing and assign extra workers to these shifts. Additionally, knowing workers' availability helps you plan in advance. This way, you have enough staff on the job even when employees are on leave.
💡 Pro Tip:
You can use a tool, such as Connecteam, that will show you workers' qualifications in addition to their availability. This way, you can make the most of your team's time and ensure that you've got the right people on the right jobs.
Read our guide on getting organized with an employee availability form. (It includes a free template!)
Reduce errors in payroll and client billing
Timesheets tell you what your workers' compensable time is. Use this data to create payroll reports that correctly reflect your workers' efforts. This helps reduce costly payroll errors and time-consuming disputes with workers about time spent.
Similarly, having a clean record of hours worked helps you with creating accurate customer invoices. With everything in black and white, there's a lower chance of disputes with customers over billable and non-billable hours.
Stay compliant with labor laws and regulations
Finally, time tracking ensures that workers are taking the time off, rest breaks, and meal times required by labor laws and regulations.
Plus, employees get the downtime they need to prevent burnout and are therefore more energized and productive at work.
Also, by monitoring hours, you can control employee overtime. This way, they aren't overworked, you save money on overtime costs, and your company remains compliant with overtime laws.
Different Types of Time Tracking Methods
There are several ways for you to track your employees' time. We've outlined the 6 most popular methods (in no particular order) below.
Paper and pen
Method
Workers use a notebook or diary to note down what time they started and finished a task, activity, or project. You'll need to collect all time entries and manually create timesheets that can be used for payroll.
Pros
Easy to do and inexpensive
Can be done from anywhere and doesn't require internet
Cons
Difficult for managers to verify time entries
Time-consuming, manual, and prone to errors
Papers can be easily misplaced if not stored safely
Difficult to create reports and analyze trends and themes
The honor system
Method
This method relies on workers using their own estimates of how much time they spent on a project. You have to trust your workers' rough estimations and pay them for the hours they said they worked using their hourly rate.
Pros
Easiest time tracking method
No costs involved and no materials required
Cons
Unreliable and highly prone to errors
No way for managers to verify hours
No data to create or analyze trends
Less credibility with clients without records of billable hours
Using a spreadsheet
Method
This method has 2 options:
Woorkers record their time using pen and paper. You then manually enter the time data into a spreadsheet template for storing and analyzing.
Workers enter their data using a spreadsheet template, such as from Google Sheets or Microsoft Excel, you can send to them by email.
Option 2 is the more popular method today.
Spreadsheet templates usually contain columns for:
Worker's name
Date
Task/activity
Start time
End time
Time taken for breaks
Overtime hours
Total time worked
Managers can add columns showing their hourly rates and calculate the amounts due in payroll.
Pros
Captures time spent across tasks and includes breaks
Can use built-in graphs and charts to identify trends
Cons
Workers still need to enter time manually into the spreadsheet
Managers can't verify ‌time entries
Need to manually add all data into 1 sheet for team analysis
Excel isn't user-friendly on mobiles so can be prone to errors
Calendar-based tracking
Method
You create a fixed work schedule, including breaks for your workers, using a digital calendar. Working hours are calculated by looking at what time slots in the calendar were blocked off for work. Calendar entries can be labeled to reflect the task or activity, and notes can be added for additional context. Workers are then paid their hourly rate for the number of hours they worked according to the calendar.
Pros
Easy to visualize how time is spent across tasks
Notes can be added to entries for additional context
Cons
Difficult to track exactly how time was spent during work hours
Doesn't prevent time theft
Managers will need to manually create timesheets and payroll reports
Managers can't track task progress in real time
Punch cards
Method
All workers are given "punch cards" that they have to insert into a specific physical time clock when they clock in and out of work. The time clock stamps the punch card with the time of entry and exit from work. Employee hours are calculated using the punch cards, and you can create payroll reports using hours worked and their hourly rates.
Pros
Physical evidence of punching in and out prevents disputes
Straightforward and easy to use
Cons
Susceptible to time theft and buddy punching
Timesheets and payroll reports need to be created manually
Doesn't account for rest breaks and meal times
Administratively heavy to store and manage employee punch cards
Time tracking software
Method
With time tracking software, such as Connecteam, workers clock in and out of their shifts from anywhere using a time tracking app. You can often verify that workers are where they need to be using real-time GPS functionality.
Timesheets are created automatically using time entries and routed to you for approval. Once approved, you can integrate them with payroll software for quick and easy employee payments.
Pros
Easy to use and access remotely
Time entries are stored securely in the cloud
Workers receive automatic reminders to clock in and out of work
Timesheets are created automatically and are less prone to errors
Managers can verify entries easily using GPS technology
Custom time and attendance reports are created automatically
Cons
More expensive than other options
Which Time Tracking Method Is the Best?
The best way to track time on projects and record overall work hours is to use time tracking software. These tools simplify every aspect of the process, saving you and your workers a ton of time and effort.
Here's how time tracking apps compare to other methods:
Recording time
Workers simply need to clock in and out from their time tracking app, eliminating the hassle of manually recording time with pen and paper or with Excel. They can even punch out during rest breaks and meal times so that time entries are accurate down to the second. This differs from punch cards, which typically capture only start and finish times at work.
Time reporting apps also let your employees record time from anywhere using a desktop or mobile device. Plus, they're sent automatic reminders to clock in and out, decreasing the chances of them forgetting to do so.
Verifying time entries
The best time tracking software comes with GPS location tracking tools so you can track your employees' real-time locations during work hours. This way, you can verify that they're on the right shifts when they clock in.
Some apps also enable you to verify entries using geofencing. Geofences are virtual boundaries that can be set around work locations. Workers are restricted from punching in before they enter their geofence. This means time data has already gone through a layer of verification before it comes to you.
Creating and storing timesheets
Time tracking apps generate automatic digital timesheets from the time entries that are recorded. This requires no time or effort. Moreover, it reduces errors compared to the paper and pen or honor system methods, where you have to manually create timesheets yourself. The calendar method also requires that you manually enter hours worked by looking at calendar entries.
Additionally, time tracking apps store timesheets securely in the cloud. You can easily reference them for any future disputes with employees or customers. This is a much better solution than having to store paper copies of timesheets.
Running payroll
With employees' pay rates and hours worked already in the system, payroll reports can be created quickly and easily using time tracking apps. Many apps also integrate with payroll software for quick and seamless payments with fewer errors.
💡 Pro Tip:
Some apps may not integrate with the payroll system your company uses. Look for software that makes it quick and easy to export timesheets to use with your preferred payroll provider.
Analyzing trends
Time tracking can help you identify trends and address any areas of concern when it comes to overall time management. But this is difficult to do without time tracking software.
With paper and pen, honor, or calendar methods, you can't see how employees are spending their time. These methods don't give you information about what tasks and subtasks were worked on, for example.
Also, sometimes you may want to analyze themes at a team or company level. To do this, you'll need to manually enter all your workers' time entries into 1 spreadsheet so you can identify trends. This is both effortful and time-consuming.
Using time tracking software is the best way to track time on projects and identify trends and potential issues. It lets you create custom reports in minutes, and you can see time and attendance histories. You can also view reports that show you how time was spent across projects, tasks, and locations.
How to Choose the Right Time Tracking Software
When you're choosing between time tracking software, there are several factors to consider.
Firstly, there's ease of use. The idea behind these tools is to simplify the time tracking process. If your employees find the system too complex to use, they're unlikely to use it consistently—if at all. Not only will this mean that you're not getting what you're paying for, but it could also lead to costly and unnecessary errors in your quoting, invoicing, and payroll.
It's also important to choose an app that integrates easily with other tools you use. This way, you won't need to switch between multiple apps to complete your tasks.
Your budget is also a key consideration. Some solutions are more expensive than others and don't always provide the extra features that you may need.
Here are some of the features to look out for so you can choose the best time reporting tool for you.
Intuitive, accurate time clock: Workers should be able to punch in and out of their shifts easily from anywhere. Connecteam even sends clock-in and out reminders when workers are starting or ending shifts.
GPS location tracking: You can track your workers' locations in real time while they're on the clock. This helps you ensure everyone is where they need to be—preventing time theft and buddy punching.
Digital timesheets: Look for platforms that generate automated timesheets using employee time entries. You should be able to view and approve them for extra verification.
Seamless payroll integrations: Built-in or integrated payroll solutions enable you to make faster payments with fewer errors. For example, Connecteam integrates with QuickBooks Online and Gusto so you can easily pay your staff.
Time off tracking: Features that let you view and approve time off allow you to plan ahead and assign shifts efficiently. Visibility of rest breaks also ensures that workers get the downtime they need and you comply with labor laws.
Shift scheduling features: A good time reporting tool will also have shift scheduling features. This lets you create and assign shifts based on employee availability and preferences, so you can be sure your team is always staffed.
Reporting and analytics: You can track time and attendance data across workers, tasks, projects, locations, and so on. They provide you with insights that you can use to maximize productivity and identify any areas for improvement.
Track Your Time with Connecteam
Connecteam is the best all-in-one time and attendance tracking solution. It captures employees' working hours—including rest breaks and time off. It also lets you view workers' real-time locations so you have better visibility and control over your team.
Let's dive deeper into Connecteam's time tracking features.
GPS-enabled time clock and geofencing for accurate, verified time entries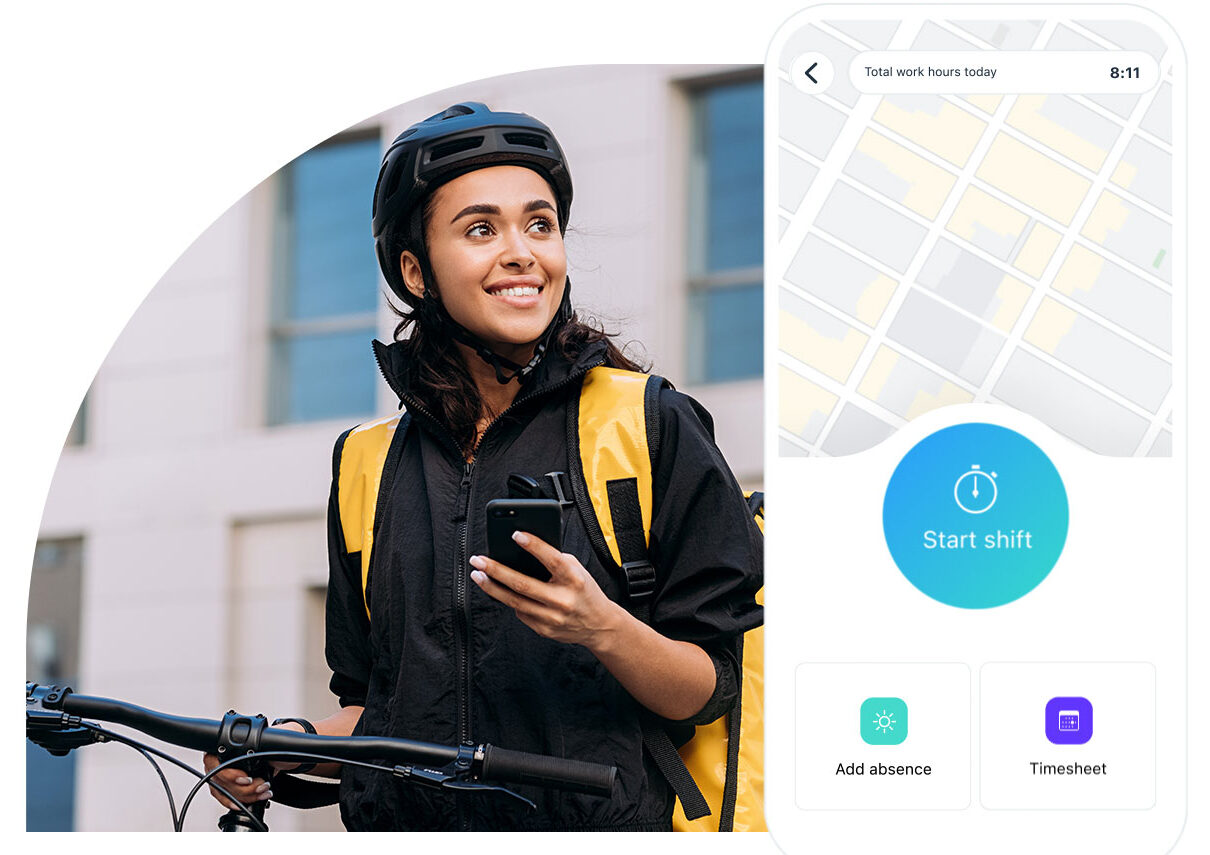 Connecteam's time clock lets workers clock in and out of their shifts with a single touch from their desktop or mobile devices. If your team operates from a single location, the kiosk functionality enables workers to punch in and out from a single, shared device. You can also set up multiple kiosks for different locations. 
The time clock also has built-in GPS software so you can verify workers' on-the-clock locations. This helps prevent buddy punching—where employees clock in for their coworkers.
With Connecteam, you can also set up geofences. Workers are sent auto-reminders to start or stop tracking time when they enter or exit a geofence. Additionally, they're restricted from clocking in unless they're within a geofence. This prevents time theft and saves you from paying them beyond their work hours.
Set custom rules for time off, rest breaks, and overtime
With Connecteam, you can set custom time off policies—including personal leave, vacation days, sick days, and more. You and your employees can view their time off and attendance history, plus how much time off they have remaining. Time off requests and approvals can also be made easily using the app.
Connecteam lets you create policies for rest breaks and include breaks into employee schedules. Smart alerts notify you when employees are going into overtime, and you can approve or deny overtime requests easily from your device. This way, you can stay compliant with labor laws and regulations.
Reduce payroll errors with automated timesheets and payroll integrations
Connecteam automatically generates employee timesheets using time entries. These also account for time off, rest breaks, and meal times, making them accurate down to the second.
From your central dashboard, you can spot and correct errors and approve timesheets before they're used for payroll reports. Connecteam integrates with payroll software such as Gusto and QuickBooks Online for quick and accurate payments.
Assign shifts and make adjustments in minutes with employee scheduling
Connecteam's drag-and-drop scheduling tool lets you create and assign shifts in minutes. Workers can share their location and availability preferences so you can assign jobs as efficiently as possible. Employees can even pick from open shifts with or without approval. You can also see workers' qualifications so you can put the right employee on the right project.
Last-minute absences or changes can be addressed with easy shift swapping within the app. Impacted workers are sent smart alerts to notify them of scheduling changes. You can also use the in-app chat to communicate directly with them in real time.
Tools for task management, reporting, and more
In addition to these features, Connecteam has task management tools that let you create and assign tasks and subtasks to employees. You can send reminders and track progress in real time so you know how workers are spending their time.
Plus, Connecteam's custom reporting feature enables you to view detailed reports on attendance, time spent on projects and tasks, labor costs, and more. You can promptly spot and address tardiness, absenteeism, or inefficient work.
Connecteam also offers many more features for communication, training, HR management, and more. It's a one-stop shop for all your work management needs.
Paid plans start as low as $29 per month for up to 30 users. Small businesses with fewer than 10 users can use Connecteam completely free forever.
You can sign up for a 14-day free trial to explore all of Connecteam's features before upgrading to a plan of your choice.
Conclusion
Without an effective way to track time, your company can face time theft, inefficient work, missed deadlines, and more. You need to monitor how workers spend their time, identify any areas of concern, and pay workers correctly for their contributions.
There are several ways to track time. Paper and pen, honor, and calendar methods are time-consuming, prone to errors, and don't give you insight into how time is spent. Spreadsheets, while popular, gather data only at the individual level. It's an effortful task to collect team or company-wide data into a single sheet to analyze trends.
Time tracking software simplifies the process of clocking in and out, creating timesheets, making payments, and spotting trends. Connecteam is the best time tracking app on the market today. It offers features such as a single-touch time clock, GPS location tracking, automated timesheets, and more.

Get started with Connecteam for free today!
FAQs
How do you track time for a team?
You can collect each individual employee's time card and manually add the data into a single spreadsheet to track time for your team. A better way, however, is to use time tracking software like Connecteam to save you time and effort. Its reporting tools will let you track time spent across your team or even by projects, locations, and more.
How can employees benefit from time tracking tools?
With time tracking tools, employees can see how they're spending time across tasks and projects. They can identify what's working well and where they can improve. Some solutions also account for rest breaks, overtime, and time off so employees can check that they're getting the breaks they're entitled to.
Want to Receive More Great Articles Straight to Your Mailbox? Subscribe Here ⤵