"Time is money" goes the saying. Yet, contrary to what many small business owners assume, the integration of a time clock solution in your business doesn't have to be a complex and costly project. Affordability, ease of use, and implementation speed are just a few of the reasons why web-based and mobile time clock apps are the go-to solutions for small businesses today.
Who needs a free online time clock?
In short? Everyone except Superman and Supergirl, as both can make the world spin backward and effectively stop time. From freelancers to contingents seasonal workers – pretty much anyone can benefit from improved time tracking capabilities. For managers, it's not just about knowing who showed up for work and how long they were there. Many of the available solutions offer features like geo-tracking, employee scheduling, vacation, and sick leave absence monitoring, and analysis of time spent performing specific tasks.
For remote, mobile and deskless employee attendance management, online time clock solutions are especially useful and efficient. They're within reach of the employee anywhere with an internet connection, and they give real-time information for managers to keep track of productivity levels in their dispersed workforce. Even if you manage a small team of 10 employees or less, implementing a time clock solution still makes sense. Even if it's just to get rid of those annoying timesheets and excel spreadsheets.
Working with pen and paper can create problems you're not even aware of, plus it's a tedious task to take on yourself. With an online solution, you are presented with invaluable data and insights into how work time is used by your employees, so you can make well-informed strategic HR decisions.
Apart from just tracking the time, these security features are also necessary to avoid loss. The research performed by TSheets says that one in two employees has admitted for the time theft and 16 % have admitted for the buddy punching.
Plus when it comes to the payroll, a time clock online will reduce processing costs by a whopping 80%. How is that possible? By automating the work, you are reducing errors caused by manual labor. Let's remember that laws are constantly changing and are becoming complex, that's how a time clock online makes sense.
"Switching to an online method has taken away the chronic lateness of my employees and allowed me to build trust and accountability with them instead." Katie Shernan, Port Plum
The tricky part is choosing the most cost-effective and suitable solution for your business and employees. But that's why we're here.
Top 5 Free Online Time Clock Solutions
Connecteam is the best free time tracking app, especially for businesses with deskless employees. As a free solution, you can do so much more than track your employee's time. With Connecteam, you can also communicate and engage your team, share work schedules, organize tasks, onboard new hires, boost professional skills, share documents, and more.
For efficient time tracking, employees can clock in and out with a GPS time stamp, request time off, view current and past timesheets, and add notes while on-the-go. Did we mention that the free plan allows up to 50 users?! Talk about a no-brainer.
Click here to read more about Connecteam's time clock features.
More than just clocking in and out
Connecteam's time clock app has all the right tools for your employees. Clock in and out, request absences, view current and past timesheets and add notes are a few features that can be done on-the-go. Start tracking time for free!
Start for free
ClockInEasy is a cloud-based time-tracking and timesheet solution with a free version that lets you add one user. It also includes timesheet, labor compliance, GPS tracking, and payroll management. The dashboard is super useful for gathering reports of hours worked. Some users have reported that the tablet version isn't the easiest to use, however.
OnTheClock is a web-based time tracking solution that has a free version for businesses and allows you to add up to two employees. It offers GPS tracking, geofencing, payroll reporting, leave management, and project costing functionalities. Although the reporting feature isn't as functional as users would like.
Homebase is a cloud-based employee time-tracking solution that offers a free version. You can track all the employees working at a location with GPS functionality. Plus, you can track paid and unpaid breaks and if relevant, tips. The features in the free version include employee scheduling, time clock, recruiting, and reporting.
Time Clock Wizard is a cloud-based time clock software that lets managers add employees, track hours worked and leave time, and calculate salaries accordingly. With the free version, you can add up to three users and you have access to the employee time-tracking functionality. The free plan also includes an email support option.
After you finished going through the list of free online time clock solutions, you now need to choose the one that best fits your business needs. If you're still not sure, check out these 8 tips below to make the process even easier.
8 Money-Saving Tips for Choosing a Free Online Time Clock
1. The price of free
Since you're looking for a free time clock solution, I am going to assume budgetary constraints are an issue. Many online time clock solutions offer free trial periods, but that's all those are – trials. After a limited time, you'll be asked to pay up, usually with a monthly subscription fee. Even though the website says "free", it's usually followed by the words "trial period" which means that their freedom is short-lived.If you're searching for an online time clock that is really free, look for one that offers the basic functionality you need, and demands a subscription-only for advanced features and add-on capabilities.
2. Defining what you need a free online time clock for
Before you look for solutions, define the problem to solve. Consider the characteristics and goals of your business. Also consider, how you can improve by integrating a free online time clock, and what might be the obstacles to successful usage. For example, the manager of a plumbing business can enable location tracking on the time clock app on their worker's phones. With better data on the exact time, it takes different plumbers to fix specific problems at a client's site, managers can optimize manpower efficiency and scheduling. Doctors and nurses can log the number of hours spent with each patient to ensure everyone gets the attention they need. Try answering the following questions before you start your search:
Are you looking to just track the time employees are at work or do you also want to track the time spent on each task?

Do you need to know where your employees are doing their job, in addition to the when?

Is network connectivity always available where they work? How will they log their time when offline?

How many users will need to access the system?

How much access to the free time clock do employees have? For example, can they request time off or view their timesheets?

Do they have their own device (mobile or PC) that is compatible with the time clock solution you choose, or will you have to supply them with one?

Do you need the time clock solution to integrate with other software or tools, like payroll management software?
Once you've answered the above questions, the process of choosing a free time clock online suddenly becomes more focused and easier.
3. Understanding your employees
Keep in mind that you're not the only user of your online time clock solution. Consider your employees' abilities, needs, and habits – for better or worse. Do they have the basic technical proficiency to use an online system to track their work hours? Will they be honest in their reporting? Will they remember to use the software?
If the answer to these questions is "No" that doesn't mean you need to push on the brakes and go back to your excels. It just means some education will be needed for those who are worried about the technological change. And for others, an assertive nudge will usually remove any remaining obstacles. Nobody likes feeling watched and tracked but remind them that this is what it takes for your business to be productive and for them to be modern professionals. 
Offending an employee is not as bad as having inefficient or dishonest workers in your team. You must be crystal clear as to why you're using this free time clock and why your employees should care – show them the benefits of using the free online time clock. Don't just jam it down their throat. When your employees understand why they need to use the free time clock then they won't fight you on it, but will instead appreciate it more as it offers them peace of mind as well.
It's important to note that a free time clock gives your employees constant access to payroll estimates and a summary of hours worked from any location and at any time. This level of transparency while help builds mutual trust and will offer a sense of reliability going forward in the employee-employer relationship. That alone is the icing on the cake when it comes to using a free online time clock.
However, If you suspect some of your employees might use a "buddy punching" scheme to steal work hours from you? You need to address the possibility when choosing your attendance tracking solution.
Let's address that "buddy punching" scheme for a quick minute. Employee fraud does happen (clocking in when they're not really at work or asking a friend to clock in for them) but the use of a time clock online can help to reduce fraud. For instance, if the time clock online has GPS tracking, you know exactly where the employee was when they hit "clock in." That way, your employees can no longer clock in if they're grabbing a coffee but instead have to be at the office or work site.
4. Data Integrity & Security
Now this will come up. Imagine if you lost a week's worth of time clock and timesheet info. That would honestly be a terrible week. Time clock data is precious, so you don't want it tampered with, destroyed or lost. When selecting a time clock online, be sure to check what security and backup options are included. You might also want to export data for local backup, or check historic records in the system, so consider the fate of the information when choosing the service that stores it.
5. Ease-of-use and Implementation
There's no such thing as free meals. Even free solutions require time. And time is money. Customization, training, maintenance and even the time employees spend clocking in and out – all of these require time. That costs money. So when choosing a time clock online solution for your business, consider these expenses. By implementing a time clock online that's easy to use and has a user-friendly interface, your employees won't roll their eyes at the new tracking system but instead, will embrace it.
By testing a free solution, you'll be able to assess the usefulness of time clock software for your business without spending any money. This will make it easier to persuade stakeholders of the value of investing in a paid time clock solution later on.
6. Mobility
A good time clock online keeps your data safe, is easy to implement, and offers many useful features. A great time clock also has a mobile app. Actually, this is a must in our minds. Modern workforces are increasingly flexible in time and location. So time management has to be able to move with them. An online time clock that doesn't offer a mobile app is a no-go. If you want to offer your employees any kind of flexibility or you manage deskless and remote workers then a time clock mobile is a necessity.
Plus, a lot of these free time clocks offer a GPS time stamp that shows exactly where an employee was when they clocked in and out via the mobile app. This level of transparency ensures that employees are where they say they are when they are working. (You don't want someone clocking in while they're picking up their coffee order!) So if you're in the field of construction or transport, it's vital you know your employees aren't pulling a fast one and that's where GPS tracking comes in.
7. Service and Support
The time clock online might be free of charge, but it isn't always free of issues. Responsive support, quick service, and frequent product updates are important to consider. You and your employees should be able to contact someone if any issues should arise so that you don't lose any more time trying to figure out a solution yourself.
8. Create Your Own Branded Time Clock App
When you choose a time clock app, definitely consider all of the above but here's an added consideration: branding. Remote and dispersed employees are frequently disengaged and out of touch with your company culture, and sometimes the only connection they have with the home office is through technology. You can leverage your time clock online app and instead get a fully branded mobile app for your employees that already includes not only a feature-rich time clock, but also to-do lists, event scheduling, training, and product management features. Creating your own branded employee can make a lot of sense and also provide some added value.
When your free time clock resembles your company's look and feel, employees will rally behind using it as it's more comfortable and native. Embracing change can be hard so when you can create a free online time clock that matches your company color and overall "atmosphere", it's that much easier to convince employees to use it on a regular basis.
With Connecteam, time tracking has never been easier
Easily track and manage your employees' work hours on jobs and projects (with a GPS time stamp), improve your payroll process and collaborate with your out-of-office employees like never before. From the app, your team can also request absences, view current and past timesheets, and add notes. So why not use the best free time clock? It's a no-brainer.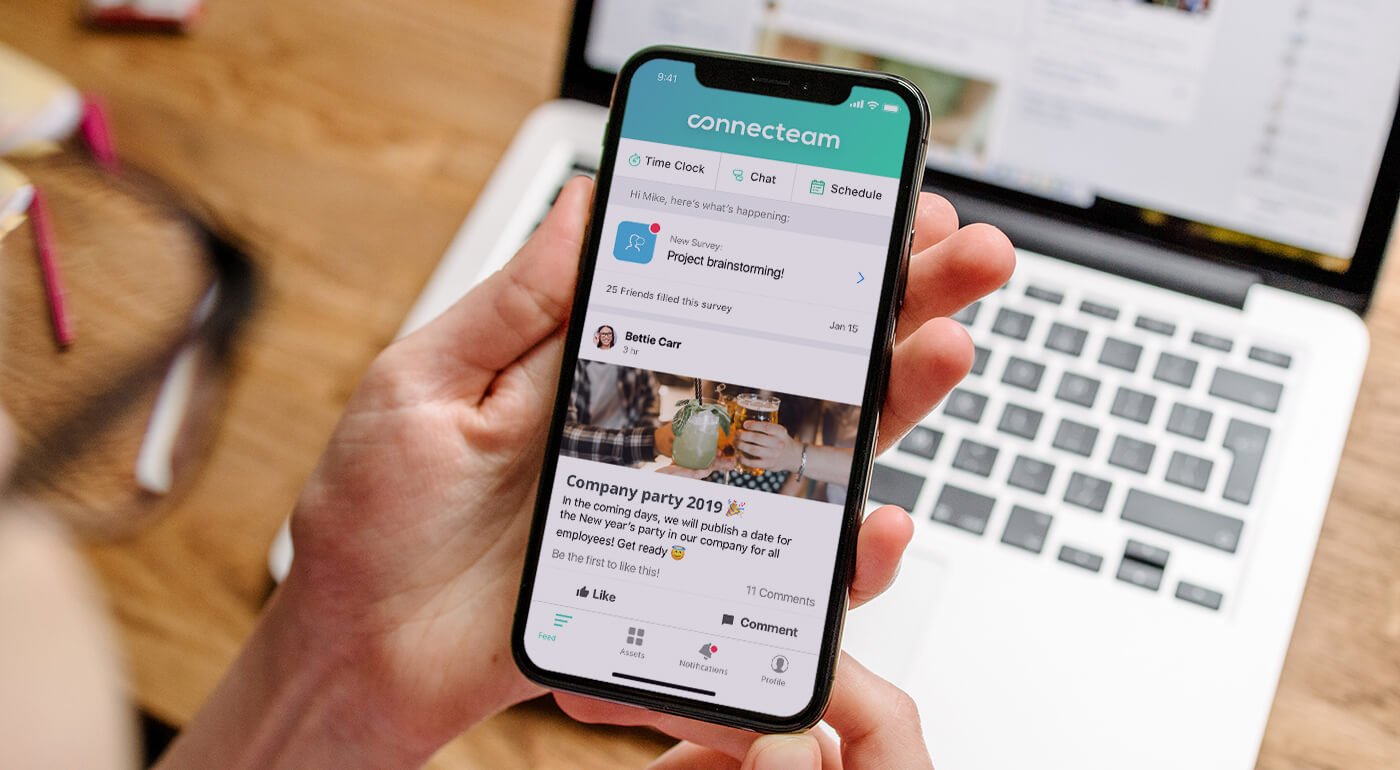 Start for free