"Time is money" goes the saying. Yet, contrary to what many small business owners assume, the integration of a time clock solution in your business doesn't have to be a complex and costly project. Find out what the top time clock apps are and why.
When it comes to running your business, time is of the essence.
The clock is constantly ticking, literally. And if you are still working with timesheets, timecards, and other non-digitized methods, you could be paying wages that weren't actually worked.
According to the IRS, 33% of employers make payroll errors.
Each year small businesses end up paying an average $845 a year to the IRS in penalties due to poorly managed payroll. This is in addition to buddy punching and time theft that could be happening right under your nose.
However, many of these costly mistakes can be corrected with a digital solution!
Everything is digital these days and with the right online free time clock, you can eliminate the errors and put productivity back into your team. You probably are still left wondering, okay, great. But which time clock app is the best? We've done our homework and research to show you that even on the tightest budget, you can keep accurate track of your employee's time.
Top 9 Free Online Time Clock Solutions
The Connecteam free online time clock app is our first choice due to its excellent user experience and robust features. The online time clock has built-in GPS, letting you know where employees are clocking in from. You can access the app from any mobile device or desktop, add notes to a shift, lock the timesheet for the day, all while on the go!
With Connecteam, say goodbye to time theft and buddy punching because employees can only clock in on-site within their scheduled hours and specific timeframes. Use the kiosk app with a unique passcode or fingerprint to sign in. It doesn't end there. With its in-app chat, communication from the field has never been easier. With automated payroll processes, viewable current and past timesheets. You gain hours back and put those saved dollars back into your piggy bank because there are no payroll mistakes with this free online time clock. Connecteam even has the ability to gain reports and insights on how your funds are spent.
This all-in-one online time clock has everything you need, with advanced scheduling, task management, training, and much more. You won't be looking for any other app because Connecteam does it all!
For whom?
Connecteam is the number one online time clock for remote and deskless teams for all-size businesses. Connecteam is used by thousands of businesses and more than 90 industries are reaping the benefits. From construction, retail, cleaning, nursing, field services, and so many more.
Key Features
Pros & Cons
Pricing
Connecteam – No.1 Time Clock App!
Employees can clock in and out, request time off, sign in from the set location using GPS, view current and past timesheets, and so much more!
Start For Free!
ClockInEasy is a cloud-based time-tracking and timesheet solution with a free version that lets you add one user. It
ClockInEasy is a cloud-based time-tracking and timesheet solution with a free version that lets you add one user. It also includes timesheets, labor compliance, GPS tracking, and payroll management. The dashboard is super useful for gathering reports of hours worked. Some users have reported that the tablet version isn't the easiest to use, however.
For whom?
Mainly sole proprietorship to contractors, ClockInEasy is suitable for all businesses.
Key Features
Pros & Cons
Pricing
OnTheClock is a web-based time tracking solution that has a free version for businesses and allows you to add up to two employees. It offers GPS tracking, geofencing, payroll reporting, leave management, and project costing functionalities. Although the reporting feature isn't as functional as users would like.
For whom?
For all-size businesses to track their employee's hours and to assist with payroll.
Key Features
Pros & Cons
Pricing
Homebase is a cloud-based employee time-tracking solution that offers a free version. You can track all the employees working at a location with GPS functionality. Plus, you can track paid and unpaid breaks and if relevant, tips. The features in the free version include employee scheduling, online free time clock, recruiting, and reporting.
For whom?
Works well for restaurants, cafes, nonprofits, salons, gyms, and many more who require an online time clock.
Key Features
Pros & Cons
Pricing
Time Clock Wizard is a cloud-based time clock software that lets managers add employees, track hours worked and leave time, and calculate salaries accordingly. With the free version, you can add up to three users and you have access to the employee time-tracking functionality. The free plan also includes an email support option.
For Whom?
For all-size companies, especially community service, educational establishments, non-profit organizations, etc.
Key Features
Pros & Cons
Pricing
Time Doctor assists advanced time tracking capabilities provides you the analytics to enhances productivity. Time doctor can be integrated with several other tools. In addition, Time Doctor's online free time clock offers other metrics to help improve the workday.
For whom?
Good software for small to medium businesses and large corporations with deskless, office, or remote employees.
Key Features
Pros & Cons
Pricing
7. ClockIt
ClockIt is a cloud-based free online time clock that allows you to monitor one of several locations from one app. ClockIt can be accessed from mobile and desktop. With built-in GPS, you always know where your employees are, and so many more features.
For whom?
A good fit for small to medium-sized businesses and is really useful for companies looking to track time and attendance.
Key Features
Pros & Cons
Pricing
Wrike's software automates daily processes. With Kanban boards, Gantt charts, free online time tracking, and much more. Wrike provides updates in real-time along with reports regarding performance. Wrike is fully integrated with several applications.
For whom?
Suitable for medium to large-size companies that assist teamwork with its custom workflows. Wrike's aim is to reduce emails and help make each project more efficient.
Key Features
Pros & Cons
Pricing
QuickBooks Time works with tools such as QuickBooks Online, Xero, and MYOB. The app allows you to use the free online time clock to track time, manage tasks, collaborate together, etc.
For whom?
QuickBooks offers its platform to all-size teams looking to track time and manage tasks more effectively. From sole traders to large companies, there's something for everyone.
Key Features
Pros & Cons
Pricing
After you have read our top 9 free online time clock solutions, you can decide which one best suits your business. If you're still in doubt, check out our 9 tips below to make the process even easier.
9 Money-Saving Tips for Choosing a Free Online Time Clock
If you're still on the fence about using a free online time clock, we take it a step further and share tips to follow when making a decision.
The Price of Free
Free online time clock solutions provide you the chance to experience digitizing your time clock without the full-on commitment. Opting for a free trial can give you the full experience, and once you've begun using it, you won't believe how much time and money you will save.
Some websites may promote it as "free," which usually entails a free trial and then the option to sign up. If you are looking for a free online time clock that is 100% free, look for one that offers the basics and only requires you to pay for advanced features and add-ons.
Defining the Need for a Free Online Time Clock
Before you look for the solution, you need to brainstorm the issues you are trying to solve. This includes where your business is heading and the goals you wish to achieve. Try to see the bigger picture of what obstacles you can overcome once you install a free online time clock.
For example, a plumbing manager can enable GPS tracking on their employee's time clock app installed on their employee's mobile device. By doing so, the manager can understand how long each job takes to complete. Once they have collected the data, the manager can optimize time, efficiency, and manpower.
Doctors and nurses can log the number of hours spent with each patient to ensure everyone gets the attention they need.
Try answering the following questions before you start your search:
Are you looking to just track the time employees are at work or do you also want to track the time spent on each task?
Do you need to know where your employees are doing their job, in addition to the when?
Is network connectivity always available where they work? How will they log their time when offline?
How many users will need to access the system?
How much access to the free time clock do employees have? For example, can they request time off or view their timesheets?
Do they have their own device (mobile or PC) that is compatible with the time clock solution you choose, or will you have to supply them with one?
Do you need the time clock solution to integrate with other software or tools, like payroll management software?
Once you've answered the above questions, the process of choosing a free time clock online suddenly becomes more focused and easier.
Understanding Your Employees
Keep in mind that your employees will be using the online time clock solution as well as yourself. Therefore, you need to consider the ability level, needs, and habits of your employees. This means, are they technical? Do you need an app with push reminders? Will they require onboarding?
If your staff are not technologically inclined, there is no reason to press the brakes and go back to your Excel sheets. It simply means you need to advise your team about the technological changes and the need for it.
Remember that nobody likes feeling watched or tracked. However, when they understand that the greater good, they will want to get on board. You can also offer incentives for them to download the app like the first five receive a gift voucher.
Offending an employee is not as bad as having inefficient or dishonest workers in your team. As long as you are transparent in your reasoning for why you're using a free online time clock they won't have any issue. In addition, you should mention that payroll will be smoother with fewer mistakes, accurate pay, and so on. Once employees know how it can improve their wages, they will be happy with the new piece of technology.
It's important to note that a free time clock gives your employees constant access to payroll estimates and a summary of hours worked from any location and at any time. By being open and approachable, you can build trust and offer a sense of reliability going forward in the employee-employer relationship. That alone is the icing on the cake when it comes to using a free online time clock.
Cutting Out Buddy Punching and Time Theft
Another main reason for choosing a free online time clock is to deal with "buddy punching."
Let's address "buddy punching" for a quick minute.
Employee fraud does happen (clocking in when they're not really at work or asking a friend to clock in for them) but the use of a time clock online can help to reduce fraud. For instance, if the time clock online has GPS tracking, you know exactly where the employee was when they hit "clock in." That way, your employees can no longer clock in if they're grabbing a coffee but instead have to be at the office or work site.
Data Integrity & Security
Now this will come up.
Imagine if you lost a week's worth of time clock and timesheet info. That would honestly be a terrible week. Time clock data is precious, so you don't want it tampered with, destroyed, or lost.
When selecting a time clock online, be sure to check what security and backup options are included. You might also want to export data for local backup, or check historic records in the system, so consider the fate of the information when choosing the service that stores it.
Ease-of-use and Implementation
There's no such thing as free meals. Even free solutions require time. And time is money. Customization, training, maintenance, and even the time employees spend clocking in and out – all of these require time. That costs money. So when choosing a time clock online solution for your business, consider these expenses.
By implementing a time clock online that's easy to use and has a user-friendly interface, your employees won't roll their eyes at the new tracking system but instead, will embrace it.
By testing a free solution, you'll be able to assess the usefulness of time clock software for your business without spending any money. This will make it easier to persuade stakeholders of the value of investing in a paid time clock solution later on.
Mobility
A good online time clock keeps your data safe, is easy to implement, and offers many useful features. A great time clock also has a mobile app. Actually, this is a must in our minds. Modern workforces are increasingly flexible in time and location. So time management has to be able to move with them.
An online time clock that doesn't offer a mobile app is a no-go. If you want to offer your employees any kind of flexibility or you manage deskless and remote workers then a time clock mobile is a necessity.
Plus, a lot of these free time clocks offer a GPS time stamp that shows exactly where an employee was when they clocked in and out via the mobile app. This level of transparency ensures that employees are where they say they are when they are working. (You don't want someone clocking in while they're picking up their coffee order!) So if you're in the field of construction or transport, it's vital you know your employees aren't pulling a fast one and that's where GPS tracking comes in.
Service and Support
The time clock online might be free of charge, but it isn't always free of issues. Responsive support, quick service, and frequent product updates are important to consider. You and your employees should be able to contact someone if any issues should arise so that you don't lose any more time trying to figure out a solution yourself.
Create Your Own Branded Time Clock App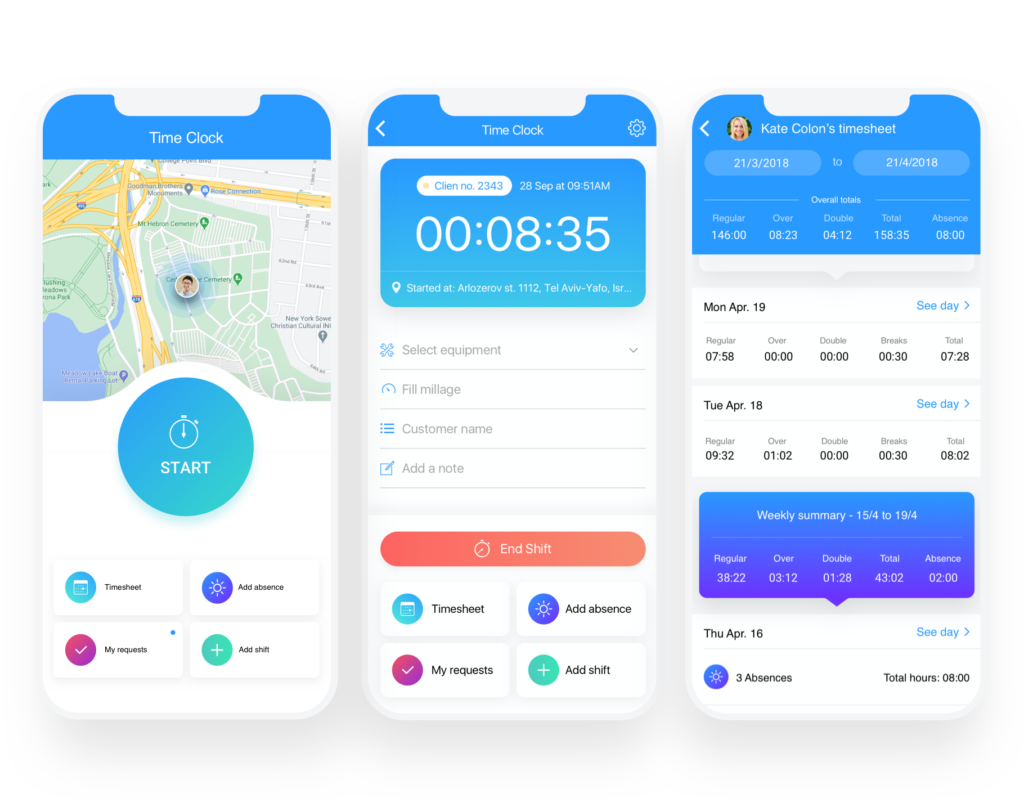 When you choose a time clock app, definitely consider all of the above but here's an added consideration: branding. Remote and dispersed employees are frequently disengaged and out of touch with your company culture, and sometimes the only connection they have with the home office is through technology. You can leverage your time clock online app and instead get a fully branded mobile app for your employees that already includes not only a feature-rich time clock, but also to-do lists, event scheduling, training, and product management features.
Creating your own branded employee can make a lot of sense and also provide some added value.
When your free time clock resembles your company's look and feel, employees will rally behind using it as it's more comfortable and native. Embracing change can be hard so when you can create a free online time clock that matches your company color and overall "atmosphere", it's that much easier to convince employees to use it on a regular basis.
Frequently Asked Questions About Free Online Time Clock Apps
What is the benefit of a free online time clock?
In short? Everyone except Superman and Supergirl, as both can make the world spin backward and effectively stop time. From freelancers to contingents seasonal workers – pretty much anyone can benefit from improved time tracking capabilities. For managers, it's not just about knowing who showed up for work and how long they were there. Many of the available solutions offer features like geo-tracking, employee scheduling, vacation, and sick leave absence monitoring, and analysis of time spent performing specific tasks.
Is it useful for remote and deskless employees?
Yes, it is! For remote, mobile and deskless employee attendance management, online time clock solutions are especially useful and efficient. They're within reach of the employee anywhere with an internet connection, and they give real-time information for managers to keep track of productivity levels in their dispersed workforce. Even if you manage a small team of 10 employees or less, implementing a time clock solution still makes sense. Even if it's just to get rid of those annoying timesheets and excel spreadsheets.
Why should I digitize my timeclock?
Working with pen and paper can create problems you're not even aware of, plus it's a tedious task to take on yourself. With an online solution, you are presented with invaluable data and insights into how work time is used by your employees, so you can make well-informed strategic HR decisions.
Apart from just tracking the time, these security features are also necessary to avoid loss. The research performed by TSheets says that one in two employees has admitted for the time theft and 16 % have admitted for the buddy punching.
Plus when it comes to the payroll, a time clock online will reduce processing costs by a whopping 80%. How is that possible? By automating the work, you are reducing errors caused by manual labor. Let's remember that laws are constantly changing and are becoming complex, that's how a time clock online makes sense.
"Switching to an online method has taken away the chronic lateness of my employees and allowed me to build trust and accountability with them instead." Katie Shernan, Port Plum
Free Online Time Clocks – The Future of Tracking Time
Choosing an online time clock can seem a bit daunting at first. However, with all the knowledge you have gained trying out a free solution should be an easy transition. Once you have chosen the suitable application, you won't be questioning if you need one, you will be asking yourself, what else can we digitize?
Connecteam – Time Tracking Has Never Been Easier
Easily track employee's work hours and improve payroll process like never before. Manage your employees' work hours on jobs and projects (with a GPS time stamp), and collaborate effortlessly!
Learn More!